Hello! Welcome! HAPPY FIRST DAY OF FALL! OH MY GOODNESS! How amazing is that. I mean, honestly. I wore BOOTS last night. BOOTS! Fall lovers UNITE. RIGHT? I'm so glad you are here! Come on in, you can keep your boots on if you want, or kick 'em off and make yourself at home. We are casual around here but that doesn't stop me from getting all excited about Fall nesting and making things all cozy and pretty this time of year.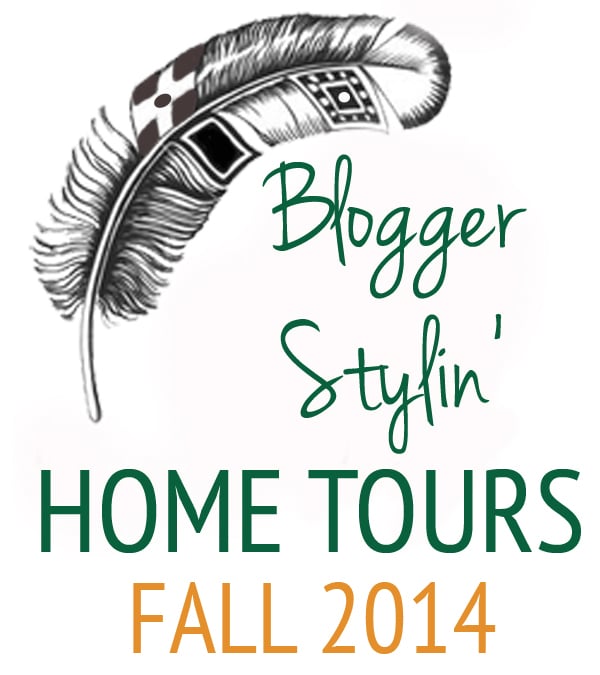 If you feel like it's a deja vu to be invited into my Fall house tour it's because, well, it is. :) And not just because I invite you all in every Fall, but you were invited in for a fall tour last week. This week I'm joining up with the lovely hostess White Buffalo Styling blog tour to invite ya'll in for a few MORE peeks of the rooms as they are so far this season. So, welcome!
If you are just joining in the tour today from the last stop on the tour yesterday, Rain on a Tin Roof, WELCOME!
I've been wanting to try filling my glass HomeGoods lights with seasonal decor ever since I got them. And I finally told myself, self, this is the week to try it. So I got out my stash of pinecones and cinnamon sticks and filled the glass. Now check out how awesome they look! They warmed up the glass and just look so Fallish!
I'm so excited about these lamps. Imagine the possibilities? I did a post with some great ideas for glass lamps like this awhile back so now watch out world, I'll be changing these all the time now. It's like crafting for people who have no crafting skills! You have no idea how much simple ideas like this mean to me. Hahaha.
One of the things I've been pondering lately is how much I have enjoyed bringing in traditional Fall colors like browns and a few pops of rusty reds, greens and even some maroons. With mostly neutral rooms and decor it's easy to just try new colors and go with my seasonal whims. And if my whims want greens and rusty reds mixed in with the grays and blues, my whims win out and I just do it. It's fun.
I showed you the mantel in the last tour, but here's a close up. I am so happy with the Restoration Hardware mirror, it's just a nice focal point there on the fireplace so I can add a few seasonal touches around it and that's really all it needs. I just don't get too fussy when it comes to decor, so it's nice to have the basic structure of a mirror there to anchor the design.
One thing I love about preparing my house for Fall is making things all cozy especially with BLANKETS. I always thought it would be fun to have a big cabinet filled to the brim with beautiful blankets. You know, like in a store when you see an amazing antique armoire or something piled high with beautiful Dash & Albert blankets? That's my dream. But, I don't have that. I have three Target blankets on a small shelf. You gotta start the dream somewhere. You better believe when it gets a little chillier I'll be snuggled up under one of these.
In the kitchen I'm already thinking about how much I enjoy delicious hot breakfasts like oatmeal (I love putting cinnamon, brown sugar and walnuts on mine on a cold morning). I also start feeling more domestic and enjoy Fall baking (you can see a fun guide here that I put together for eBay of some of my favorite Fall baking items). I also love styling my open shelves (you can see my kitchen shelves here).
That blue and white vase we got at the Goodwill has been filled with Fall flowers for a few weeks now. I just keep going out in the yard and cutting things! This weekend I picked up some pretty Fall flowers at Trader Joes. Fresh seasonal flowers and natural decor really speak to me so much more than anything I could make myself. Just seeing a little plant or bouquet as I'm passing through a room makes me ridiculously happy.
I don't even mind that it starts getting darker earlier because, CANDLES!!! Tell me candles are not one of the best things about this time of year! (The tray and pumpkins are from LoveFeast. If you missed the $200 shopping giveaway for LoveFeast yesterday, go enter!). By the way, the glass lanterns are from Mary and Martha (I'll be having a Fall giveaway for a few fun things from them, too, soon!).
It's time for the sweater pillows and cable knit blankets to cozy up the nest. You can see a couple of other views of my bedroom in my last Fall tour.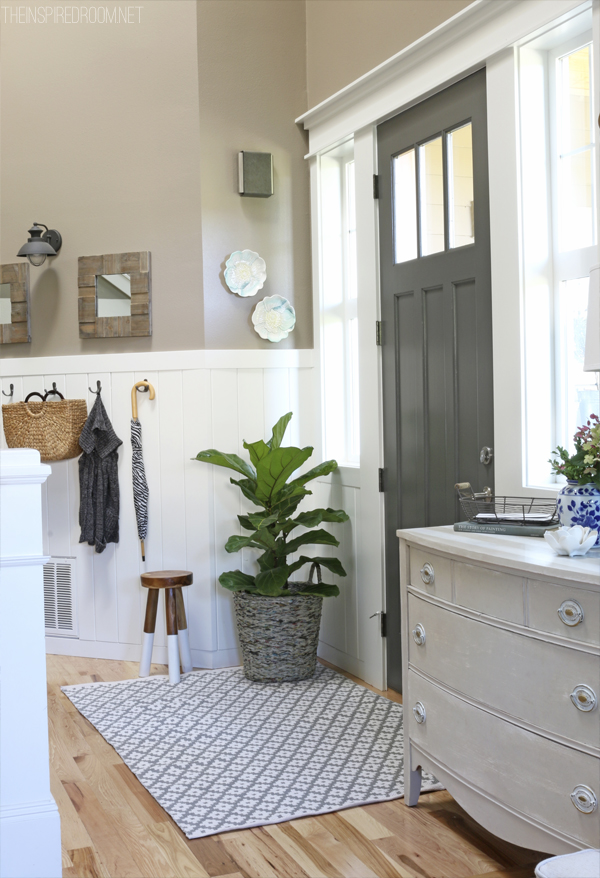 And now we are in the entry, just about to the end of what I have to show you for the second part of my Fall tour! My fiddle leaf is still growing and happy…I'm pleased to report.
I'm still excited about my 21 Days of Loving Fall series. I've only shared one day so far but fear not and stay tuned for all 21 days over the next couple of months. I'm just going to be sharing the little things that make me embrace Fall and love every minute of it.
Thanks for coming by! Please stop by the next love Fall home tour today…my friend Beth from Home Stories A to Z!
*Don't forget to visit part one of my Fall Home Tour!