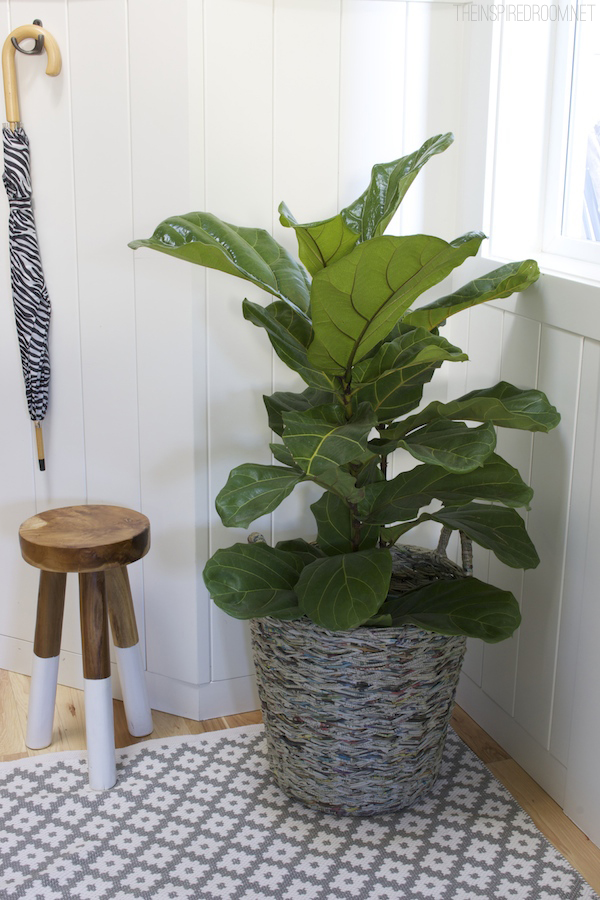 Do you remember the unfortunate tale of my fiddle leaf fig tree? Well, I must like to live life on the edge. We have a new fiddle leaf fig in the family! This happy guy is from Ikea.
Fiddle leaf figs have a reputation for being pretty fussy plants, but so far so good!
He's been hanging out in one slightly sheltered corner of our front porch for the past few months, absolutely thriving in the bright light! I suppose now that I've moved him he will be upset.
The entry gets good light from the windows and skylight, but I'm pretty sure fiddle leafs don't like to be moved so this could prove to be a deadly mistake.
In addition to not being moved, they apparently like bright but indirect sunlight. I've also heard that it's important to wipe off their leaves when they get dusty.
But then again, my last one didn't survive so I can't quite call myself a fiddle leaf expert…yet. Heheheh.
Do you have a fiddle leaf fig? What are some of your favorite indoor plants?
*We were provided this indoor/outdoor rug by RugStudio. It's the Samode Rug by Dash & Albert, we love it! I'll show you more of it soon!