As I'm starting to decide how this home is going to come together, I've thought a bit about color and how my existing palette (the furnishings we already have) might evolve to suit this house. I love all the colors I already have, but I think every house has its own hues that seem to best enhance the mood and ambience. It is fun to explore what those might be for this house!
While I don't generally decorate with pink, a pinkish coral tone has always been one of my favorites. At this moment I don't have any plans for bringing in pink here, but that doesn't mean it won't pop in. Pink tulips, peonies and other bits of pink are always welcome in my home! My husband isn't a fan of pink, but all in moderation, right?
My decorating considerations are still evolving, but I do know of one new unexpected color (not pink!) that will be making its appearance in my home for one of the very first times! I love decorating so I think it is fun to grow and evolve my style by paying attention to what inspires me in every season.
I can't wait to share more about my new color palette, but since it's February 1st and I cannot wait for the romantic holiday just around the corner, I thought it would be fun today to explore some PINK decorating inspiration!
Enjoy, and happy February!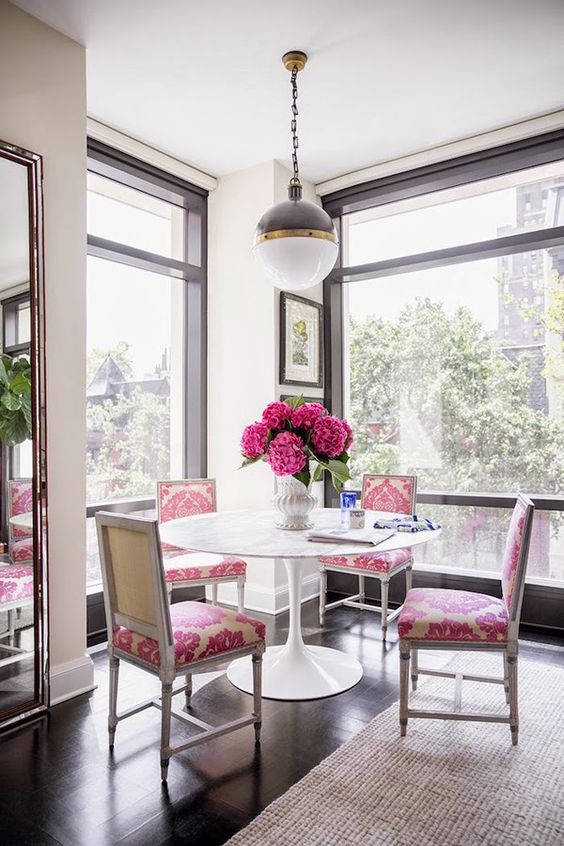 Nick Olsen via Domino


Photo by Nuevo Estilo / via SF Girl By Bay

Dorothée LaFontaine for L' Appartement Living / via SF Girl By Bay


More Color Posts:
Green and White // Navy Blue // Coral // A Touch of Green // Mixing Shades of White // 8 Happy Colorful Rooms