I love decorating my home. But even more than making things look pretty, I focus more of my attention on creating a healthy and happy home. Whenever possible, I actually love to do both at the same time, ha! So, I put together a winter wellness station to be a pretty destination that inspires me, but also because it is convenient to serve my family's daily needs.
And yes, we really do use our oils every single day! (FIND A NEW POST HERE: HOW TO USE OILS EVERY DAY!) More than ever, they are our go-to.
Get started with Young Living here (order whatever you'd like—no kit required!) and I'll email you your invite to my Dwell Well Collective education group!
A few years ago I stopped buying products with toxic ingredients. I used to bring all kinds of products in our home to "clean" "scent" "refresh" and "fix" all the things. I literally thought I needed a product for everything. I just wanted my home clean.
So I used to put harmful chemicals on our dishes to make them sparkling clean. We put toxins on our hands to disinfect them, we sprayed them on our counters after dinner to clean up, I "shined" my sink with them. I put them in and on my body, let them waft into the air that we breathed.
Then I would either choke and cough because the fumes just about killed me dead away on the spot, or with other perfumed scented products I would think, ahhh, now it smells so good in here! Either way, I was unintentionally bringing toxins into our home.
The more I learned about the negative effects these products had on our health, the more I realized I needed to make changes for the good of myself and my family. So I got rid of all of the toxic products and replaced them with truly clean plant-based products and pure essential oils.
My oils and most of my household products are all from Young Living because it's a company I've grown to trust. As you might recall, I've been an avid essential oil lover for about five years now! After five years of using their products and learning about the company's standards and practices, I have only become more impressed and confident that these products are good for our family. I'm still amazed by how these little bottles really have totally transformed our home and health. Young Living is so much more than oils–I get my skincare, supplements, makeup, haircare, household cleaner, and so much more.
Y'all know I love good smelling products, but a few years back I really started to take a long hard look at what I was bringing into my home. You know those seasonal scented products we see marketed to us over the internet and stores this time of year? The "pumpkin spice" scented candles, the holiday hand soaps, the scented lotions, the air fresheners, the scented dish soaps and cleaning products, having a signature scent perfume…ah, you guys….I LOVED ALL OF IT!
But those scents didn't love me back. Honestly I just had no idea how those scents were impacting me or my family. I thought it was totally normal to "come down with something" several times a year and feel miserable or tired or worn out, because everyone else was feeling the same way. I didn't know that with fairly simple changes, I could connect the dots between what I brought into my home or put into my body and how I felt.
Why I Got Rid of the Scented Products I Used to Use (click HERE)
At first I used Thieves essential oil basically just to make my home smell like Christmas, but soon after I discovered that these little bottles of plant essence (literally essential oils are plant juice!) offer so much more than I originally understood.
The more I learned and discovered, the more I started to turn to them as a solution for so many of my family's needs. I'm never disappointed in how they well they continue to serve us!
What exactly do we use essential oils for?
for strengthening our immune systems so they can function as they should
for happy hormones
tummy soothers and for all things digestive system
to support healthy thyroid and endocrine systems
to promote solid restful sleep
for a calm and restful atmosphere
for pretty skin
to soothe stress and relax
to make things better, not worse
to focus
to make things smell good
to flavor foods naturally (young living has a line of safe dietary/food oils)
for occasional soreness
for boosting energy
for uplifting the mood
to clean our whole house naturally
Literally we use oils now for just about anything else you could think of. They are our first line of defense and a delightful part of our "household toolbox" that we can't imagine being without.
(FIND A NEW POST HERE: HOW TO USE OILS EVERY DAY!)
Who knew I'd become such a plant lady? Not me! But these days in our home, we focus on all the ways we can be well. We try to eat well, we don't bring junk food or junk ingredients into our home. We read labels and check out companies before we use their products. We use our oils and daily natural wellness routines to help us stay well and to support ALL THE THINGS.
I love having my wellness station centrally located in our guest room closet! It's been therapeutic for me to have it organized, as well as practical to have it here in the center of our home. I also use the guest room as my own personal retreat/writing space, so it's a space I use for relaxing, too.
Some evenings I'll just come in and enjoy smelling all the bottles (it smells like a dream in here!) or I'll come in during the day to make natural household or personal remedies, rollers, linen or room sprays. It's fun and way more cost effective than buying all the junk I used to buy, too.
In case you're wondering, you don't need as many oils as I have! I can recommend a handful of oils that can be your every day go-to oils, so don't worry. :)
Many of the oils on my shelves were actually free (I order an optional monthly wellness box and there are lots of free oils with it), some are backups (oils I don't like to run out of, because of Young Living's extremely high quality standards, some oils can go out of stock sometimes) and some I order to give away as gifts (there are lots of fun things you can make with oils, too! I have a private Facebook group where we share ideas and recipes, I'll tell you more about that shortly.).
When I started a few years ago to focus my attention on supporting my health and boosting my immune system, paying attention to my body and giving it what it needs on an ongoing basis, I actually started to feel better than I ever have.
That doesn't mean I won't ever get sick or need other support (I certainly don't have any guarantees or cures) or that my body doesn't still suffer the results of the environment, or a lack of self care or deal with things I invited into my home and body that wore me down in the past or could impact me in the future (for example, I have Hashimoto's, which is attributed to environmental causes) but the truth is it's a rarity for me to feel poorly or come down with much of anything these days.
I'm grateful that I'm able to run a business, keep up with my family, and do all of the things I want to do because I feel energized to do them. I can't say the same about how I felt years ago when I struggled to do a lot of things.
The changes I've personally experienced in our home have definitely inspired me to want to help others create a healthier home, too.
When I first got oils I had NO IDEA how to use most of them or even why I would need to make them a part of my day. In fact, even though I was a member of Young Living and had a box of the best oils on the planet (yes, the quality matters), I let my wholesale account go inactive because I really didn't understand it all.
Instead of learning how and why to use them, I continued to buy toxic household and personal items at the store (why) and let most of my oils sit in the box where they couldn't serve our family at all! Gah! FACE PALM!
That's why I love to help friends get started on a better path, I can't bear the thought of these wonderful plant oils sitting in a box ready to serve and support, while toxins are in bottles on the counter ready to make my friends feel lousy!
These oils simply make life better.
So if you are in that boat of not knowing what to do (or you are thinking I'm off my rocker for having a wellness station) DON'T WORRY. I totally get it and would be SO HAPPY to help you!
Just grab whatever you'd like HERE, and we can do this together!
*Yes, you CAN reactivate an old / inactive membership with my member number to join our groups. Just put in #3731456 when you log in and make sure The Inspired Room is your sponsor/enroller.
Next I will send you a video my girls made to help you get most of your new oils, plus you'll be invited into the special online wellness community we've created just for you (and over 1,000 other friends who you'll grow to love, too). In the meantime, check out this post: How to Use Essential Oils Everyday

Our private (and free!) group is called the Dwell Well Collective! You will be invited to join this members-only group when you use my referral link to get started. My girls and I would LOVE to have you be a part of it. It's a no-pressure group where we offer lots of oils education, pretty albums of oil ideas and DIY recipes and toxin-free living inspiration. It's a place where our members can ask questions, enjoy exclusive video workshops, learn to develop new daily habits, and we have giveaways galore (literally so many giveaways…we are currently giving away the coveted Aria diffuser!).
Being a part of YL and this wonderful community has transformed so many areas of our lives. We are so grateful we took the leap into learning what this is all about…yes, like you, we took a chance on a "weird box of oils" that we had NO idea what we'd do with at first. And now we can't live without 'em (the oils or the community)!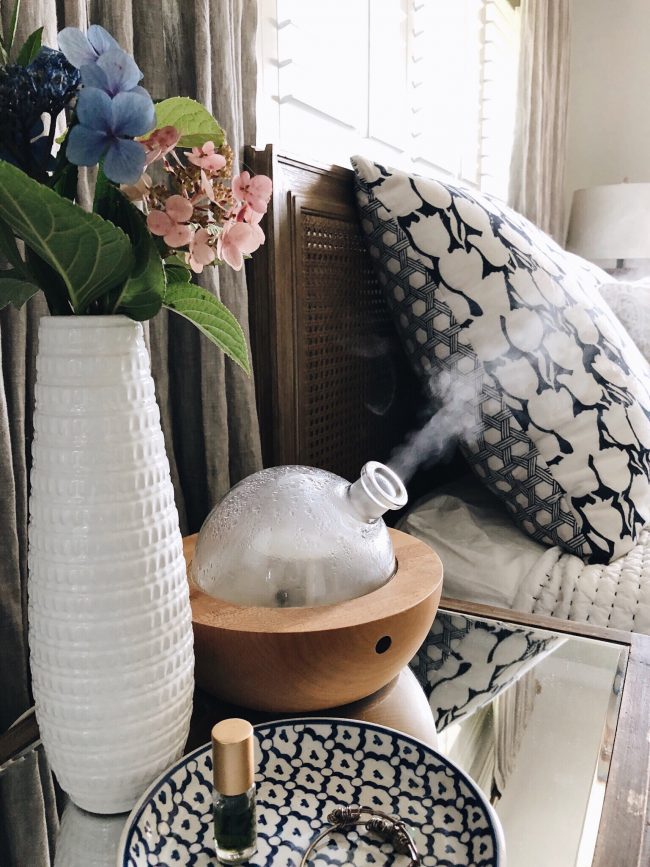 If you've been on the fence, let's do this together!
If you already have a box of oils gathering dust, let us help you! We're just an email, comment, DM or even a text away (yep, I even give members my text number so I can help). :)
If you're ready to give this whole oils thing a try, thank you for trusting me on this. You need oils, I promise!
Get started here (order whatever you'd like—no kit required!) and I'll email you the next steps!
While you are waiting for your order to arrive, follow our wellness Instagram @dwellwellcollective for inspiration!
If you have any questions, I'd love to chat…send me an email at [email protected]
Be well, friends!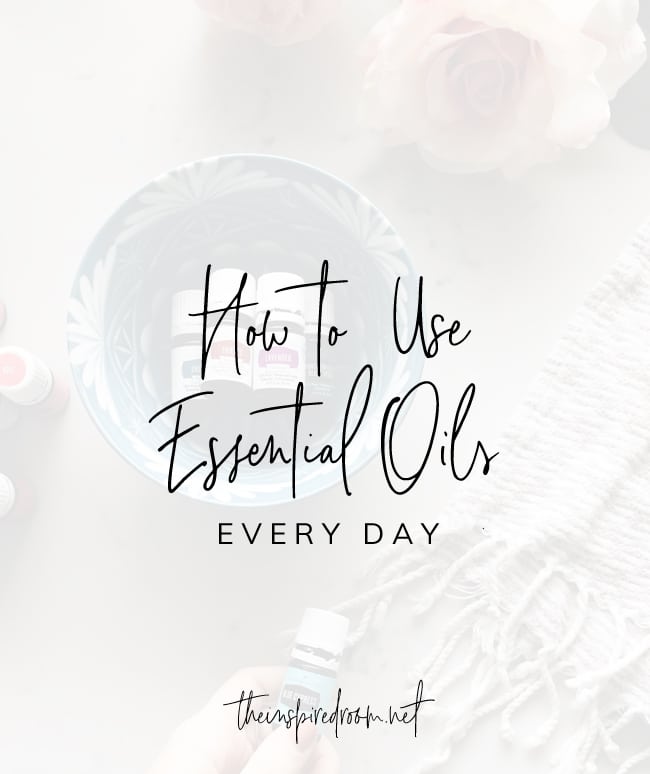 How to Use Essential Oils Everyday
Sources:
Wood House Shelf (it's an "advent calendar house"!) OUT OF STOCK – Find similar HERE or more in our shop
White Lantern Diffuser (You can get this once you're a Young Living member! It can flicker like a candle…so cozy!)
Dresser – RH Teen