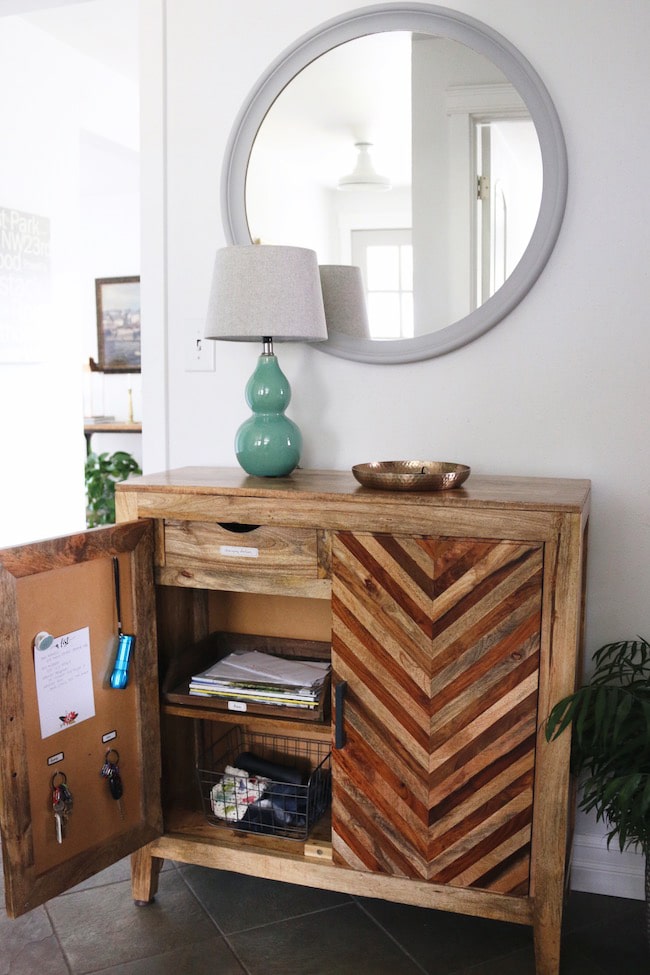 You might remember seeing this cabinet in our home over the years. We've even repurposed it a couple of times to suit our needs in two different homes! Today I'll share how we set this cabinet up as our home command center.
Life around my house gets a little hectic sometimes. Simplifying, editing and staying organized has to be a daily task. I'm not obsessive about detailed organization, but I definitely feel more at peace when I have a few simple systems I can rely on.
I'm a big fan of creating "destinations" or designated "stations" for organization! Coffee stations, gift wrap stations, mail stations, family command centers, I enjoy them all.
Since the task of decluttering or organization itself isn't a big passion of mine, I guess thinking in terms of a creating a specific "destination" for things I like to do in my home is more inspiring to me. It's how my mind works.
You may remember seeing this cabinet in my books (Simple Organizing), or in our last house, too, when it had an entirely different purpose.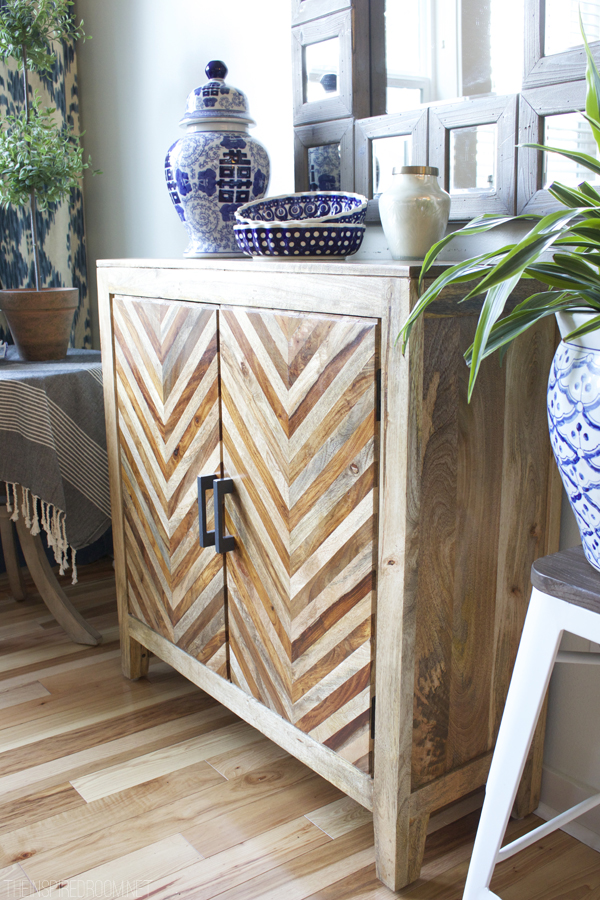 In our old house, this cabinet was in our dining room. We used it as a hospitality cabinet! It's where we kept things like our cloth napkins and napkin rings, dinner candles, serving utensils and special glasses. So handy and fun to have a spot for table setting.
When we moved to this house, the cabinet ended up in our little entry. Early on I realized we didn't have a good "spot" for "those things" that you need to keep track of in a busy household. So I decided to reinvent this cabinet and give it a new purpose as our command central. (This cabinet is out of stock, but this one is similar and I'll link to others at the end of the post!).
We don't have a lot of room and our budget for completing this project was probably less than $30, so we had to get creative and use what we already had. I'll put a source list at the bottom of this post with what we used and similar sources!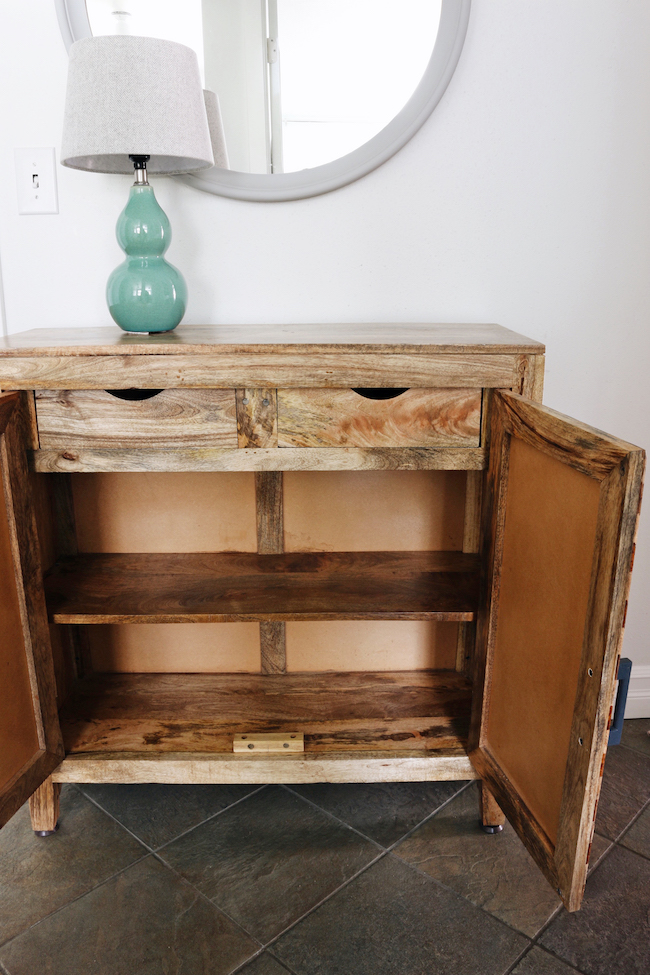 The glassware and entertaining items were relocated to a different cabinet to make room for the new command center. Once we emptied the cabinet, it was easy to reimagine it for a new purpose.
We still use this organizational system today, so this isn't one of those projects bloggers might show that never really get used. A couple of years later I can say this continues to be a useful and (fairly) organized destination in our home that we still use every day!
It actually didn't take much to make this cabinet useful for our needs. A few peel and stick cork boards on the inside of the door became a spot to stick things like emergency numbers, addresses, contractor business cards, lists, school forms or invitations.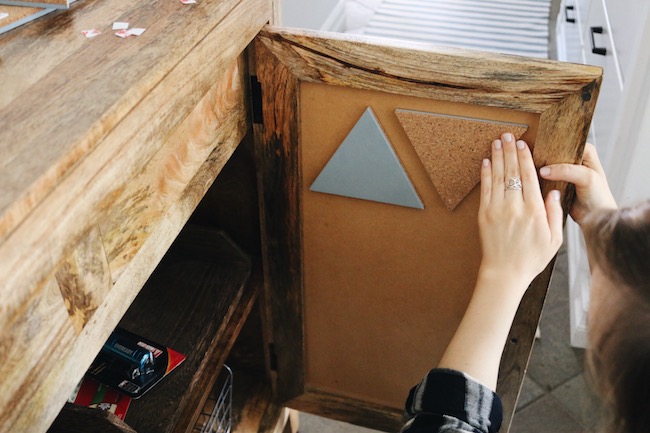 My cork came in the shapes of triangles, but you could (of course!) use any shape or size to suit your needs.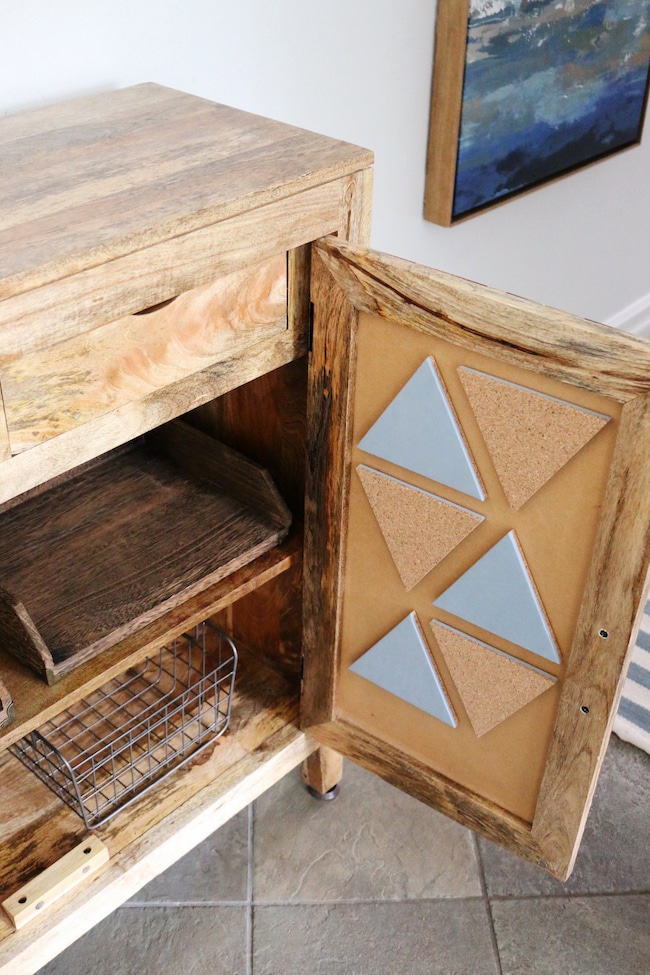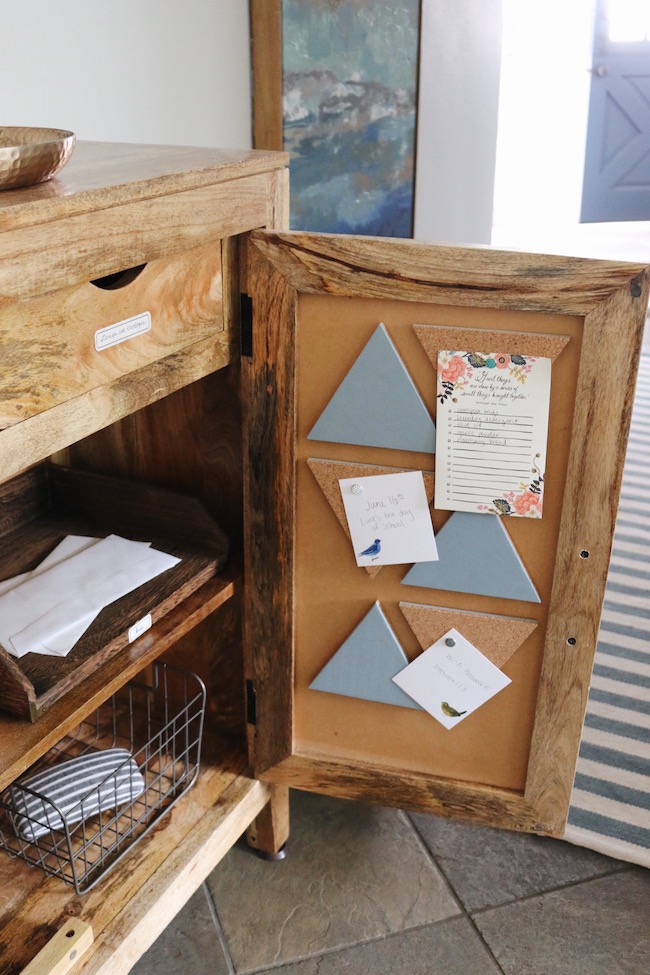 Paper trays keep our most important, currently relevant and more time sensitive papers sorted so I rarely have to panic wondering where I put something. The answer is usually "in the cabinet."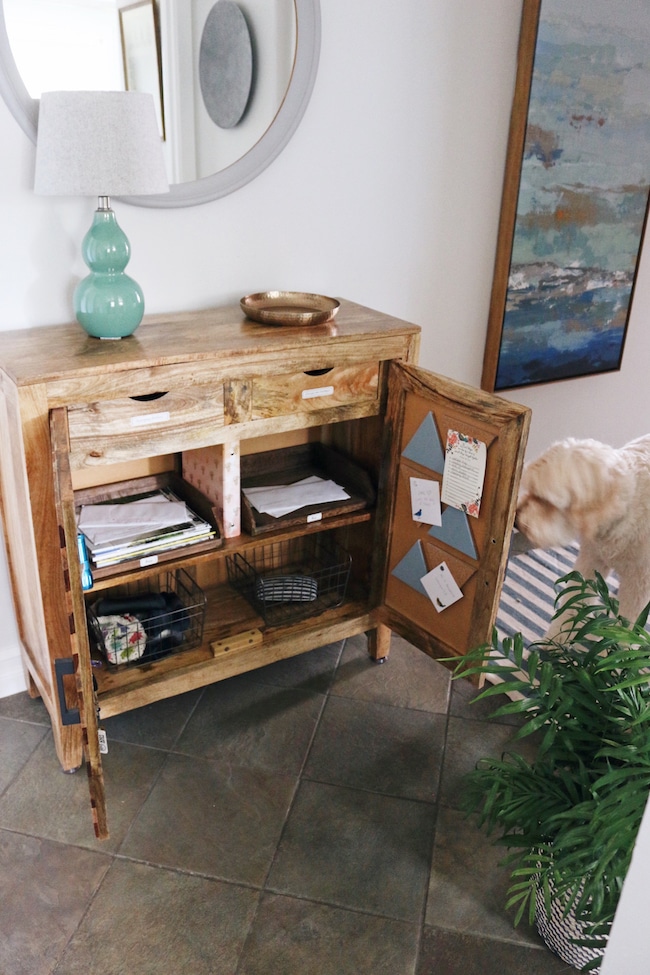 Wire bins can hold anything. Eye glasses, receipts…we've used them in different ways in different seasons, depending on our needs. The key with baskets is to give them a designated purpose and stick with it. If they become a catch all it's time to pare down to a more defined purpose.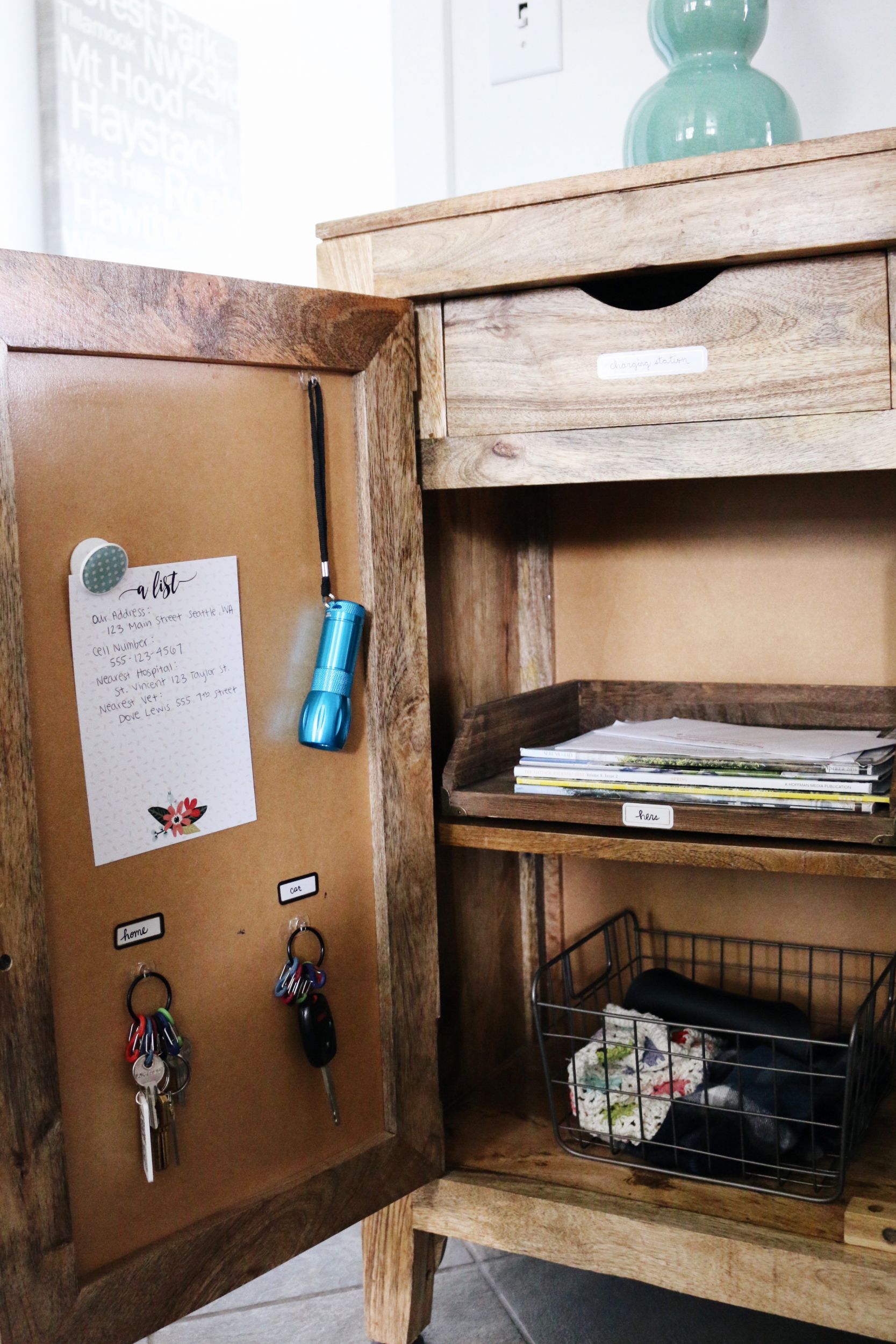 Press and stick hooks on the other door hold an extra set of keys and an emergency flashlight. This is a handy location for these items in case the power goes out, or if a guest is staying in our home and might need to easily access them. We also have a magnetic clip (stuck onto the door with a command strip) to clip notes.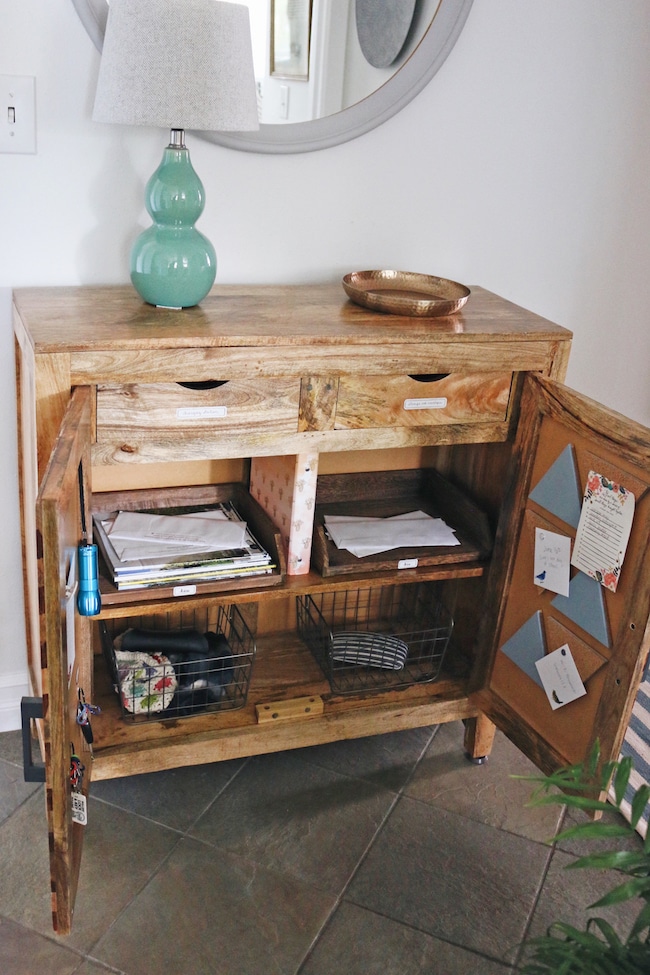 Keeping certain items handy in this cabinet means we also feel prepared with some essentials in the event of emergency. If we need to flee in the middle of the night with keys and a flashlight, we'll be all set. Safety first, you know?
One drawer holds stamps and envelopes and the other is for phone chargers.
Do you have a cabinet in your home that you've set up as an organized destination?

Similar Cabinets:

Similar Organizers:

Similar Small Lamps:

My Decorating, Organizing, & Homemaking Books: