Welcome to this three part mini-series (part of My Year of Dwelling Well!) called How to Find Joy at Home (a simple guide)!
"How we spend our days is, of course, how we spend our lives." – Annie Dillard
Do you make the small things in your life count?
Do you design your routines with intention and find simple opportunities to elevate even the mundane details of an ordinary day?
How we choose to spend our days, the atmosphere we create for ourselves and our family at home, IS how we live.
These past few days on The Inspired Room we've been exploring a three day mini-series on How to Find Joy in Our Home. From how to create a happy morning routine, to setting daily intentions, to today's post on designing a relaxing wind-down ritual…we've touched on some of the simple but impactful things that have always filled me up and brought me so much to joy in my own home!
I've heard from many of you who are feeling more inspired and hopeful already. I am grateful to you all for sharing with me! It inspires me! I've been blown away by so many kind women and kindred spirits who want to live and create a home with greater care. It's not always easy, life isn't often perfect, but there's always something we can do to better care for ourselves and those around us.
Creating a home and our life in it is an art.
Do you have a wind down routine that you look forward to at the end of the day?
Here are ten simple action steps to include in your nightly wind-down ritual.
We all have plenty of things to do in the evenings like prepare dinner, do the dishes or put kids to bed (or whatever else is on your nightly to-do list!). Evenings can feel a little chaotic in some seasons of life. But designing a special wind-down ritual is so important to your well-being!

A wind-down routine helps slow you down through a series of familiar tasks that you look forward to each night. I like to start mine just before or after dinner (depending on the time of year, you might start to wind down earlier in the winter like I do!). A string of these simple actions will inspire a more peaceful night as well as bring joy to the end of the day.
As we begin our nightly ritual we sense that we are quieting the noise and chaos of the day. It's the little things repeated nightly that signal our brain that it is time to rest.
Put away your phone.
Pull the blinds.
Dim the lights.
Turn on small lamps
Switch on your battery operated candles (I shared some of my favorites here).
Fill your diffuser.
Turn on your wind-down music.
Write in your journal (in your Dwelling Well journal, reflect with gratitude for the joy of that day. Use your Savor the Moments page or jot down a few thoughts on your Daily Dwellings pages!).
Turn down the covers on your bed, spray your sheets with an essential oil linen spray.
Savor a slow relaxing activity (take a detox bath, brew a cup of tea, read a book or magazine…even if you only have a few moments, treat yourself to at least one "just for you activity!").
Set a rhythm for your evening that becomes familiar, restful, and comforting!
I hope this mini-series has inspired you to design a day that brings more joy into your life and home!
What does your nightly ritual look like? I'd love to hear in the comments!
---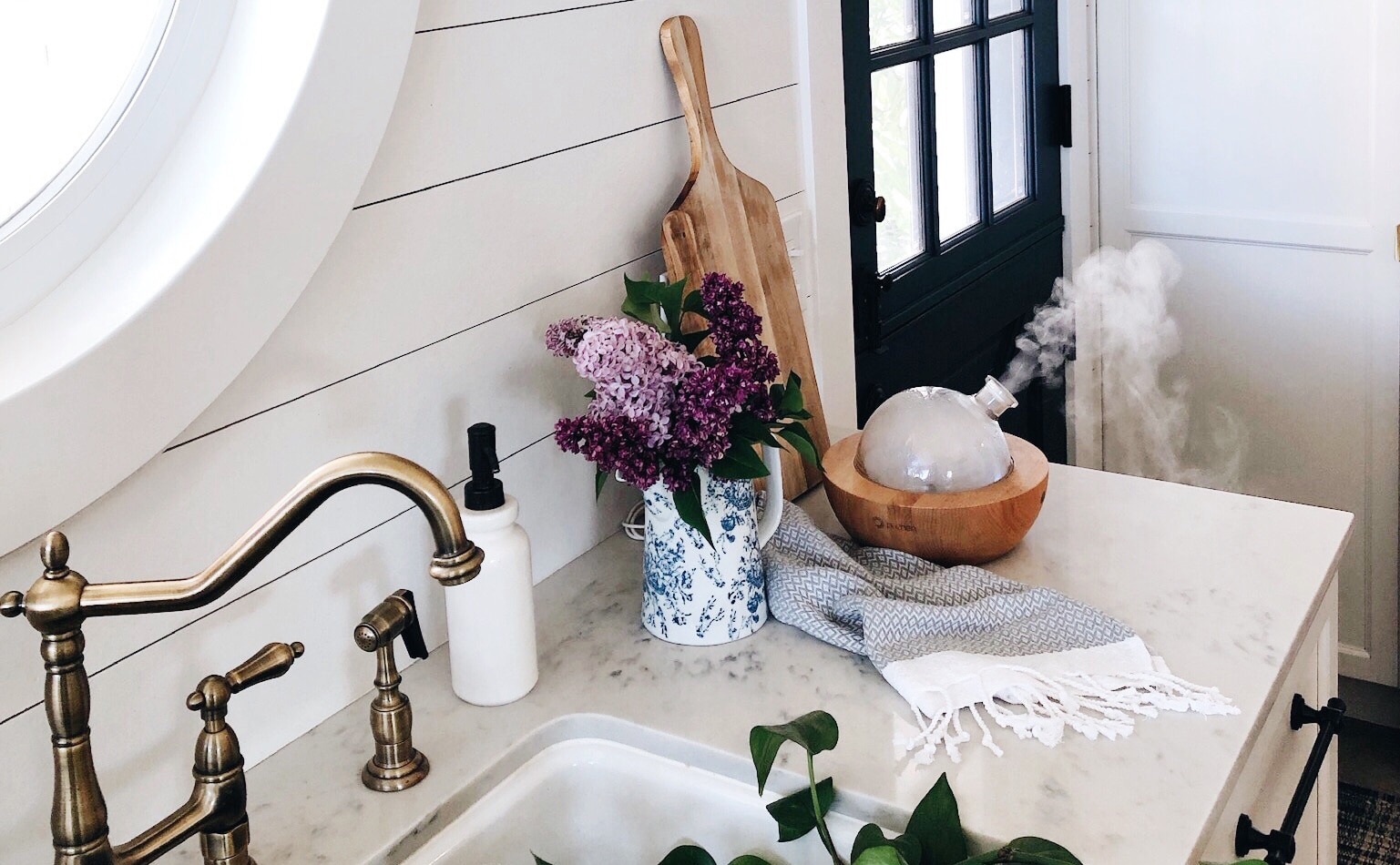 I'm a huge fan of incorporating essential oils into my daily routines for a happier and healthier home. I've found that using pure plant essential oils not only uplifts my morning mood but improves my health, life and home every single day!
Sleep, emotions, skin, digestion, focus, cleaning, hormones, immune support, for helping sore things, for a dreamy smelling home without toxic fragrances/perfumes/candles/sprays…just a few of the ways we use these oils every day for a happier healthier home!
Create your free YL account HERE and you'll have access to my favorite oils and non-toxic household products, as well as an invite to my wellness group Dwell Well Collective!