I gave our tiny guest room a quick summer refresh last week. It's nice to be back to having guests in the house, although most of our guests are family! :) I have an ever growing collection of quilts that are so fun to use on beds! A mix of patterns can make a small room feel extra charming, cozy and inviting.
Pull together items you have, or add in something new. In this room I used new teal blue and white striped sheets, a white waffle weave blanket, a reversible floral and dotted quilt, stitched and quilted patterned shams, our classic striped navy and white pom pom curtains, and a fringed accent pillow. None of it came in a set or "matches," but I think it's more charming that way! I love a cottage look.
Mixing and matching can be an affordable way to decorate, too.
Here are a few simple tips you can use to get started decorating with pattern:
If you're nervous about pattern or new to mixing them, try starting with just one pattern on a quilt (or a reversible quilt which will pair patterns for you!). Or, get a set of patterned sheets and build from there!
Stripes are always a classic, and can easily be paired with a floral or geometric pattern or all three.
Choose one color plus white. You can use many shades of one color and white together, it will always look great.
If you want to graduate to mixing several patterns, use the "one color plus white" formula to make combinations feel more cohesive. Or get fancy with several shades of one color.
If you want to use two of one pattern together, such as two florals or two stripes, just vary the scale. One bigger and one smaller.
If you want a really bold pattern or color in a room, trying letting it be the star of the space. Smaller scaled patterns and softer colors can be in a supporting role.
You can also mix in various textures and details like pom pom or tassel fringes to make the room feel extra special.
Learn more decorating tips in my books The Inspired Room, Simple Decorating, and But Where Do I Put the Couch!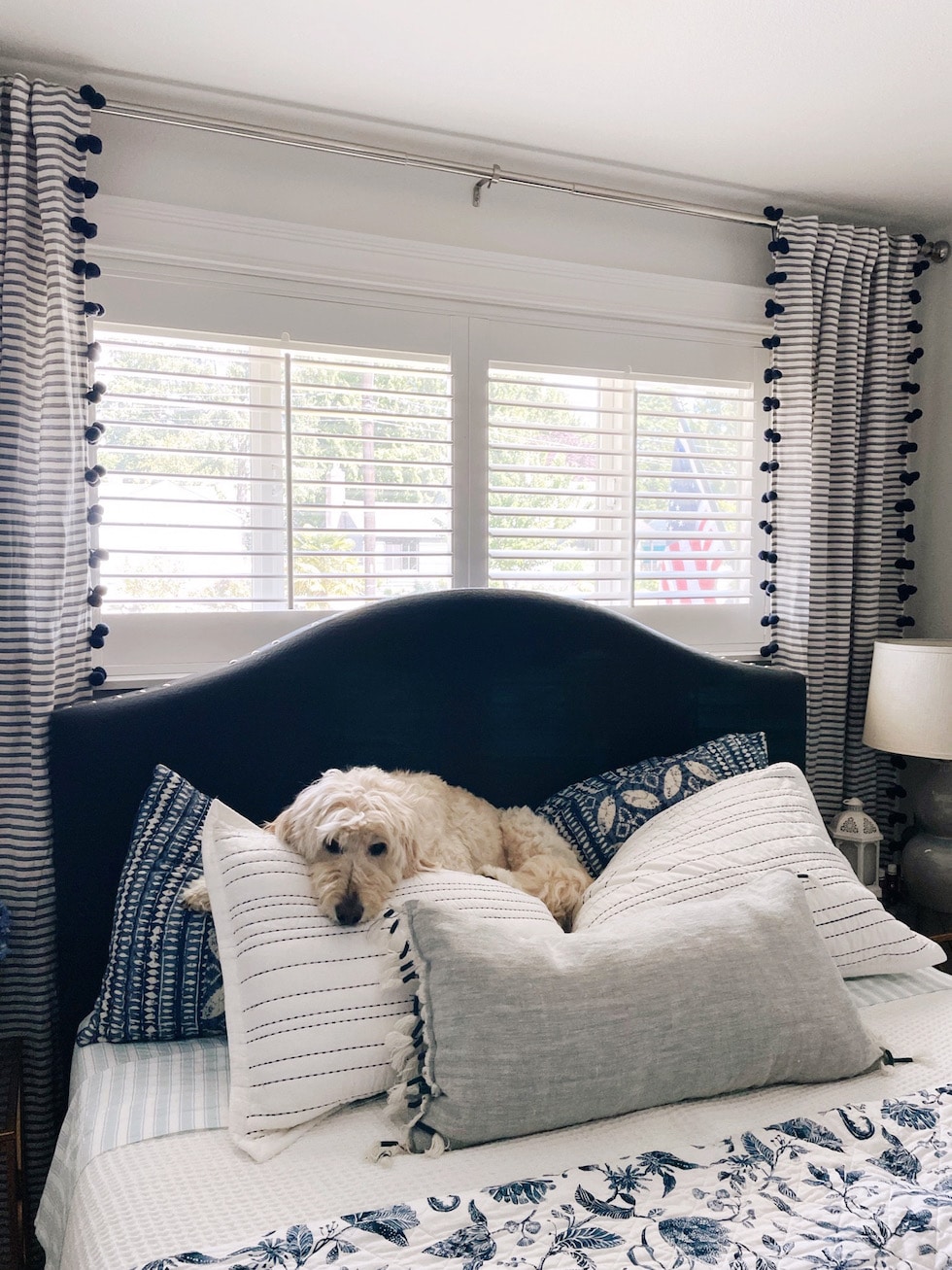 Room Sources:
Reversible Floral Blue and White Quilt and these matching reversible floral shams.
Navy striped curtains with pom pom trim (you can click here for more patterned curtain sources in my home)
White thermal waffle weave blanket
I also got this red reversible floral comforter
My hydrangeas are real, but here are some pretty faux stems!
Similar camelback upholstered bed (and a more budget-friendly similar charcoal bed here!)
---

---
Click here for more of my home decor sources
Related Posts on The Inspired Room:
Looking for more decor tips? Check out the How to Decorate page with ideas for every room!
10 Small Space Decorating Mistakes
How to Get Organized in a Small House
Courtney's Seattle Studio Apartment Tour
Courtney's 500 Square Feet 1 Bedroom Apartment Tour