A small room can feel limiting, but less space isn't necessarily more of a problem than having a big room or an unusual layout. In fact, small rooms have an advantage over big rooms! They are cozier to begin with and achieving that comfortable ambience is the battle in a big room. Yet small spaces do need extra special attention through the decorating process to keep them from feeling cramped or cluttered.
Most rooms have decorating challenges, you just need to figure out how to maximize what you have in order to play up the assets and work with any imperfections.
If you are decorating a small room or designing a small home, you'll find plenty of helpful pointers in this post that you'll want to keep in mind as you plan and shop for the space.
In this post I'll share some common mistakes that are made when decorating a small space and offer you simple and affordable solutions to help you create the small home or room of your dreams!
10 Small Space Decorating Mistakes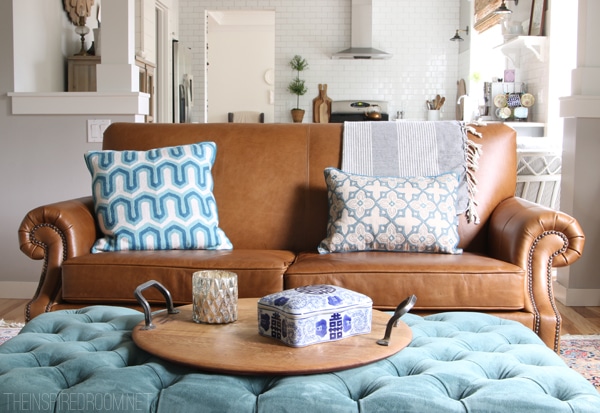 1. Too many small pieces
It seems counter intuitive, but small spaces don't necessarily feel bigger furnished with small pieces. While appropriately scaled furniture does help, too many small pieces will still make a room feel cluttered.
Start by removing the excess. Perhaps replace several smaller items with one or two of a slightly more prominent size. For instance, several end small tables could be replaced with one coffee table or ottoman. Several chairs and sofas could be streamlined with a small scaled sectional. Small console tables and little bookcases could be pared down in favor of one larger cabinet.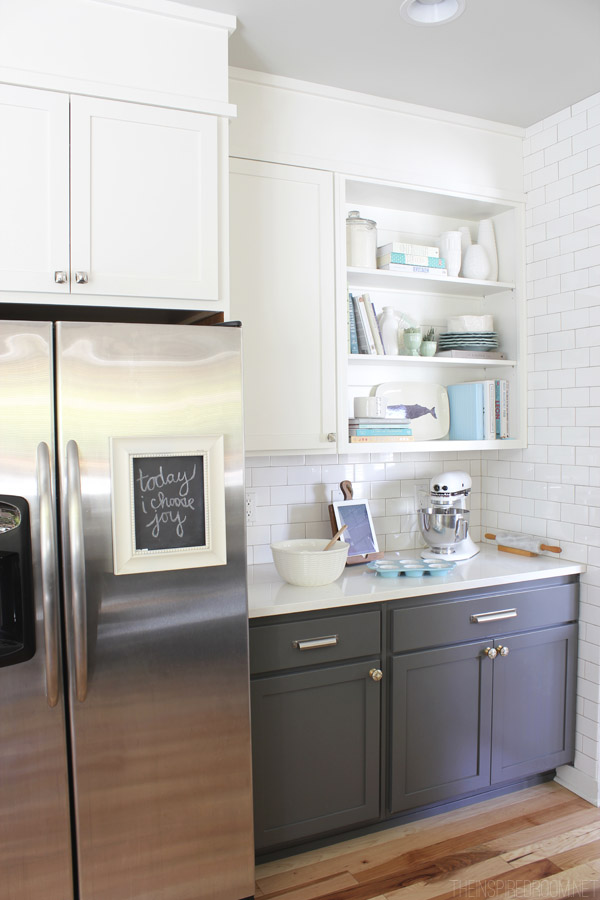 2. Not utilizing the available vertical space
Small spaces lack floor space and the more you pack into a room, the less available square footage you have. And when the floors are covered with squatty furniture, the room feels cluttered and awkward.
Solve your space problems and enhance the visual appearance of your room by looking UP. If you have wall space without windows or doors, use it!
Short cabinets do not offer as much storage as tall ones. Similarly, in a kitchen, cabinets that go to the ceiling will offer more storage and a more streamlined look than ones hung lower on the wall. Shelving can be installed on a wall or even above an existing cabinet.
3. Failure to address traffic flow
Quite often small spaces are filled with furniture and pieces that are set up in a way that makes it awkward for people to come in and out of the room, or to get around the room with ease.
For instance, a large sofa blocking the entrance can make a room feel unwelcome or pieces that are too deep against a wall can block the walkways around the room.
Small rooms will need specifically sized pieces and certain shapes to make the people-traffic flow freely and effortlessly through the space.
Before you shop for new furniture, create a floor plan for your space and make note of features like door ways, windows and narrow passage ways. Start with an empty space so you can play around with your floor plan to figure out the most effective layout for your sofa and other furniture.
Only add in what fits, editing down and rearranging the furniture you already have to see if there is a better way to set it up. Unexpected arrangements just might work better, but you will never know until you try it!
While a small room might not have a lot of extra space to move about, you definitely don't want unnecessary furniture roadblocks that make the room feel particularly uncomfortable or more diminutive than it is.
4. Not bringing in enough light
Natural and artificial light makes a room feel more welcoming. Small rooms may have some disadvantages when it comes to lighting. They may have less windows or smaller windows and doors, or be less likely to be wide open to other rooms to bring in light from other spaces.
Fortunately there are some easy remedies for small dark rooms that don't involve remodeling! Maximize the light you have by bringing it all around your room some of the following simple tricks.
Use larger mirrors to reflect light to dark sides of a room.
Use multiple accent lamps around the room.
Rooms with natural light can be enhanced by light neutral colors on the wall.
Rooms lacking natural light can be enhanced by artificial light and adding color in contrasts, such as a darker color on the walls and bright white trim work.
5. Too much clutter
They say small houses are easier to clean and it is true, there's less to take care of. But if you have a pile of clutter in a large room, it won't feel overwhelming at all. But a pile of clutter in a small space can feel like a mountain! Small spaces cannot handle as much mess or clutter as a large room might, so streamlining everything is the key! Keep your floors and other horizontal surfaces as clear and streamlined as possible. Make it a habit to pick up the clutter daily!
6. Bulky Shaped Pieces
Small rooms can be just as comfortable as a larger room if your furniture is appropriately shaped. When you go furniture shopping, usually the first thought on your mind is the comfort or the look of the piece. But equally important in a small space is to assess the shape of the piece you are looking at.
For instance, take a peek at the arms and back of a sofa and chair you are interested in adding to a space (or furniture in an existing space) and ask yourself these questions:
Does the back of a sofa or chair fan out in a circular shape or have a bulky frame or fabric that adds excess inches to the overall size?
Do the arms roll into large wings requiring extra space on either side?
These details are not as significant in a large room, but in a small space a streamlined piece can make all the difference.
7. Not Enough or Too Many Storage Pieces
A key element in keeping a small space feeling streamlined and organized is utilizing effective storage. Small rooms need storage just as much, if not more, than bigger rooms, so be sure to plan for it in your design.
The goal in a small room is hide the every day necessities as much as possible and utilize the fewest storage pieces to do so, so you don't feel claustrophobic or overwhelmed in your space. Built-ins make the most of small spaces, but you can use freestanding furniture in much the same way.
The trick with a small space is that you have limited space to work with (pretty obvious, right?) so you have to be especially careful in selecting appropriate size and features of storage pieces. Using too many pieces around your room will make it feel like a crowded storage room, too few or too small storage pieces will not maximize the space.
Open cabinets can provide more visual depth to a room but they can also increase the look of clutter so be sure to carefully edit and style what you put on open shelving.
Look for multipurpose storage pieces such as lidded baskets as end tables or lidded ottomans for coffee tables.
Measure the space you have for storage pieces and keep the measurements with you when you shop so you can get the exact size you need. Many storage pieces are too deep for a small room, so be sure to write down your ideal depth. It is better to select one perfectly sized console table or cabinet for one wall than to place several smaller pieces around the room.
8. Disjointed Style Elements
Small houses can be quaint and charming with an eclectic mix of furnishings. Infusing your own personality and style into your home matters, whether your home is big or small. Small houses don't have to use a particular style of furniture, as long as it is YOUR style. Yet how you utilize and interpret your own look and style in the space you have will make a big difference on how your room feels.
Here's a great trick to bring together disparate but charming items in a room: use a few repetitive elements in your small space so it feels more visually cohesive. There are various ways you can accomplish this. Try using matching throw pillows around the room, or several identical wall sconces. Two matching club chairs can unify your room and make it feel more spacious than two mismatched chairs. Paint all four walls the same color rather than using an accent wall.
Much like a disjoined style elements, too many colors in the wrong proportions will make any small space feel like you are stuck in a kaleidoscope.
The good news for color lovers is there is not a unbreakable color rule or even a certain color palette you have to use for a small room, the hues you choose are up to you. Consider what is appropriate for the type of space you are decorating. Contrary to popular myth, you don't have to live in an all white room if you have a small space. In fact, many small rooms can feel cold and uncomfortable with white walls unless there is a lot of natural light to warm it up. Moodier or cheerier colors can play up the cozier vibe.
To pull together the best look for a small space, your best bet is to select a cohesive color palette that ties together whatever elements and colors you want to use. A unifying color throughout the room, such as white trim or furniture, or a simplified palette such as limiting your choices to just three or four hues or several shades of your favorites in a room can go a long way to bringing out the best in a small space.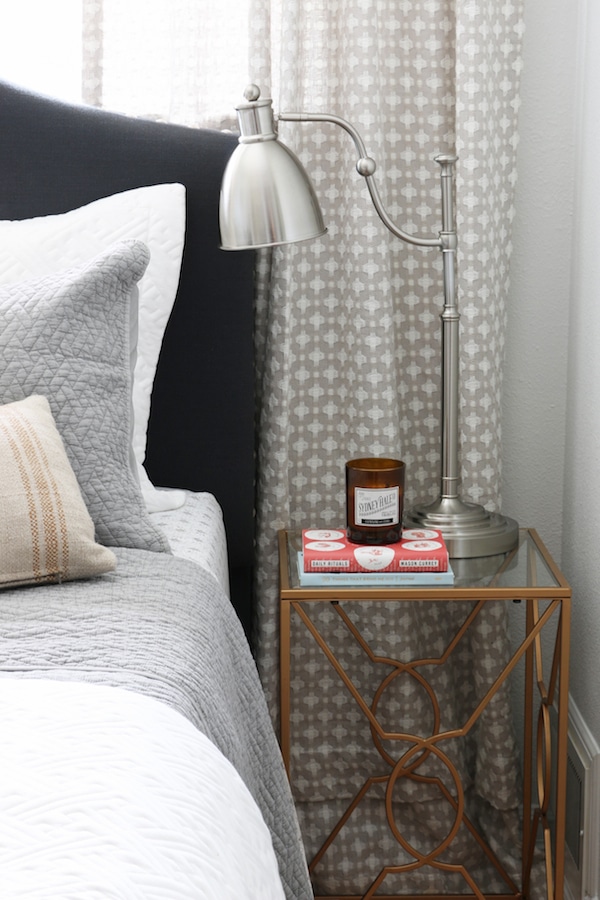 9. Too Many Visual Barriers
A small space needs more room to breathe and your eyes need to be able to flow around the room as effortlessly as possible. You have the barriers of walls and a ceiling closing you in around the room, but fortunately there are a few easy tricks that will help maximize the space you have.
Look for ways to create more visual flow so your eyes are able to keep moving freely around the room, rather than halting on anything that blocks the view.
Examples:
Use a glass coffee table rather than a wood coffee table.
Find a round dining table with a center pedestal rather than four legs.
Simplify your furniture to coordinating fabric, such as linen slipcovers.
Have exposed legs on a sofa rather than a skirt.
Use a lighter airier center dining light rather than a darker bulkier fixture.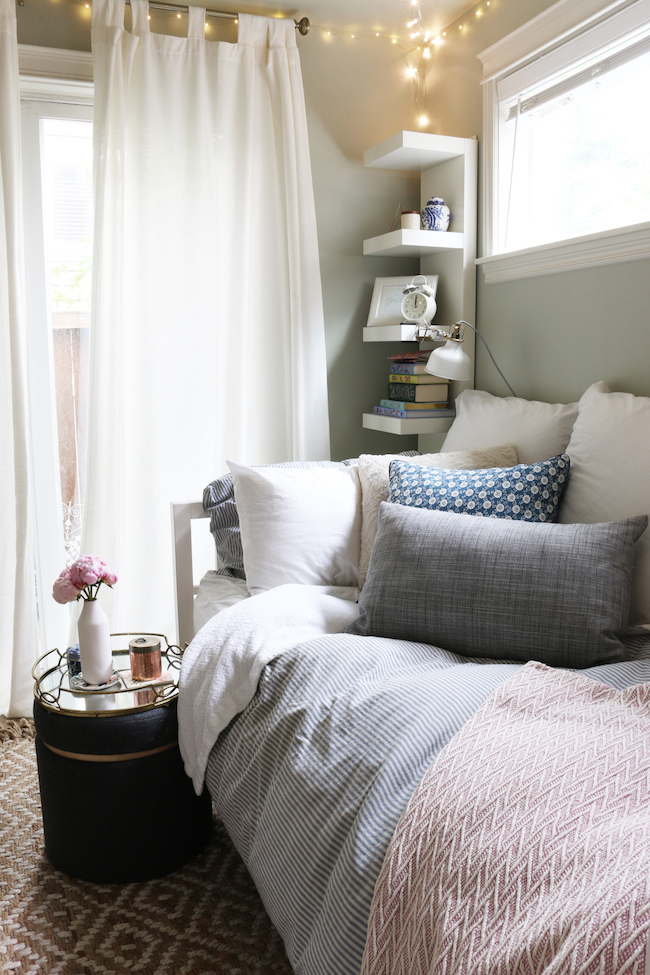 10. Forgetting to play up the cozy factor
Simplicity is a good idea for a small space, but sometimes going too simple can make the space feel uninviting. A small space will be extra cozy with the right layers! Add in blankets, pillows, curtains, string lights, books–whatever feels cozy to you.
A small room can be so charming and functional if you use the right tricks to make the most of the space! Hopefully today's post inspired you and offered you helpful tips to consider.
Want more small space ideas? Click HERE for 5 Things Every Small Bedroom Needs! (includes lots of great sources for affordable furniture and accessories!)
Get more small house inspiration on the blog here.
Whether you have a big or small house, you'll enjoy my books to find helpful tips on making your house a home!