They say kitchens are the heart of the home. They definitely have my heart! I'm excited to dream about them again :)! I'm sure this will come as a surprise to no one, but I've never had a kitchen that I left as it was. Well, unless you count our first kitchen in our condominium. We left it almost the same as it was, but we did cover up a burn mark on the white laminate counters. Being newlyweds with no DIY skill or budget, we got really fancy and used White Out (which I know dates me –does anyone even know what White Out is anymore? It was one of my first creative concealment tricks, which I had a photo to show you! Haha!). Laugh if you will, but it worked! You could hardly even tell the counter was burned. For the record, we didn't burn the counter. It was that way when we moved in! So we left it better than it was, which is always my goal.
Many of my previous kitchens have received fairly minor updates, like some paint, wallpaper or new knobs. Some needed new counters or sinks or floors. Others got all new appliances or even a whole new look! If you've been around awhile, you probably remember we remodeled a few things in our craftsman new build (pictured above). We took a builder's kitchen and gave it fresh personality!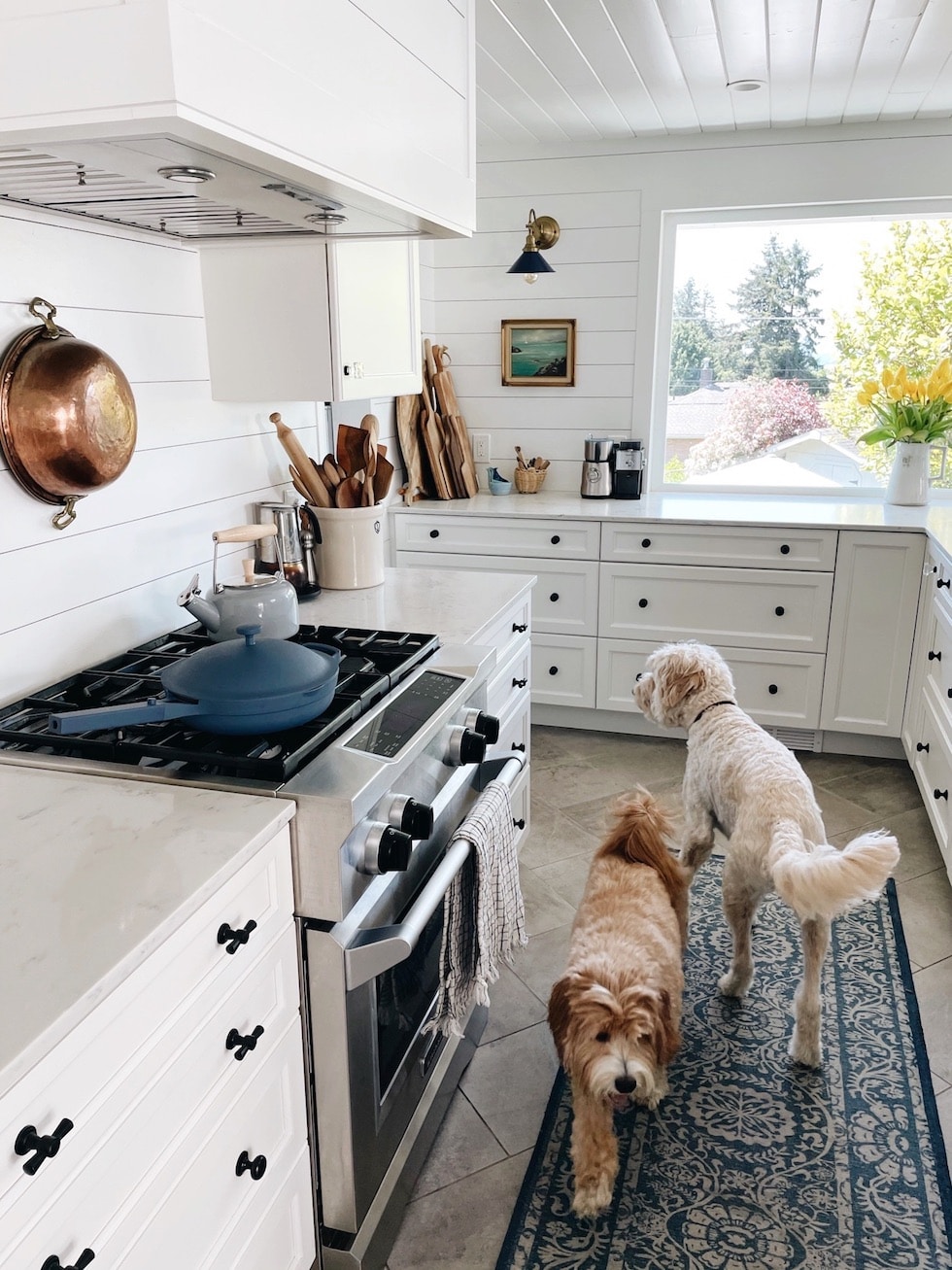 And of course, we remodeled our last kitchen top to bottom (featured in Better Homes & Gardens Small Space Decorating)! I have loved all of our kitchens, but that one was so fun to design and a dream to work in.
So many of you have asked me if we are going to remodel the kitchen in our new house. That's a good question! I'll share lots more photos of our current kitchen in upcoming posts, but above is one I took when we moved in. The house was furnished so it had some accessories already. I promise to take new photos to share now that we live here!
Gratefully our new kitchen is already quite charming and was well taken care of. We had no plans to do anything in particular, it was SO nice to not have that urgency! Of course I always love to make a house our own however we can, but I much prefer to live in a house for awhile to get a feel for the space before any changes are made. Now that we are here, the ideas are definitely starting to flow!
We are so happy that the previous owners added some features in the home that brought in additional character, like the built-ins, box beams, wallpaper, blinds etc, They really gave us a great head start on things we would have wanted to do. Plus the rest of the house has charm too so we are thrilled to be starting with a great foundation! I actually talk to the previous owner often and she is thrilled that we love the house so much, so it's been fun to share ideas with her (and her with me!).
Every day my husband and I stop and say "can you believe we live here?" We will never stop being grateful for it. It's such a special place! It's in a beautiful vacation destination, it feels like a beach house that we happen to live in! We expect it to be our forever home and we will treat it as if it is (we always do, but this time it feels like it will definitely be in our family forever!).
It's important to us in our new home that we make it comfortable and inviting for our whole family for years to come! We are empty nesters, but I run my business from my home and we've invited my parents to live with us and our pups! It's definitely not empty! :) We want this home to be a gathering place for our whole (growing!) family. So there are many people and space planning considerations we will take into account as we make decisions going forward.
While we want it to be a family gathering place, it's not a huge house (it's right around 2,000 square feet and a very small lot). I absolutely love the size, potential and even its limitations! It's got enough room for our needs, without a lot of excess. We will get creative and want to make every inch count. This whole process is right up my alley, I have always loved homes that are "not so big" (homes that are just right for the people who live there, not too gigantic) and of course will thoroughly enjoy adding even more character and personality to the home.
So with all of that in mind, to answer the question about our plans for the kitchen, I have started dreaming about kitchens again! It took me a few weeks to settle in but you know how I am, it doesn't take long before I start dreaming. :) I already have ideas in mind for the kitchen (and more) that I think are going to so perfect for this home! I can't wait to share them.
It's been really fun to talk about the kitchen with my mom, too! She loves dreaming up ideas as much as I do, and she and my dad remodeled many homes. I'm SO looking forward to sharing the ideas we have with you, my fellow home-lovers.
Stay tuned to The Inspired Room (and Instagram). I'll be sharing photos and so much more about our kitchen, the adjoining dining room, and our remodeling ideas and plans (inside and out)! I'll also be sharing inspiration that you can file away or use for your own home now or in the future!
More Posts on The Inspired Room:
If you're just catching up, you can see more posts about our new house HERE.
If you missed it I did a "Goodbye, House, You've Been Good to Us" post (sharing lots of photos of our old home before we moved out!) HERE.