Being the fall loving girl that I am, I love all things cozy. And that means I love fireplaces. Don't you? They make a room feel so warm and inviting, give a space a nice focal point, and of course are really fun to decorate for the seasons.
I usually like to do a Spring, Fall and Christmas mantel. But this year, even though I am full Fall Nesting mode, I'm skipping my fall mantel. Sadness. Why? Because it is about to get a little makeover.
No, that photo is not my fireplace. If only! But the fireplace above and below, by Caitlin Creer Interiors, IS the inspiration fireplace for the new project. While our tile and hearth will be different, the area above the fireplace will be something along the lines of what you see in the picture.
Remember when I said I had some plans for planking and showed some inspiration pictures?
Um, no, not the kind of planking Jack likes to do!
I'm talking about the horizontal paneling type of planking, and this fireplace is one of the projects that has been floating around in my head!
My fireplace has always been a bit of a bugaboo to work with. I'm grateful to have it, don't get me wrong. I do love that I can turn on the fireplace with the flip of a switch, and I love the mantel surround design. Those things I like. But, the challenge with it is the crazy TV hole above the mantel. Remember? If we were to put our TV in there, we would sprain our necks to watch it because it is so high, our fireplace is apparently really tall.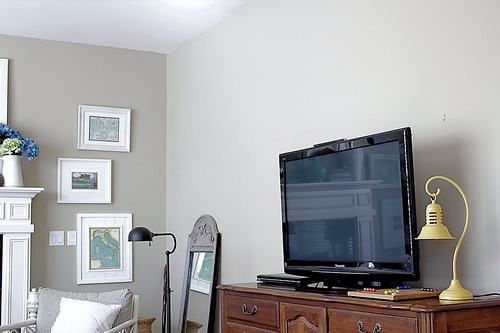 So in order to make our room work for us, we have our TV on the wall to the right of the fireplace. You can see the basic setup, above. That way we can have our sofa straight across from the TV and not hurt our necks trying to watch our shows.
Because I like to decorate our mantel, I've used creative concealments for the giant hole such as cupboard doors and sometimes a mirror all leaning against the wall. They've worked out fine, but I was ready for a more permanent fix to make my room feel a little more put together and finished.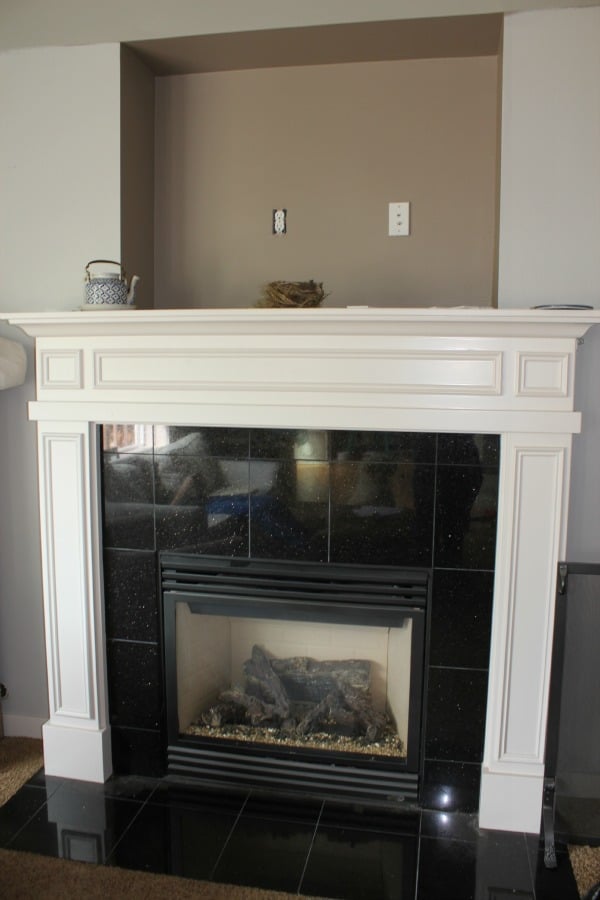 Not only did I have issues with the cavernous hole above the fireplace, I also really didn't like the tile. Picky much? Yah. At least right now, I'm kind of in a mode of not wanting to just live with stuff that bugs me if it is possible to make small changes so I'll love it.
While in pictures it might look like just black tile, which would be fine, it is really  more bachelor pad glitter gold flecked granite. Not at all the charming cottage feel I was going for. Plus, the surrounding tile area is so big that having it black just makes it feel like a giant black hole.
I am so ready to finish up some remaining projects because while I enjoy remodeling and renovating, my true love is simply nesting. I like to have finished spaces that I can putter around in, fluff up and just enjoy without the fuss and muss of big projects in every corner.
I'm so happy to have our staircase done and our living room and dining room all to the point where I can say they are done for now.
My kitchen has been at a standstill for awhile (why oh why do my projects go so sloooooow?). That is why I haven't been updating you on it, there simply hasn't been much new to say! While the functional kitchen part of the remodel is essentially done, the cabinets STILL need to be painted (my painter is no where to be found and apparently there are a shortage of good reliable painters in my area.)
While I am waiting for a good painter, I started making lists of other things that I wanted to get done before the holidays. It made me feel like I was making progress even when I was just making lists.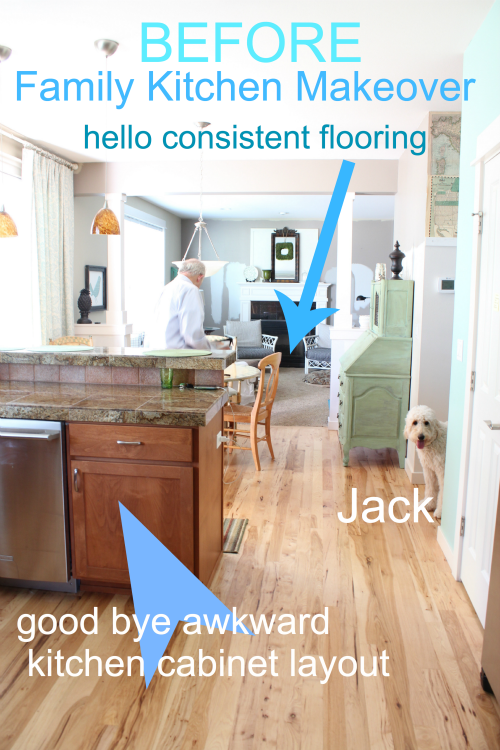 Since the family area and kitchen are all one room, I really want them to feel cohesive instead of choppy little individual spaces. You might remember that was why we removed the cabinets in the breakfast bar, I really wanted my home to flow better from room to room. The picture above is how my family kitchen looked at the beginning of the summer.
Fortunately we have made quite a bit of progress since then. I'm reminding myself of that when I feel like we are moving slowly.
At the beginning of the summer I had the walls painted what you see above, the color is Polished Grey by Glidden and the ceiling is Glidden Wood Smoke. Since I determined that my house wanted to be shades of blue, it was a good time to freshen up my color scheme from the greenish undertones to brown and blue undertones.
While the colors on the wall and ceiling are actually more of a gray, it definitely has a blue look about it in our lighting. While I never really thought I was a blue person, I have been pleasantly surprised how much I'm liking it! And I think I'll really love it once I set the room up, right now it is just chaotic.
And yes, there is a mattress against our wall. Isn't there always something large and random like that sitting around your house? Or is it just me? I'm telling you, if it isn't one thing it's another at our house. There is ALWAYS a ladder and some big random object that doesn't belong.
You might notice that we dropped the ceiling color down a bit on the wall and used a slightly darker color on the ceiling. Unconventional to go darker on the ceiling, perhaps, but the idea was to make the room feel a little more cozy since the ceiling is high and give it a little more personality. Our plan was to use a flat molding trim to divide the two colors and give it a little architectural detail.
That was our plan.
But that is as far as our plan got. So far.
My kitchen contractor returned today to see if he could help us finish up some of these dangling unfinished projects we've been living with all summer. YIPEE! We are getting to know ourselves so well, we are NOT DIY carpenters and the likelihood of us finishing projects like this on our own in this lifetime? Slim to none. Thank goodness he's going to help so we can maybe see the end of some of these dangling projects!
And I may or may not have added a few other things I want him to do in the hall where our command center is as well as out into the main entry to help tie everything together and make things feel more finished. I'm on a roll with ideas, except everyone who I need to help me finish them has been at a standstill.
If only I have a full time live in staff to keep up with my ideas.
The final touches after the cabinets are painted and the new trim work is done, will be the flooring (from the kitchen side to the family room side the floor has to be replaced, more details on that later), painting all the trim and then hanging some new bamboo blinds! Chug-a-lug we are inching our way to the finish line! Will we make it? We shall see!
Thanks for following along!
Stay tuned at 7PM PST for the Fall Nesting Mantel & Porch Linky!
Come on back to link up your Fall posts, I'll have a new post up then with the linky!
If you missed the last Fall Nesting party and want to see what was linked up,
you can find all the links in the Fall Around The House post.