Dining Room Makeover
New Hardwood Floors
My hardwood floors are finished and I'm finally getting around to updating on the progress! I'm so happy with how things are coming together around my house. With the kitchen remodel going on at the same time things have been really crazy around here, but I was finally able to get my dining room set up again. I'm very excited to finally be at the stage where we can put things back and set up most areas of our house again! Fall nesting, here I come!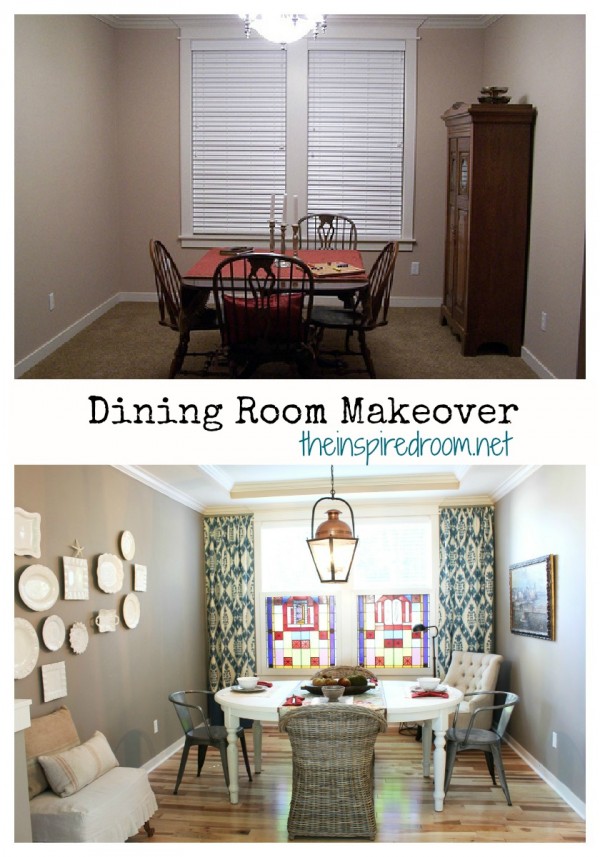 The Hickory hardwood floors make such a dramatic difference in how my house feels.I love how they fill each room with light, texture and help pull together the classy but casual vibe I was hoping for throughout my house. Because we went with prefinished floors, I was able to have the floors put in with a minimum of fuss and dust and the turnaround time was minimal.
I think the floors look really fantastic and I am very happy with the new stairs, too! I was thrilled to be able to work with Lowe's on this hardwood floor project this summer. By partnering with Lowe's, I was able to cross off another one of my Home Dreams for 2012, so a big thank you to them for their support of this project.
I have been having fun figuring out what direction my house will go now that the new floors are a big part of the overall style of my home. Where I felt the carpet was distracting from my intended style and kept me from really establishing the look I wanted, the hardwoods have really brought in a fun new element to work with!
I've been simplifying my furniture pieces in each room and streamlining my rooms to have less "stuff" so the real beauty of the room can shine through.
My goal is to only put back into the space things I actually really love and use. While I am still re-using many things I already had, it is fun to mix in new items too as I'm able.
I decided that while both the baker's rack and armoire (that were in the dining room prior to the hardwood floors) were great pieces of furniture, less was going to be more in this room. Without the extra cabinets, the room breathes so much better and we actually are more compelled to work or eat in this room, since there is plenty of elbow room! We've worked out other areas in the house for storage so we could do without those pieces of furniture (the white armoire is going into an upstairs bedroom so it is staying in the house!).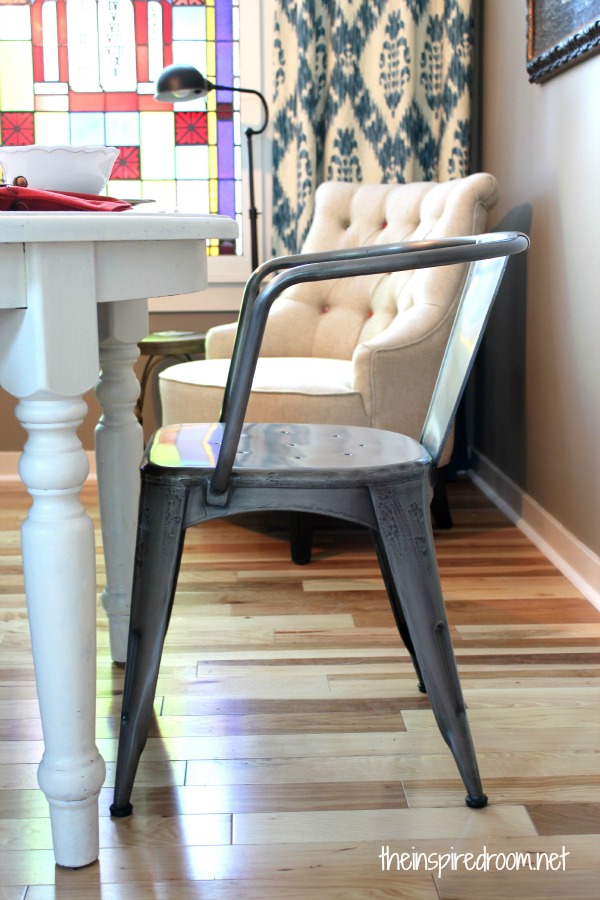 To pull this room together once the floors were in, I knew I wanted four new chairs. I'd been looking at the woven gray Kooboo arm chairs for so long at World Market. I'd go in, stare at them, ask about them. Imagine them in my dining room. Want them. And then I'd go home without them.
Finally the chairs I wanted were on sale this weekend and I knew the time had come.  They only had three left so I brought two of them home! They are PERFECT for my dining room! The texture is fantastic and the scale is great for my rather small dining room. I also loved those gray metal chairs from World Market. Since they were on sale this weekend as well, I decided to mix two gray metal chairs and two grayish woven chairs together at my existing white table. And, as needed, I can still pull in my black metal chairs (currently on loan to my church) for extra seating.
For art, I brought in our 1800's oil painting for the right wall of the dining room. The beautiful colors and  coastal mood are perfect for this dining space. That painting came out of my old house (we bought it for $100 from the seller when we were moving in) and later found out it is an original from the Impressionist era, and the artist was a friend of Monet.
I have a beautiful HomeGoods driftwood mirror that was supposed to go on the left wall, but after many failed attempts at hanging it (it was heavy and my drywall was being difficult) we opted to add more plates to instead (to cover the 5,000 holes we made trying to hang the mirror). Someday we will tackle hanging the mirror again. Sometimes DONE is preferable to frustration.
So is my dining room complete now?
Ha ha ha. Is a room ever done when you love the process of tweaking? I think not. This room, and other rooms in my house, are actually more in evolution than a quick and easy before and after. Every year I make more progress and refine my style a little bit more. That is the fun of decorating, it never has to be done if you are still enjoying the process. You can enjoy each step of the way and still have fun growing and changing! Next year this room might look entirely different, but this is how it is for now.
My house is really evolving to be what I feel is a good style for me. I love the mix of natural materials, like the woven chairs with the mixed metals on the lantern and chairs. That character combo really seems to work well in my Craftsman house to give it both a vintage vibe with modern edge.
To make even more progress on this room down the road, I need to repaint my dining room table, finish up the ceiling which still has an unfortunate band of swine, and paint the baseboards. And you never know, the current color on the walls might still change without warning! I love the color it is now (studio taupe by Behr) but I have an idea for the room that might someday mean the walls could no longer be gray. Just keeping my options open!
But while it seems like there is still a lot to do, we've really made quite a bit of progress over the past few years.
See where we started?  That before photo, above, of my dining room is hardly even recognizable. That photo was taken as we moved in so it wasn't staged or set up to my liking but you can really see what we started with.
Swine walls, yellow/brown carpet and a flying saucer for a light fixture, all gone.
This room has evolved step by step with a little tweak here and a little update there. Three and a half years later, this is what we have!
Here is the slow progress progressive makeover of this room so you can see how it has come together and changed over time:
I had to be patient for 10 long months waiting for my old house to sell so I could move all my furniture here.
I put up my antique stained glass (from a real church) to hide a less than pleasant view.
I painted my old table, chairs & armoire to brighten up the room and unify mismatched, less than lovely wood.
Then in February 2011 I got a new lantern with lots of character.
And then, I moved the dresser out and put in my baker's rack.
Next, I got new chairs.
In summer 2011 I hung my 17 year old re-purposed blue and white curtains.
We removed the carpet and furniture this June to have new hardwood floors installed.
Fast forward to today, we have new hardwood floors and more new chairs!
And there you have it! The dining room progress report and before and after update.
Now I'm ready for Fall! Want to see the adjoining room and its makeover? See the Living Room Makeover & Update here! Want to see the Spring Dining Room 2013 update?
Lantern source: Pottery Barn