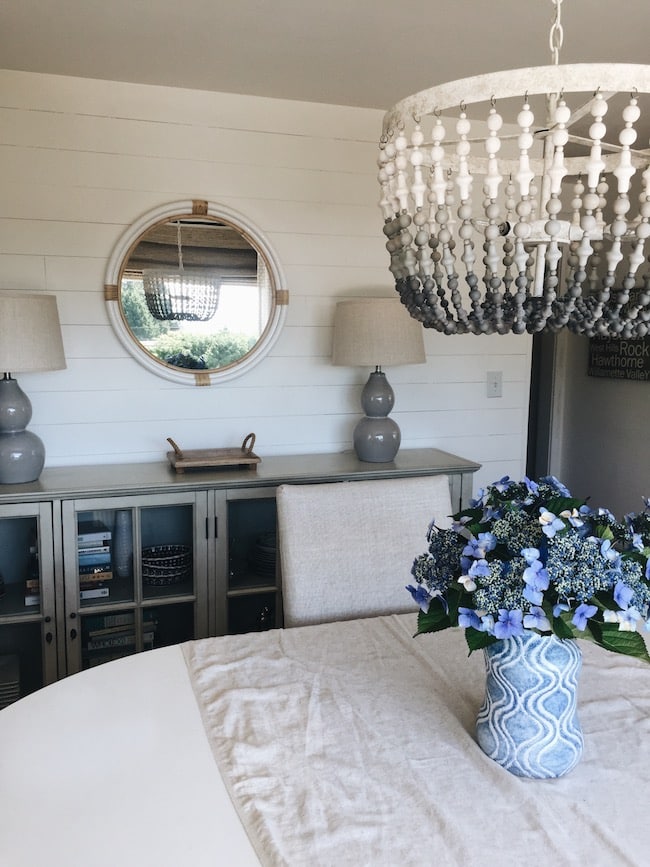 We are coming up on our two year anniversary of moving into our home! Even though in many ways it feels like we've lived here for a long time, in other ways I feel like this home and property and I are still getting acquainted.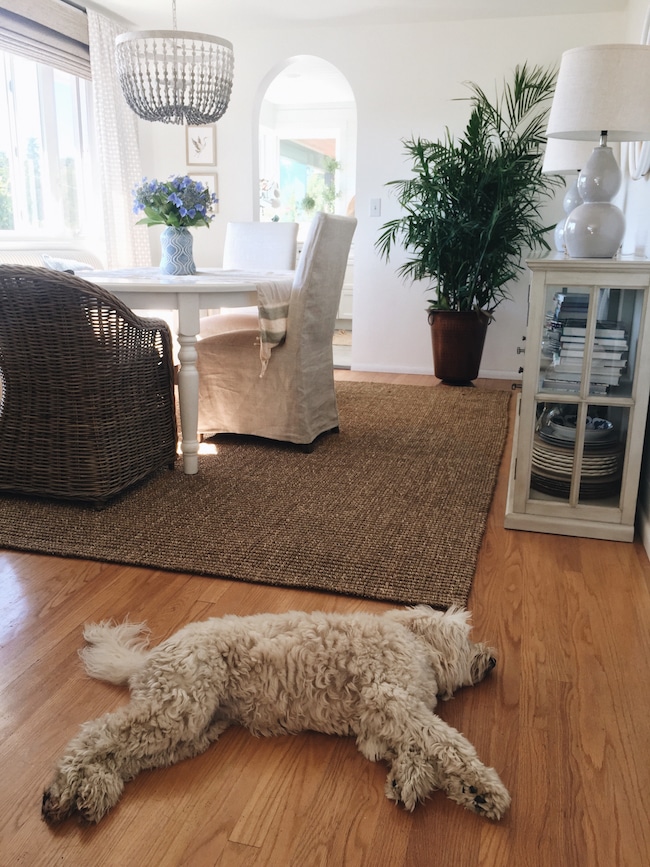 I was thrilled last summer (our first summer here) to find a giant old lacecap hydrangea bush growing in our backyard. It felt like a gift! We had a large blue hydrangea in one of our past gardens, too. I had missed it so much.
The bush is blooming and so beautiful right now, but we aren't able to see it from the yard or house because the whole bush is hiding behind a large hedge. It obviously would have been ideal planted within view of the windows or patio, but instead I can just take a walk to visit the hydrangea as if it is blooming in a secret garden, tucked away so its joy can be discovered.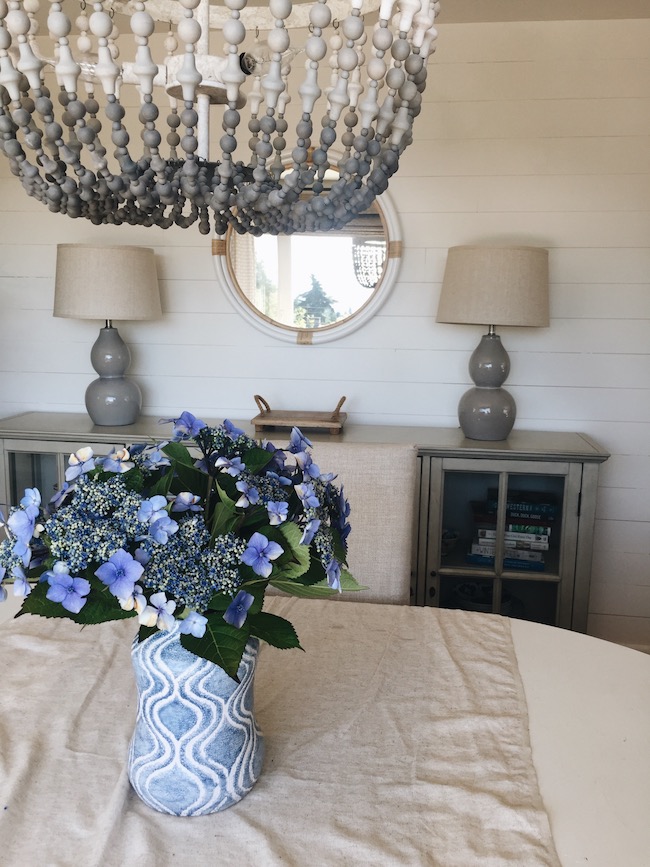 I think every house I have lived in has taught me a little something about life and design. Do you find that to be true where you live, too? This house is already shaping my perspective in many ways, as it inspires me to embrace its simplicity and find joy in what that brings to my life.
Part of what will make a home beautiful each season is just slowing down so you can better appreciate what is already there. What your home offers or already has available may not be on everyone's list of "must haves" but it's something you happen to love or can grow to feel or find happiness in. Slowing down involves simplifying, so you can actually see the beauty around you.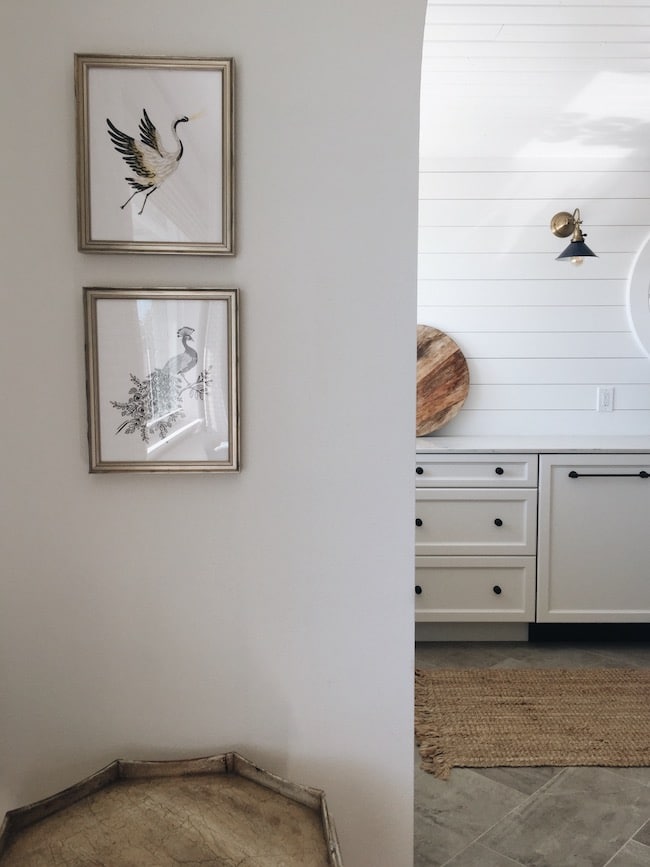 The beauty found in simplicity may not even be obvious at first glance, especially to anyone else. Simple joys are found in our surroundings are not because they necessarily shout "look at me, I'm amazing!" but because they quietly delight you. Delight is what you feel when something wonderful takes you by surprise.
Simplicity is subtle, so the joy found in it can sneak up on you. It's like an unexpected gift you receive only when you are paying attention to how you feel in your surroundings. To me simplicity doesn't have to be defined by a certain color palette or decorating style. I think of it more as what you might miss out on if you are distracted by stuff that is shouting for attention. It might be clutter or accessories or colors or really anything that distracts rather than delights you.
What distracts you in your home may be different from what distracts me in mine. Photos can't even really capture what simplicity feels like in a home, it's such a personal thing.
Simple joys in a home are found through experiences like the warm sunshine streaming through a room on a cool morning, or the delight of a breeze gently blowing curtains through an open window. Simple joys can even be discovered through the serenity you feel when your counters are clean, or the deep breath you can take after you've decluttered a long-neglected closet.
Even the sound of laughter in the house on a lazy summer day is a reminder that it's not the material things we have or add or buy that transform our home. It's simple joys that can change us from the inside out.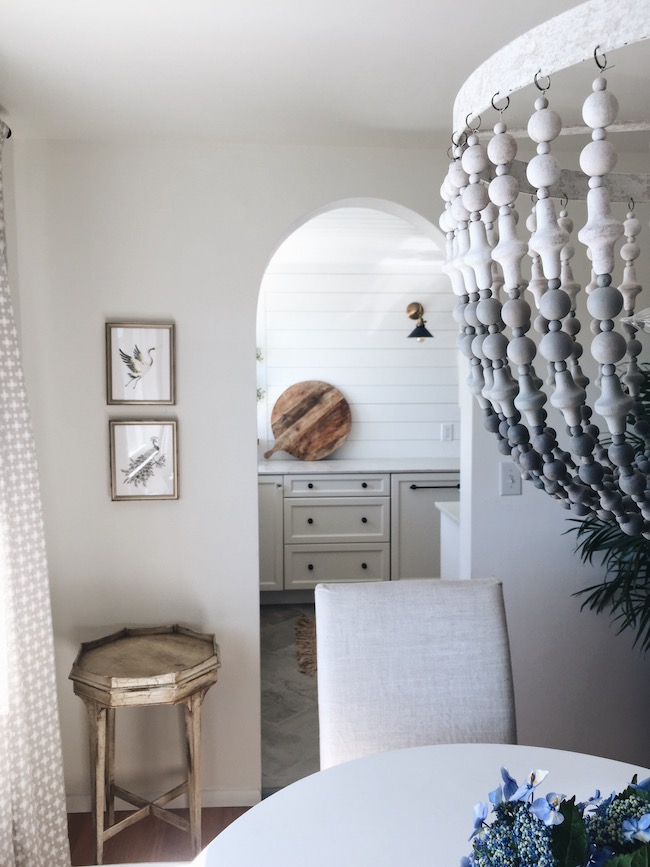 Perhaps (like me) you want to feel a sense of delight in something as simple as placing a freshly cut bouquet from your yard in a lovely vase. Like I do, you might have to pare down, slow down, eliminate the unnecessary, or put forth a little extra effort to get to that place of simplicity. But, I think it's worth it.
Our simplified surroundings invite those bright blue hydrangeas to really show off and take a place of honor in the room all summer long.
Simple joys, friends, Simple joys.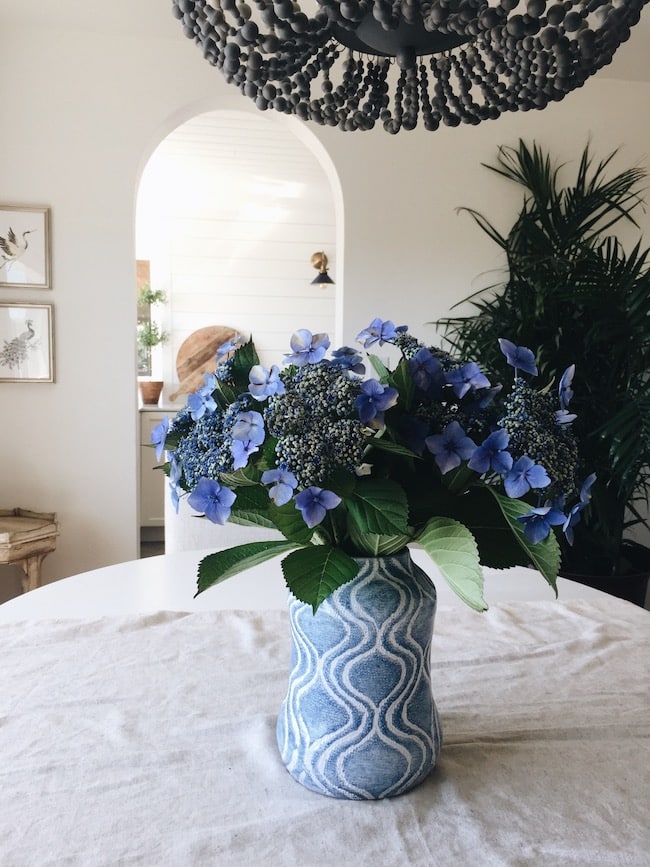 PS. If you missed my latest news, I'm writing a fun new book on decorating. But, I need your help! This book will feature questions and answers on decorating. The cool thing is the questions will be from YOU, my online buddies! YAY! Can  you think of some decorating or style questions you'd like me to answer in a book? Questions can be submitted via the form in this post.  Thanks, friends! <3
Dining room sources:
Scroll the arrows below to shop:

Sources and details:
Gray ceramic table lamps and linen lampshades
Vase – HomeGoods
Rattan chairs: sold out from World Market (similar: 1 // 2)
Ombre beaded chandelier (or similar chandelier)
Parsons chairs (round-up of options, mine are RH)
Wall color: Simply White Benjamin Moore