My girls' and I love going to the Street of Dreams in Portland. It's one of our end of summer traditions! I've  actually been going with my family since I was a little girl and we've just carried that tradition on. This year my son and nephew joined us, too!
We definitely go to dream, the houses on the tour are not called the "Street of Dreams" for no reason, ha! But I find so many elements to love and be inspired by, even though I live in a more modest home. :)
I'm always drawn to a house that feels like a real family style home, though, even if it is HUGE! So it is no surprise this house was one of my favorites. It is styled as a comfortable modern farmhouse style on the inside, but of course you could take a house like this and put your own spin on the style!
It has quite a few similarities to my favorite home from last year, actually. I just did a recap of it last year's coastal farmhouse style house, so check it out if you missed it. There are some shopping sources with it, too.
The home featured in this post here was built as a private residence, not as a showhouse, on the property where the owners had raised their four young boys in a smaller house on the same property. That property became their guest house, you'll be able to see it below.
You can read more about the builder and home here, that's about all I know! I'm sorry I can't answer specific questions about it or exact sources (but feel free to browse my Modern Farmhouse Shop for some similar items).
I snapped quite a few photos as I toured it so thought you all would enjoy a tour. Now, I must say I think all of the images are from this one house, there could be an extra room or two that weren't actually in this house (and some that might be in this house that will end up in a part two!)  But, hopefully you'll be inspired anyway, even if I mix up some of the photos :).
This is only a small fraction of the photos I took, so I'll have to do the part two of other rooms and homes on another day!
I hope you enjoy the house tour!
We're working on some more "fall nesting posts" for next week, thank you all for your comments and messages.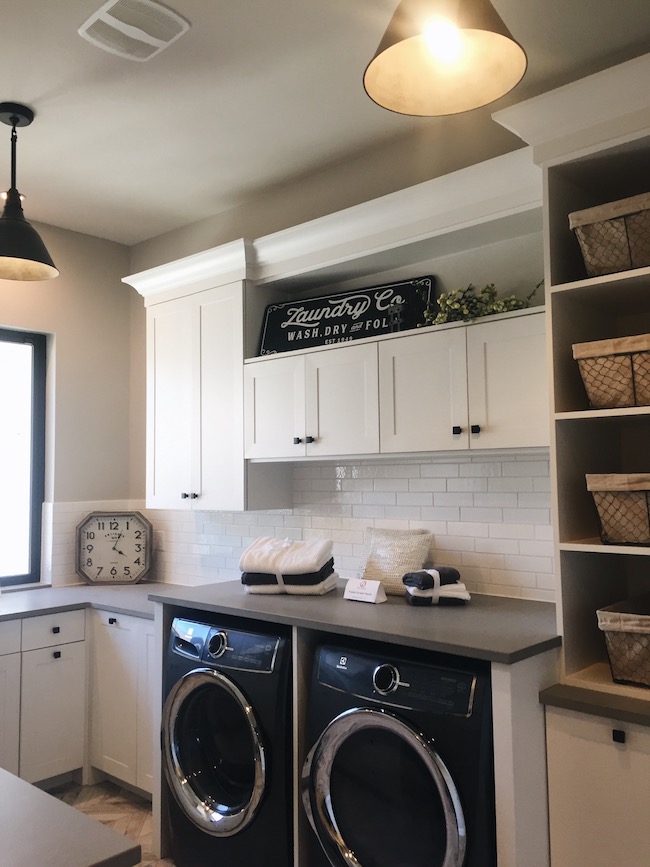 Shop with the arrows/thumbnails above (and find many more modern coastal farmhouse sources in the shop here!)
Related Posts on The Inspired Room:
Modern Coastal Farmhouse  – Street of Dreams