Here are simple pick-me-ups for a happier you and a more cheerful home.
1. Clear the Clutter
Intentionally weed out the clutter so you'll have more room to breathe! Too much stuff in a room stifles the joy in the every day experiences of life.
Start with a manageable goal to remove clutter. Do you want to open your clothes closet and feel happy, or stressed? Give away what you don't want, so you can bring joy not only to yourself, but to someone else who may need what you have.
Line drawers with pretty shelf paper, invest in attractive baskets and organizers to organize your storage areas.
2. Change the Scenery
Simple changes around the house can be so invigorating. Break out of your predictable design choices and try more boldly patterned artwork (like my new botanical art above!) or pillows for a refreshed look. Add new curtain panels to your windows to frame the view outside. Keep your blinds and shutters open during the day so you can enjoy the changes of the seasons.
3. Gather with positive people
Think of simple ways you could bring more fun, positive people into your life. Invite your favorite neighbors to watch a TV series together once a week. Host a craft night for local moms. Invite friends to join you for a monthly Sunday brunch. An invitation to your home might boost someone else's spirits, right along with your own.
Have fun with hospitality! Set the table with cheerful dishes and linens to set the mood for uplifting conversations.
In my new book Dwelling I wrote about the importance of gathering with people! Healthy relationships impact our well-being in positive ways.
4. Calm The Daily Chaos
Lack of organization can leave you feeling stressed, tired and frustrated. A lack of planning can make your home feel chaotic, too! Time management and home organization will have a significant impact on the atmosphere in your home.
If you struggle with organization and creating daily routines, my book Make Room for What You Love will inspire you to form new habits, calm the chaos and create more order in your home.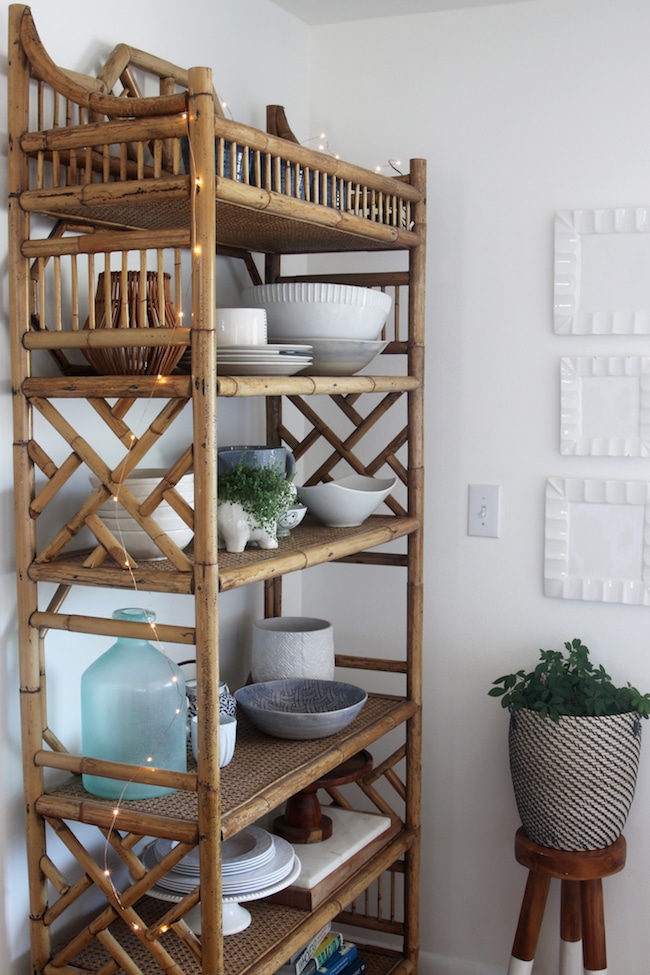 5. Incorporate Real Plants to Bring Cheer
Not only do real plants help purify the air, but they bring a spa-like serenity to the home. Use plants in your decor! Set them on plant stands, or put them in baskets and hanging pots around your home. I often use these wood dip-dyed stools as plant stands!
Instead of artificial ingredients that can negatively impact your health and well-being, stick with real plants and quality essential oils that will refresh the air in your home and boost your mood at the same time (I recommend these oils!).
6. Design a Happy Atmosphere
In order to be happier at home, we need to intentionally invest in a happy place be. Insist the mood of your home be more fun and less serious. Play music that uplifts everyone's spirits. Dance in the kitchen while you wash dishes. Set a notebook on the counter to make lists of your family's happiest or funniest moments.
7. Find More Joy
A sure way to find more happiness at home (and in life) is to put it in plain view! Find creative ways to keep yourself focused on what is good around you. Surround yourself with positive reminders. Hang inspirational quotes on your wall, set favorite family photos on your dresser, or add things that make you smile in unexpected places.
You can download the quote above (from my book The Inspired Room) as free printable artwork right here!
Some happy decor finds:

---
More on The Inspired Room:
Spark Joy with Your Decorating Style (my guest room update!)
One Thing I Do Every Day to be Happy
Create Your Happy Place at Home
Dwelling: The Heart of the Home-Maker