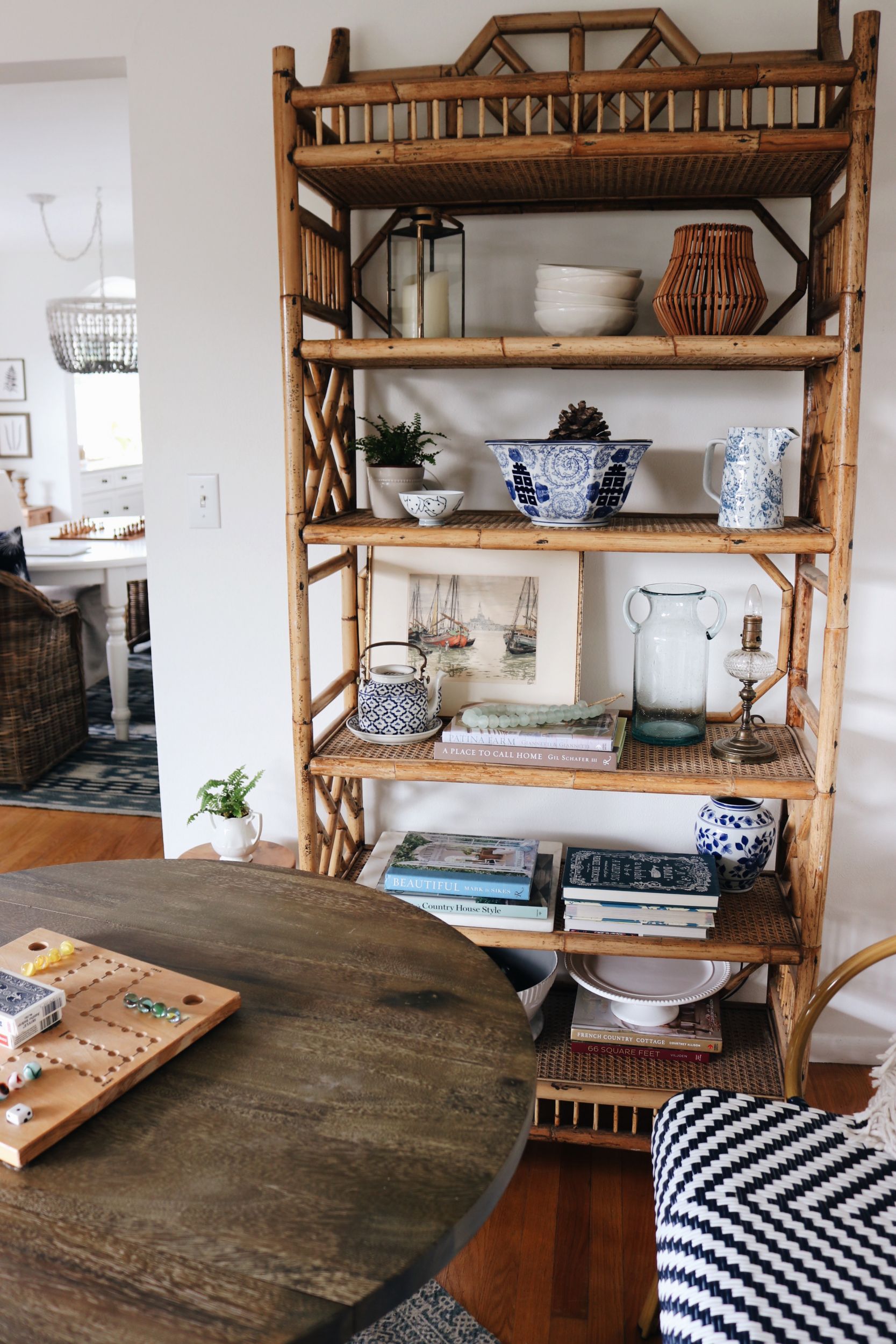 Awhile back I posted about the idea of putting a small round table in the corner of our living room. Today I wanted to show you that I made progress on giving this a try!
My thought was that we had room in this little corner for *something* so why not make it a usable destination that serves a purpose?
As I mentioned in this post my original idea for this spot was built in book cases and maybe even enclosing a closet for the master. I still love that idea, but I have to pace myself on bigger projects. So that idea has to wait until we're ready to commit and get it done!
But, a round game table seemed doable right away! I love those ideas, the ones you can do on a whim because they are affordable, flexible and far less messy than construction on a new closet or built ins.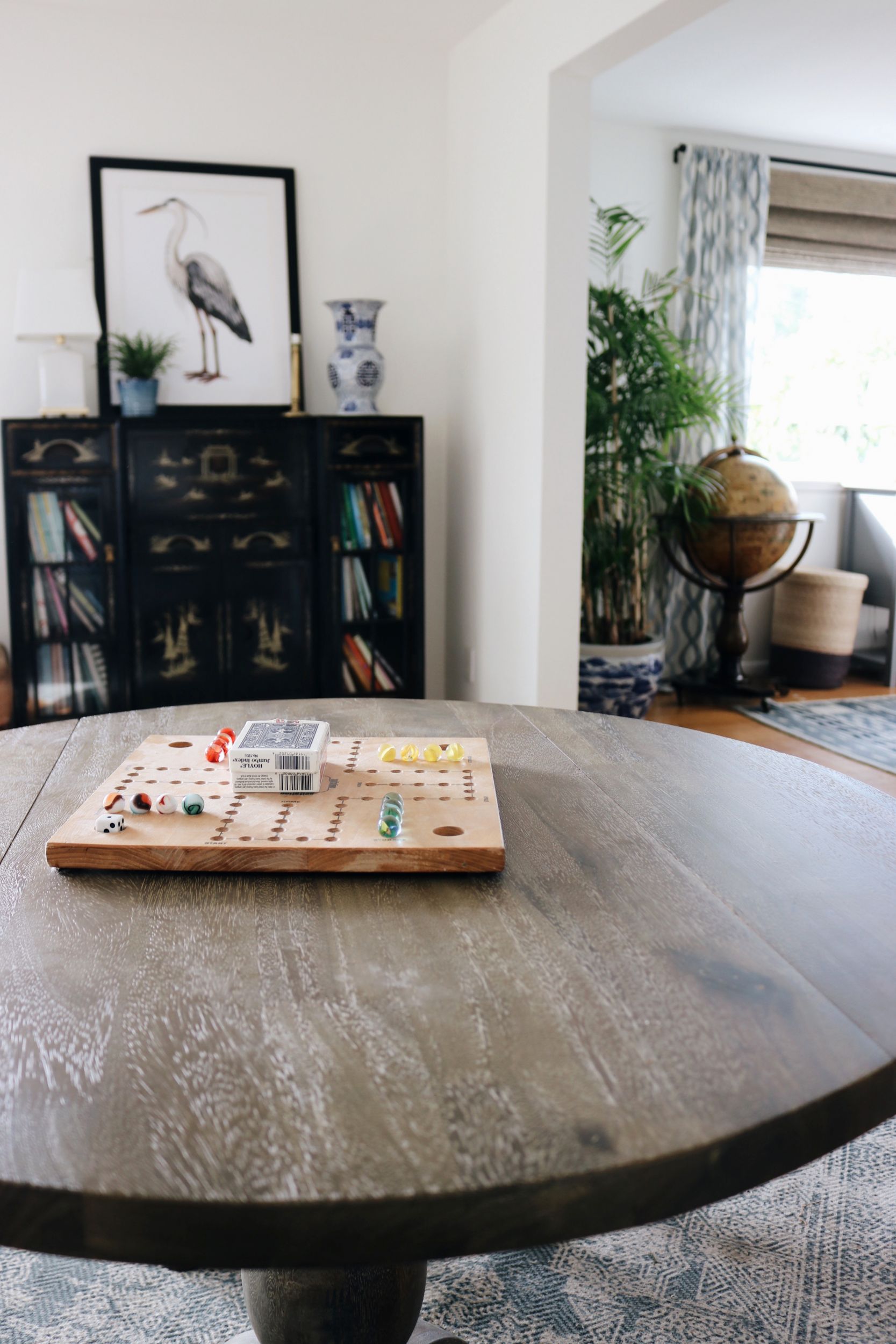 I tried our dining table here first (by taking the leaves out) but it just felt too big for what I was imagining. I've used this particular table as an end table and LOVE IT. It's a nice size, perfect for lamps next to a sofa or between a sofa and a chair. Courtney uses this same table as her dining table in her studio apartment! Plus, it has drop leaf sides so it's really a flexible piece that can be used however and wherever it's needed.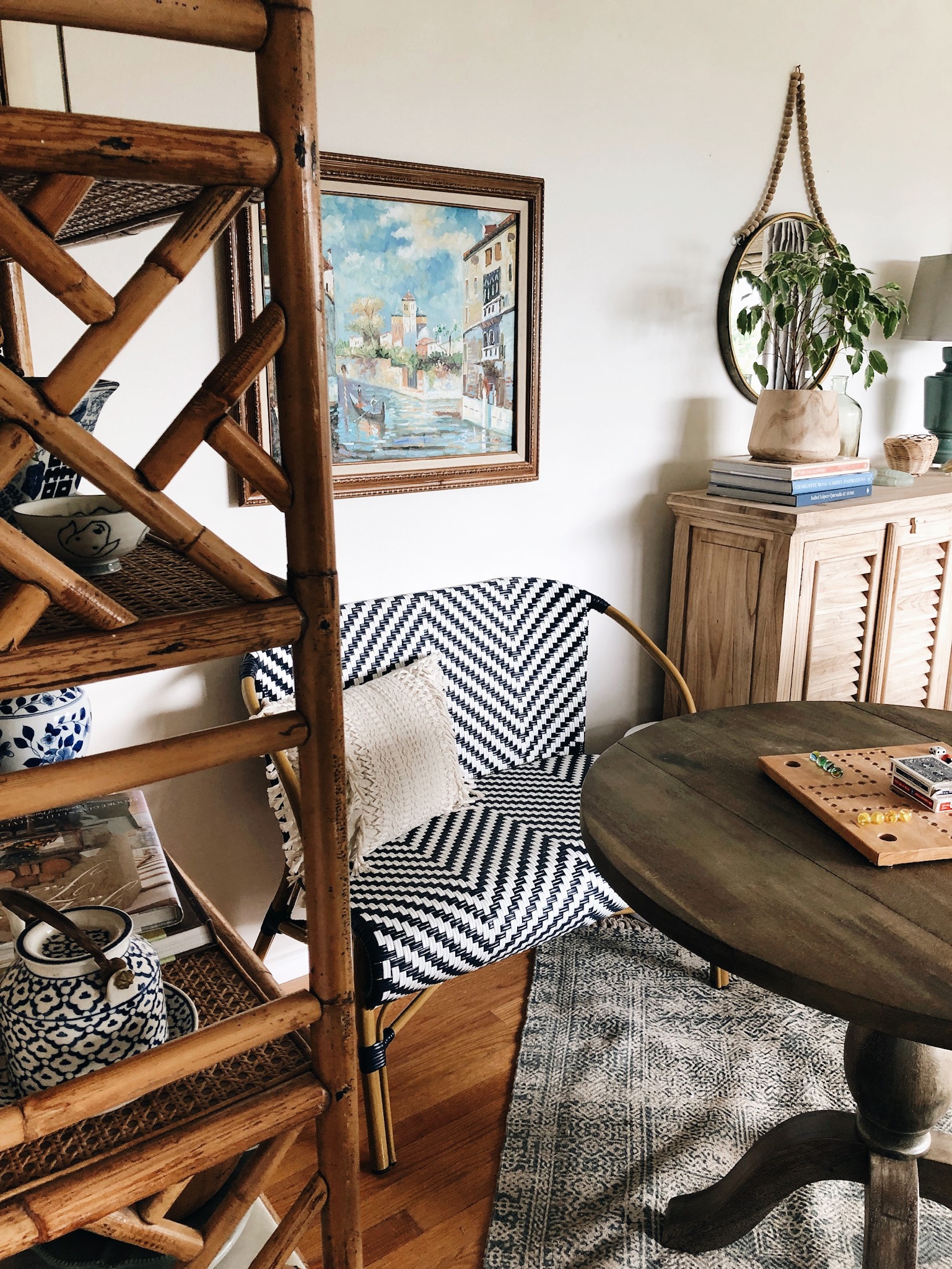 To set up this game table corner I pulled together a few other pieces I had to see if would work (a bench from outside, our rattan shelf from the dining room, a rug from here, the flea market art from our dining room).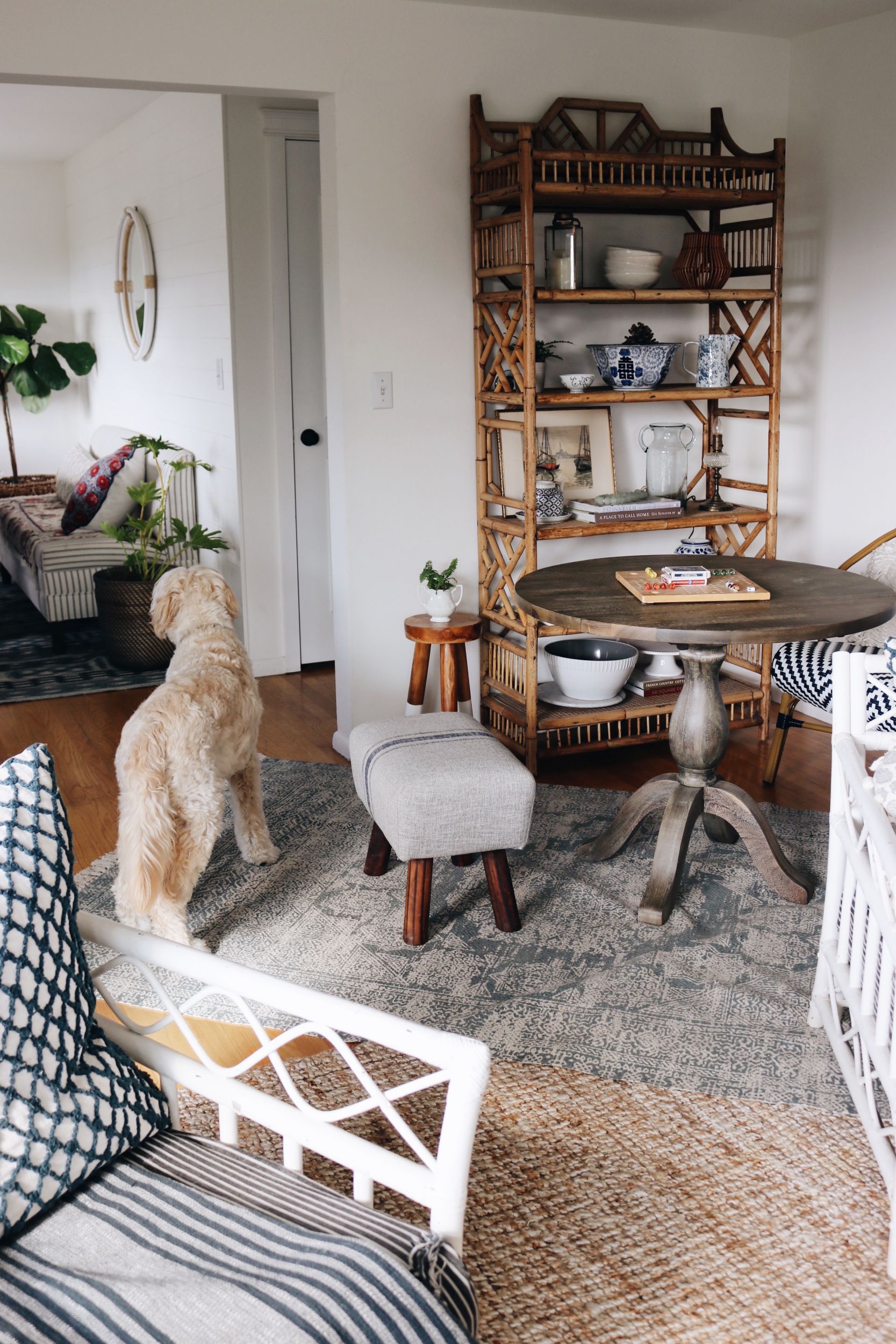 This whole corner can (and knowing me, will) evolve in time. But that actually made it more fun to try it, since I knew I didn't have to commit to anything permanent!
I do that often around my house (as you've probably noticed hahahaha) as it's nice to sometimes just try something in a new spot or in a different configuration and see how you feel about it.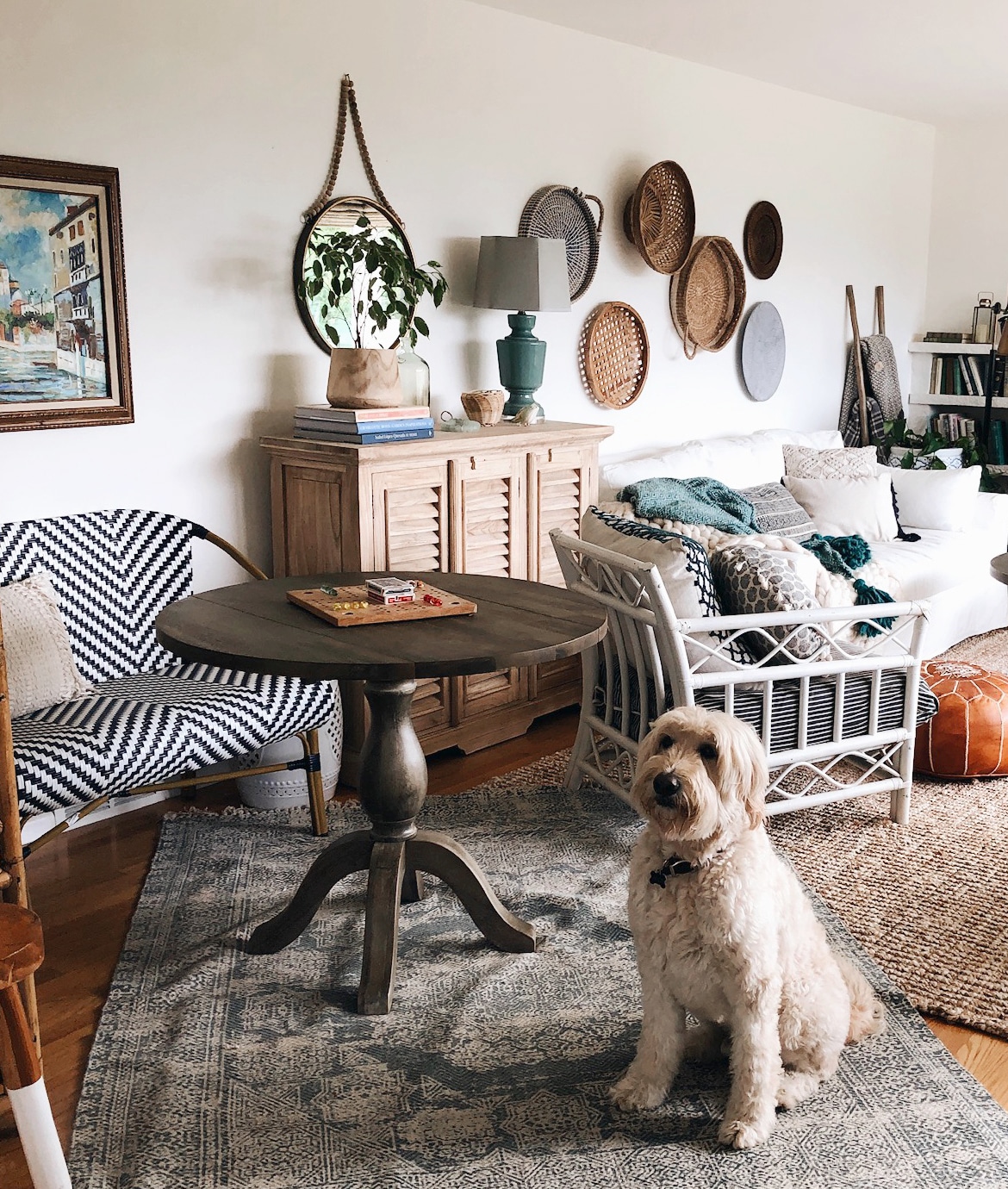 You may eventually land on exactly what you want where, or you might always be a shuffler. It's your room, do what you want. There's not only one right way to go about it.
Often you simply need to give yourself permission to try things. Work with what you have (or don't have!), taking into account your taste, timeline, current needs and your budget.
Don't be afraid to make a "mistake." If you don't like it, you can switch it all up again. You can take things away, streamline or decide you want to add something new based on how you felt.
I find shuffling even helps me to visualize more permanent changes to a room before I make them. Less expensive mistakes are made when you aren't rushing into permanent changes.
I already have a few more updates coming to this room in the next few weeks, so it's all still in "transition."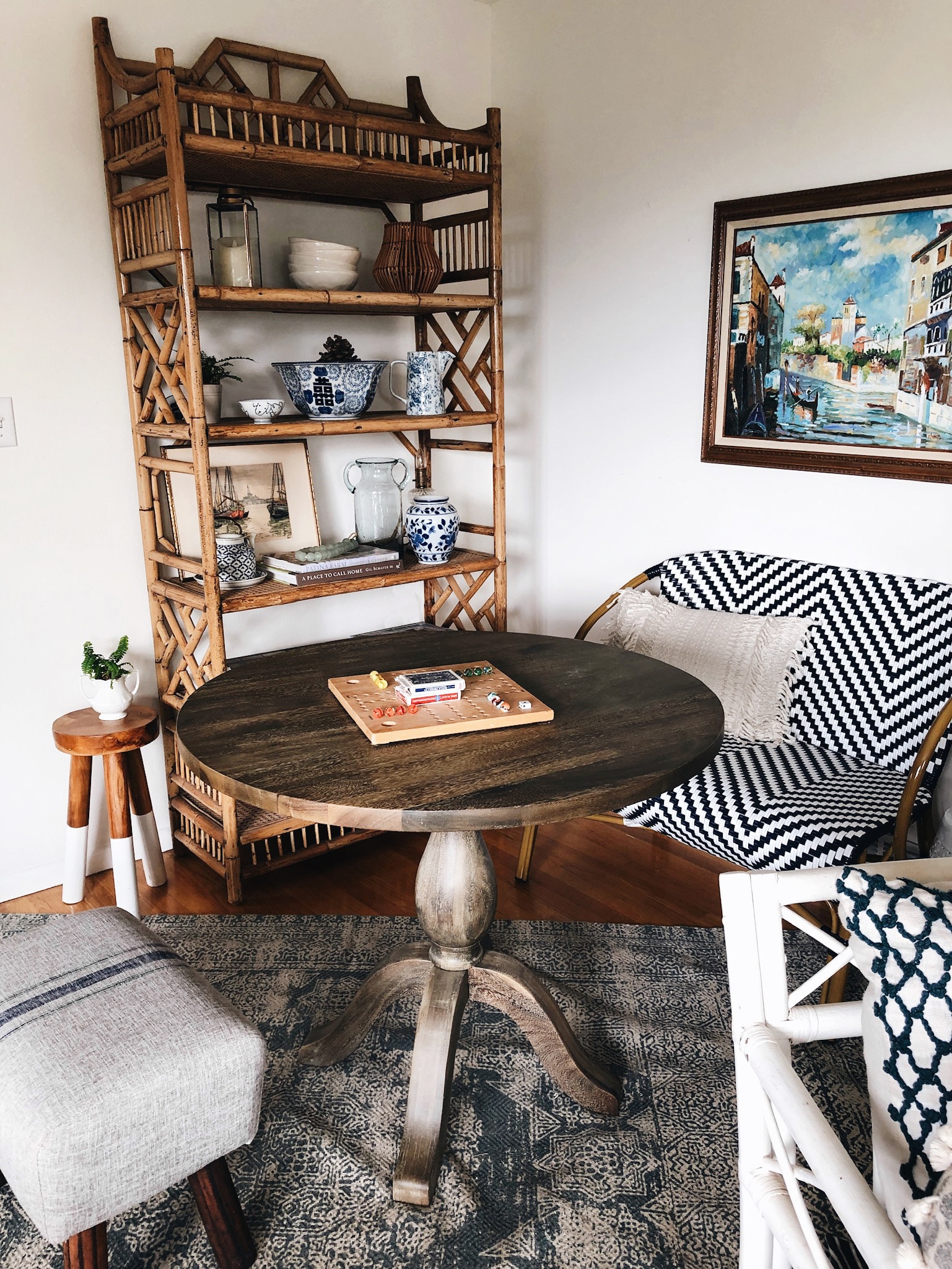 For now, I can say this set up feels like a useful and cozy update to our living area. We could definitely use it as a "book nook" and I've already sat here to work!
Our plan is to at least use it at Thanksgiving as an additional table for the meal, too. And of course, it will be a great surface to play a game, do a puzzle or even to set up a candlelight breakfast or dinner for two empty nesters. :)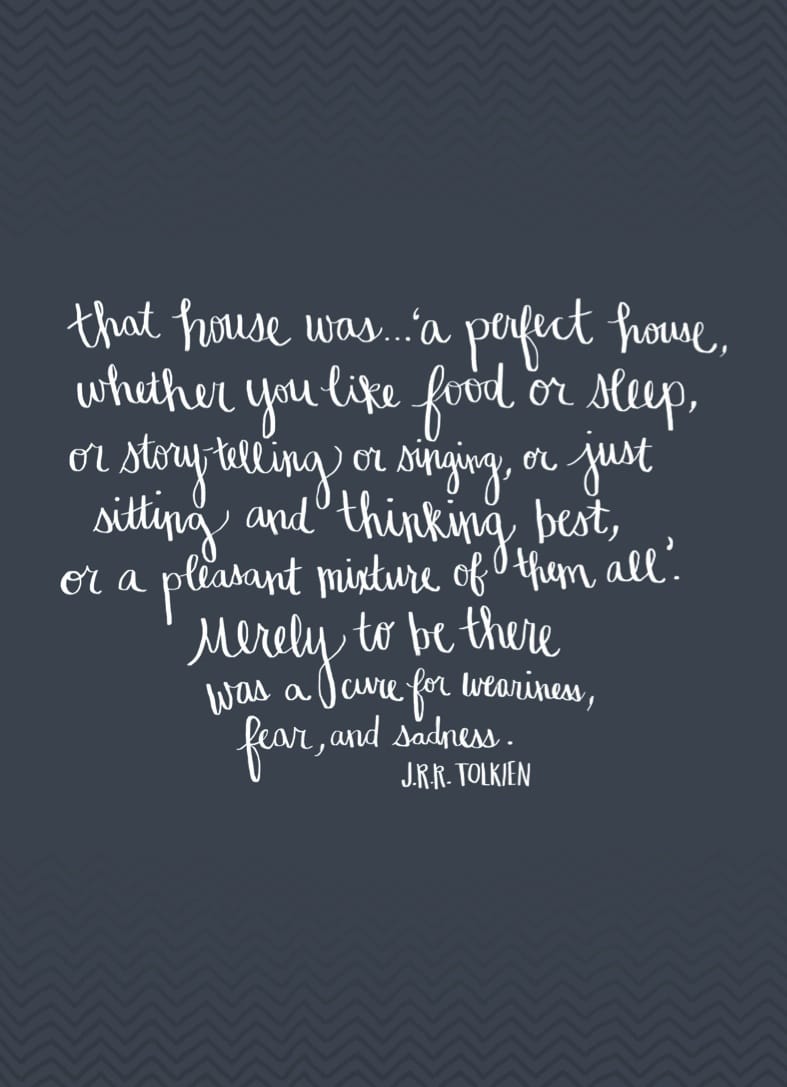 This J.R.R. Tolkien quote about the perfect home was in my book The Inspired Room (hand-lettered by my daughter Courtney!) and it still rings true for me. You can download it as free printable artwork here…and more free quote artwork from my book Dwelling right here!
What could be more perfect than a home that inspires you to live the life you want to live?
PS…Have you joined The Inspired Room Community yet? It's free for my subscribers! I am loving it so far! Find details and join here. Comment below if you have any trouble getting in!
More on The Inspired Room:
Shop my house sources and latest decor finds here
A Look Back on Our House Improvements
My Decorating & Homemaking Books