Welcome to Fall Nesting on The Inspired Room!
Welcome to The Inspired Room readers' favorite annual series where we fall in love with all things fall + cozy + home! We are SO EXCITED you are here!
Fall Nesting 2019 Series:
VISIT POSTS FROM THE 2018 FALL NESTING SERIES BELOW:
Day One: An Autumn Mindset
Day Two: 20 Little Things
Day Three: Cozying Up the House with Shutters
Day Four: How to Decorate Your Coffee Table in Any Season
Day Five: Fall House Tour
Day Six: Embrace Your Style (and adapt as needed)
Day Seven: Your Fall Morning Routine
Day Eight: Fall Puttering
Day Nine: Simple Ways to Create a Welcoming Fall Porch
Day Ten: Make Your Bedroom a Cozy Retreat
Day Eleven: Fall Home Refresh – 5 Ways to Bring Your Home to Life
Day Twelve: 14 Simple Fall Decorating Ideas
Day Thirteen: 3 Cozy Fall Activities for the Homebody
Click here to shop my Cozy Fall Shop!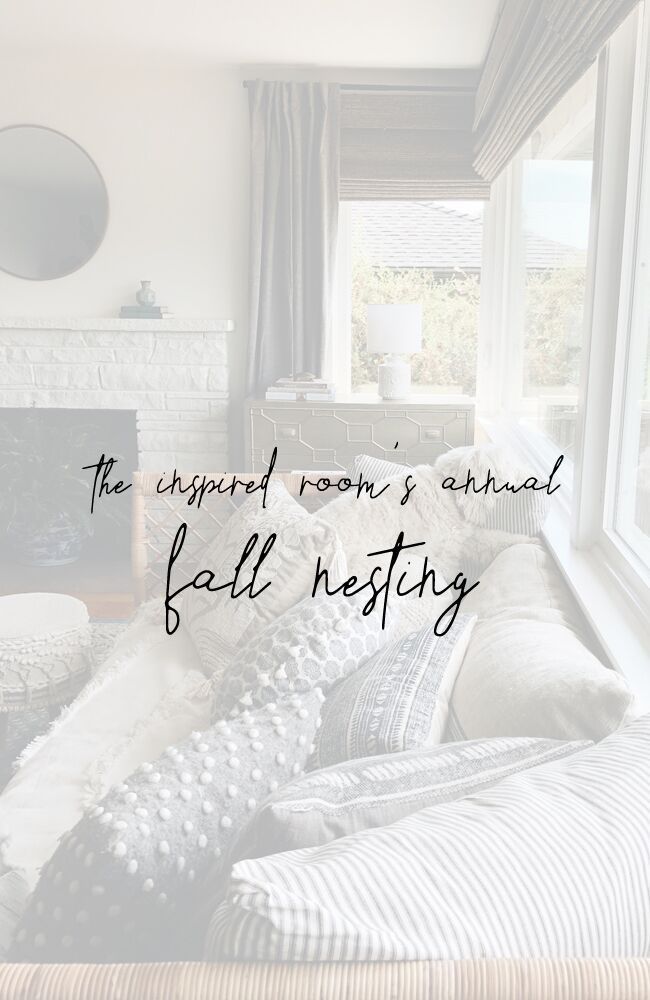 2017 FALL NESTING SERIES:
DAY ONE – WELCOME TO FALL NESTING + FREE ART PRINT
DAY TWO – EVOLVING MY KITCHEN FOR FALL
DAY THREE – HOW TO CREATE A COZY COLLECTED KITCHEN
DAY FOUR – FALL DIFFUSER BLENDS INSTEAD OF CANDLES
DAY FIVE – SIMPLE GATHERINGS (AND FOUR FREE EBOOKS)
DAY SIX – FALL DINING ROOM: FARMHOUSE HOLIDAY TOUR
DAY SEVEN – SIX UNEXPECTED WAYS TO CREATE A COZY ENTRY
DAY EIGHT – FALL COOKING AND COOKBOOK ROUND UP
DAY NINE – FIVE IDEAS TO INSPIRE A NEW FALL LOOK FOR A LIVING ROOM
DAY TEN – FALL GATHER (WHAT'S YOUR FALL LOOK?)
DAY 11 – SEVEN WAYS TO COZY UP YOUR FIREPLACE
DAY 12 – JACK AND THE VELVET PUMPKINS
DAY 13 – GATHERING OF FRIENDS
DAY 14 – FALL'ING FOR VINTAGE AND MODERN DECOR: A HOME LOVE STORY
DAY 15 – HOW TO BRING ON THE COZY WITH TEXTURES
DAY 16 – 5 MUST HAVES FOR YOUR FALL HOME (AND THE COZY FALL SHOP)
DAY 17 – ART SOURCES FOR BEAUTIFUL BOTANICALS
DAY 18 – A HOME THAT TELLS YOUR STORY
DAY 19 – MAKING THINGS PRETTY: DRAWER AND SHELF LINERS
DAY 20 – 7 WAYS TO GET INSPIRED FOR THE HOLIDAYS
DAY 21 – ONE LONG SOFA TABLE: ONE PIECE, THREE WAYS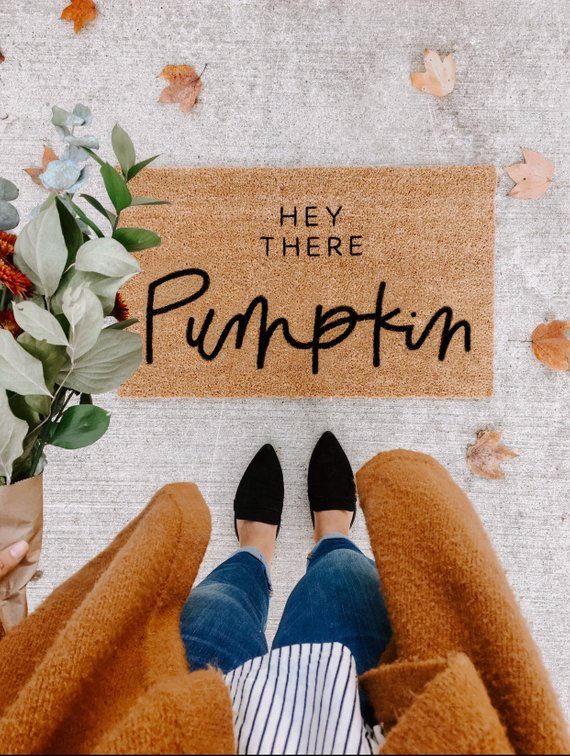 Plus check out our Ultimate Round Up of Fall Doormats to give you a little inspiration. And maybe get a fall doormat to kick off the season! :) Shop some of our favorite finds with the arrows below, and the rest here.

Click here to shop my Cozy Fall Shop!
To make sure you don't miss any post in the series, subscribe to my newsletter. I send out emails with links to new posts on the blog, plus deals and other goodies readers love. You can also follow The Inspired Room on Facebook and Instagram.
Bookmark this page to refer back to the series anytime.
See you soon!
Melissa