Welcome to Fall Nesting on The Inspired Room!
Welcome to The Inspired Room readers' favorite annual series where we fall in love with all things fall + cozy + home! We are SO EXCITED you are here!
To make sure you don't miss any post in the series, subscribe to my newsletter. I send out emails with links to new posts on the blog, plus deals and other goodies readers love. You can also follow The Inspired Room on Facebook and Instagram and watch the stories for decor inspiration, daily routines, behind the scenes, and more!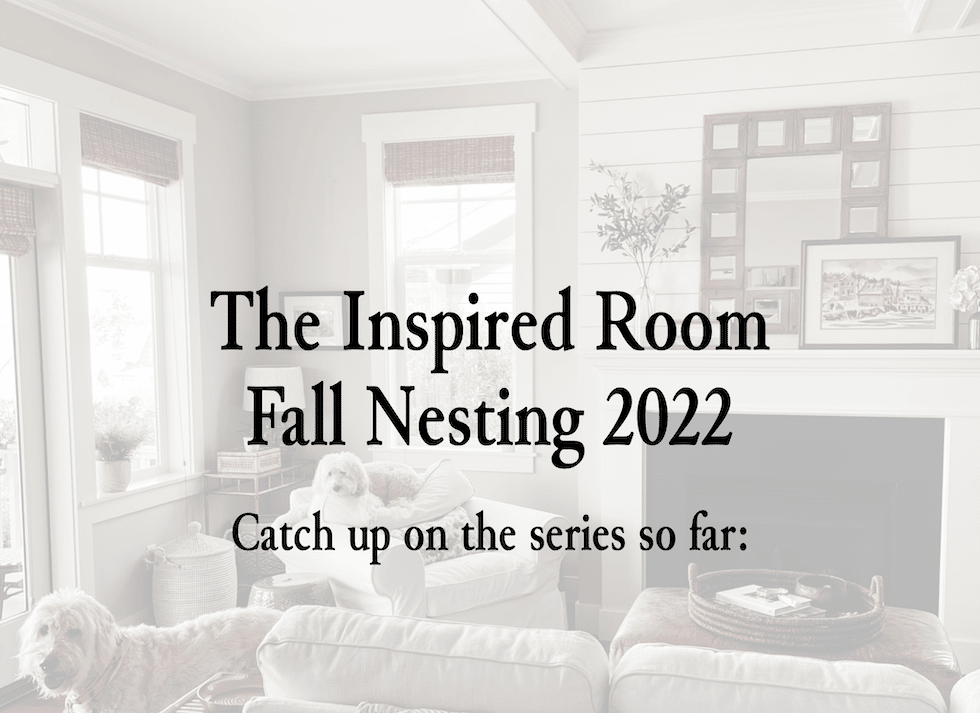 Visit posts from the Fall Nesting 2022 Series (so far):
Start here >> A Slower Rhythm Through the Seasons
Fall Decorating: 7 Simple Tips to Slowly Transition Your Home
Reversible Blankets for Sofas, Chairs, Beds and More! (our mud cloth layering blankets)
Affordable White Washable Slipcovers: Ikea Ektorp Chairs
How to Be Intentional in Planning for Fall and Holidays
Savoring the Last Sunsets of Summer from Our Porch!
How to Decorate a Fall Mantel Using What You Have
Vanilla Bourbon Latte: Make Your Morning Coffee Cozier for Fall
How to Savor Morning Rituals to Have a Better Day
Fall Mugs to Make Your Day Cozier
How to Decorate Your Kitchen for Fall: 17 Cozy Ideas
How to Create an Autumn Mindset for Your Home (and why social media is distracting us)
Cozy Fall Decorating Mood Board (10 Items I Love From World Market)
My Secret Decorating Tip (and my blue glass lamp is in a new spot!)
Our Cozy Fall Entry: 13 Simple Decorating Tips for a More Welcoming Entryway
Our Fall Front Porch 2022 (and the lantern is back!)
How to Create an Inviting Coffee Shop Experience at Home (three tips, fall recipes and money saving ideas!)
Delicious Pumpkin Spice Oat Milk Latte Recipe and Pumpkin Banana Muffins (2 recipes to make at home)
How to Pick Decorative Pillows That Go Together (5 tips on style, pillow inserts and saving money!)
The Ultimate Decorative Pillows Roundup + 9 Pretty Pillow Pairing Combinations!
Battery Operated Window Candles: A Charming and Cozy Tradition for Winter
DIY Porch Wall Lantern with a Flickering Candle Bulb — Without Electricity or Gas!
An Inviting Curl Up by the Fire Mood Board (get the mood with a faux fireplace mantel!)
How to Make a Cozy Fall Simmer Pot
*** Click here for all of our Fall Nesting 2022 posts ***
*** Click here for our Fall Nesting 2021 posts ***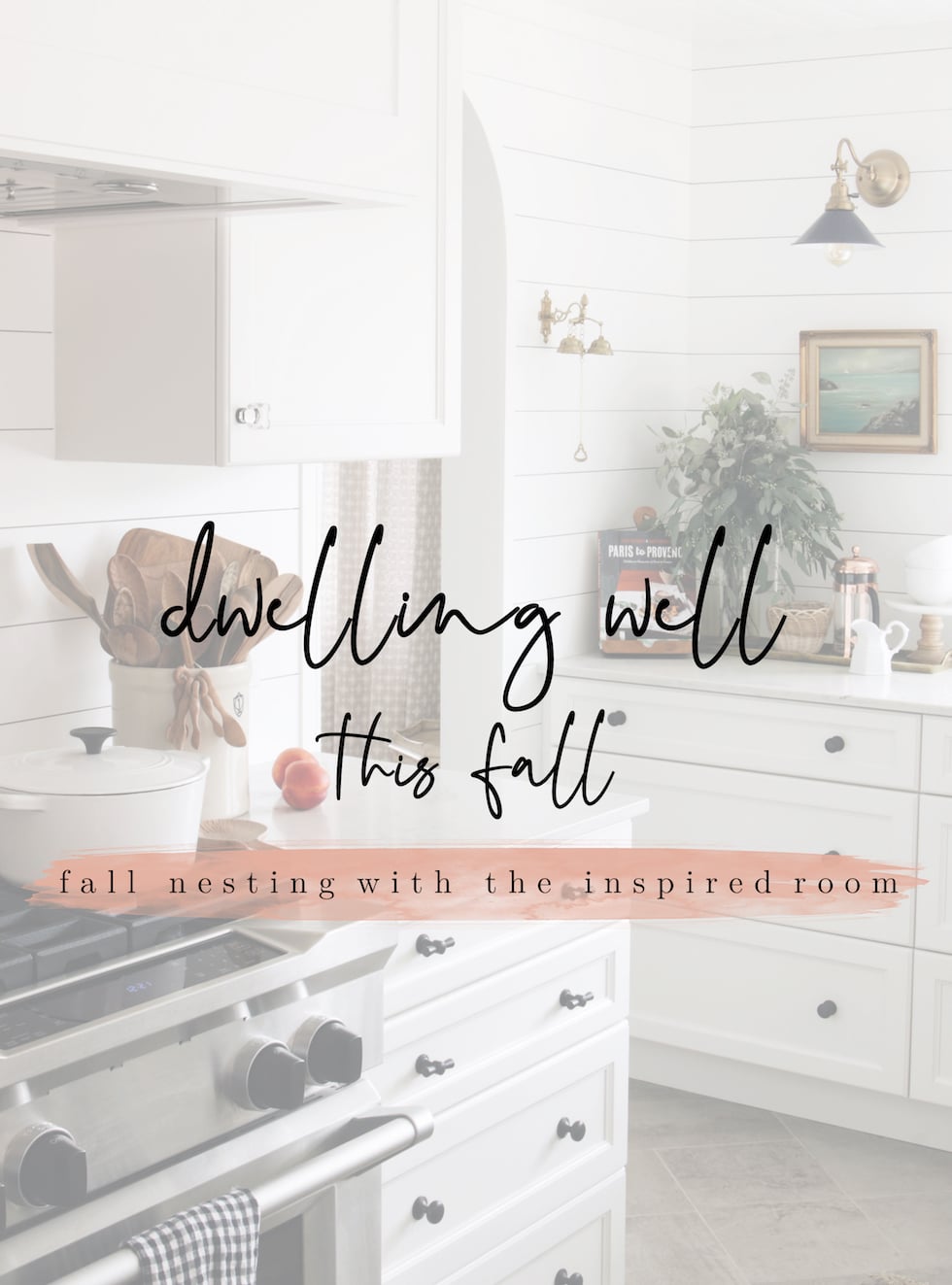 Visit posts from the 2020 Fall Nesting Series: Dwelling Well This Fall
Tips to Decorate Your Fall Living Room
My Simple Fall Porch & Lantern
My Favorite Fall Decor in My Cozy Fall Shop
14 Ideas for a Cozy Fall Kitchen
Make Your Home the Coziest It Can Be (3 Take Away Tips)
Cozy Self-Care Corner Must-Haves
Four Essential Home Making Practices for Every Season
How to Decorate with Faux Fall Foliage
Hospitality and Joy are Not Cancelled (Decorate your Porch)
Inspired By: Built-In Bookcases

How to Make Your Home Smell Cozy and Inviting
How to Create a Memorable Fall Home + Cozy Diffuser Blends
The Best Gluten-Free Dutch Baby Recipe
The Most Regrettable Decorating Mistake You Can Make
Tour the 2020 Southern Living Idea House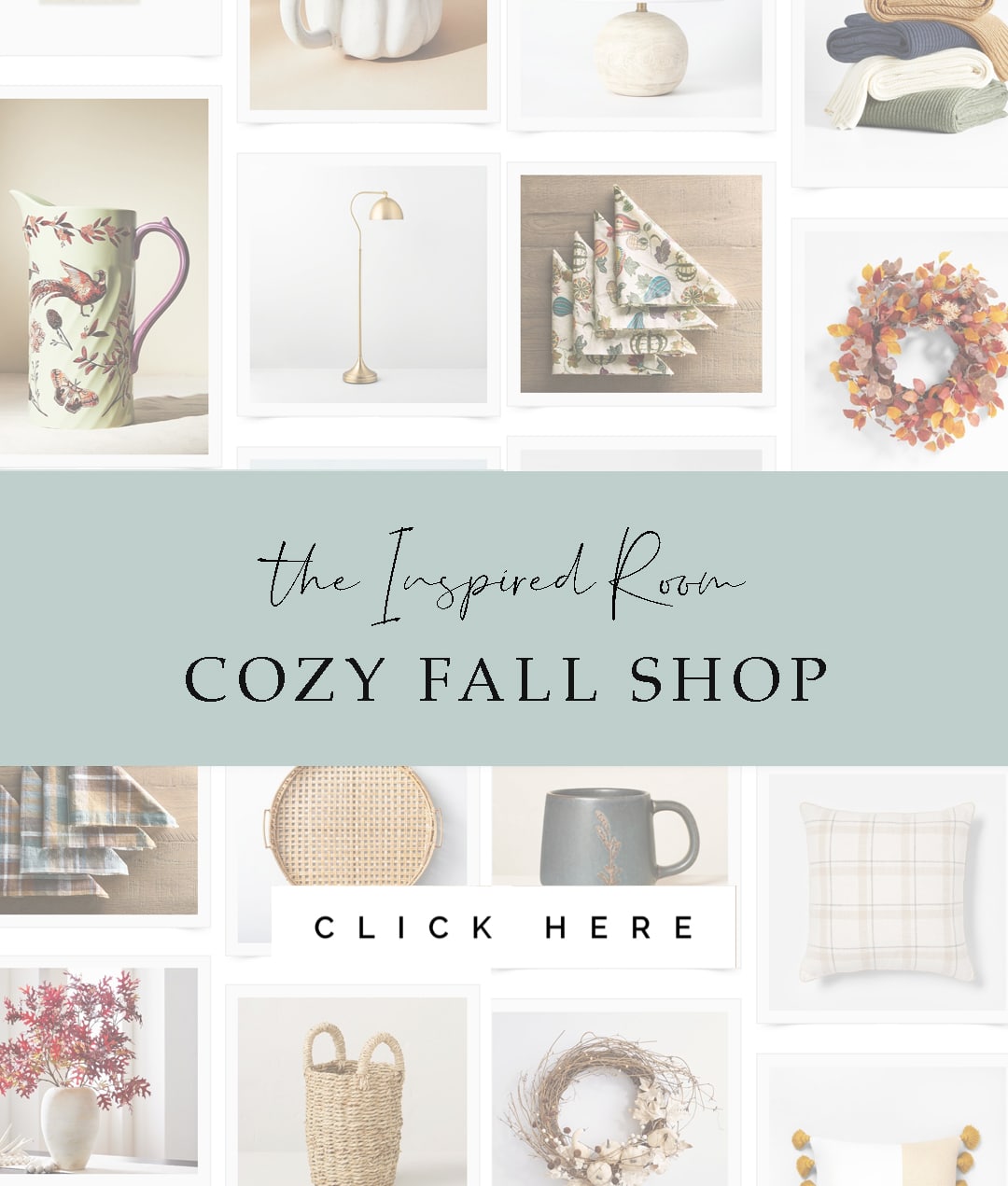 Click here to shop my Cozy Fall Shop
Visit posts from the 2019 Fall Nesting 2019, Simple Tips for a Cozier Life:
Visit posts from the 2018 Fall Nesting Series:
Day One: An Autumn Mindset
Day Two: 20 Little Things
Day Three: Cozying Up the House with Shutters
Day Four: How to Decorate Your Coffee Table in Any Season
Day Five: Fall House Tour
Day Six: Embrace Your Style (and adapt as needed)
Day Seven: Your Fall Morning Routine
Day Eight: Fall Puttering
Day Nine: Simple Ways to Create a Welcoming Fall Porch
Day Ten: Make Your Bedroom a Cozy Retreat
Day Eleven: Fall Home Refresh – 5 Ways to Bring Your Home to Life
Day Twelve: 14 Simple Fall Decorating Ideas
Day Thirteen: 3 Cozy Fall Activities for the Homebody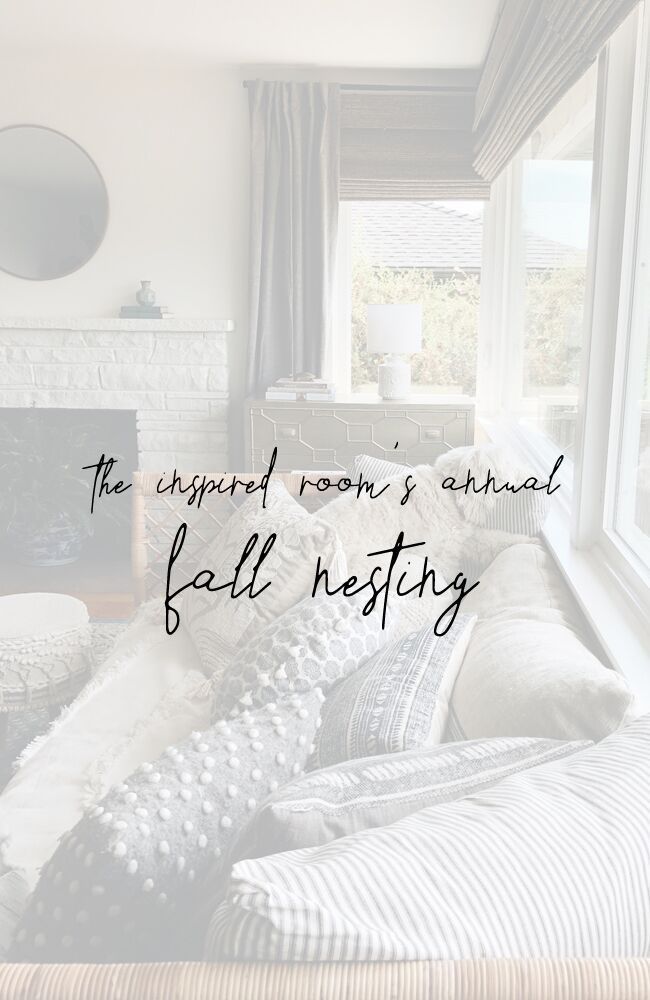 VISIT POSTS FROM THE 2017 FALL NESTING SERIES:
DAY ONE – WELCOME TO FALL NESTING + FREE ART PRINT
DAY TWO – EVOLVING MY KITCHEN FOR FALL
DAY THREE – HOW TO CREATE A COZY COLLECTED KITCHEN
DAY FOUR – FALL DIFFUSER BLENDS INSTEAD OF CANDLES
DAY FIVE – SIMPLE GATHERINGS (AND FOUR FREE EBOOKS)
DAY SIX – FALL DINING ROOM: FARMHOUSE HOLIDAY TOUR
DAY SEVEN – SIX UNEXPECTED WAYS TO CREATE A COZY ENTRY
DAY EIGHT – FALL COOKING AND COOKBOOK ROUND UP
DAY NINE – FIVE IDEAS TO INSPIRE A NEW FALL LOOK FOR A LIVING ROOM
DAY TEN – FALL GATHER (WHAT'S YOUR FALL LOOK?)
DAY 11 – SEVEN WAYS TO COZY UP YOUR FIREPLACE
DAY 12 – JACK AND THE VELVET PUMPKINS
DAY 13 – GATHERING OF FRIENDS
DAY 14 – FALL'ING FOR VINTAGE AND MODERN DECOR: A HOME LOVE STORY
DAY 15 – HOW TO BRING ON THE COZY WITH TEXTURES
DAY 16 – 5 MUST HAVES FOR YOUR FALL HOME (AND THE COZY FALL SHOP)
DAY 17 – ART SOURCES FOR BEAUTIFUL BOTANICALS
DAY 18 – A HOME THAT TELLS YOUR STORY
DAY 19 – MAKING THINGS PRETTY: DRAWER AND SHELF LINERS
DAY 20 – 7 WAYS TO GET INSPIRED FOR THE HOLIDAYS
DAY 21 – ONE LONG SOFA TABLE: ONE PIECE, THREE WAYS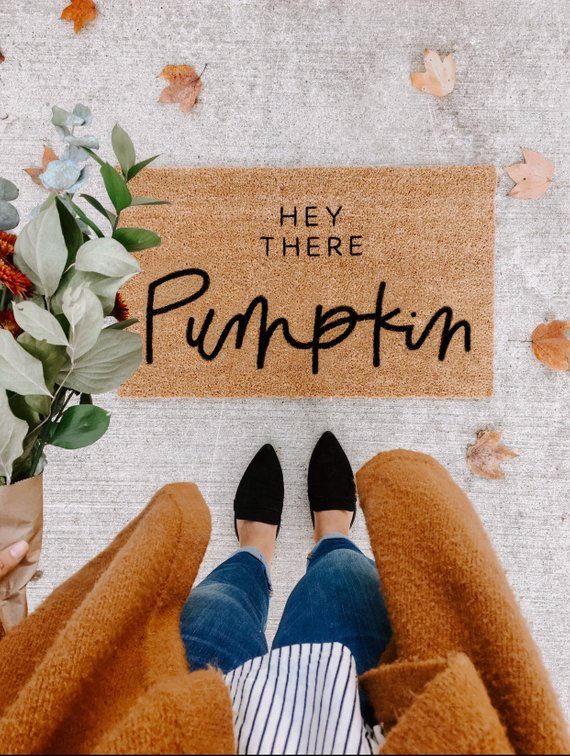 Plus check out our Doormat Round Up to give you a little inspiration. And maybe get a fall doormat to kick off the season! :) Shop doormats here.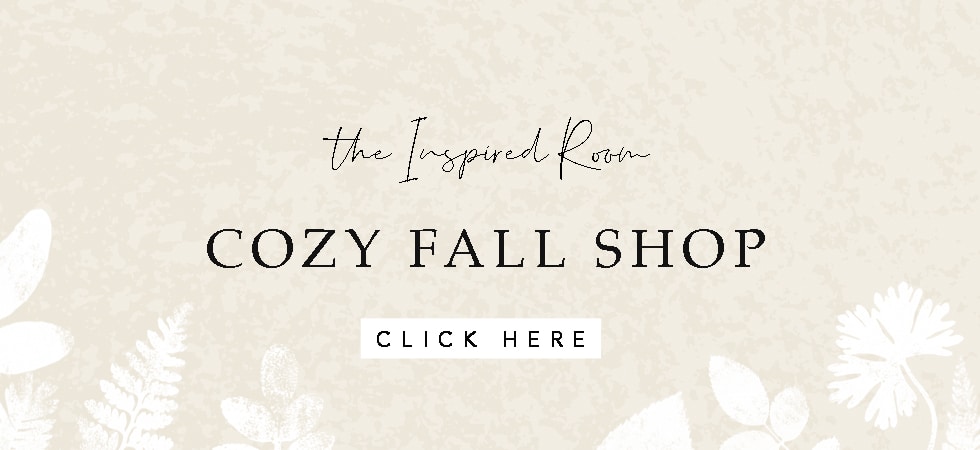 Click here to shop my Cozy Fall Shop with some of my favorite fall home decor finds!
To make sure you don't miss any post in the series, subscribe to my newsletter. I send out emails with links to new posts on the blog, plus deals and other goodies readers love. You can also follow The Inspired Room on Facebook and Instagram.
Bookmark this page to refer back to the series anytime.
See you soon!
Melissa