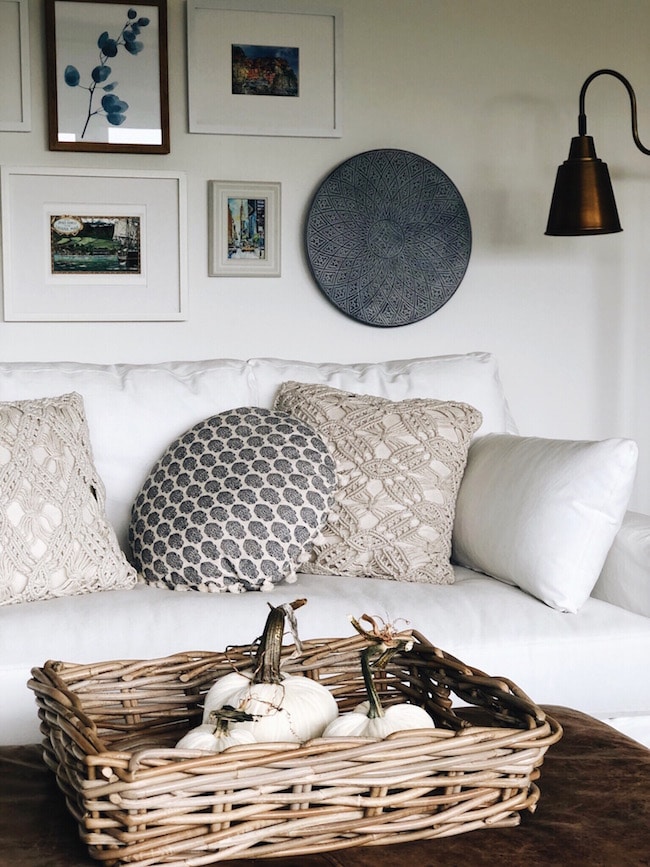 What would inspire you to live your very best life this fall? Maybe make a 'little things to love about fall list.' What's on it just might change the course of the season.
If you were to make a list, what fall sights and scents, special memories, activities or important traditions would you want to be on it?
In 2008, I wrote a blog post called 20 Little Things to Treasure in Autumn. And many years I've shared posts called 20 Little Things I Love About Fall. I wasn't expecting these posts to be such a huge hit, but lots of people got inspired by it and started posting their own lists of things they loved about the season. Ahhh, I found my people :).
The idea of creating a fall list really struck a chord! Granted, the internet was less overwhelming back then, so simple ideas like this were fun and inspiring.
I've heard some bloggers today feel a growing pressure to hire photographers for their home tours and spend thousands of dollars to decorate in order to get more eyes interested in their seasonal home. Oh my! We just made lists of little things we wanted to do and the crowds went wild, LOLOL! (Incidentally, you're invited to my fall house tour on September 10th!).
But, reminiscing aside a decade later, I have to wonder if focusing on simple fall pleasures wouldn't bring us just as much (or more?) happiness, peace and contentment today.
Who wouldn't feel happier just thinking about the cozy textures, scents and traditions of fall? (I hope my kind of people still would!).
Simple joys. 
I still think making a list can be an inspiring and productive way to begin a new season. It could even change expectations and inspire meaningful experiences in the season ahead.
I know I can easily look like a squirrel running all over the place and not even looking where I'm going half the time. A list keeps me focused on what I say matters to me and the simple things that will inspire me to live my very best life.
Below is the list I posted a decade ago. Just for fun and maybe to inspire you to make your own, I'm reposting the list just as it was back then. I don't think I'd change much today!
What would be on your fall list?
Simple joys, friends. That's what fall should be all about. Let's remember that.
20 Little Things To Love About Fall
Quiet dinners by the fire
Reading mystery novels in darkened rooms
Flannel sheets at the end of a long day
Candles Flickering
Smelling cinnamon, oranges & cloves
Pumpkins
Roasts, Potatoes & Carrots
Fluffy feather beds on a cold night
Watching movies snuggled in soft blankets
Cozy socks
Pie in the oven
Warm crackling wood stoves
Squash with buttered brown sugar
Chili and corn bread smothered in honey
Wind blowing through leaves
Glow of lamps through windows
Laughter filling a room
Scrabble and popcorn
Caramel apples
Family
I'd love to be inspired by your list if you make one, so feel free to post yours in the comments! Or spread the love of a return to simple fall joys! Write your list and share with me and your friends or followers on Instagram with the #fallnesting hashtag (follow and tag me @theinspiredroom!).
Fall Nesting Series:
Happy Fall Nesting!
A Round up of Fall Doormats
Day One: An Autumn Mindset
Day Two: 20 Little Things
Day Three: Cozying Up the House with Shutters
Day Four: How to Decorate Your Coffee Table in Any Season
Day Five: Fall House Tour
Day Six: Embrace Your Style (and adapt as needed)
Day Seven : Cozy Fall Morning Rituals
YAY FOR FALL!
P.S. You can also open the 20 Little Things video in full screen on YouTube.