Hello, friends! As always, I'm so glad you're here. Not only am I inviting you in to my little house for a fall tour, but today you'll get to visit FIVE other blogger friends who are on the tour with me! So fun, yes?   You'll find their links below.
Our Fifth House
Lolly Jane 
The Handmade Home
Thistlewood Farms 
French Country Cottage 
If you're new to The Inspired Room, I'm Melissa and I've been blogging here since 2007! I'm also the author of a whole bunch of books you can find here. I have two more on the way (books, not babies in case that was confusing, my babies are almost all grown now) and I've actually been up to my ears in edits the past few week. But even though it's been a wild few weeks, I LOVE fall most of all so it's fun to have y'all over!
Today I'll give you a tour through my main rooms so you can get the feel of our humble white brick house! We live in Seattle. We moved into our house three years ago this month, and we're still making this place our own. It's quite a process. So far we've painted inside and out, remodeled our kitchen, added two Dutch doors, lots of shutters, blinds, light fixtures, and some flooring and have done quite a bit of work outside, too. You can see our brand new outdoor deck here.
We have two furry pups, Jack and Lily, so you'll see them running through here and there. They LOVE tour days and having people over.
About eleven years ago I started an annual Fall Nesting series here on the blog. My philosophy has always been to keep everything pretty simple and just enjoy the slow unfolding of the season as I feel inspired.
So while I did unexpectedly find some pumpkin/gourds for my porch while I was at Trader Joe's yesterday, for the most part I don't do a lot of "fall decor." But I am a big fan of just bringing in more cozy textures and looking forward to all the familiar fall nesting rituals!
Alright, enough of me chatting. Come on in and make yourself right at home.  You'll find links to sources throughout the post and at the end, but feel free to ask questions in the comments. I love it when you say hi and let me know you're here!
And….I'll be quiet now so you can get on your way. Enjoy the tours! :)
Kitchen Sources and Details / Kitchen BEFORE Photos and Tour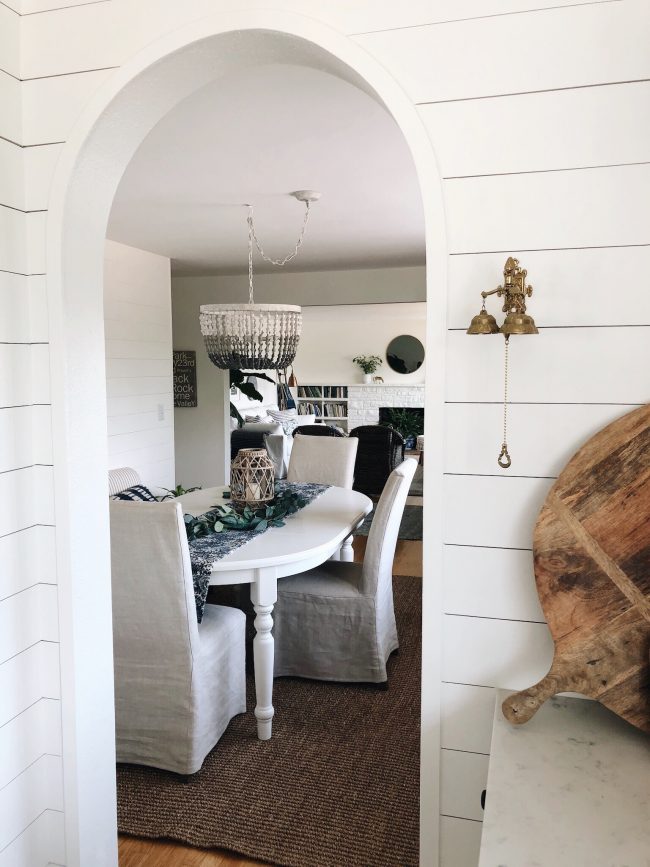 Wood Lantern / Eucalyptus Garland / Bench: Ballard Designs / White Rattan Mirror
Blue & White Rug / Dresser: RH Teen
Slipcovered Sofa / Striped Pillows
(couch details: deep seat slipcovered with a bench cushion, 80 inches long in the Warm White Denim fabric.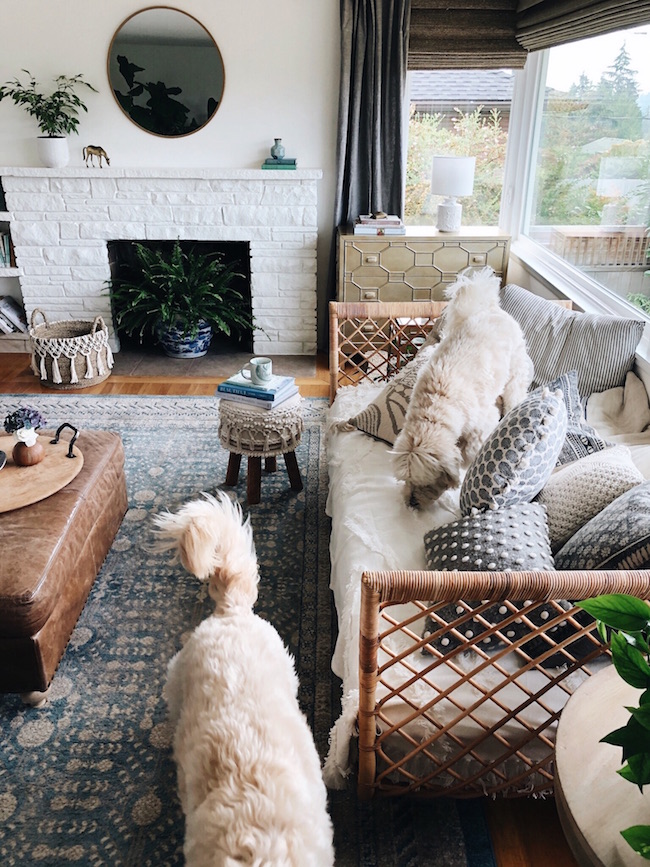 Rattan Day Bed / Blue and White Rug / Stone Fireplace Paint Details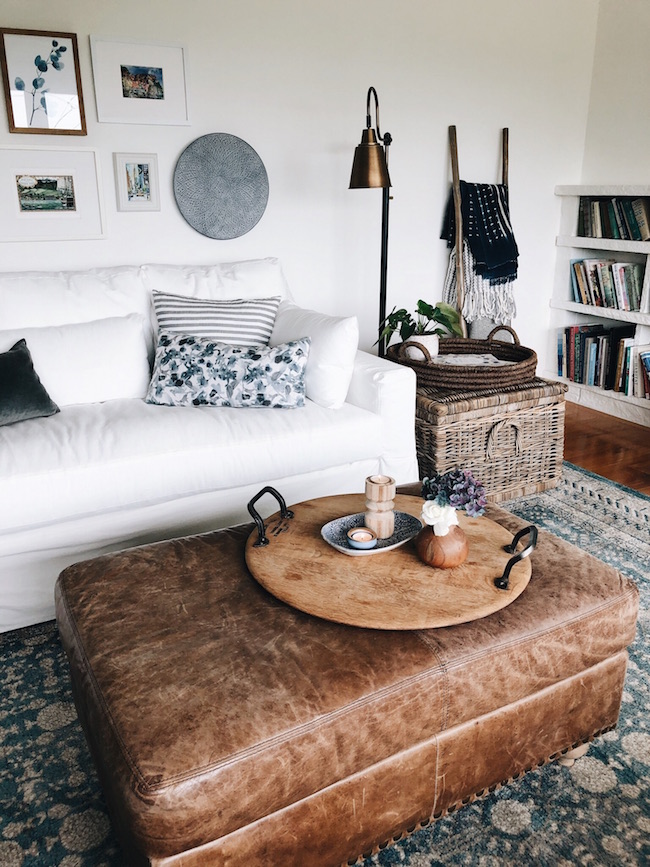 Woven Storage Hamper / Display Ladder
Macrame Pillows / Wood Bud Vase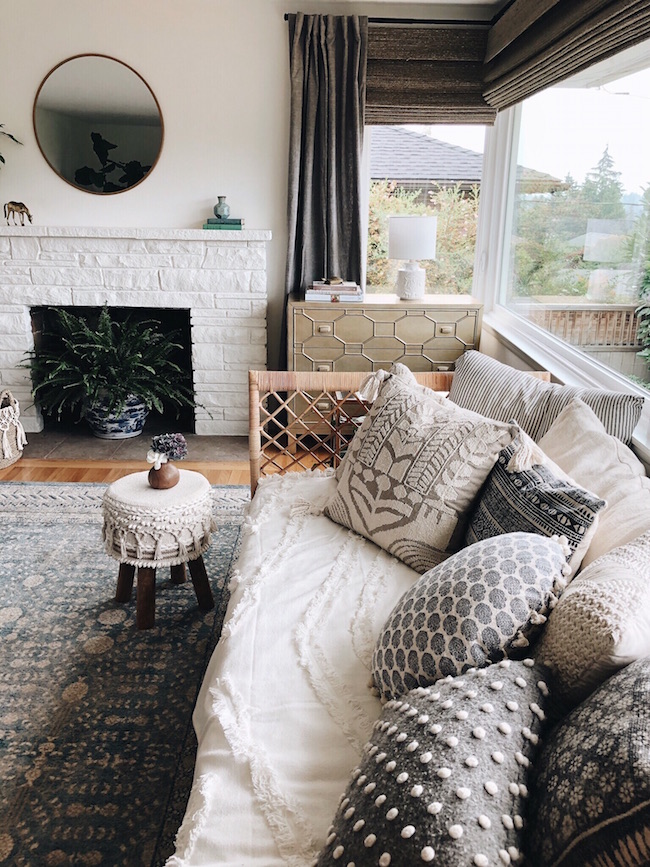 Round Pillow / Pillow with Tassels / Round Mirror
Macrame Stool (or similar) / Moroccan White Blanket on Daybed
Window Shades and Shutters Details
White Barn lights: Barn Light Electric / Benjamin® Union Porcelain Stem Mount Light / White Finish / Flush Mount / Mounting Finish: Same as fixture (white) / No Cage
Jute Runner / Wall Hooks / Botanicals: Ballard Designs–sold out, similar here
Word Pillow / Navy Linen Throw / White Quilt / Rug / Reversible Euro Shams
Beaded Chandelier / Pom Tassel Curtains
Jute Runner / Countertop Details
Dutch Door Details / Outdoor Wall Sconce
Thank you for stopping by!
Be sure to visit the rest of the Fall tours!
Our Fifth House
Lolly Jane 
The Handmade Home
Thistlewood Farms 
French Country Cottage 
* * * * * * * * * * * * * * * * * * * * * * * * * * * * * * * * * * * * * * * * * * * * * * * * * *
Also, I hope you'll follow along with my annual Fall Nesting Series, sign up here for blog updates!
My 2018 Fall Nesting Series posts:
A Round up of Fall Doormats
Day One: An Autumn Mindset
Day Two: 20 Little Things
Day Three: Cozying Up the House with Shutters
Day Four: How to Decorate Your Coffee Table in Any Season
Day Five: Today!
Day Six: Embrace Your Style (and adapt as needed)
Day Seven: Your Cozy Fall Morning Routine