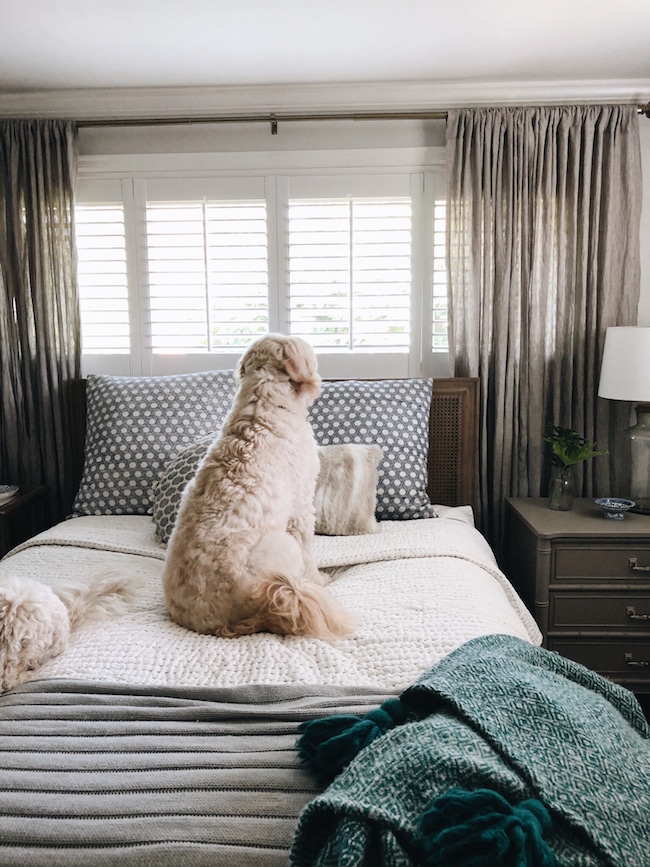 There are so many ways to add layers of coziness to your home this fall, but one of the most impactful ideas that comes to my mind is to install window treatments. If you live in an old or drafty house, covering your windows will save money and make your space feel so much warmer. It's a really good season to do it, too, so you'll be all snug for fall and winter chills.
I'm so glad we got our white plantation shutters installed! What a difference they have made in our home already. In addition to the all important matters of coziness, light, temperature and privacy, dressing your windows is an opportunity to add some personality.
The main thing I wanted to add to this house from the very first day we saw it was …. more character. I mean, it had it's own kind of charm being a solid older house, but there were some parts of it that I felt needed a little something extra to elevate and shape the character.
Trying to determine what "extra character" would be right to add to the house, and what would be just too over the top (or entirely wrong) took some time for me to contemplate. I especially struggled with what to do with the windows in our bedrooms. The style, placement and shape of the 1950s windows threw me a little bit.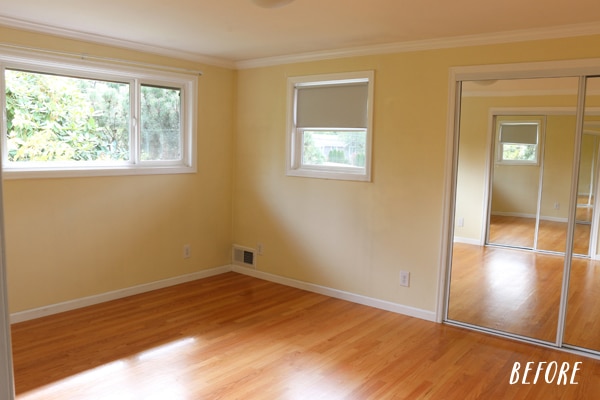 To refresh your memory or if you are new here, this is what our humble little room looked like when we moved in. There was not an option of changing the window shape at all, and new windows weren't an option either, so working with what we had was going to be our starting point.
Designing elements of a home from scratch really would be a dream for me, but using what I have and making it better than it was makes home improvement a "fun" challenge (ha, usually).
After living in our home for about two years while thinking about these windows every day (yeah, I'm a slow poke sometimes) I realized that I wanted to elevate the character of the house by adding plantation style shutters to the bedroom windows.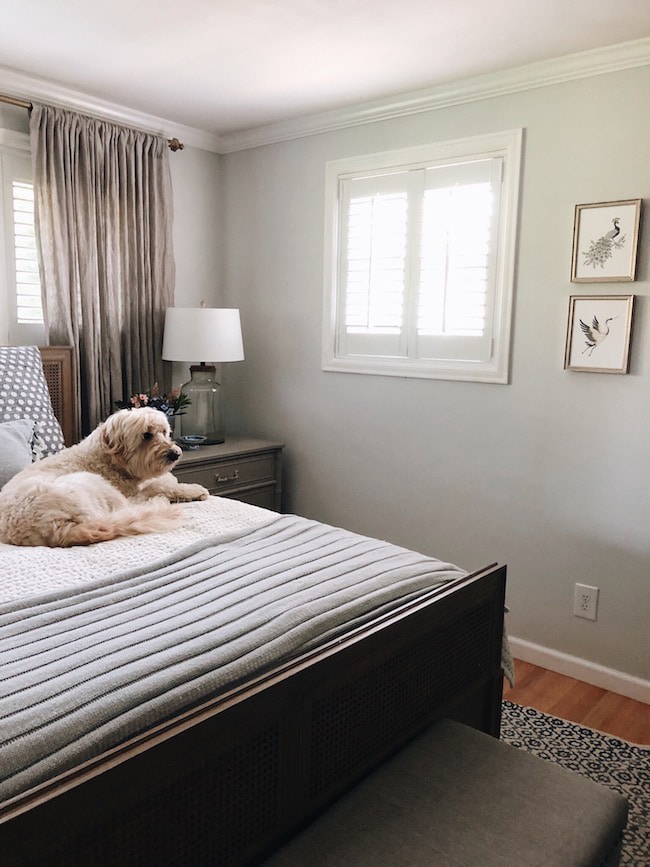 Originally I was considering bamboo or woven blinds which I love (and installed in other rooms and in our old house, too), but I'm so happy that the idea of plantation shutters popped into my head. They not only brought character to the house, but they added style and a great chunky architectural texture to the windows themselves!
The view out these windows is not as spectacular as the windows in the back of the house, so there was really no need to worry about losing any of the scenery here. But with these wide louvered plantation shutters, you can easily see out to enjoy the trees and gets lots of light in the room and privacy by adjusting the louvers.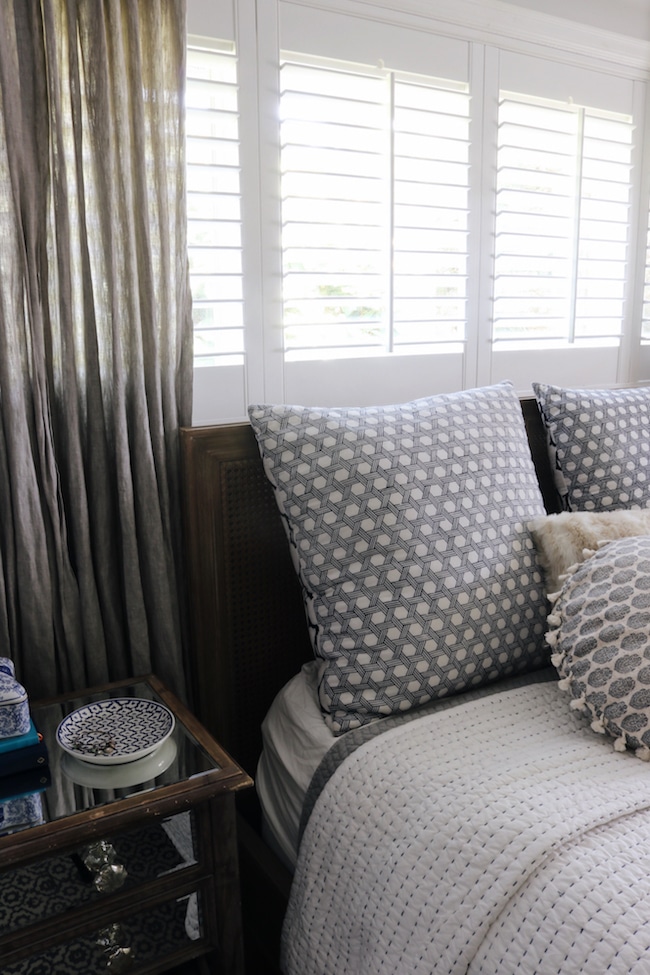 Shutters are also amazing for keeping dogs quiet all day because they can't see people or other dogs walking down the street. That benefit alone would sell me on them (if you have dogs you probably know what I mean). I don't like to have shades pulled during the day unless it's super hot outside, I need light! So tilting the shutters keeps it light and bright but still so nice, quiet and cozy … all of my favorite things.
Obviously, I think you can add both curtains AND shutters to a window! Curtain panels bring softness to our room, which I really like. The fabric also helps to frame and balance the width of the window around the bed. In some rooms I prefer shades or shutters on their own alone, so every room is different.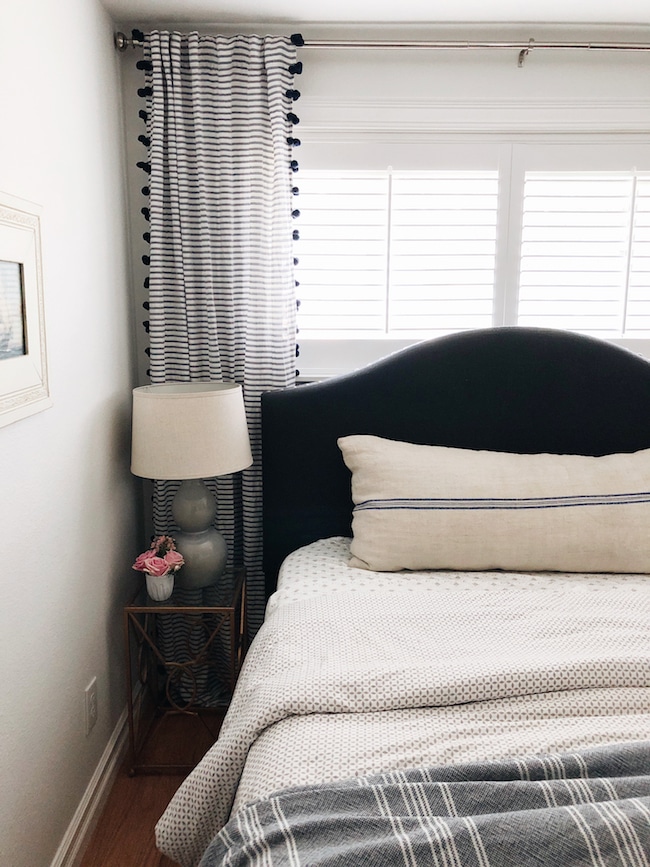 Repeating the shutters in multiple rooms on the main floor and lower level brought style consistency around the house and even to the exterior (you can get a little bit of a peek at the shutters in the basement from outside on the new deck, below. You can also see the guest room shutters, above).
It's really interesting what shutters can do for the character of a home, inside and out. We'll talk more about that and I'll have more photos to share another time.
Our shutters are from Select Blinds (they are one of my blog partners so there's a great discount code and deal link below!). They arrive to your home ready for you to install. First you'll take your window measurements and then the shutters are built and shipped right to you! That's cool because it saves you a lot of money on labor!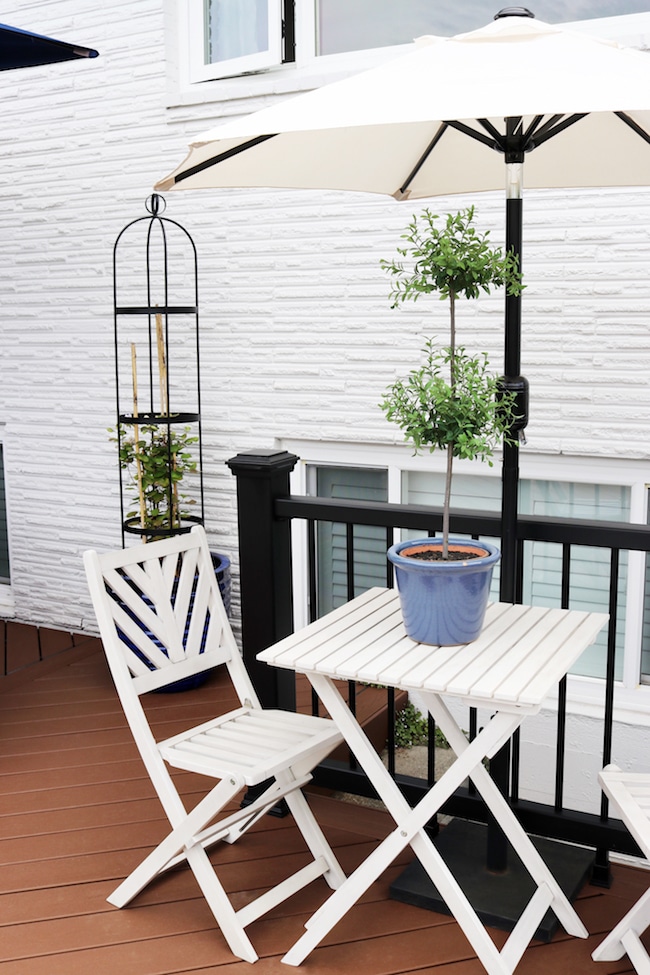 I have to admit I was a bit worried to go the DIY route with shutters, though, because we are in no way what I would consider "handy." I was also a little hesitant because I didn't want this to be a time consuming or frustrating project.
But I was relieved to find out that our windows were not difficult to measure and it was not hard to install the shutters AT ALL! Select Blinds will help to make sure you measure correctly and they are available to help with all of your questions. The install itself was pretty quick! I promise, if we could do it, you totally can.
HOW TO ORDER DISCOUNT SHUTTERS AND BLINDS

Be sure to use my referral link and code below when you order for the very best price)
Use the link to my shutters HERE (Select Painted Wood Shutters, Birch White) AND my code INSP1RE5 (note the two numbers in the code) when you order so you'll receive an *additional* 5% off the very best deal offered anywhere!
You can also get the best deals on my other window coverings, too. Find the others here.
Do you have any rooms and windows that need to be cozied up for fall?
Not all windows or rooms need shutters or shades, of course.
But if you want the snuggest room on a cold dark night,
shades or shutters might be just what your room needs.
Happy Fall-ifying! See you tomorrow!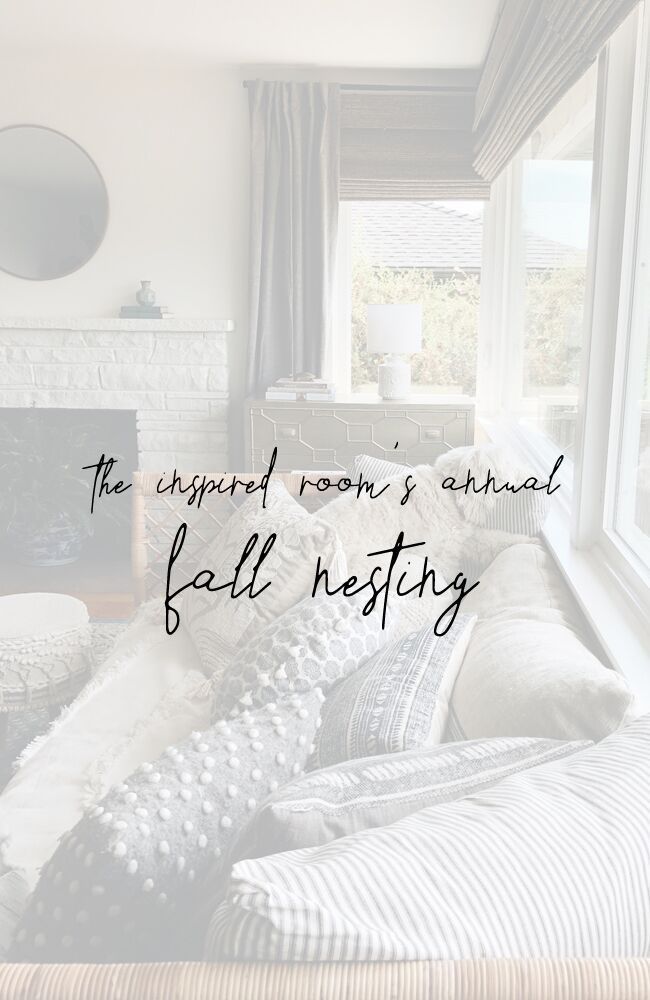 Fall Nesting Series:
Happy Fall Nesting!
A Round up of Fall Doormats
Day One: An Autumn Mindset
Day Two: 20 Little Things
Day Three: Cozying Up the House with Shutters
Day Four: How to Decorate Your Coffee Table in Any Season
Day Five: Fall House Tour
Day Six: Embrace Your Style (and adapt as needed)
Day Seven : Cozy Fall Morning Rituals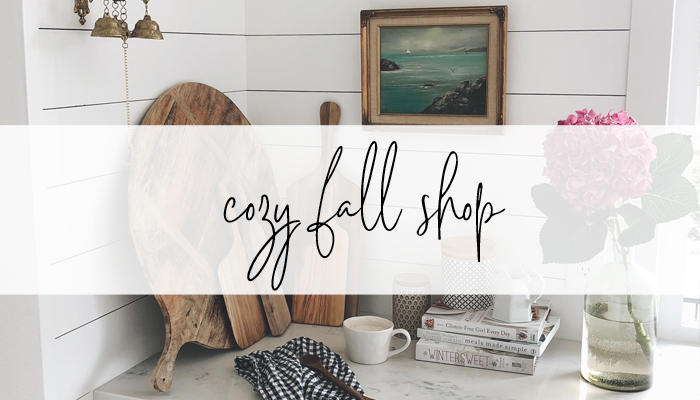 Visit the following links for my fall & home sources: