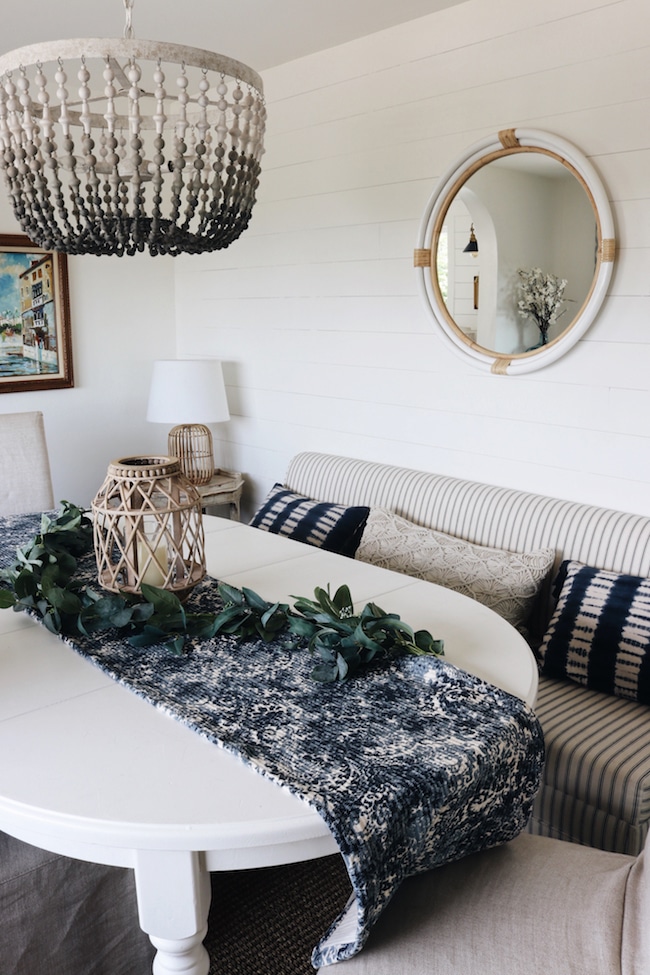 Fall home refresh –  sponsored by World Market
I couldn't be more excited about the beginning of fall! The weather was gorgeous in Seattle yesterday, so it was fun to be outside and see the leaves already turning! But home is where my heart is, so here are five of my favorite fall home refresh tips to bring new life to a space:
1. Design a welcoming area for people to gather.
It's so important to have a dining table refreshed and ready for fall. The more welcoming your dining area is, the more your home will come alive with what matters most, your friends and family!

Simply adding a runner or placements plus a bowl or a lantern as a centerpiece can make your table feel extra inviting.
I got my table runner from World Market last spring and the lanterns just a couple of weeks ago. They have so many great items for setting a table and making it welcoming, I always find the best stuff there (you can find fall items I love at the end of this post).
2. Invite in warmth with lamps and lanterns.
On a chilly fall night, you'll want to have candles, lamps and lanterns you can light or turn on to warm up the room, even when it's getting dark outside!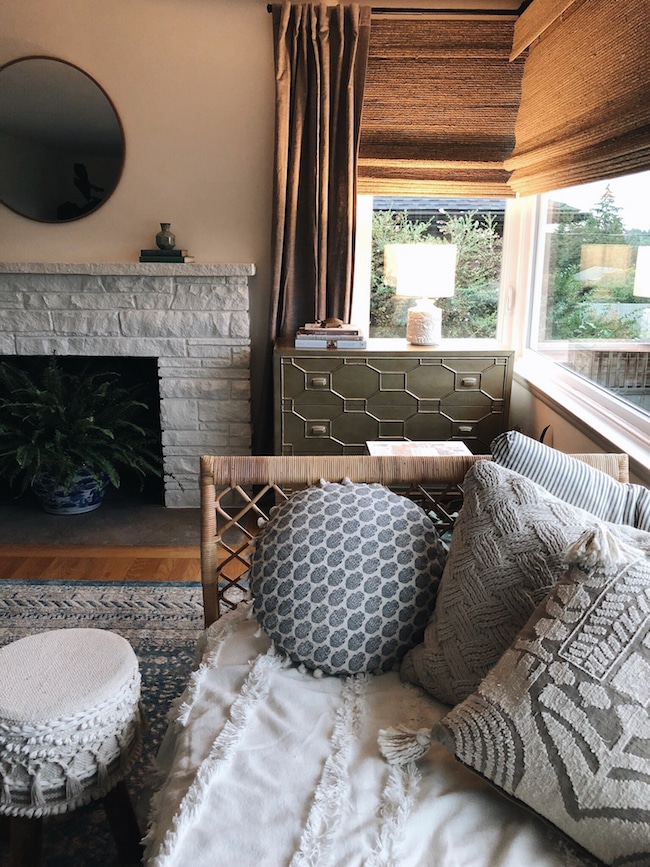 Round Tassel Pillow / Embroidered Pillow / Similar Stool / Similar Daybed / Bamboo Shades
3. Soften every space with layers.
I don't think you can have enough layers in fall spaces.
Blue and White Rug
You can use an area rug or runner to soften a hard floor, or even layer one over another rug to define a space and add color. Jack is a real fan of rugs because he can get cozy, nap or watch for funny business in comfort around the house.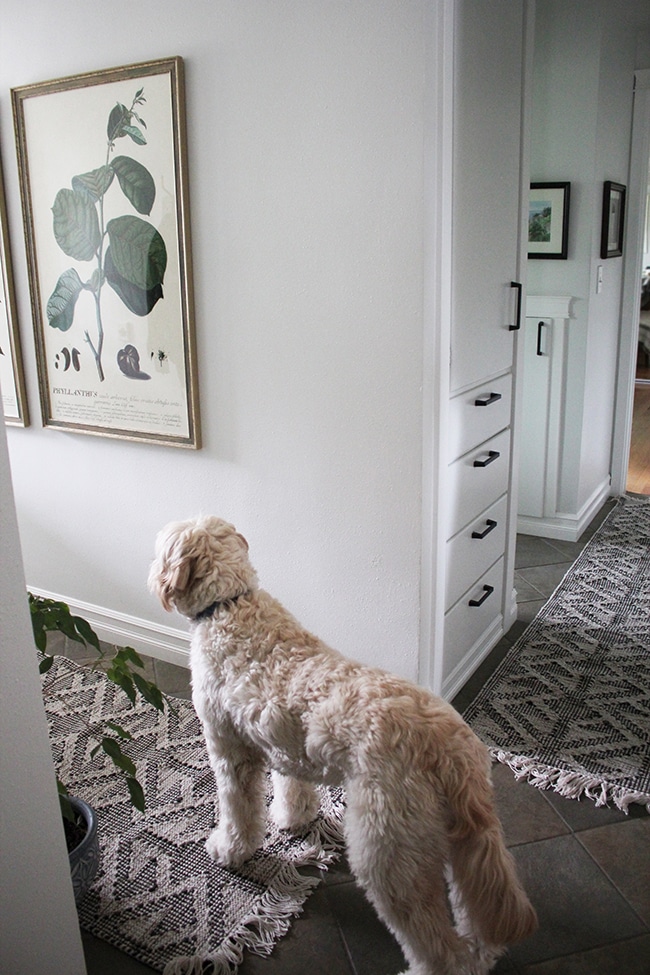 Runners
Pillows are an invitation to relax and get comfortable, so pile those plump and cozy pillows everywhere. Add extras to your sofa, daybed, chairs and bed.
Everyone in your home, including your furry members, will thank you for thinking of their comfort.
Baskets
4. Multiply textures and function with baskets.
So, how many baskets are too many? Honestly, I'm not sure you can have too many. Organic elements bring life to a room!
Baskets not only add texture, but they are a stylish decorative element as well as bring organization to any room. I love pieces that serve more than one purpose!
Macrame Basket
Hang some baskets on the wall, set a few on shelves to store and display your cozy blankets, tuck a couple here and there to stash all the unsightly things, and use them to cover up plastic plant pots which can elevate a plant to be a statement piece in a room.
Basket / Similar Rug / Navy Pillows / Macrame Pillow
5. Bring in your favorite little touches.
It's the little things that bring a home to life, so make them more personal to show off your unique style. What do you love? A fun new dish towel doesn't take up much space in the kitchen, but can add so much personality, style and a seasonal touch to your home.

What are the elements that speak to you this time of year? Add more of those. It's your home, make it your own.
Your home will come to life as you fill it with fall comforts, your stories and own unique style (and of course, your favorite people and furry friends.)
What are your favorite ways to refresh your home in the fall?


CATCH UP ON THE FALL NESTING SERIES:
Day One: An Autumn Mindset
Day Two: 20 Little Things
Day Three: Cozying Up the House with Shutters
Day Four: How to Decorate Your Coffee Table in Any Season
Day Five: Fall House Tour
Day Six: Embrace Your Style (and adapt as needed)
Day Seven: Your Fall Morning Routine
Day Eight: Fall Puttering
Day Nine: Simple Ways to Create a Welcoming Fall Porch
Day Ten: Make Your Bedroom a Cozy Retreat
Day Eleven: TODAY!