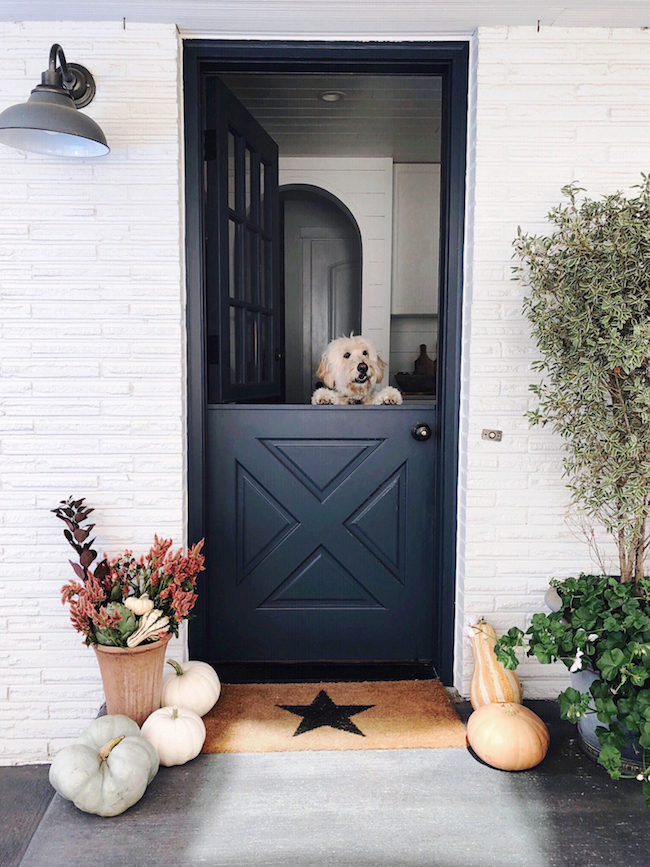 Whether you love decorating with ALL the pumpkins or not, fall is on its way. I know some people LOVE decorating their porches for every season and honestly, I love it when they do. It's so fun to drive through a neighborhood and see the festive porches. It's fun to come home to a porch (or even just a door!) with seasonal decor, too!
I totally get the idea of simplifying things and doing less, but sometimes I feel like it can be tempting to simplify too much and then we miss out on the joy that can come our way through decorating for the seasons. It's one of those things that might seem unnecessary, but once you bring out the pumpkins, you're more inspired!
The front porch at our previous house
We used to live in a neighborhood where everyone decorated their homes for fall and Christmas. Seeing the festive porches was always the highlight for everyone in the neighborhood. I appreciated the time people took to decorate their homes as it gave my kids lifelong memories of such a special season.
But there's no pumpkin shaming here. Go all out and decorate the porch for yourself, your family or your neighbors. Or keep it clean and simple, if that brings you the most joy.
Even if it's just a new fall doormat or a wreath on the door, simple seasonal statements can be impactful and so fun this time of year!
Enjoy the little video above, or click here to watch on YouTube!
Love the Home You Have


Wreaths // Doormats // Cozy Fall Decor
* * * * * * * *
CATCH UP ON THE FALL NESTING SERIES:
A Round up of Fall Doormats
Day One: An Autumn Mindset
Day Two: 20 Little Things
Day Three: Cozying Up the House with Shutters
Day Four: How to Decorate Your Coffee Table in Any Season
Day Five: Fall House Tour
Day Six: Embrace Your Style (and adapt as needed)
Day Seven: Your Cozy Fall Morning Routine
Day Eight: Fall Puttering
Day Nine: TODAY!