It's that time again, friends! Let the fall nesting begin. I spotted this gorgeous room the other day and fell instantly in love with everything about it. It's cozy, colorful, and so inviting! What cozy tips we learn from this room that we can apply to our own home?
Here are 3 take away tips from this cozy room:
A lively anchor piece can pull together your room.
In this room, the rug is a lively and cozy anchor piece. It grounds the room (so everything feels cozier and not like it's floating awkwardly in the room). It also pulls everything (including the color palette) together. Beautiful floors don't necessarily need a rug, but if you want the room to be warmer and cozier, a large rug will do the trick! Make sure it is large enough so the front legs of your furniture (or the whole piece) is sitting on the rug. That keeps the rug and the furniture connected and cozy.
There is often a debate on whether you should choose a rug first, or last, in a room. I think you can go either way, a rug can be a statement piece in a space or be a cozy foundational texture that allows other elements take center stage. It's up to you!
If you love the look of a bold and colorful rug, you can use it as the springboard for your design decisions in the rest of the space. You can pull your palette for fabrics and paint colors from the rug and pair complementary patterns or solids with it to create an overall cohesive look.
One thing to keep in mind, though. A bold rug is a wonderful and memorable style setter. That can be desirable, or feel like a limitation. Rugs can be expensive so if you decide to go bold, make sure you will love it long term or are prepared to have to swap it out when you no longer do. If a bold rug feels too risky for you, pick something else to make a bold style statement in the room.
Meaningful textures add coziness and comfort.
This room derives some of its coziness from textures, but it also note that it embodies the comfort found in a more personal, relaxed livable elements of their style. The room shows off the stories and personality of the family. Textures are absolutely wonderful for adding warmth, of course, but when textures are used in a formulaic way or objects are only brought in exclusively for texture, they can actually miss the mark for many who might crave a more meaningful, lived-in inviting space.
For quite some time minimalism was on trend, possibly in response to the clutter of overwhelm we all experience in the digital and social world. The return to home as our sanctuary has many of us craving more real comfort. Texture is one way to feel comfortable and is a key component in a cozy room. Less stuff and more texture can certainly be beneficial in calming the mind. Yet what causes stress isn't necessarily just the stuff, it's when we are surrounded by excessive or unnecessary things that don't contribute to the quality of our life.
Clutter doesn't inspire us, yet objects actually can make us feel more at home when they are meaningful to us. When you are surrounded by things you truly love and put to use, things that tell a story can contribute so much comfort to our life. A collection of meaningful textures can bring welcoming comfort in a room! Consider adding books, mementoes, and personal photos or artwork.
As many people are now spending more time at home in this pandemic, many have returned to a more creative and personal design style. They are craving more color or personality in a space. If maintaining a minimalist style requires careful curation or formulaic rules, a room might begin to feel more like a perfect photo you stepped into rather than a home that invites you to kick off your shoes and stay awhile.
You know my personal feeling is a dog is the best texture in a room.
Small spaces are coziest.
While a big house or a large room can be cozy, too, people are so often drawn to smaller spaces. The tightest corner of your kitchen? That's where everyone will hang out during a party. The tiny TV room? Groups will gather there and leave the large formal living room empty. Even if you have a large room, a key to keeping it as cozy as possible is to pull the furniture in closer. Furniture pieces should be close enough for comfortable conversation! You don't want to be shouting at the person across the room. Another cozy tip, pull the furniture closer to the fireplace if there is one in the room. There's nothing cozier in the fall and winter than curling up by the fire!
Happy Nesting!
Follow along with my annual Fall Nesting series, and get inspiration from previous Fall Nesting series here!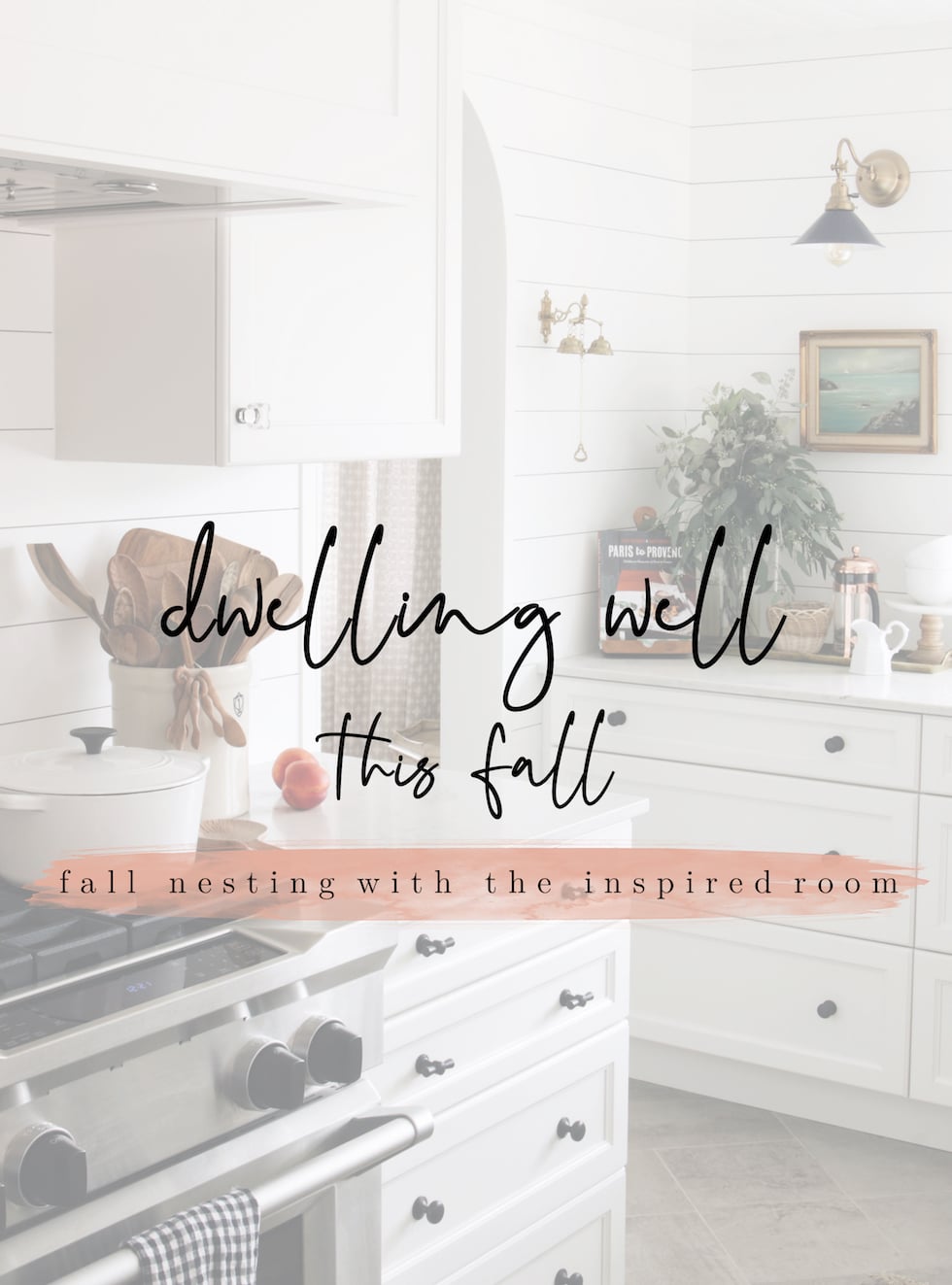 More Fall Inspiration:
14 Simple Fall Decorating Ideas
Cozy Self-Care Corner Must-Haves
Four Essential Home Making Practices for Every Season