Ready to get cozy? Ha, I know. It's far too warm for wrapping up in throw blankets. But our Fall Nesting series officially begins September 1 on The Inspired Room, and you know I am HERE FOR IT!
Let's get ready!
If you've been following me since the beginning of blogging, you know that it is my long-standing philosophy that Fall Nesting is a STATE OF BEING. A state of mind.
Fall nesting really has nothing to do with the temperature being cool enough, or an acceptable decorating date on the calendar. Where you live the leaves may never turn to autumn hues. You may not get pumpkins until November. That's totally OK. Enjoy those things when and if they come!
Fall nesting is so much more than decorating, it begins with preparing our mind and a positive outlook for what is to come. We get to create a place that will be a cozy and comfortable haven, one that will be a blessing to all who call it home.
If it helps get you in the mood for change, gather a few things (look to see what you already have or want to get) that "warm you up to fall".
Perhaps set out a fresh fall welcome mat on the front porch or fold a cozy throw blanket over a chair!
Look at the cozy things in my fall shop (click here!). Layer by layer, your home will get cozier!
Enjoy nesting, friends!
How are you feeling about creating a cozy fall home this year?
Throw Blanket Sources:
3. Ivory and Gray Stripe Throw
4. Black Buffalo Check Faux Mohair Throw
Shop MORE cozy throw blankets HERE!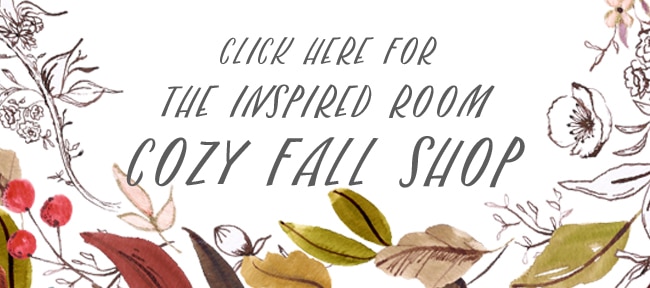 Find even MORE fall decor finds in our Cozy Fall Shop! Click here!