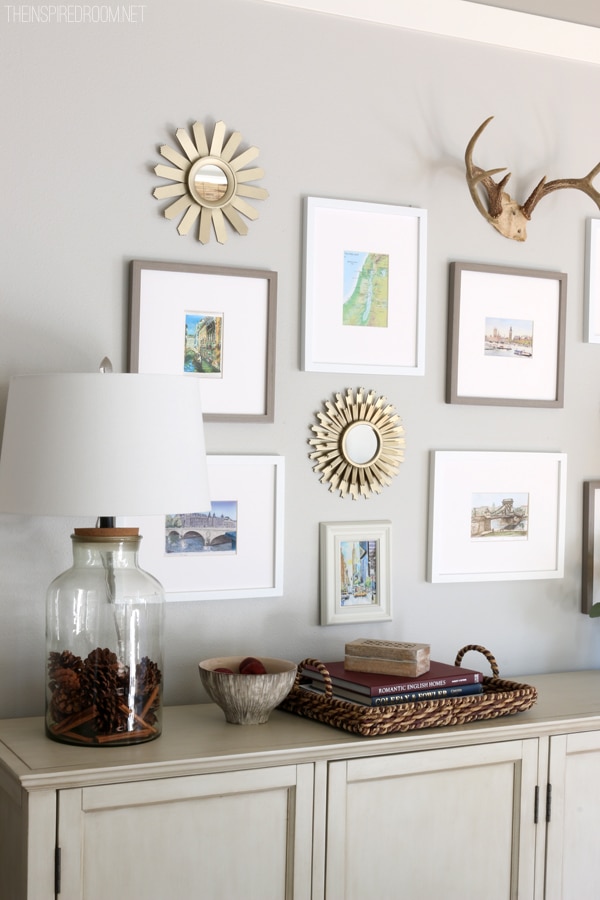 Who has been puttering or fall nesting around their house? I started to and then had a couple of unexpected deadlines I had to attend to this week. Oh, and then the sun was SO WARM and inviting yesterday I got off track to spend some time outside! It's nice to get in some good vitamin D when we can, right?
But I am back to it and can't wait to show you a few results of the puttering next week!
In the meantime, I thought I'd pop in quick with some simple fall decorating inspiration from my home over the years.
1. Decorate fillable lamps
Did you know you can find fillable glass lamps? It's a fun way to add a little seasonal decor.
Here are some similar fillable lamps, and here's a post with ideas of things to display!
2. Pair books & organic elements
I love decorating with books all year round, but you really can't beat them for the fall and winter! Combine them with pumpkins, artichokes or other organic elements for a fun combo.
3. Fold a stack of cozy throw blankets
What could be cozier on a shelf?
4. Drape extra layers over your furniture!
Drape a blanket or fabric over the arm of a sofa, over the back, or even on the seat to change up the look!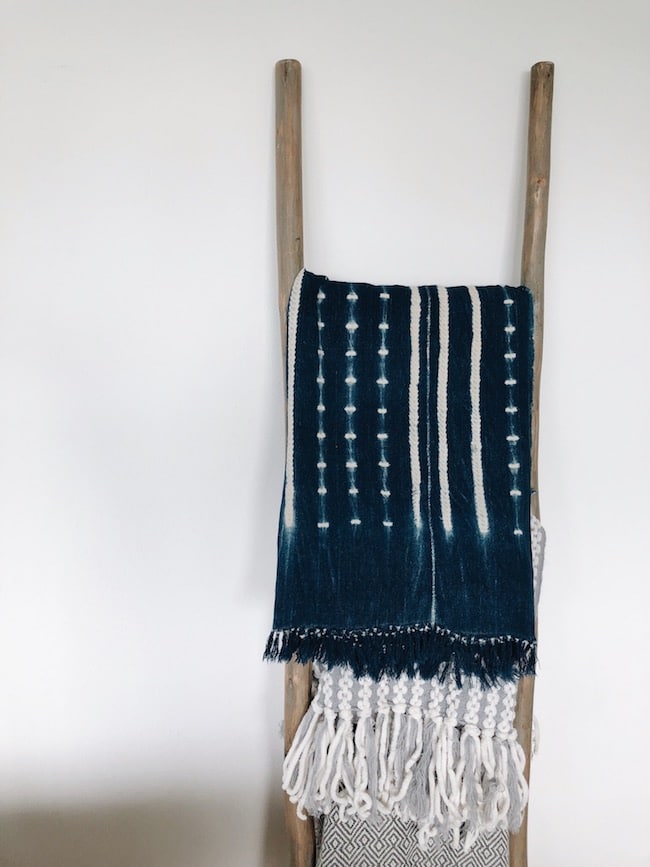 5. Use a ladder to display extra blankets.
A stylish and functional way to make your home feel warm and comfy.
6. Gather autumn branches.
Gather colorful fall branches from outside, or use faux.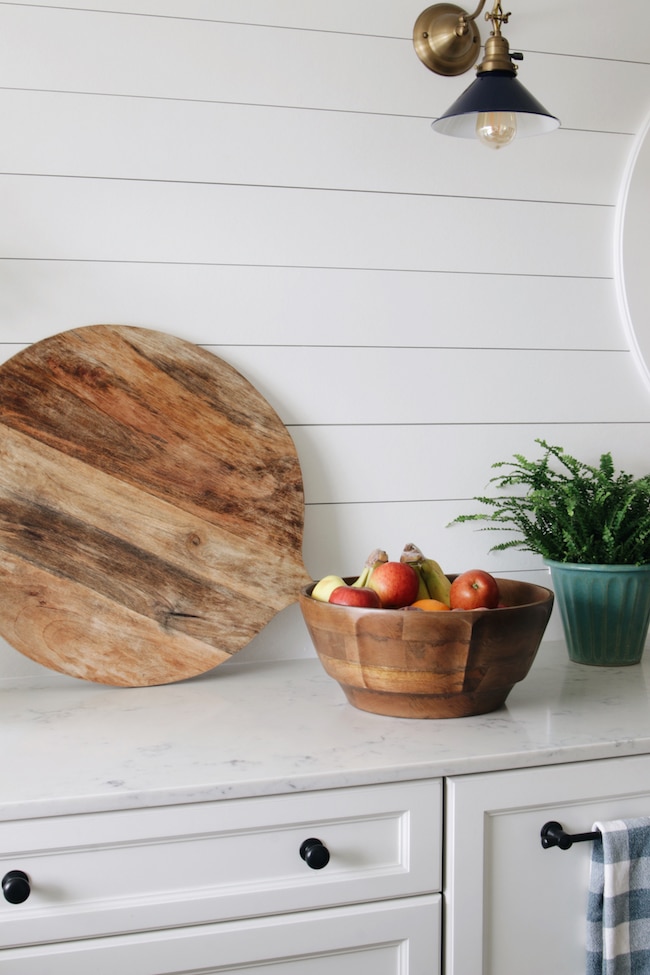 7. Use wood accessories!
Wood will warm up any room, especially the kitchen!
8. Display velvet pumpkins.
Line up pumpkins on your mantel, group them together in the center of a table, or on a stool, or in a basket on the coffee table (I got my velvet pumpkins here).
9. Go crazy for textures.
Bring out all the textures! Look for baskets, textiles, and trim like fringe and tassels!
10. Bring in lanterns and candles.
Flickering candles set the mood (battery operated candles like these often come with timers so you can set them to come on automatically!).

11. Refresh your bookcases
I love to have cookbooks, lanterns, and bowls with pinecones!
12. Add extra throw rugs and runners.
Throw rugs and runners are all really easy to update. Put soft rugs by your doors and runners to your hallways or kitchen (also if you missed where I get cute towels you can find some HERE).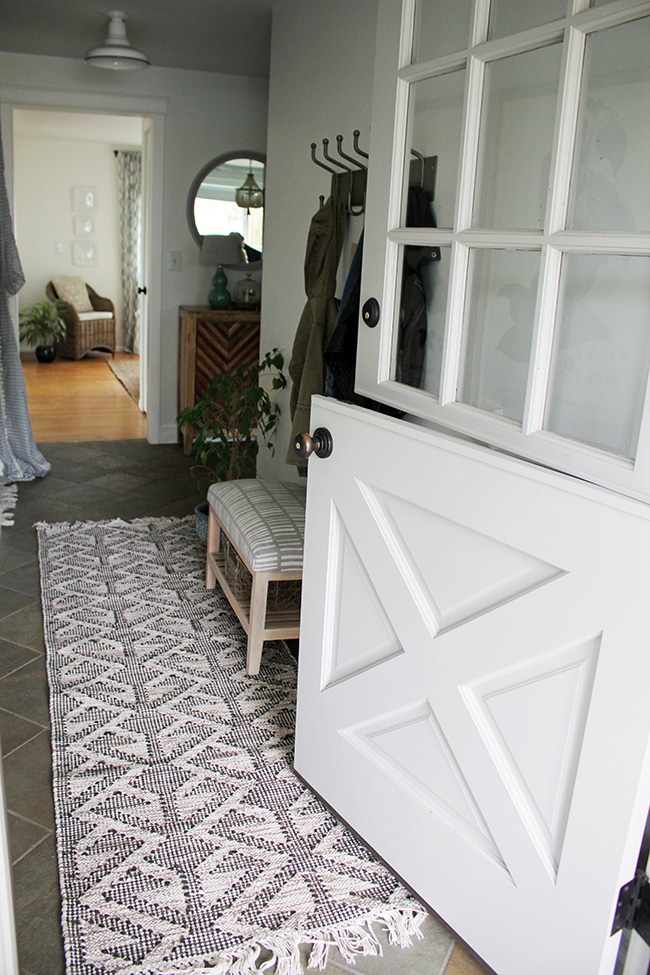 Runner source / Dutch Door FAQ
Plaid Rug / My Favorite Jute Runner / Doormat Round Up / Rug Round Up / Tile Details
13. Use creative containers and hooks for fall accessories.
Get organized with your attractive fall tote bags, umbrellas, coats, scarves, etc. Hang them on hooks or place them in a unique container!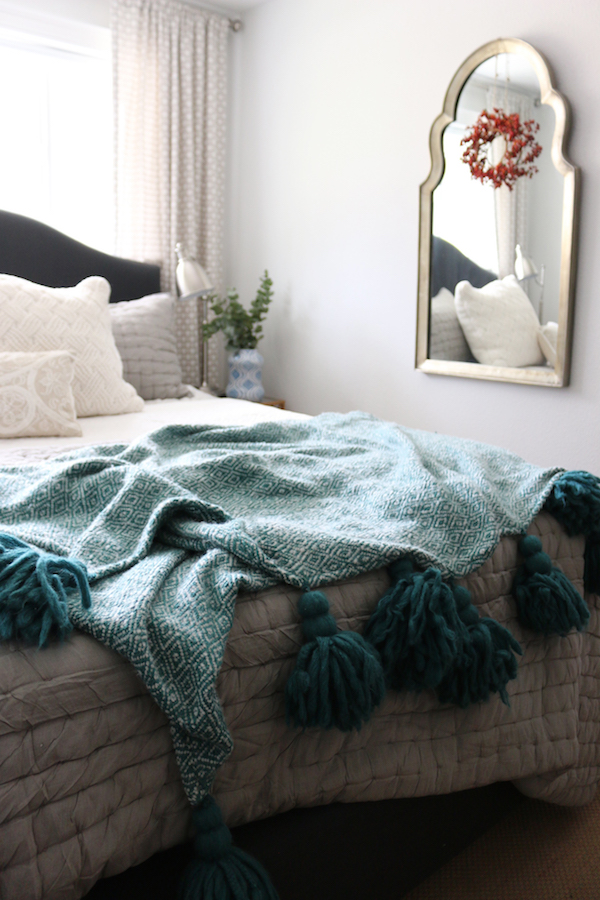 14. Add autumn wreaths to windows doors and mirrors.
We just tacked this one behind the mirror!
Click HERE for my Cozy Fall Shop full of fall decor!
Click HERE for more fall decorating inspiration posts on the blog.
****************
Have you decorated for fall?
CATCH UP ON THE 2018 FALL NESTING SERIES:
Day One: An Autumn Mindset
Day Two: 20 Little Things
Day Three: Cozying Up the House with Shutters
Day Four: How to Decorate Your Coffee Table in Any Season
Day Five: Fall House Tour
Day Six: Embrace Your Style (and adapt as needed)
Day Seven: Your Fall Morning Routine
Day Eight: Fall Puttering
Day Nine: Simple Ways to Create a Welcoming Fall Porch
Day Ten: Make Your Bedroom a Cozy Retreat
Day Eleven: Fall Home Refresh – 5 Ways to Bring Your Home to Life
Day Twelve: 14 Simple Fall Decorating Ideas
Day Thirteen: 3 Cozy Fall Activities for the Homebody
****************
The Inspired Room on Instagram