BHG
Fall is the time of year when COZINESS is on the mind. At least it's on my mind. Even if coziness is not yet on yours, you can just file today's ideas away for the first rainy fall day (which we totally had yesterday here in Seattle!).
Here are some fun and unexpected ways to create a cozy entry just in time for fall!
1. Create a Cozier Space With Curtains.
Entries tend to feel a little chilly in the fall and winter. Treat the space like you would any other room in the house. The unexpected floor length curtains in this entry coupled with the wallpaper, rug and furnishings make this space as warm and welcoming as can be! I've seen curtains around a door, too. In the right kind of house, door curtains can be adorable, warm and cozy looking.
New England Home
2. Elevate function with character.
A cozy home will feel lived in, but we don't have to sacrifice style for function. Set a welcoming tone of warmth and comfort with a relaxed but pretty mudroom vibe. Closed storage and baskets hide unsightly elements. A bench, hooks and shelving infuse the space with the warmth of function and character.
New England Home
3. Plush pieces make everything cozier.
It's not often you see an ottoman in an entry, but why not? If you have the space, bring in your coziest furnishings. A plush upholstered piece tells friends and family this home is a comfortable place. Soft furnishings soften hard surfaces and sounds, too, making the whole space feel cozier.
(PS…my tufted teal ottoman is on a pretty awesome sale right now!)
New England Home
4. Create a cozy seasonal focal point.
Every entry (big, small or one that is simply a part of another room!) should have a seasonal focal point. Yet, it doesn't necessarily have to be a spot filled with traditional seasonal decor. Even a gentle nod with a subtle mood or textural changes or the combination of elements used can be so cozy and inviting.
Shop your house for items you could use. Perhaps you'll find a shelf, a stool, or a piece of furniture in another space. Now shop the house some more. What other elements and textures could you add in to make the coziest statement?
Atlanta Homes
5. Bring in something eye-catching.
Add an eye-catching or unexpected furniture piece or accessory to cozy up the entry. (Your entry might be one in the same as your living room, but that's fine, too! The way you arrange your furniture in the living room might be able to serve a dual purpose or create an entry space).
Character often translates to cozy and inviting, don't you think? So keep your eye out for something unexpected and eye catching for your entry. Perhaps you'll find a wall sconce, an antique mirror, a funky stool or a unique bench.
New England Home
6. Define a cozy space with colors, shapes and statements.
A round table in an entry feels extra inviting and unexpected. It can be a perfect spot to set those pretty coffee table style books, which can make such a a cozy statement in an entry. Look for other ways to add color, interesting shapes and cozy statements, such as a lantern, or a textural basket filled with umbrellas, walking sticks and a tartan throw.
Happy Fall Nesting, friends! What's your favorite way to cozy up an entry for fall?
Catch up on the latest Fall Nesting posts or start from the beginning of the series here.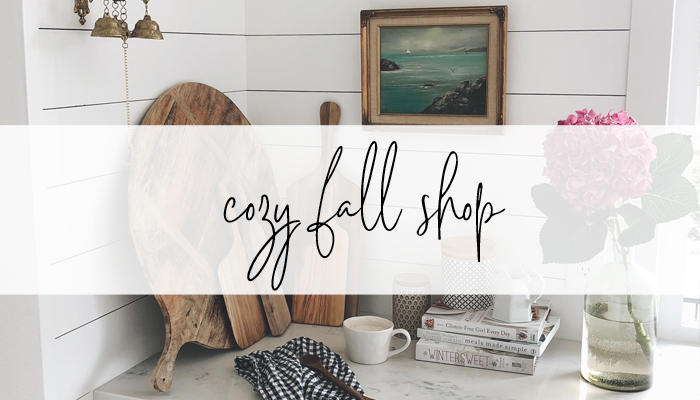 Click here to shop my latest cozy fall finds!
Shop furniture, lighting, and accessories for the entry with the arrows and photos below.

.
Shop small space entry solutions