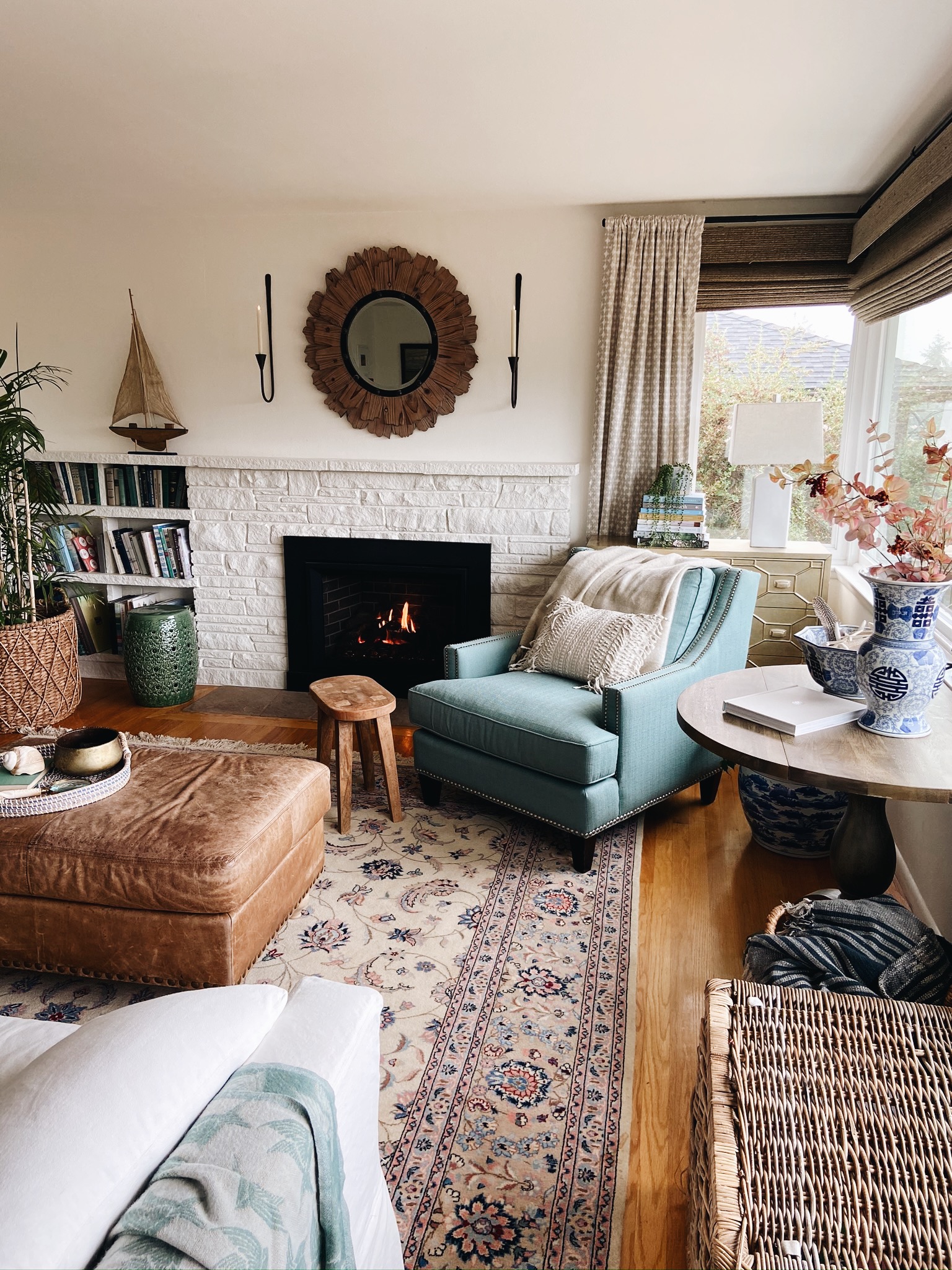 We are furniture shufflers at our house, especially in fall when I start craving cozy spaces. But at our house it doesn't look like it does on TV when they can empty the room and put only what they want back in all in a day. We don't have any space to store furniture while we shuffle :). Some of you might not even have room to shuffle furniture at all, it's definitely not easy in a smaller space! It's often Courtney and me who want to move things around. If there are any larger pieces that need to go up or down stairs, it can take weeks if we have to wait for help! But the good news is, we are slowly getting things set up the way we want them to be.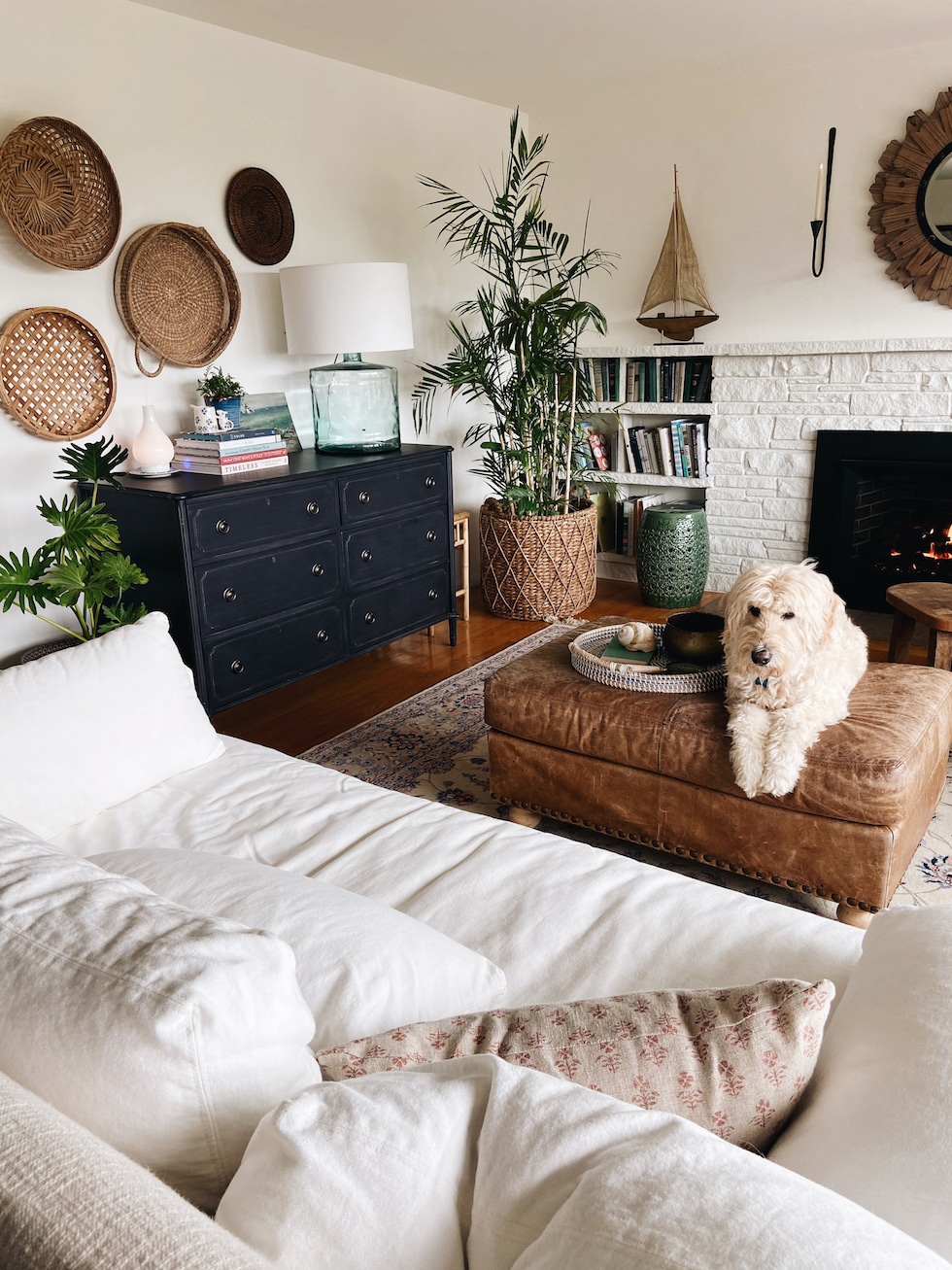 If you are in the mood to rearrange or get a new look this fall, here are a few bits of encouragement and some tips:
Real life homes take time to pull together!
We've lived here for five years now and had so many different arrangements in this room, often based on what furniture we had to work with at the time, or how we needed to use the space in any given season.
This week we turned our white slipcovered sofa toward the fireplace. I actually wanted it to face the fireplace when I first got it (so cozy!) but I've had to be patient for the right time to make it happen. With all the changes in our house due to quarantine and Courtney and our son Luke moving back in this year, the time to rearrange never felt right until now. (We've also been moving furniture around downstairs, too, so stay tuned for updates on what's going on there!)
Start with a cozy corner.
If you want to get a jump start on a cozier room for fall, or if you are overwhelmed by the thought, just start with a corner! A few weeks ago we talked about creating a Cozy Self-Care Corner! This is mine. I set a cozy blanket on my chair and a basket of more throws nearby for chilly nights! (See my roundup of cozy throws here.) I have my little wood table to set my cup of coffee, my Dwelling Journal or a book. Here's a similar stool!
Rearrange what you have to get a whole new look.
Getting all new furniture is fun, but as I often say it isn't always the best use of resources. When you invest in classic timeless pieces you can often rearrange a room or just get new accessories for a new look! We simply bought this chair up from downstairs, the dresser from our bedroom, swapped out our sisal rug for a cozy Persian rug we've had for years (it was previously downstairs). We also brought the mirror up from downstairs too and replaced the art that was there for a new fall look. We love how the mirror looks with the battery candle sconces (more details on those here).
I kept my drop leaf table in this room (we have used this handy table as overflow dining space and as a puzzle table, it's such a versatile piece!) I have this patterned coral and linen colored pillow on the couch, it's the only new "fall thing" I got a few weeks ago, other than the foliage.
We also moved the dresser back into the room. It was actually in this room to begin with, then it was in the guest room closet, then my bedroom, now it's back! Dressers are the handiest pieces and can work in almost any room! Here's a similar dresser.
We put the big blue glass lamp we got this spring and my diffuser on the dresser (we've been diffusing Purification nonstop to help freshen the air from all of the smoke from the fires and of course, all of my favorite fall diffuser blends!).
The baskets have been on the wall for awhile. We get our baskets from thrift stores and just hang them up with a nail. You can also get a pre-made set of wall hung baskets like these.
Do what makes you (and your family) happy.
It is your home, let it bring you joy! There are no rules you cannot break. Trust your own heart. Do what makes your family happy and makes your family comfortable in this season of life. You can have a lot of pillows, or a few. Many pumpkins, or none. Lots of decor, or little.
I was thinking back to when I was a kid and how many memories I have of my mom decorating our home for fall. She made it so fun and memorable for us kids! In a social media world, many mamas these days are feeling the pressure to decorate for a photo or worry they'll be judged by their style or how they chose to arrange their home. I say do what makes you and your family happy, whether the rest of the world likes it or not.
This new arrangement works for us in this season, and it makes sense because we have less people visiting our home right now. When we had more people, we enjoyed having more seating! Arranging your room isn't about following rules, it's about making it feel happy, comfy and welcoming to the people who live there.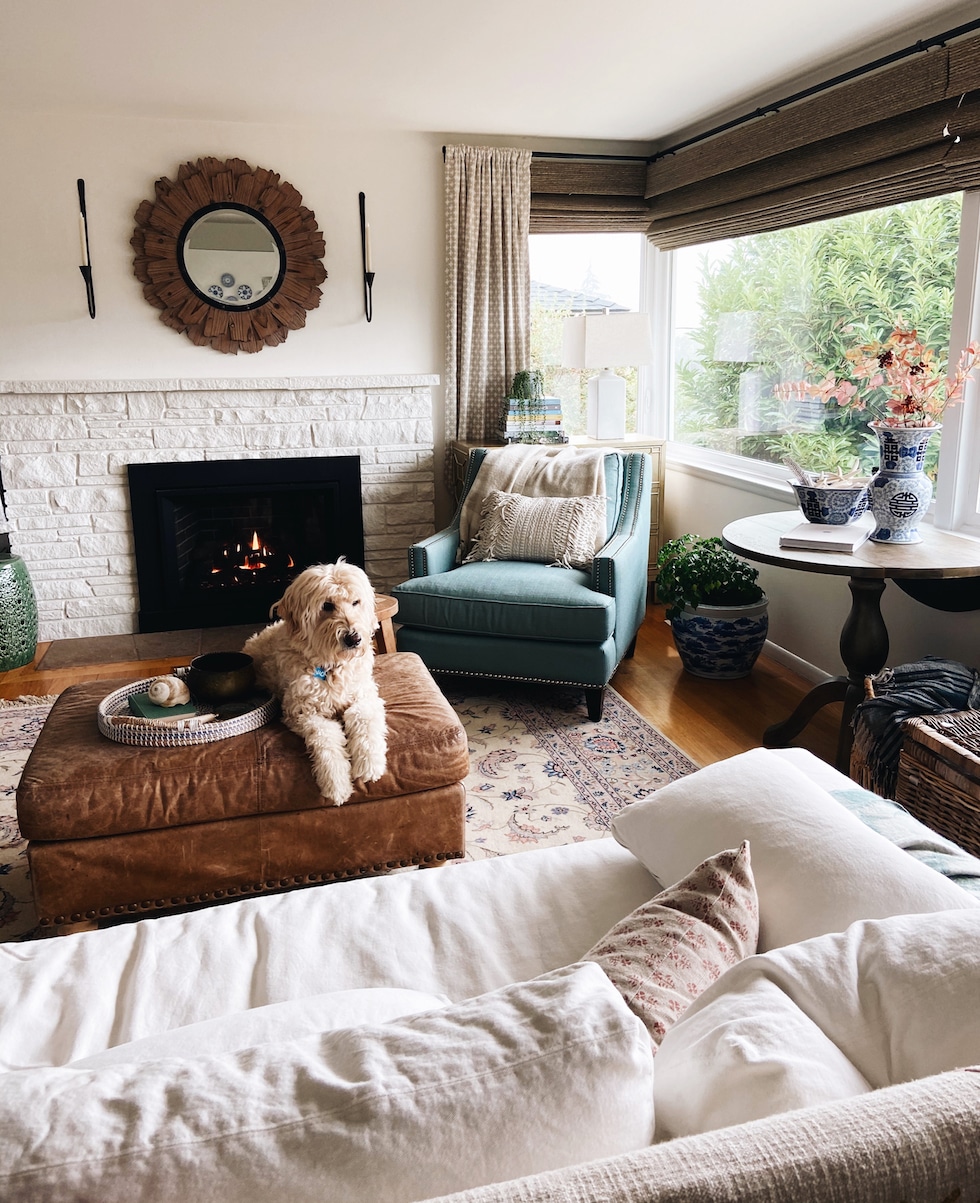 Bring in simple seasonal touches that make a room cozier

I don't feel the need to do a ton of seasonal specific decorating, but I love the process of making my room cozier. Sometimes that means adding a splash of fall foliage and even a few pumpkins for my own joy this time of year. It's FUN! I love feeling the cozy fall vibes. I will bring out my velvet pumpkins soon, but for now we have these simple eucalyptus and eucalyptus/berry stems that I got after I did my post on How to Decorate with Faux Fall Foliage.
While we don't have little kids to delight with our fall decor, we do have dogs, HAHAH! As you can see in these photos, they are pleased with the new arrangement. I worried for quite awhile that if I didn't have a sofa or daybed under the window they would be sad. Well, turns out they aren't sad. I'm just an over-thinker Enneagram 9 who wants everyone including the dogs to feel safe, happy and comfortable, LOLOL. The dogs obviously prop themselves up on all of the furniture and make themselves very cozy on the cushions. They are happy as a clam as long as they have a cozy spot to take a nap. And of course, as long as Jack has his leather ottoman…he's happy as can be.
My cushions may forever be smashed or tossed on the floor, but as you can see, our living room is truly a LIVING room. It's a cozy spot to take a nap or gather around the fireplace to read a good book. You are welcome here whether you are young, old, human or fur kid. It's not a designer showroom, it's our family's sanctuary.
Get inspired with decorating ideas and tried and true tips.
Do you want some help with decorating or furniture arranging? I've got you! I've written many books on the home, including a book called But Where Do I Put the Couch? And Answers to 100 Other Home Decorating Questions! :) You can find all of my books including that one here. I never like to give rules that are stifling or rigid, but you'll find lots of inspiration, guidelines and very practical advice for decorating, organizing and arranging your home.
Who's doing some fall nesting this week? What are you up to?
Share your cozy self care corners or your fall decorating in my free community group! It's also a great place to get decor advice and ask questions, it's just the nicest community in there! Click here to join us!
We are so glad we got our fireplace insert installed last fall. I see lots of cozy days by the fire in my future! See details on that project here.
Check out my cozy fall shop for some of my favorite decor finds!
Catch up on the Fall Nesting Posts:
14 Ideas for a Cozy Fall Kitchen
Make Your Home the Coziest It Can Be (3 Take Away Tips)
Cozy Self-Care Corner Must-Haves
Four Essential Home Making Practices for Every Season
My Favorite Fall Decor in My Cozy Fall Shop
How to Decorate with Faux Fall Foliage
Click here for inspiration from previous year's Fall Nesting Series!