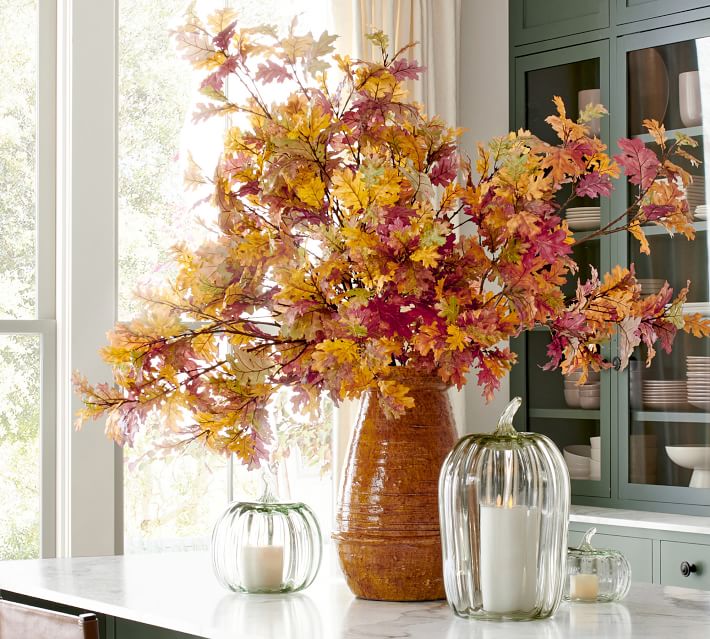 Are you ready to transition your home to fall? While I don't use many seasonal specific decor items, there's always a spot in my home for foliage! On the dining table, on a entry table, console or dresser, on your mantel, nightstand, on the kitchen counter…you can always find a place for a fall focal point!
While it can be wonderful to forage out in nature, it's totally fine to use faux foliage. If you have allergies or limited options in your yard this time of year, you might prefer faux! They can be worth the investment over store bought fresh flowers because faux will last a very long time. And a few stems is all you need so it's not much to store!
Today I've rounded up some of my favorite faux foliage (and preserved flowers, and even some cool iron flowers!) online as well as a few tips for getting the most interesting and realistic look.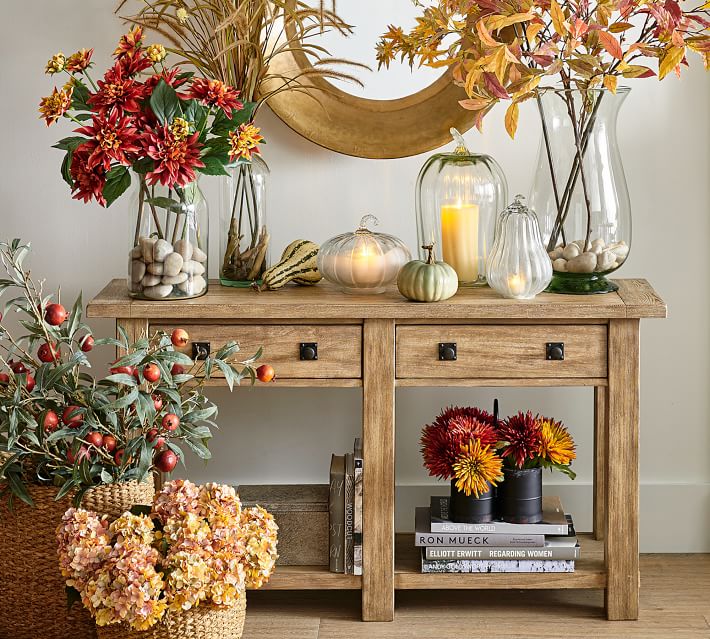 Faux Lace Hydrangea Bundle (above) / Faux Autumn Oak Branch (top photo)
Faux Foliage Tips:
Mix real and faux. No one needs to know it's not all real. It can be difficult to tell the difference at a glance so let it be your secret.
Mix and match! Select a few faux seasonal statement stems that you can mix in with other foliage. This can help your basic arrangements go farther and give you a variety of shapes, colors and flowers to play with all year round. Keep less seasonal specific blooms or branches to cut down on the amount of items you need to store..
Bend the branches and leaves so they feel more relaxed and organic!
Vary the stem heights in the vase give it a more interesting shape.
Create an airy arrangement, leaving breathing room for a simpler look.
Pack a visual punch by using just one type of foliage.
Use unique containers for your foliage to make a one-of-a-kind statement!
Fill the bottom of glass vessels with rocks for more interest.
You can use water in the bottom of a glass vase to make faux look more realistic!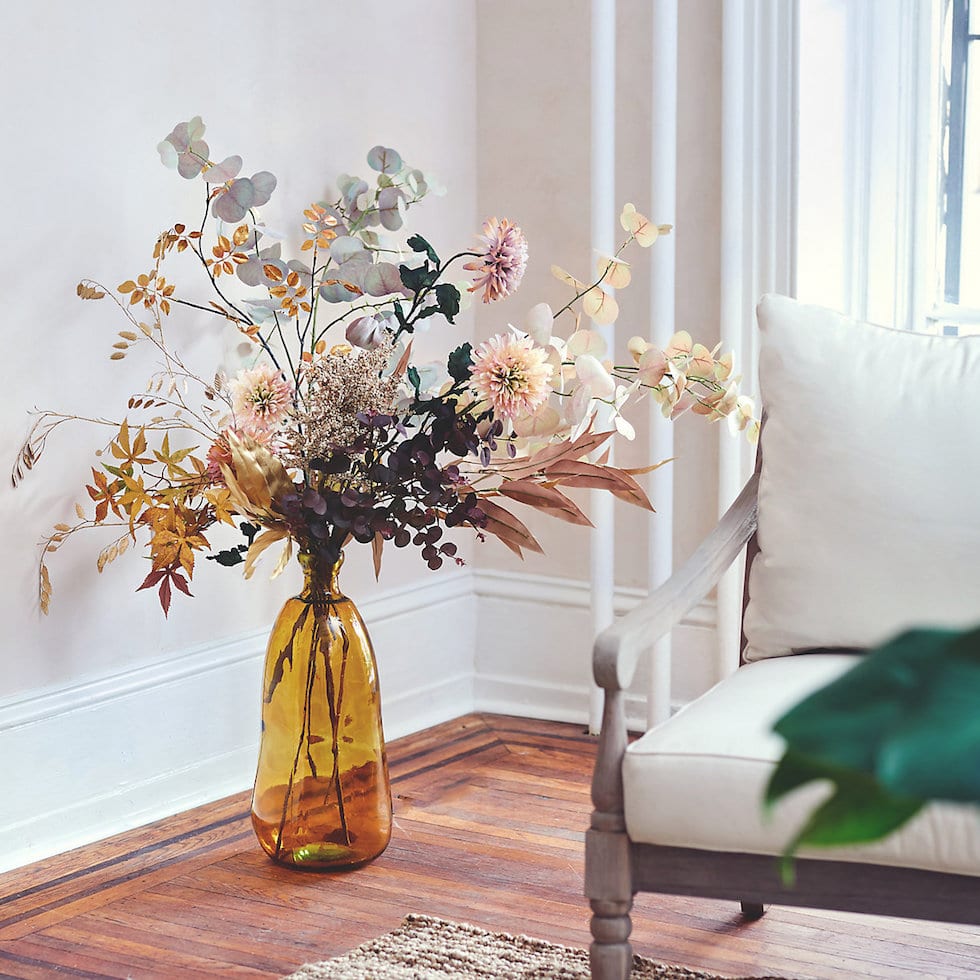 Faux Foliage (above) – click HERE to shop the look
Faux Dried Pampas Grass Branches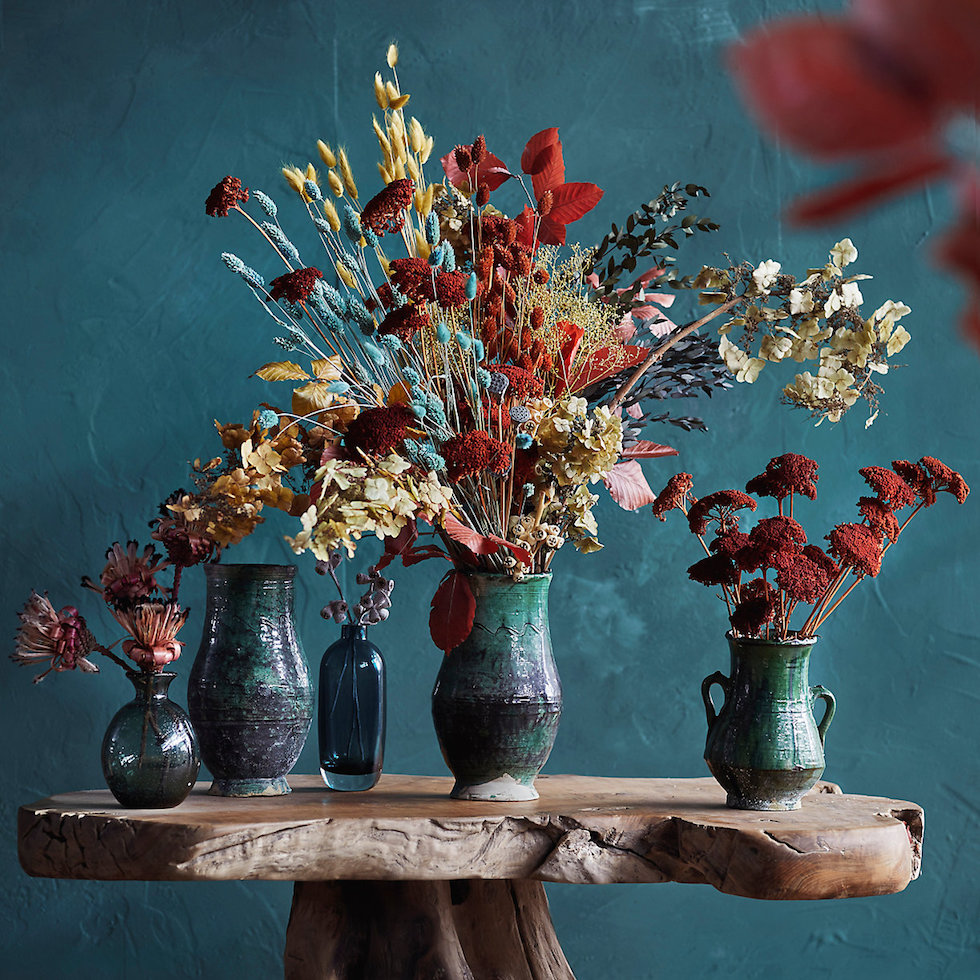 Preserved Floral Arrangement (above) – click HERE to shop the look
Faux Pomegranate and Pine Cone Garland
Faux Fall Leaves / Chili Leaf Berry Stem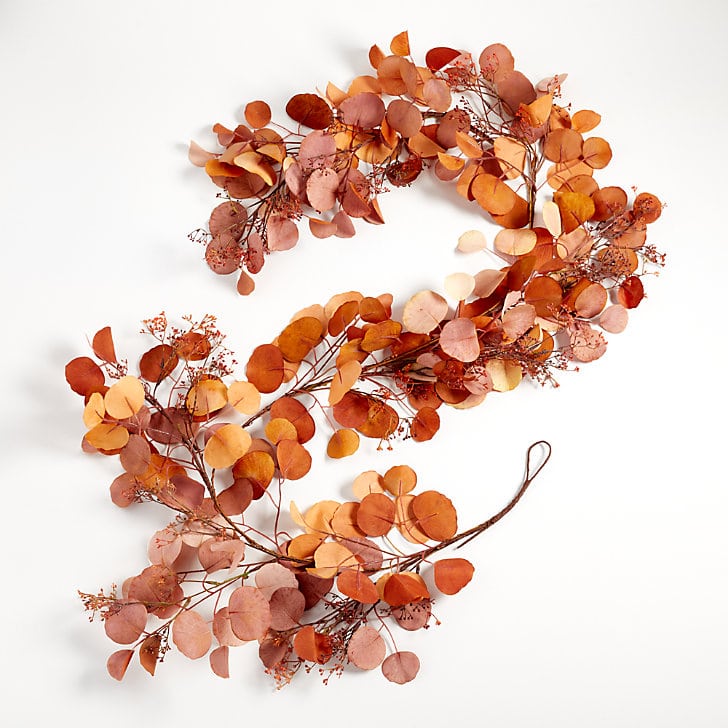 Faux Persimmon and Hydrangea Bundle


---
A PENNY FOR YOUR THOUGHTS:
I know people have strong opinions about faux vs. real flowers…so tell me, are you a fan of faux? Or is it a no-go?
Fall Nesting 2020 Posts:
14 Ideas for a Cozy Fall Kitchen
Make Your Home the Coziest It Can Be (3 Take Away Tips)
Cozy Self-Care Corner Must-Haves
Four Essential Home Making Practices for Every Season
My Favorite Fall Decor in My Cozy Fall Shop
Click here for inspiration from previous year's Fall Nesting Series!