Welcome, welcome!
Come in, everyone! Today I'm so excited to joining in as a special guest for a Farmhouse Holiday Fall Dining Room tour. You can find all the tour participants linked below. The invitation was perfect timing to inspire me to set up my dining room for fall. I'm all about fall nesting right now (I just started my annual fall nesting series, you can catch up here).
So, come on in, friends! We've got room for you all to gather around the table. Well, obviously it's kind of a small space, but as I said about our kitchen, we can all squeeze in real cozy-like.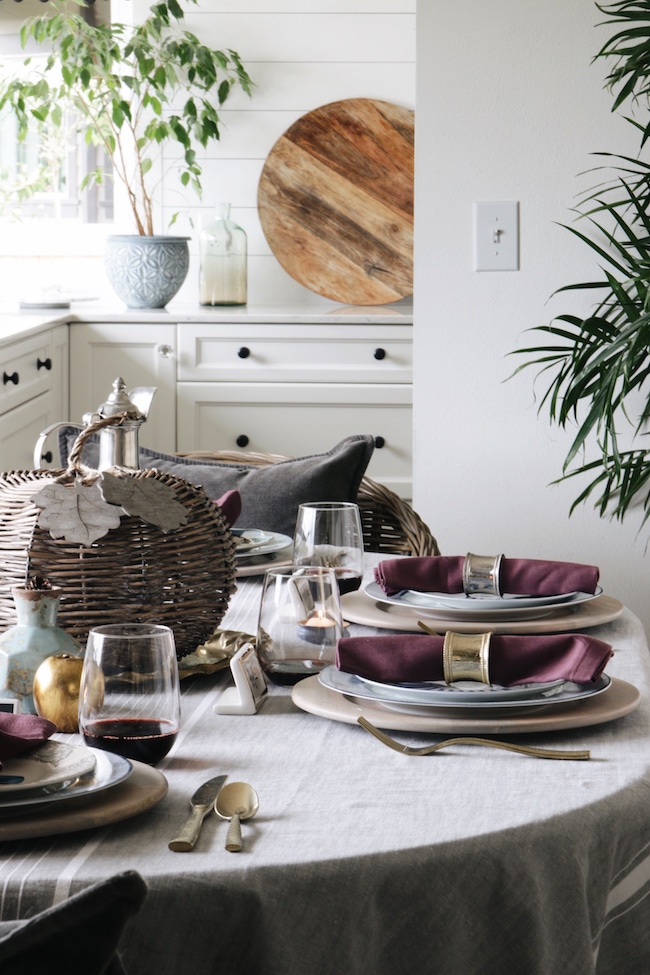 Sources are listed at the bottom of this post or here
When it comes to decorating for the seasons or for a holiday, as you might already know I tend keep things pretty simple most of the time. Not because I don't love an all-out festive table or room, not at all! I really do! I love the creativity, but simple just seems to work the best for me.
But isn't that how decorating should be? Do whatever brings you joy.
Simple decor brings me joy for many reasons, but for one it's because I like to change my home often. I enjoy the process of puttering around the house, evolving each space as I'm inspired through the season.
If you are a regular around here, you know I started my evolution to fall in the kitchen with my new rug.
(Whenever I say that I started my evolution to fall in the kitchen it sounds to me like I said I started to FALL in my kitchen. Just to be clear, I didn't start to fall in my kitchen. Hahahaha. Hahah. I crack myself up sometimes. Okay, haha.).
This is our first fall with our remodeled kitchen, so I couldn't wait to get started with fall touches. My kitchen and dining room are small but connected spaces, so it made sense to me to make the "fall vibe" flow through both spaces.
You can see the whole fall kitchen and sources here and here.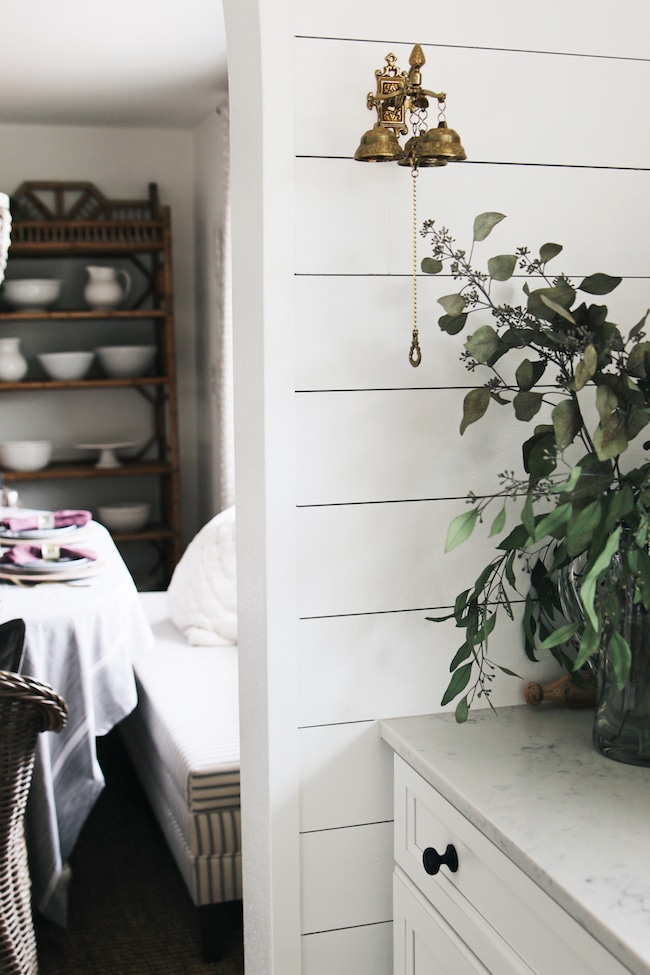 As the kitchen began to be more "fall-like," I started to get more inspired with what I wanted the dining room to feel like. You can see how the two spaces connect visually and physically through this archway.
Adding a cozy layer in the dining room can start as simply as adding a tablecloth (from HomeGoods). So that's what I did. Easy peasy, right?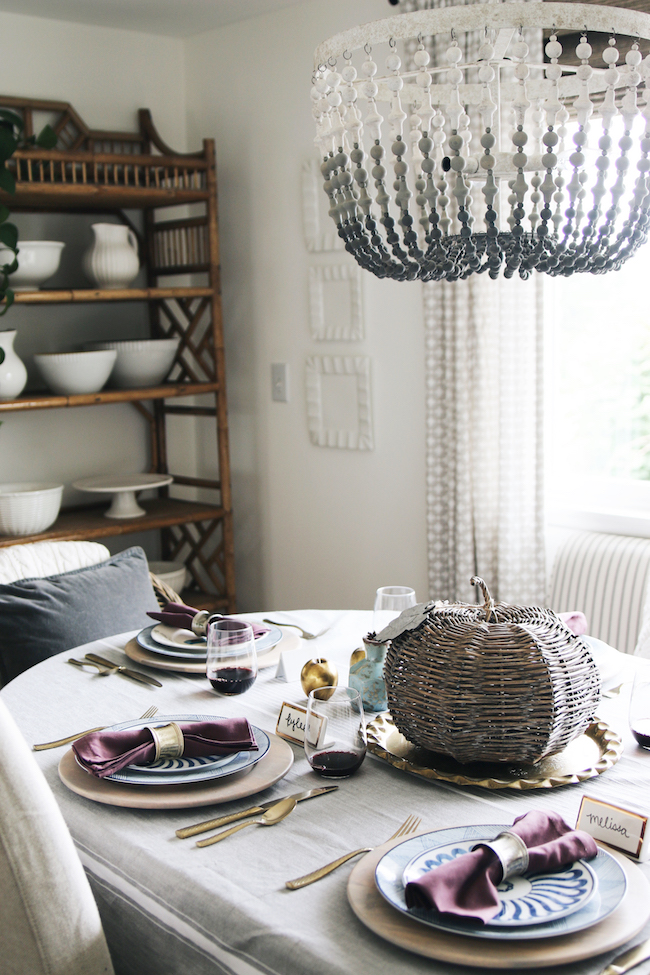 A few weeks ago I really went wild and grabbed this woven pumpkin at HomeGoods. Ha! So unlike me to be ahead of the game!
This early in the season we don't have many real pumpkins or pretty gourds available at the stores near me (at least anywhere I wanted to drive to!) so it was actually a good thing I brought that woven pumpkin home. Bonus, this guy won't rot, so I'll be able to use this "pumpkin" all season long. Super thrifty of me, if I do say so myself.
Other than adding my new pumpkin and tablecloth, I just set my table with what I already had. Sometimes when I'm going to shop in my own house, I will give myself a ten-minute limit to "decorate." It's a good motivator for me to just get going, and mix and match whatever I can find in a short period of time.
I often find that once the timer goes off, I'm quite content with small changes I made!
It doesn't take much to get me in a fall mood.
As I set the table, I decided to pair the same pretty blue and white dishes I used in spring, but added pretty plum napkins for a fall twist. The wood chargers warmed it all up nicely and they looked great with my new punkin'. You can find the sources all linked at the bottom of the page.
But when I added the gold flatware, it all felt too disconnected so I set a little brass tabletop under the pumpkin. That made him feel a little fancier and elevated his presence as a unique centerpiece.
Then to bring warmth around the room, I brought out these pretty brass lanterns for the buffet.
A few perennials in a basket (that I need to plant outside) brought in a pop of fall color.
Other than that, we've got some added cozy with fuzzy sweater pillows on the banquette, velvet pillows and a knit throw on a chair. Layering in textural details is my favorite way to decorate for fall.
In fact, speaking of fuzzy fall textures, if you look real close …
We have a photo bomber.
But since he adds a nice cozy layer to the mix I think we'll keep him.
Oh, and speaking of keeping it simple while gathering around the table, I've got a brand new book coming out October 3rd called Simple Gatherings! You can get the book and the amazing preorder freebies here.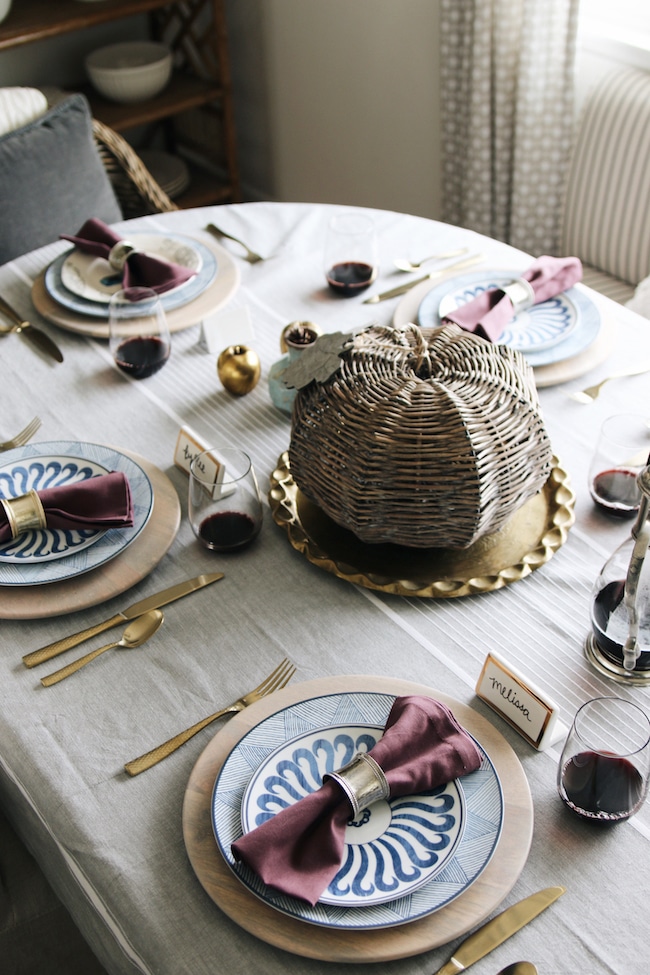 Thanks for stopping by today, friends!
Enjoy the rest of the tour, be sure to find the tour links below and visit everyone. I know you'll be really inspired!
All my room sources are linked at the bottom of the post! 
Ella Claire | Craftberry Bush | Love Grows Wild | Shades of Blue Interiors
City Farmhouse | Dear Lillie | French Country Cottage | Miss Mustard Seed
Liz Marie Blog | Rooms for Rent | Julie Blanner | Kindred Vintage
My Sweet Savannah | The Inspired Room
Sources:

Simple Gatherings Book (preorder now and get all four of my books as e-books for FREE!) >> Amazon / Barnes and Noble
Wicker dining chairs (similar)
Chandelier – RH Teen // Similar Option (great price!)
Napkin Rings (gold and silver)
Tablecloth – HomeGoods
Rattan Pumpkin – HomeGoods – similar options one and two
Chalkboard and Dry Erase Place Cards (similar options) > dry erase, chalkboard
Gray ceramic lamps and lampshade
Glass door cabinet – RH Hampton Glass Casement in Taupe
Linen parsons dining chairs (sources and roundup in this post)
Brass lanterns – Mary and Martha