This Fall Nesting post is in partnership with Old World Kitchen
I adore a cozy collected kitchen. I just wouldn't feel "at home" in a kitchen that was sterile, lifeless or completely uncluttered. That's not to say I like overly cluttered or messy kitchens, I don't. :) I like a clean look, but I also love being surrounded by treasured collections and special things that tell our story.
I don't necessarily think of myself as a "collector" but I do have a few collections or cherished pieces. If you were to look at my kitchen, you might not even realize that I am surrounded by things that are "collected" or memorable to me.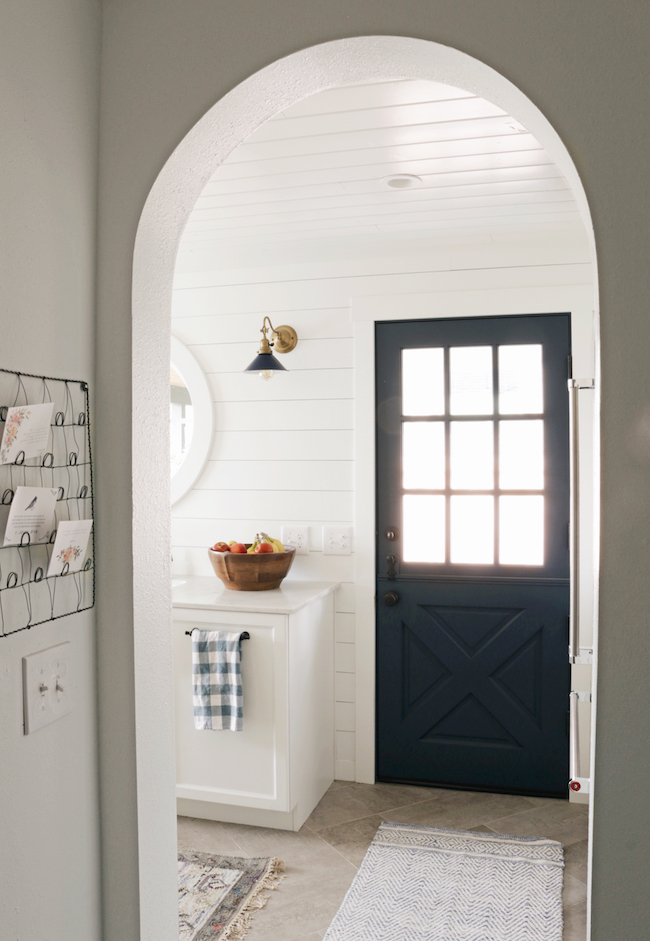 Even though my kitchen is newly remodeled I consider it to be "collected" because in it I have special pieces I have gathered over time. They are things I love, use regularly and will enjoy for years (and even a lifetime). These "collectibles" are often the elements I use and decorate with, so they become a part of my style.
I feel a kitchen is a backdrop for the memories we make, so I love when the quality, craftsmanship, beauty or functionality of pieces in it enhance the experiences we will always remember.
My cherished pieces stay with me. They are brought with me from house to house so they have become a part of our family's history. I am not likely to part with them!
While it isn't "a collection", my trusty 30 year old KitchenAid stand mixer is memorable. It has been sitting on my counter almost continually since my girls were little enough to ask to lick the beaters (CUE ALL THE TEARS!). It's a little beat up, but it is still beautiful to me because of what it represents–a lifetime of baking and caring for the people I love.
I'll keep that mixer as long as it still works! There is something so special about collecting and keeping things that will stand the test of time. They may not be on the latest trends list, but that's OK. They will outlast them all and bring their stories along with them.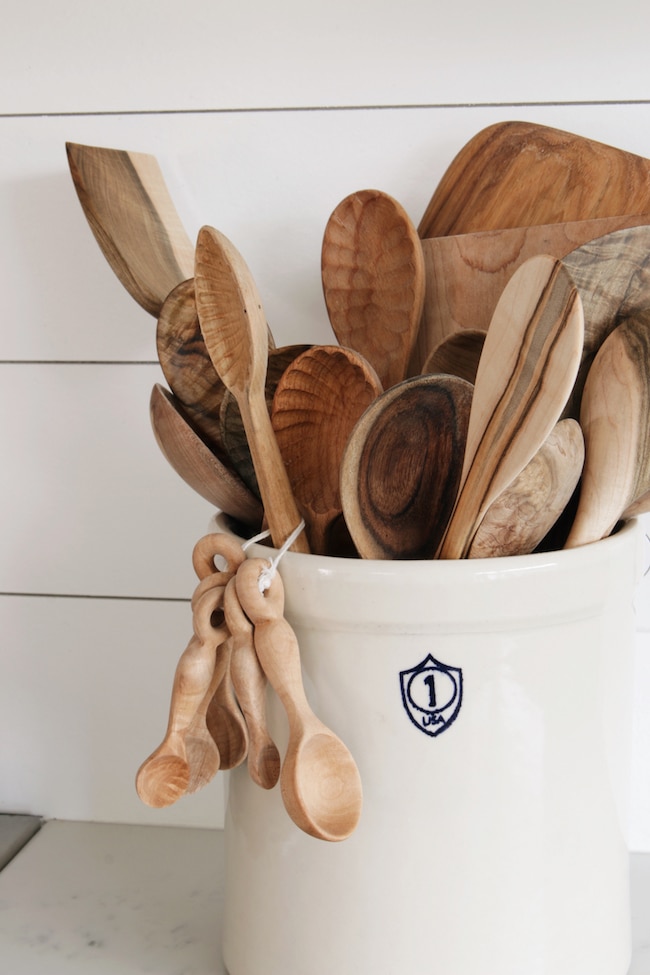 One of my favorite kitchen pieces is my collection of beautiful wood spoons. The day we moved into our very first home as a young married couple, I set a crock on my counter to hold my wood spoons. I just sensed those wood spoons would add so much coziness and comfort to our kitchen. And so they have, every day since!
At first I just had a few spoons, but you have to start a collection somewhere, right? My current crock is filled with the most gorgeous hand-carved wood utensils gathered and gifted to me over the years. They are not just beautiful to look at, we love to use them!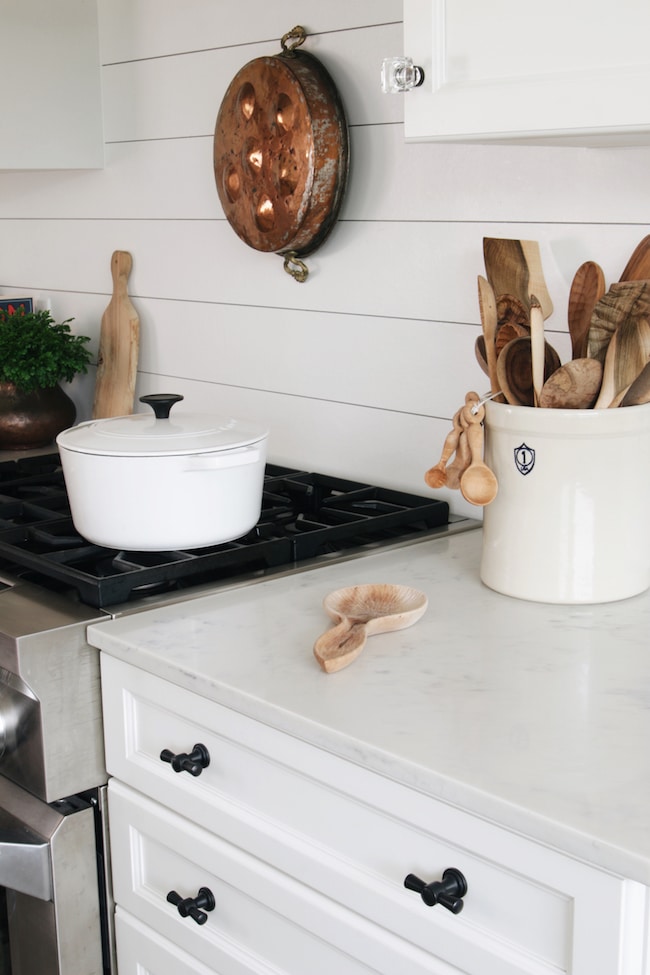 Many of the utensils in my collection came from an online friend I met years ago. Her family actually hand carves wood utensils (spoons, spatulas, and more!) right on their farm in Virginia. It has become their family business, Polder's Old World Market (and Polder's Old World Kitchen).
Each of their pieces is a work of exquisite art, signed and dated by the craftsperson. Their beauty and quality adds to the experience. You can't help but enjoy something someone made with such care!
This set is from their Dreamware collection, the beauty of the smooth wood and the hand-carved details on each piece is really stunning. Plus I'm obsessed with that gorgeous vintage inspired rolling pin!
So take it from me, if you ever want to give someone you love an heirloom quality gift or start a collection for yourself, one of Polder's hand carved spoons, the vintage inspired rolling pin, knives, spatulas or the entire Ultimate 10-piece Dreamware set would offer a lifetime of joy.
They are wonderful pieces to give, receive and collect because you know they will be treasured. Imagine what a memorable gift one of these would be for a wedding, a special anniversary, Christmas or housewarming?
And if you are in a hurry for a gift and don't have time to wait for it to be custom made, you'll find a growing collection of ready to ship items here.
Hand turned solid maple honey dipper
Best news for my buddies here today, the Polder's are offering The Inspired Room readers a 25% off discount store wide on orders through 9/23! Just use the code INSPIRED25.
I definitely recommend placing holiday orders early, not only because of the discount but because many of their products sell out as they get closer to Christmas.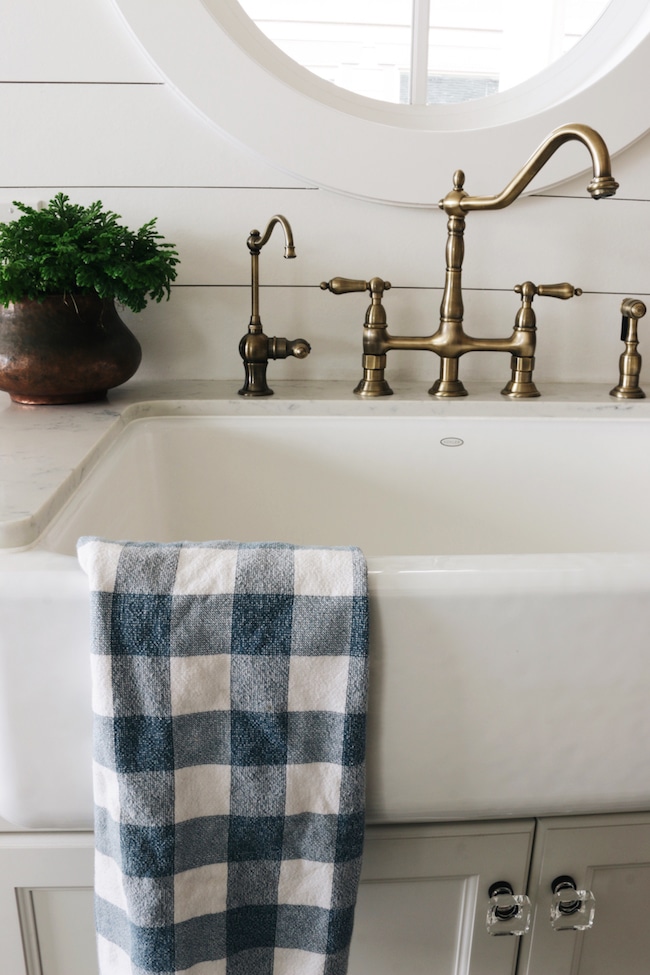 While my collection of wood spoons add so much warmth to my kitchen, my vintage copper pots add another gorgeous cozy patina! I've had them for years and would never part with them.
I don't have a lot of copper pots (yet!), but it is fun to have a collection in process. :)
Polder's Old World Kitchen is also always on the hunt for vintage copper pieces to add to their shop for their customers.
They have such beautiful collection of fine antique copper pieces, I swoon a little in my heart when I see them. Some of them are from the year 1850!
Vintage copper
Polder's will notify their email list when they add new copper pieces as they sell out quickly. Also they send out $25 product credit to all of their subscribers for Christmas, so it's definitely worth being on their mailing list. You can sign up here.
And these cutters! Oh my goodness, how darling are these? I have a small collection of copper cookie cutters that I used to use to cut my kids' toast into shapes! So many memories.
Do you have treasured collections or pieces in your kitchen?
Be sure to sign up for Polder's Old World Kitchen's email list here (they'll send you a $25 product credit as it gets closer to the holidays).
Use INSPIRED25 on your order site wide for 25% off until September 23!
Follow along with our Fall Nesting series! Start here for the 20 Little Things to Love About Fall video and to catch up with all of the new post links!