This post is in partnership with Napoleon Fireplaces
As someone who loves decorating, I enjoy finding the potential in a home. So of course, that means I'm always thinking up new projects and ways we could make our home "better" in some way. It's just what I do.
When it comes down to what my heart really desires for our home, it isn't really to do more, or have more, or to make everything perfect around me from a design standpoint. It's a feeling I want to have in my home.
This summer I shared in a blog post about potential changes I could make in our living room, and in particular, a few ideas we could use to makeover our fireplace.
I was asking for reader input to help me make a decision because at that time I was torn between seeing so much creative potential for this space, and yet actually feeling in my heart of hearts quite content in the simplicity of what was already here.
In the comments of that post I happily discovered once again that you are kindred spirits. Many of you shared your ideas for changes that could be made, if we felt inspired to make them, but the resounding consensus was that most felt very little needed to change (as the paint had already transformed the fireplace!).
But a few readers suggested an idea that particularly spoke to me. It really hit the nail on the head as to what was actually missing in our space and what would enhance the mood.
How about a gas fireplace insert?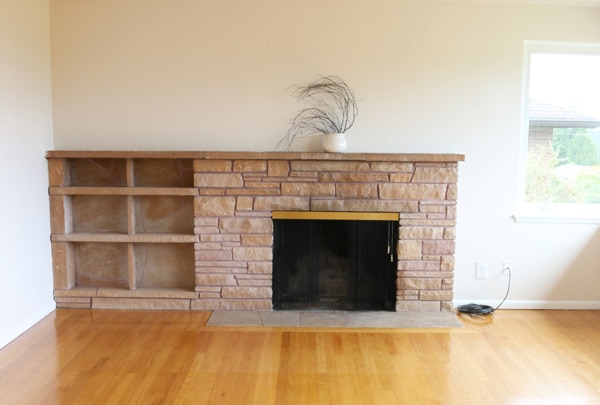 Here's our fireplace when we first moved in, prior to its paint makeover! But, our fireplace has not been able to be used since we moved in. We cannot burn wood in it because the previous owners added a gas line with the intention of using it for an insert!
We had a gas insert in our fireplace at our old house and honestly it was one of our favorite features of our family room. It drew us to that room every day, keeping us feeling warm and cozy all fall and winter long (and even through the rainy spring days!).
I've really missed being able to use the fireplace here, so the idea of having that warmth in my home again touched on what my real desire is in this space.
As Courtney was creating a mood board to help us solidify the vision for this space, I kept coming back to that idea of simply wanting a certain feeling.
The idea of living in "a cozy cottage by the sea" conjures up many positive emotions, partly because a sea of salt water really is the view from our windows, but also because that mood sparks an emotional connection to my lifelong memories of favorite homes and destinations.
On a blustery fall or winter day, I can't imagine what could bring me more joy as a homebody than just curling up by the fire with the people I love, happily surrounded by simple comforts that make us feel peaceful and cozy in our home.
Decor elements and styles will come and go, but how I feel in my home is always what matters the most to me.
Rather than a mood board highlighting everything we don't have or could ever want, this one brings together what we already have. That makes me so happy.
The only thing I felt was missing from the design board was the warmth of the fire in the fireplace (and the people gathered around it, of course!)!
So that, my friends, confirmed what our next project will be.
A new gas fireplace insert made our mood board complete and will make our room the coziest it has ever been.
We are SO excited! I can't wait to share more about the beautiful insert we are having installed. We are thrilled to be partnering with Napoleon Fireplaces on this project.
Thank you for following along as our living room continues to evolve into a cozy gathering spot!
*UPDATE* Ready to see the fireplace REVEAL? We love how this project turned out! Click HERE to see the after!