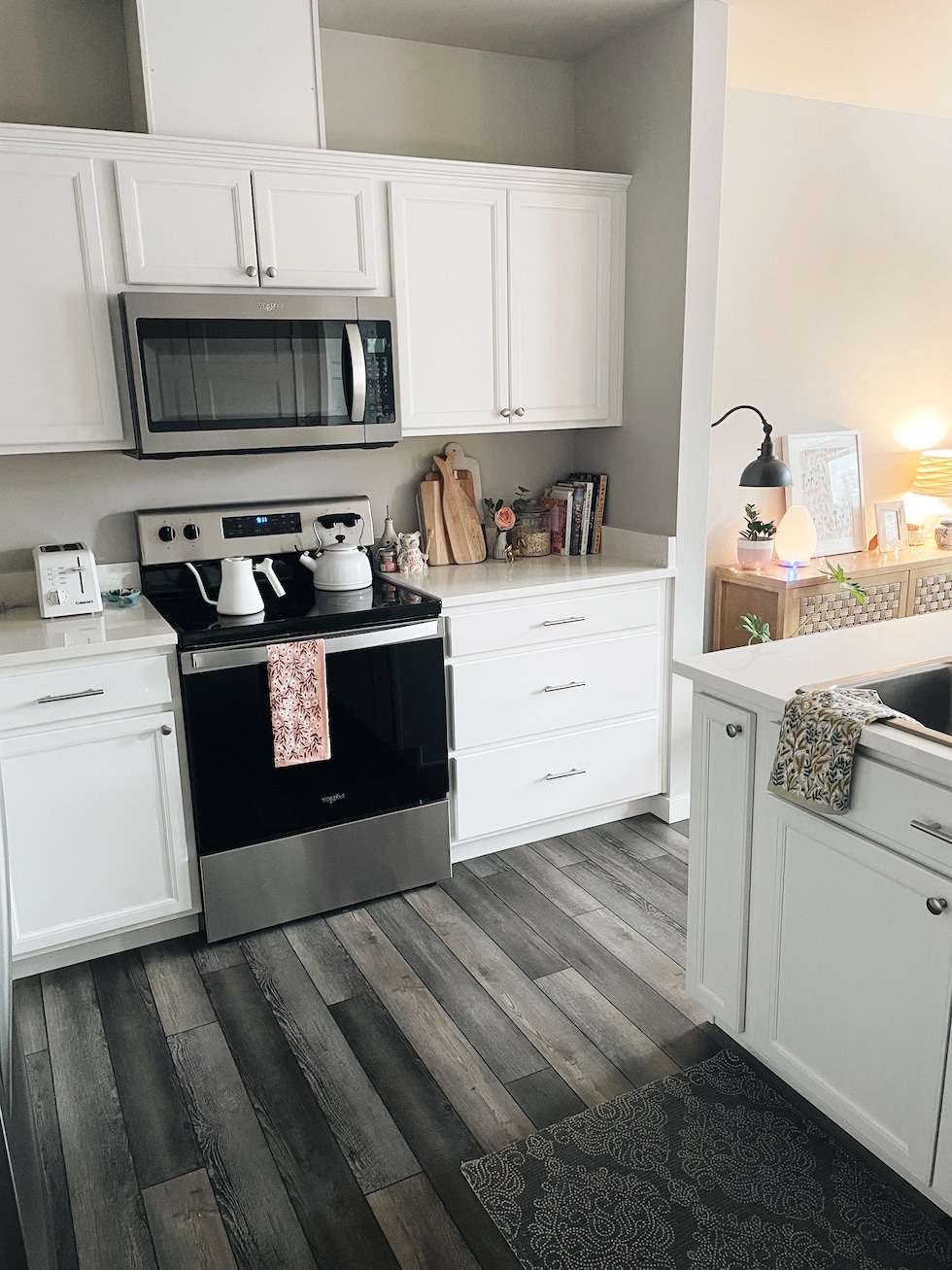 Hi friends! Courtney (Melissa's daughter) here today. I've lived in several small spaces and rentals over the years. From shared rooms in college, to a tiny bedroom at my sister's townhouse, a 600 square foot studio apartment, and now a 500 square foot one bedroom…small spaces are very familiar to me! I've had a lot of fun designing each of my little homes as cozy, peaceful, happy and inspiring places to be.
Last week I did an Amazon Live video sharing some of my favorite cozy small space tips. If you missed it, you can watch the video replay by clicking clicking HERE.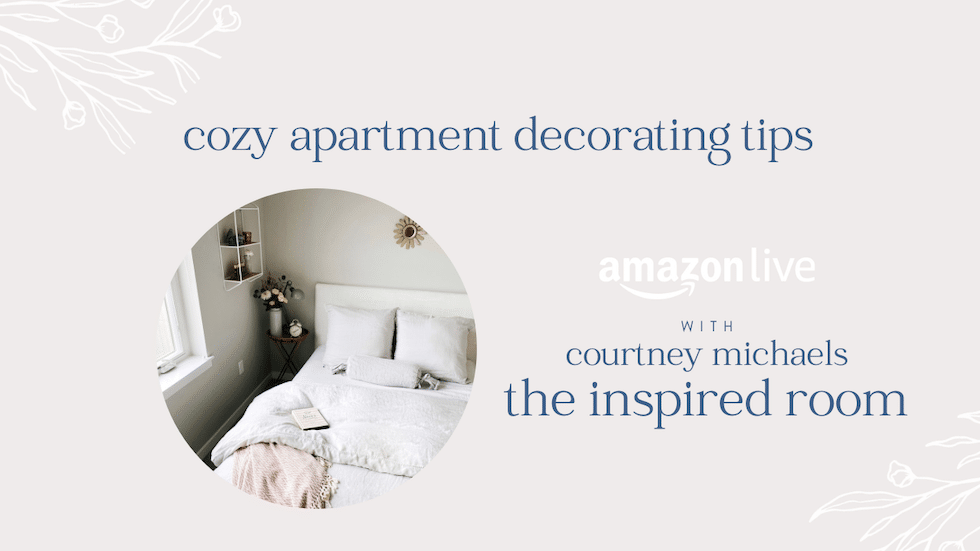 The tips can apply whether you're in a rental or own a home! I'll also share some tips below if you prefer to read instead of watching the video. :)
Here are 5 Clever Ways to Make a Small Space Cozy and Inviting, plus some clever "hacks" you might want to try for cozying up your home this fall!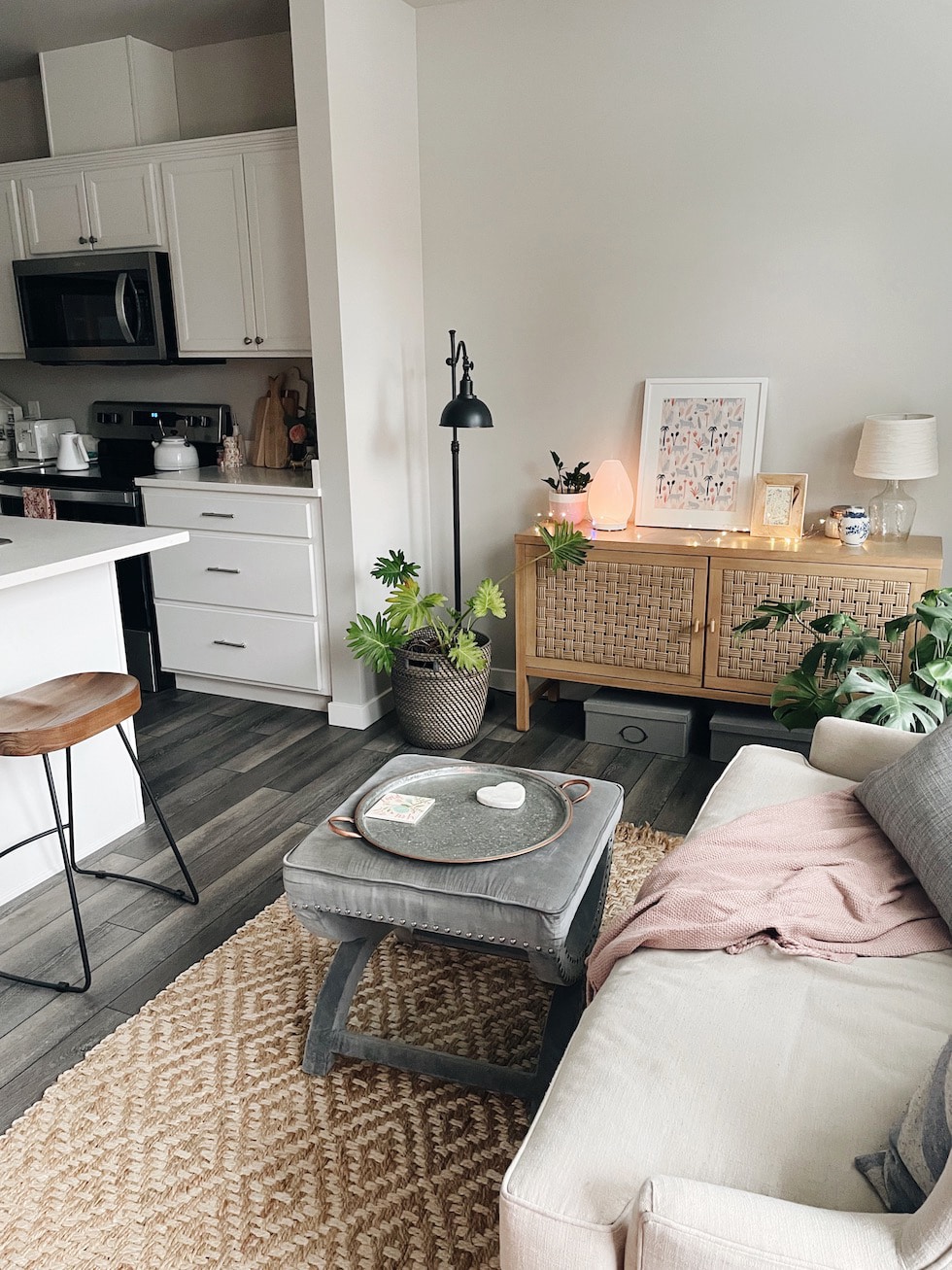 Use Soft Lighting
Soft lighting is key for an extra cozy space. Here are a few lighting ideas I use in my apartment:
During the day, I leave my overhead lights off and stick with natural lighting. If I need more light, I turn on lamps.
Dark corners can make a room feel dreary in the evenings, but having layers of light throughout the room transforms the ambience to feel more inviting and inspiring! I try to make sure I have a lamp in each corner of a room with a warm lightbulb. (If you don't have an outlet, try this rechargeable bulb trick my mom did!).
I prefer warmer lightbulbs to cooler ones. I got this little glass lamp and I knew it would look too bright and white–so I got this color changing lightbulb with a remote so I could pick a specific color. I usually do the yellow or orange color. The bulb is also dimmable (or you can do fancy color changing settings if you're feeling like having a party, ha!). I leave the remote on my ottoman so it's convenient to flip on my lamp when it gets darker out. (The lamp I have is white and out of stock, but there is a pink and teal color here).
Every day I turn on my glass diffusers with a candle flicker setting. Instant coziness! Bonus: diffuse essential blends that add to that cozy feeling. I've been loving nutmeg, orange, and vanilla lately. We shared some great autumn essential oil blends and favorite oils for fall here. You can find the oils and diffusers we use here.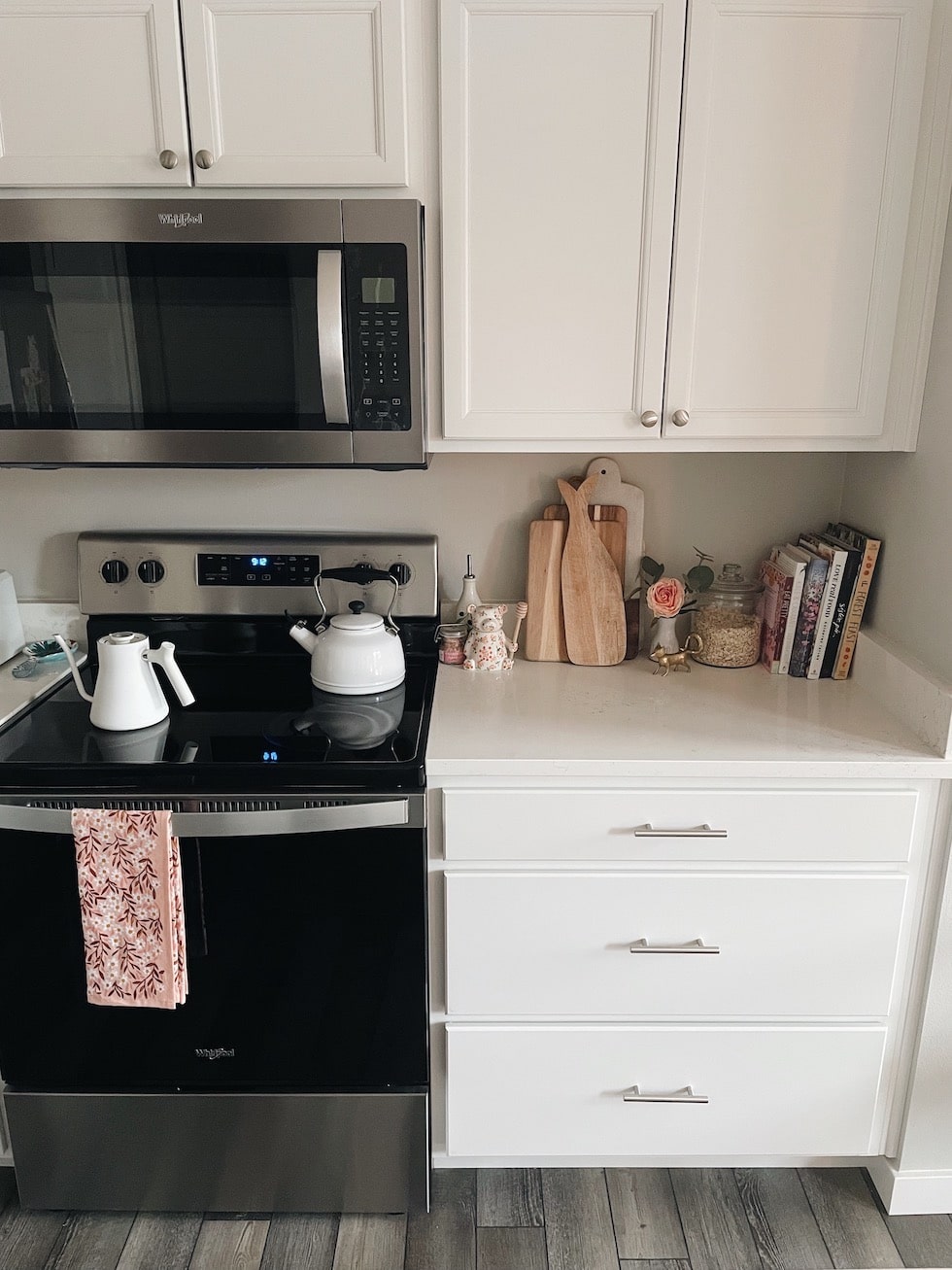 2. Be Selective and Make Everyday Items Pretty
In a small space it's extra important to be selective about your decor choices, and very intentional about what you have out on display. I like to make my everyday practical items as pretty as possible. But just because it's practical or pretty doesn't mean it needs to be kept out! Often less is more, and too much visual clutter can make a space feel overwhelming.
For me, I first assess what items I use every single day, then decide if it also adds to the style of my room. If the answer is yes to both of those questions, I often will leave it out. When it starts to feel too visually cluttered for my taste, then I pare down and tuck things away in a cabinet or closet.
In my kitchen, for example, I leave out hot water kettles since I use them daily so it would be inconvenient to pull them out of a cabinet each day. They are simple and white and add personality to my kitchen! (Click here for my matte white gooseneck kettle, and here for my black and white one).
However, there are other items I do use every day that I still choose to tuck away (definitely the less pretty things, but even if they're pretty, I can't have everything out with limited space!). My pour over coffee cup, coffee grinder, coffee filters, coffee beans, vitamins, kitchen utensils etc…those are things that didn't make the cut to be out on display in my kitchen.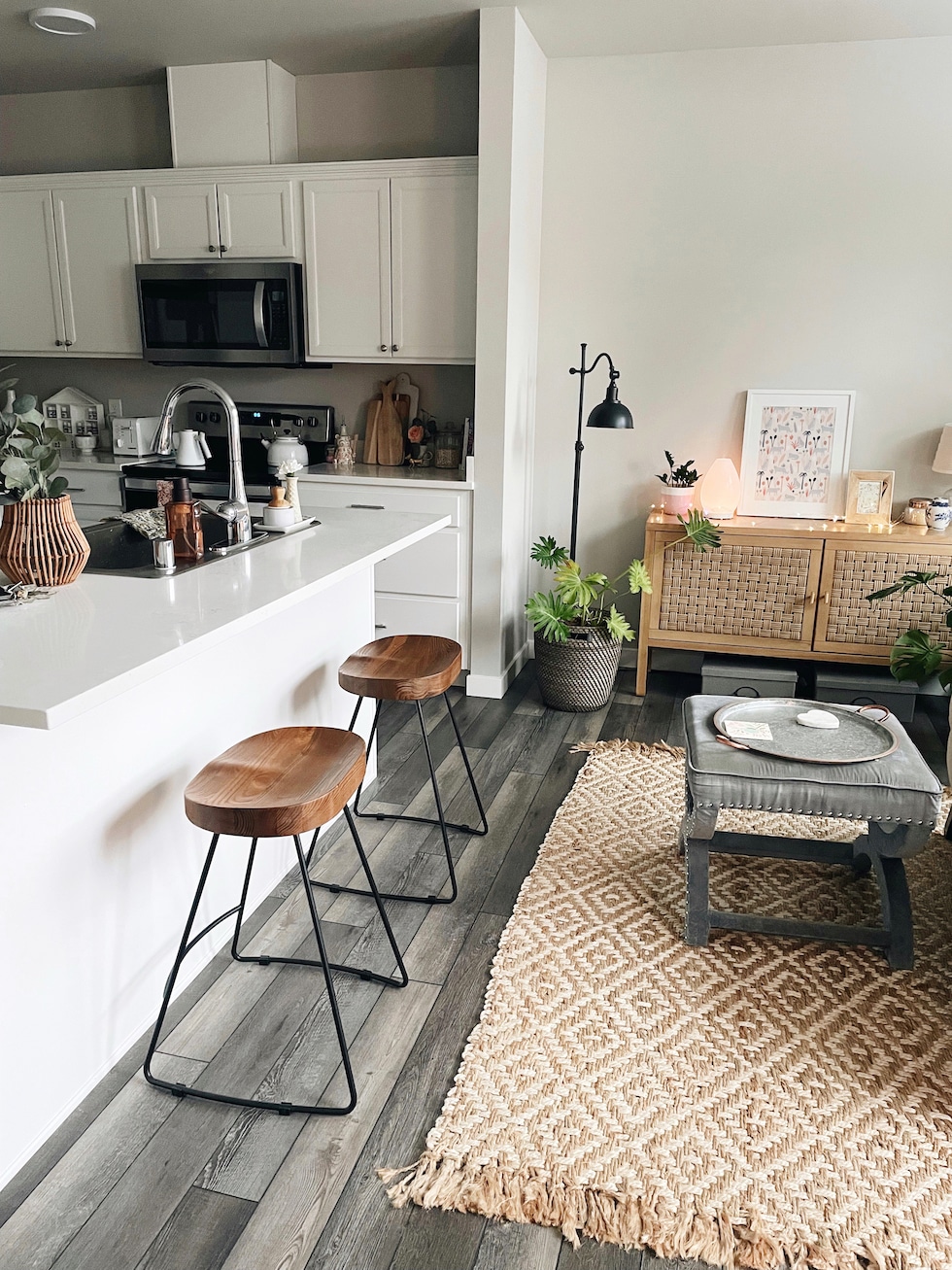 It's a good idea to do a regular "check" in your home to assess if it's gotten more cluttered than you intended. Sometimes we get so used to what we have always had out. When you take a closer look, you might realize you have had something out that really doesn't inspire you, or that you don't use often. Try tucking it away in a cabinet and see if you like the simpler, more streamlined look!
But remember, it's your home, so you get to decide how much feels cozy or cluttered to you. If you like it, great! It's personal preference. There really are no hard and fast rules. Your styling doesn't have to be perfect (mine isn't!) and it doesn't have to be permanent. :)
Of course you don't have to use something daily to have it on display! You can have it out just because it brings you joy to see it. A few favorite decor pieces that simply make me happy are this floral classic book set, and my 'face vase' with my string of pearls plant.
A few other ways I decorated my kitchen:
I keep rolled oats in a glass lidded jar on my counter.
I leaned a few cookbooks on the counter to add color and coziness (books always feel cozy!).
I have wood cutting boards leaning against my backsplash to add warmth and contrast to an otherwise very white space.
I set pretty patterned kitchen towels on my stove handle and over the sink.
I chose a narrow, simple white toaster to save space on my counter. (I've had this for years–it was super affordable and works great!).
I streamlined my sink area by pouring a hand soap refill into a glass foaming dispenser pump like this. It's a much simpler sight to me than the plastic soap container.
3. Make Your Space Work for You
Do you remember the movie "Smart House" from the Disney channel? I used to watch that as a kid and dream that someday I'd have a house with those robot features that made life extra convenient, ha! Now I kind of do in some (less extravagant) ways. Homes are meant to serve us! Here are a few things I use that make life more convenient in a small space:
4. Decorate with Staple Neutrals
I tend to decorate with staple neutral pieces and add color and pattern through accessories.
This sisal rug with a diamond pattern in my living room has been with me since I lived in a tiny bedroom at my sister's old townhouse (you can tour that here). It has held up great, goes with everything, and adds a nice honey tone to warm up the cooler colors in my space.
My linen wingback settee. This was a 'hand me down' from my mom–you might remember it from her house! The versatile color allows me to switch up my pillows, throw blankets, and other accessories without being held back by a strong color.
5. Utilize Vertical Storage
Using vertical storage well is essential in a small space! I'll have to do a whole post on organizing another time, but here are two things I've found helpful lately:
Raised trays. I have this cute two tiered tray I use for oils by my bed. I love that it doubles up my surface space! You could use it for cosmetics, perfume, office supplies, lots of possibilities!
Plastic drawers for under my bathroom cabinet–these ones are narrow and stackable and have been game changers for my organization.
I hope that was helpful!
Click HERE to watch my Amazon Live replay video where I shared these small space tips and more decorating ideas!
Click here to follow our Amazon page (you can find our lists of favorites and watch all our of livestream replay at the bottom of the page).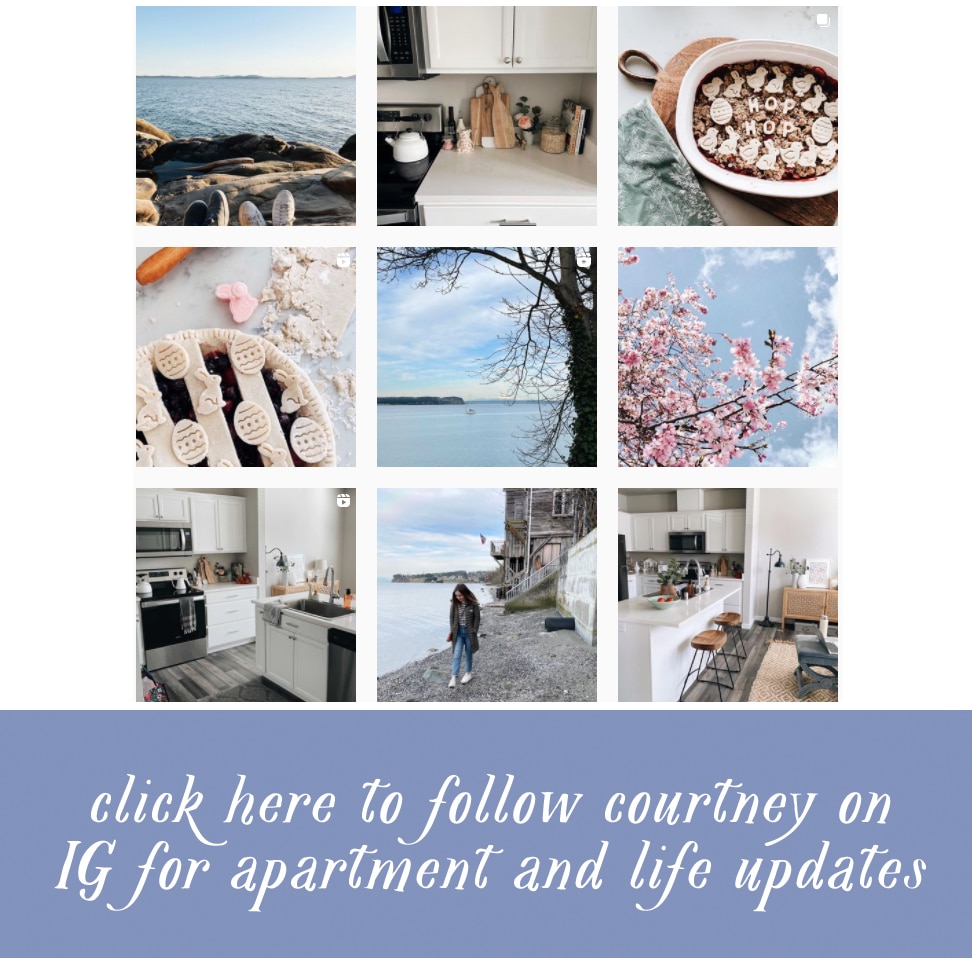 You can also follow me on Instagram here (@courtneylane1). I love sharing my apartment, life, pretty walks in my neighborhood by the water, and behind the scenes of working with The Inspired Room. I've loved getting to chat with some of you through Instagram–feel free to message me there anytime.
If you want to see more of my apartment, you can click here to take a tour...and find sources here.