Even though I love getting new things for my home, quite often I am just as happy (if not more happy!) to be a "use what you have" kind of girl. That philosophy is actually THE very reason I started this blog. I wanted to help and inspire women to find joy in their surroundings, even if they were just rearranging what they had.
A year prior to beginning the blog I started a decorating business with that same mission in mind. It was how I had always decorated my own home, but I had found that so many women I knew felt paralyzed when it came to decorating!
That perspective has stayed with me ever since. There's a time and place to get new things, of course. I'm very excited when I am able to (or choose to) do that. But it's not very often that I start over from scratch, or redecorate an entire room from top to bottom. I just don't always feel the need to get something new, when what I have can serve the purpose just fine!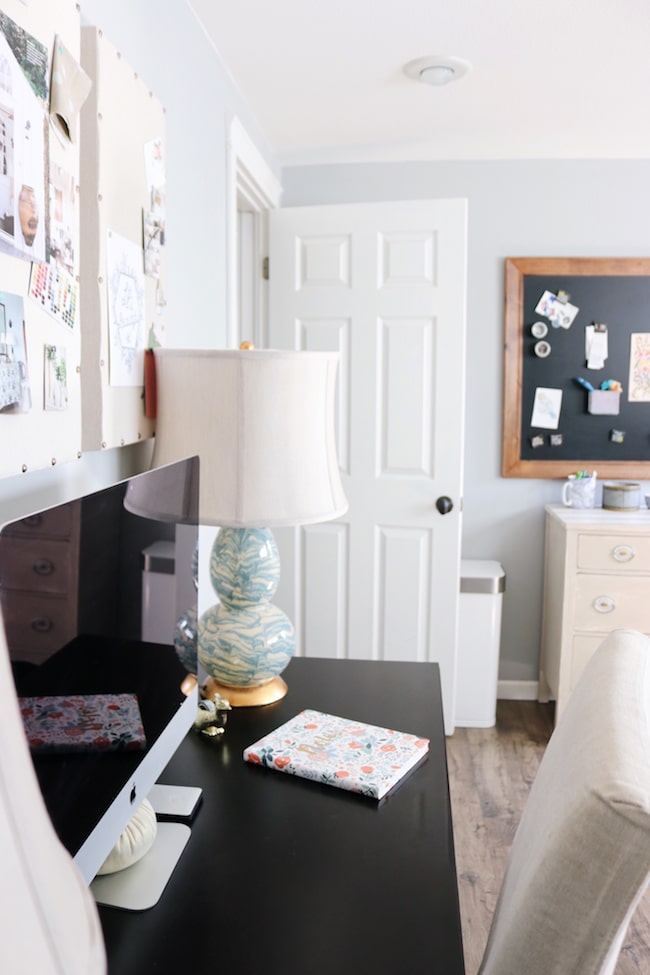 My home office is an example of a room where I definitely use what I have. It's true that none of the furnishings or decor in my office were bought recently or designed for use in this room. But it's OK to use them here even if they don't all "go together," or weren't selected for this space because they "fit" here perfectly.
Do I save endless inspiration photos to my instagram and pinterest boards for what my ideal office would look like if I was starting over? Of course! Maybe someday I will do just that.
But since we set up my office downstairs, I have been content just using what we had to set up this space.
I still have the two flea market finds I brought home for storage six or more years ago. They work great for holding office supplies. (Secretary + Hutch and Dresser).
I can still sit at the desk I bought for myself as a gift when I started my decorating business, almost thirteen years ago!
The book cover art and award my publishing company sent me when my book Love the Home You Have became a New York Times Best Seller still hangs on my wall all these years later! It's a good reminder of how important that "contentment" mindset is.
The inspiration boards from my old office still inspire me here in this one! These marbled lamps have been around since my old house as well (they can be found online here or here).
We just recently pulled the leather loveseat into the office (the sofa we bought when we had two puppies destroying our furniture in our old house!) so we'd have a comfy spot for more people to sit and work with me. The leather has scratches all over it from their wild antics, but I think the imperfections just makes it feel loved.
Related Posts: Decorating with Leather + Sources // 11 Tips for Choosing the Perfect Sofa and My Faves
The chalkboard that used to hang in our "map hall" at our other house to hold school calendars now hangs on my office wall. (Mine was from Costco, here is a similar one!). My son is just a few weeks away from living in a college dorm, so seeing this board here is also a sweet reminder to me of his childhood days.
And yes, I'm still a fan of the Anthro curtains I got for my birthday years ago. This side of my office definitely has its design challenges I'd love to fix "someday", but at least I can avert my eyes from the imperfection of the space and instead gaze at the curtains that still make me happy.
This office doesn't have all the latest trendy styles, but it's comfortable and comforting. And that is a feeling you just can't buy because what IS here brings in the sentimental memories and stories. It is also functional enough for my needs right now, but I can easily rearrange what I have or let items go for something new if and when I'm ready for a change.
Do I have design ideas for what I eventually want in my office? I do! But I love this season of decorating slowly, too.

I think there is often much more peace found when we learn how to be content with what we have. And even be happy that we are still able to use what we loved a few years ago!

My office may not be perfect, but I still love working here!
One new thing I wanted to show you in this room is the wood shutters we added to the windows in my office. They are a practical improvement for privacy and light control, and I love that they brought more character to the room and the exterior of my home (you can see a glimpse of what they look like on the outside from the deck, below!)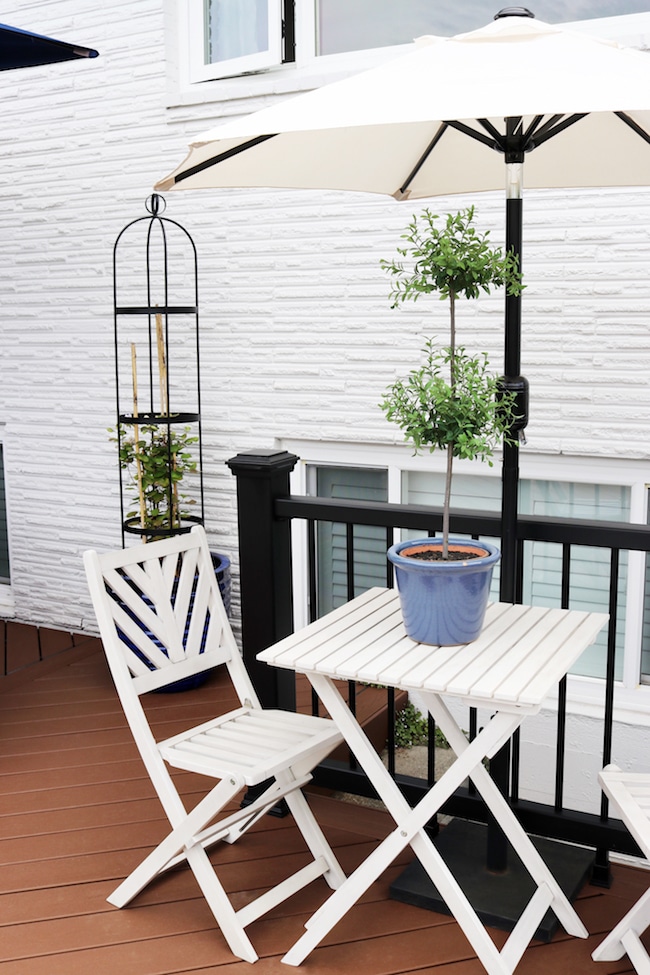 Another cool feature with these particular shutters is you install them yourself, which makes them far more affordable than most plantation shutters.
Find a post about the shutters in my bedroom and guest room here.
WHERE TO GET THE SHUTTERS:
The shutters I have are HERE. (Select Painted Wood Shutters, Birch White) Be sure to use that referral link AND my code INSP1RE5 (note the two numbers in this code) for an extra 5% off the best price anywhere!
I'll share more about the shutters we've installed our lower level (we have them in several rooms now!) in an upcoming post!
---

---
Shop my house and favorite decor here.
Take my Seattle house tour here.
Take my previous house tour here.