Click here to get essential oils and toxin-free products, no starter kit required!
I've been using essential oils regularly for several years now. I cannot recommend them highly enough, they have been game changing for us in so many ways. I truly believe everyone needs pure essential oils in their home. We've seen significant improvements in our home and health over the past few years, so I'm very thankful that friends told me about the benefits of oils. My only regret is that I didn't dive in to start using them sooner. Gratefully, it's never too late!
If you're unsure about how to use oils or just curious if they might help you, I'm here to help take some of the mystery out of getting started with oils and creating a toxin-free home.
Here are 7 reasons you need essential oils in your home:
They make your house smell amazing without toxins
While pure essential oils offer so many more benefits than scent, your favorite oils can make your home smell amazing without the toxins found in candles or artificially scented sprays. You can have fun creating your own custom diffuser blends. You'll be able to mix up 'dupes' of your favorite candles, like the Anthropologie Volcano Diffuser Blend. I share many other great blends in my wellness group, if you're already our Young Living member, check our Dwell Well Collective Facebook group or our new member Instagram!
One note of caution as you're selecting and buying essential oils, when I talk about oils I only am referring to the brand I'm confident in using for our family. I have years of experience with Young Living oils so I can recommend them highly. For health reasons you obviously don't want to be breathing in chemicals that will be wafting into the air if you are spraying or burning or diffusing toxic fumes, so I would be cautious about any "oils" you find online or at the store. It's hard to know what is really in the bottle and labels can be misleading, so that's why I recommend Young Living oils. They are pure and unadulterated plant oils. Young Living is very transparent in their quality standards. Plus they have millions of happy customers!
They can make your home feel happier, cozier, and positively impact your mood
Who doesn't want a happier home and life? Our home is a more cheerful place thanks in part to the oils we have in our home. Our sense of smell, our memories, and our emotions are so connected. One of my morning rituals is to go through our house and turn on the diffusers in several rooms of the house. Plants are impactful to our well-being, so diffusing plant oils can offer similar benefits. They can inspire a joyful mood, a restful one, can help with focus and more, so I choose specific oils for the mood I want to create in our home.
I choose happy oils to boost my mood, calming oils to relax my mind in stressful times, focus-helping oils when I am working on a big project, and more. It might sound strange that an oil could impact how you feel, but they truly do make a surprising difference! A few of my favorites to diffuse in the mornings for a cheerful environment are Joy, Bergamot, Lemon Verbena. My favorite calming oils lately are Vanilla, Stress Away, Peace & Calming and Valor. I love making my own perfume rollers, too, so I can wear my favorite scents! We share lots of pretty perfume recipes posted in our Dwell Well Collective community.
They can help you get a deeper, more restful sleep
I have seen a significant difference in how well I sleep when I use oils! This was one of the first improvements I noticed when I started using oils. They help me wind down quicker and definitely sleep more solidly through the night. I always have a diffuser going in the evening. I put oils on the bottom of my feet every night and I spritz them on our sheets as a linen spray. Good sleep is so important for our overall health. Some of my favorites for sleep are Cedarwood, Peace & Calming, and Lavender.
They can help support a variety of health needs
Using essential oils every day is one way we support our bodies to feel their best and stay well. I noticed a clear improvement in my ability to stay well and feel well once I started consistently using essential oils like Thieves, Lemon, Raven, etc. They help us to be proactive in preserving our wellness, rather than always being reactive.
We also use oils to help specific daily needs as they come up. Whether it's a headache, a skin issue, sore muscles, a scratchy throat, an upset stomach or so many other things, we are constantly reaching for an oil as part of our wellness toolbox because they really help! We don't use hardly any OTC items any more, oils have replaced so many toxic products.
There are so many ways that oils have helped my family! My husband has used essential oils to help relieve a frozen shoulder and allergies, oils have transformed my skin, digestion and endocrine system, my girls have even seen huge success with using oils to help balance hormones and make 'that time of the month' much easier as well.
There are so many simple opportunities to incorporate the benefits of essential oils into your day, I'm barely scratching the surface in this post of the ways they've helped us. There are SO many important life situations where you'll be so grateful to have oils, too. As you begin to trust how they impact your home, you'll definitely turn to them for so many more significant needs. Here is a post about how I rid my home of toxins to radically change my own health!
They create a cleaner, healthier environment in your home
Plants have natural air purifying properties. Just like we bring plants in our home, we also can use oils to clean our home and keep our air fresh! Toxic household cleaners are responsible for a lot of indoor air pollution which can compromise health and and contribute to a variety of health conditions. You can clean just about everything in your home with essential oils and toxin-free ingredients. This is the plant-based household cleaner and recipes I use to clean my white sink!
They can help your plants grow and stay healthy
Plants love essential oils just like people do, so there's no need to spray them with toxic chemicals! I use essential oils on my plants to keep them dust-free, thriving and happy! I shared my happy plant spray recipe here (it's the same all-purpose household cleaner that I use for everything in my home). They also can help repel bugs and make your plant leaves shinier.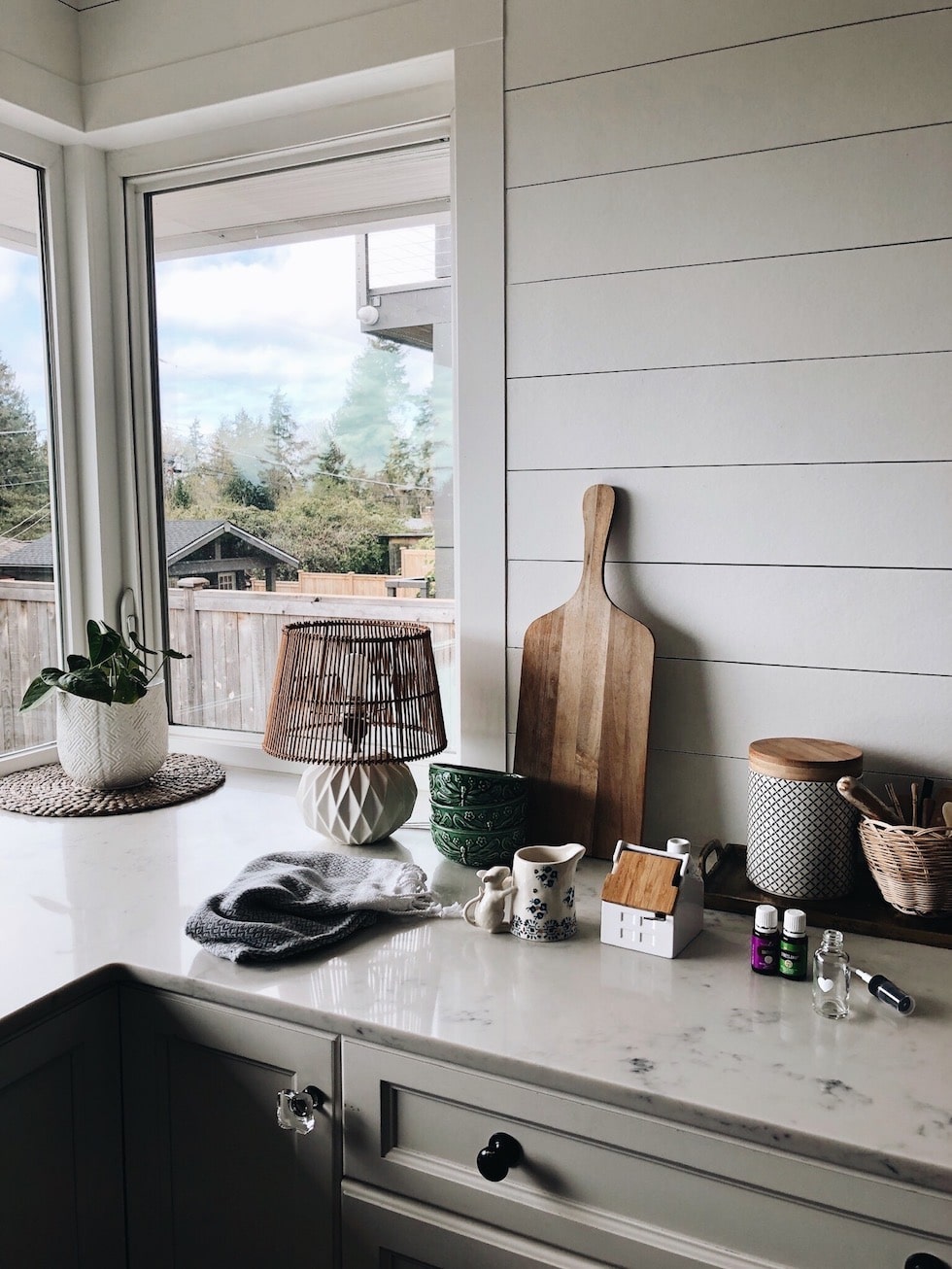 They can simplify your life and help you save money
Rather than thinking of essential oils as something new you have to introduce to your home, think of it as simplifying. Now you will need far less products in your home, plus you are switching to something far better for you! Once you have oils in your home, you'll buy less junk. You'll spend less money. You'll save time shopping for and researching products. You'll be equipped to begin making healthier daily habits immediately, since you'll be reaching for something good for you right there in your arsenal.
Oils are so versatile–you'll be amazed at how many uses each oil has. For example, lemon oil will uplift your mood, easily clean off a pesky price tag sticker from a plate, brighten up your complexion, freshen your garbage disposal, remove odors from your laundry, and so much more. I've found I no longer need so many of the products I used to buy because oils serve so many needs.
If you've been on the fence on trying oils, let's do this together!
You can find details on ordering the essential oils and toxin-free products I recommend or reactivating your membership here.
Grab essential oils + toxin-free products HERE (no starter kit required!).
When you get oils from Young Living you also have access to their whole site of natural wellness products–think natural dish soap with no sulfates, phosphates, dyes, or perfumes…safe makeup and cosmetics, the plant-based household cleaner I use for everything, laundry detergent, a totally gentle baby line, wonderful hand soap and lotions, toothpaste and shampoo, quality supplements and so much more.
I have a private (and free!) group called the Dwell Well Collective that will help you learn how to use oils in your home! You will be invited to join this members-only group when you use my referral link to get your account. My girls and I would LOVE to have you be a part of it. It's a no-pressure group where we offer lots of oils education, pretty albums of oil ideas and DIY recipes and toxin-free living inspiration. It's a place where our members can ask questions, enjoy exclusive video workshops, learn to develop new daily habits, and we have giveaways galore.
If you already have a box of oils gathering dust, let us help you! Email me at [email protected]
If you're ready to give this whole oils thing a try, thank you for trusting me on this. You need oils, I promise!
Text me at 503-805-6457 if you have any questions or trouble ordering.

Looking for oils accessories like rollers, spray bottles, oils stands and more? Click here for my favorite sources!
Related Posts:
How I Use Essential Oils and Daily Wellness Routines
Calming Stress and Spring Diffuser Blends
Simple Changes for a Cleaner Home