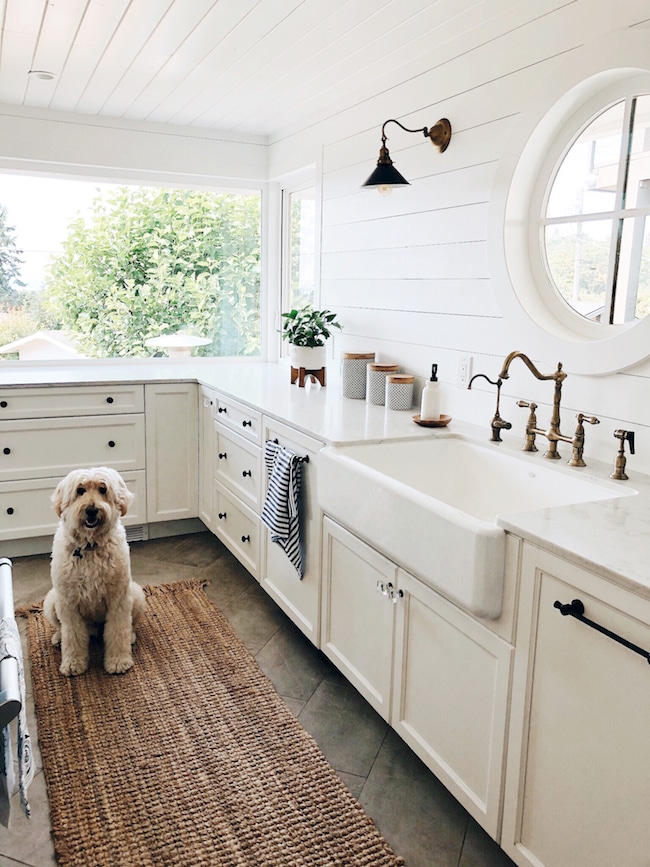 For years and years I've talked about the significance of emptying, cleaning and polishing my sink every day.
My whole perspective on my home and housekeeping and even my mood changed when I started practicing this one daily task. It's a magical habit, if you ask me!
A related question readers often ask is "how do you clean your white sink?" or "how do you keep your sink so white?".
White sinks do seem to end up with marks, stains and scum on them that can appear difficult to clean.
So today I thought I'd give you the three secrets to how I keep my sink clean and white!
1. We clean our sink daily.

Like I said, this is a magical habit! It not only boosts my mood to wake up to a clean sink and keeps us from getting too far behind in our housekeeping tasks, but it keeps our sink looking clean and shiny! The longer you let junk and gunk build up on your sink, the more difficult it is to clean.
2. We keep a metal rack in the bottom of our sink.

Our metal racks (with rubber feet) help keep any pots and pans set in the bottom of the sink from scratching or marring the surface of the sink. We remove them to clean the sink or when we just want the sink to be pretty :).
3. We use a plant-based product.

You might think you'd need to use heavy duty products to get a white sink shiny and clean, but you definitely don't! In fact, you not only don't want toxic products on your sink, you don't want them in your body or on your skin or in your lungs. I ditched the use of toxic products years ago (you can read my health story here) and am so glad I did!
I try to keep cleaning all the things as simple (and affordable) as possible, so I don't use a lot products, ingredients or steps to clean.
I'll share the plant-based product and simple method I use for my sink and then offer you some additional options, below.
How to Clean A White Sink:
To give a sink a good scrub, sprinkle baking soda around the sink and then spray with My Household Cleaner (one capful in a 16 ounce spray bottle filled with water, or dilute less as desired).
Scrub with a sink-safe brush or sponge! Rinse away. Voila!
So clean and shiny, without harsh chemicals!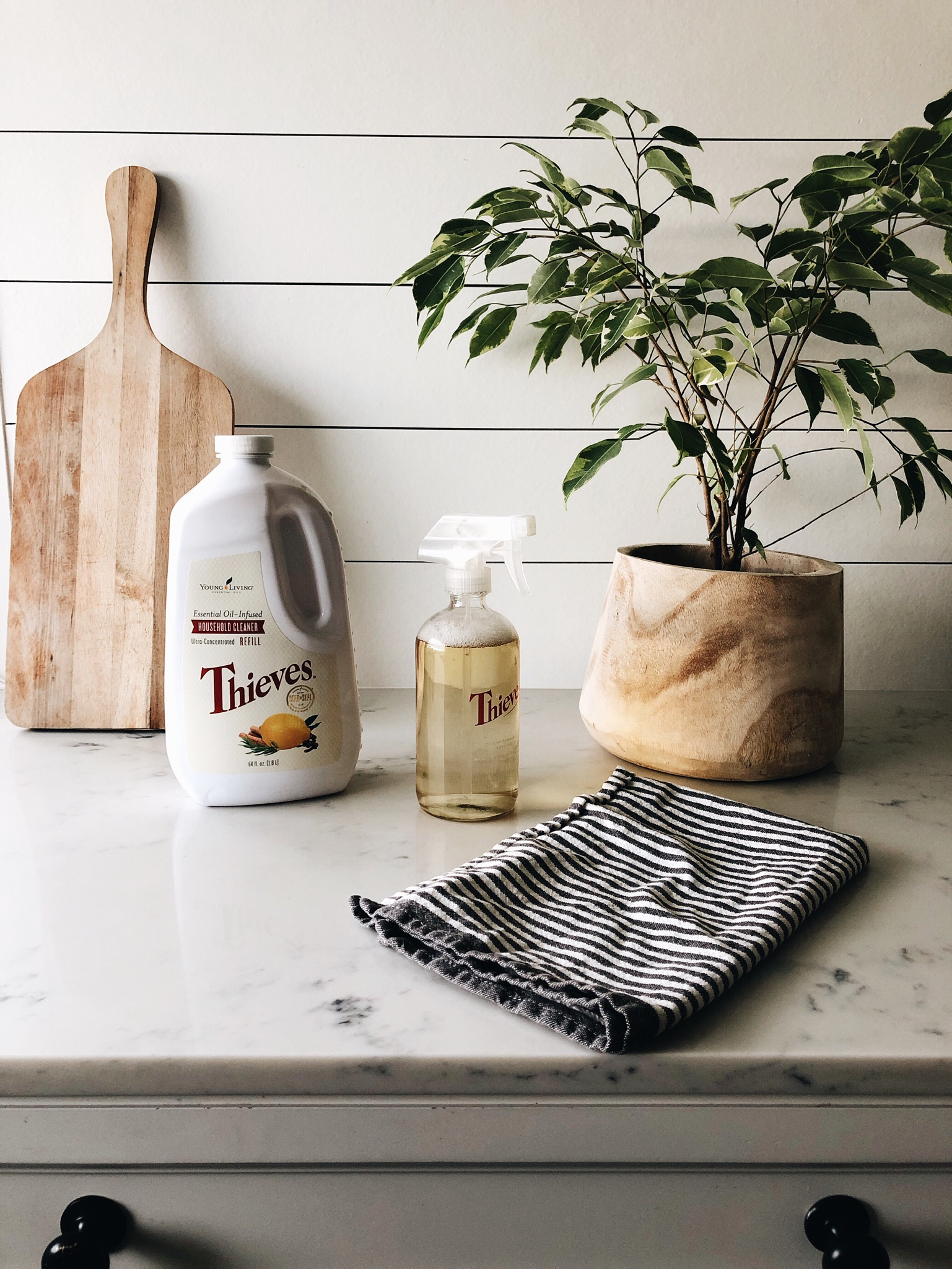 I've really simplified my cleaning products and ingredients. When I discovered that the Thieves Household Cleaner I already had under my sink was so versatile and literally worked for almost everything (mirrors, countertops, glass, floors, fabric, laundry stains, rugs, washable slipcovers, stoves, marble, tile, upholstery, etc), it became the only product I needed. Adding baking soda makes it into a great paste!
If you don't have Thieves Household Cleaner, give it a try! I think you'll love it as much as I do. Click here to get Thieves Cleaner!
Other options for cleaning sinks: make a paste with baking soda and Castile soap, vinegar, or even use lemons or lemon essential oil mixed with baking soda and a squirt of dish soap. Bon Ami was another product that I have used on my sink (prior to my realization that Thieves Household Cleaner + baking soda was all I needed!).
* * * * * * * * * * * * * * * *
My friend Becky of Clean Mama wrote a brand new book on natural cleaning! It's full of great information and household cleaning recipes. You can find her book here Clean Mama's Guide to a Healthy Home.
Or your copy of my new book Dwelling: Simple Ways to Nourish Your Home, Body, and Soul.
Sink Sources: Sink // Faucet // Brass Sink Strainer // Sink Rack // Water Spout
Click here for a full kitchen source list!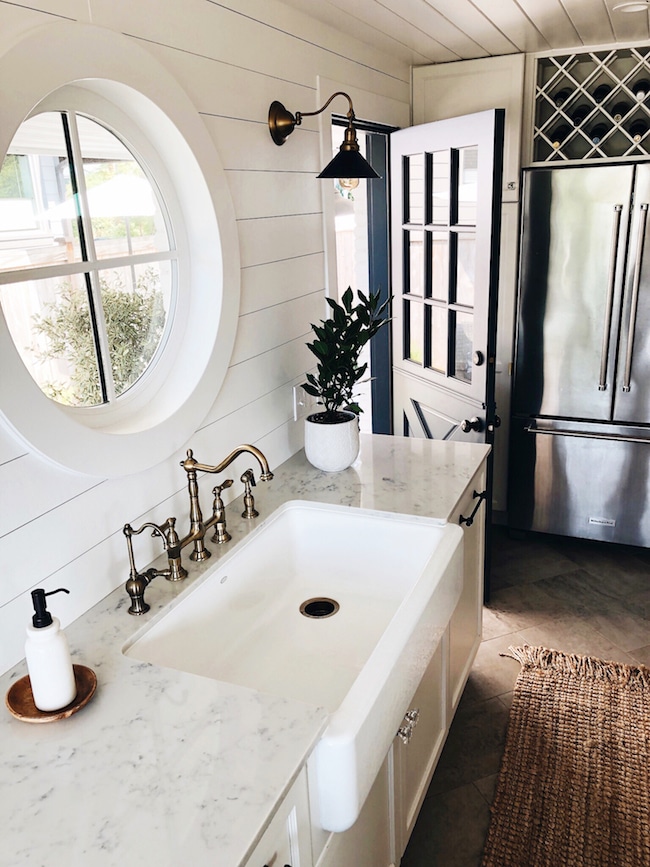 Click HERE for information on joining my Dwell Well Collective for as low as $35!