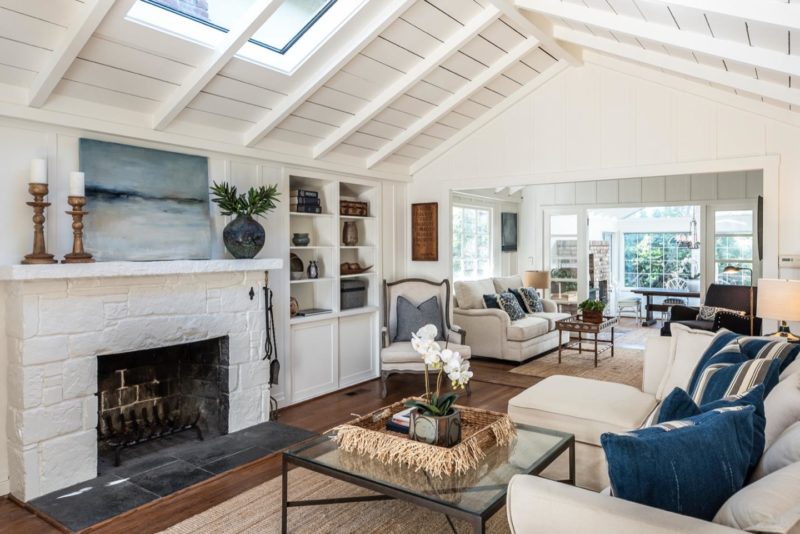 I was scrolling the interwebs the other day and photos of a little cottage stopped me in my tracks. This coastal cottage in Carmel is almost exactly the big future vision I've had for my little house.
This cottage is a sale pending in Carmel (see the post and more images via Hooked on Houses). The listing is here. I love Carmel, have you been there?
But behold….do you see what I see? Besides the charming Dutch door, the paneling, the bookcases, the vaulted ceiling, and the built-ins …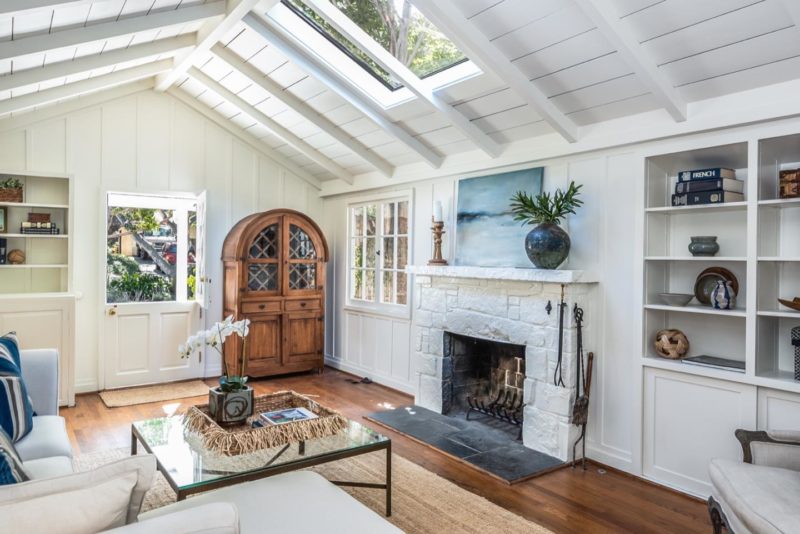 Right there in the middle of this living room is my fireplace's twin (minus my bookcase, but still….it's so similar!).
Once I read so many of your comments on my post sharing that you like my fireplace and then I stumbled across this home, I felt more confident in the fact that my fireplace can work with the direction of my home. Painted white, it took on a simple and cottagey look. I'm such a fan of simple changes!
Yet with that said, I'm still thinking of making a update or two to my decor, fireplace and living room, which I'll share more about in a future post! :)
The Carmel cottage is inspiring me, though! It definitely has an abundance of character.
One step at a time, right?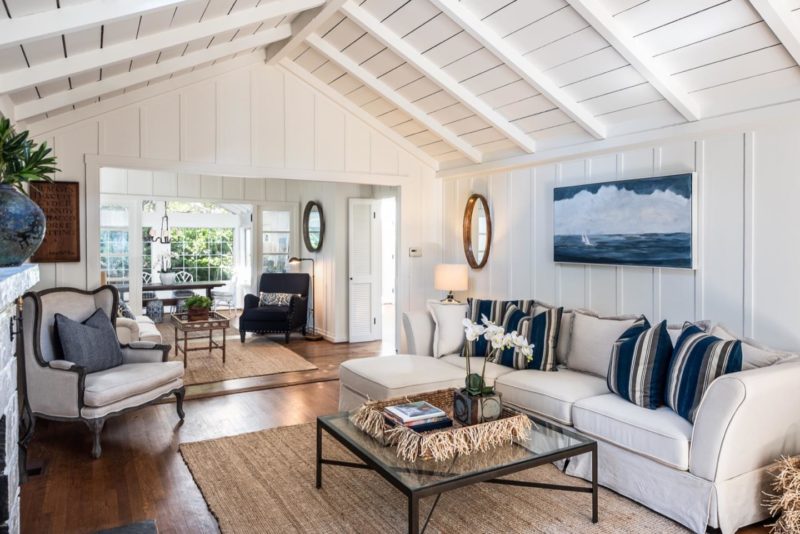 I think when you are on a budget (or living life!), it's good to have a long term vision with shorter-term plans.
In case you're wondering, I don't think updating your home over time means you have live in complete chaos for years. :) It might feel that way at times, but you can definitely take breaks in between projects if you plan accordingly!
Timeless Tip: Make simple changes that can be accomplished on your budget and timeline, with a reasonable standard of quality.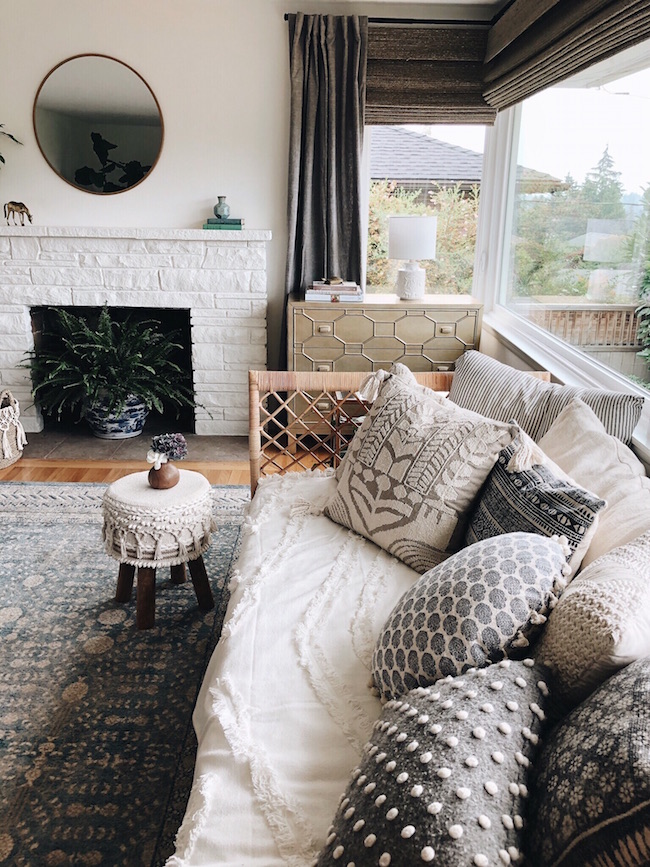 Here are a few of my cottage style suggestions that can be accomplished over time!
1. Start with a clean slate.
Before you spend time, energy and money trying to add character, it helps to simplify any glaring or conflicting features so you begin with a fresh clean slate (or as much of a clean slate as you can)!
That might mean painting walls and unattractive design elements like ugly brick fireplaces or removing dated carpet and light fixtures.
If you can refinish or install hardwoods and add cottage architecture right away and get it all done at once, that's great! Ideally we would get all the messy stuff out of the way so the backdrops are complete. But it's not always possible to do it all first or to do it all at once and that's OK, too. Do what you can!
Once you have the freshest backdrop you can manage right now, you can more easily determine and pace your future improvements. Plus with a cleaner backdrop you can more easily recognize the most effective way to add cottage elements while staying on budget.
2. Focus on simple updates.
With a refreshed backdrop, there are simple ways to add a cottage feel to room as time and budget allows. You could add classic bamboo blinds, shutters or non-fussy curtain panels to plain windows, or incorporate cottage style furniture, rugs and cozy lamps, ceiling or wall fixtures. Artwork, accessories and hardware are easy to add or change out as well!
3. Add cottage architecture.
While in an ideal world the architecture of a room is completed first, sometimes you have to work with what you have and it can't all happen at once. Sometimes a delay is a blessing in disguise. Once your home simply feels cleaner and cozier, bigger projects or remodeling may seem less urgent or no longer necessary.
But if and when you are ready to tackle a bigger project, the sky is the limit! You could totally remodel a room, add classic wainscoting or wall paneling over drywall, install simple crown molding, add timeless hardwoods or simple tile, and change out windows and interior or exterior doors. Make a square doorway into an arched doorway! You could maybe even knock out your ceiling if you want a vault or add beams.
Have you remodeled a house all at once?
Or have you worked on adding character to your home over time?
Speaking of my love for cottage style:
Did you see this adorable Cottage By The Sea?
I love this Hamptons Beach House.
Get inspired by Cottage Style Charm
Charming Cottage Tour (and 5 Take Away Tips)
Love this Style: White and Wood Cottage
5 Decorating Ideas from Sarah's Cottage (Sarah Richardson)
Did you see this post on my home? Blue and White Coastal Style
My interior and exterior cottage paint colors
My house in The Cottage Journal!
Add character: Make a square doorway into an arch
How to Decorate: The Slow Process to a Style You'll Love
My book The Inspired Room: Simple Ideas to Love the Home You Have