A home won't be finished in a day (unless you are watching a home makeover T.V. show, ha! In that case, that house will be completed in about 30 minutes.). In all likelihood, the homes we all fall in love with online or in a magazine took years, or an entire team of designers, to complete.
If your house isn't feeling as pulled together as you'd like, or if it doesn't feel quite like home yet, below you'll find a list of simple but important things that your home might be missing.
Furnishing a room or an entire home can feel daunting! But don't feel overwhelmed by the long list of things you need. You don't have to have it all or do it all in one day. Give yourself time to add layers. Look for items that fit your budget. Expect some trial and error. Take your time deciding what you like and don't like.
Most of all, enjoy the process of making yourself feel more at home.
Full Curtain Panels
If your home feels cold, or doesn't feel cozy enough, curtain panels will warm it right up! Aim for wide and full curtain panels, thin panels can feel wimpy. Double up thin or narrow store bought curtains for a fuller effect.
Conversation Areas
Don't spread your furniture too far apart all around the room, bring it in close enough to be able to converse comfortably with others. Set up lamps nearby that you can turn on when it gets dark, have end or coffee tables within reach so you can set drinks down and find a place to put your feet up.
If you are furnishing a room scratch, you have to start somewhere. I think it makes sense to begin your investment with with a spot to sit, such as a comfortable couch or adding a dining table and chairs. From there, you can slowly add rugs, ottomans, lighting, side tables, and accessories to make your home even more cozy, functional and personal.
A Cohesive Color Palette
A cohesive color scheme can tie your style together and make the mood feel more relaxing and peaceful. But a cohesive color palette doesn't mean everything has to match. Choose one hue to put on repeat, it will pull your entire color scheme together.
Breathing Room
Sometimes what is missing from a room isn't an object, it's breathing room! While it's important to put your stamp of personality on your home, offer some breathing room around your furniture and accessories. Give each piece some room to shine!
Landing Spaces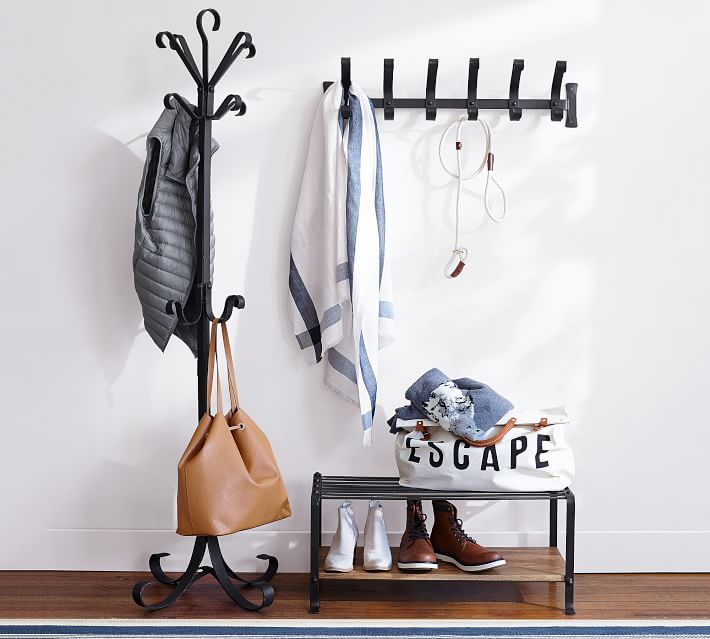 Every room should have designated landing spots for everyday things go. Otherwise, the room will begin to feel crowded and chaotic. Items you use every day, like jackets, clothing, dog leashes, or back packs all need a home. Add hooks to walls and backs of doors to create proper landing spaces for every day items.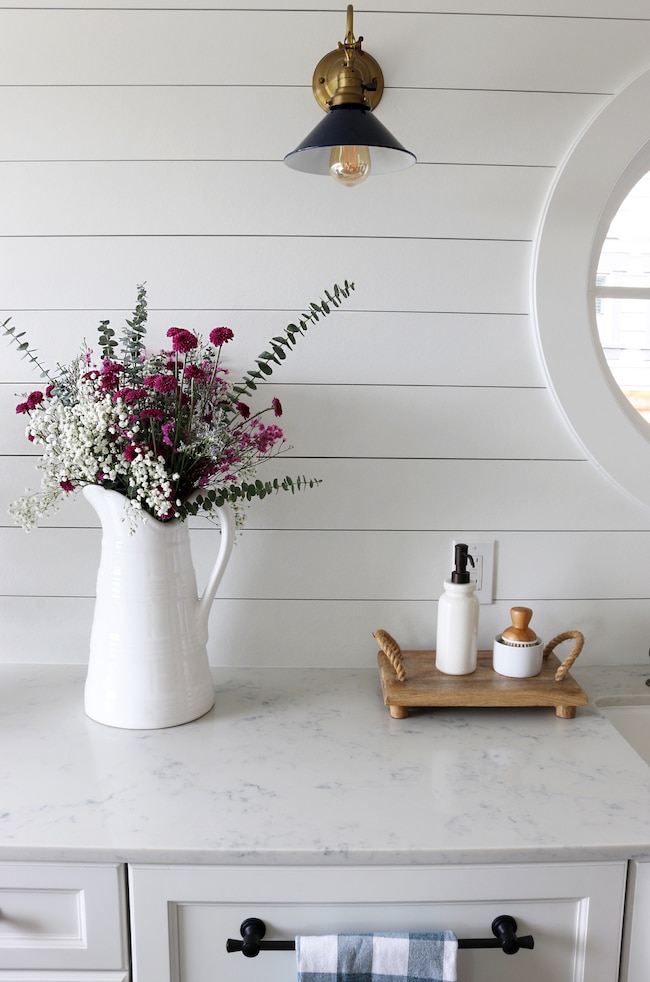 Layers of Lighting
If you rely on only the light from a single fixture in the center of your ceiling, your room will likely feel quite dreary at times. Add warmth to the corners and walls through additional sources of light. Begin with at least two lamps in your living area so the light can be more evenly and comfortably spread around the room. Add a task lamp if you work, read or do hobbies in the space.
In my kitchen, we have small can lights in the ceiling (with a dimmer), 3 wall sconces, and a table lamp on the counter in the corner.
Here are some posts on lighting:
Light Up a Dark Corner with a Wall Sconce (No Wiring Necessary!)
Beautiful and Affordable Lighting on Amazon
Decor Inspiration: Lamps on Kitchen Counters
My hall makeover + battery operated library lights
Bookshelves
Bookshelves make any home more "homey" and of course, they provide organized places for display and personalization of your space. Collect books you actually have read or plan to read, or use bookshelves to group together and display favorite dishes, collections or family photos.
Area Rugs
Rugs soften a room, but they also can pull an assortment of furniture together. Large rugs that nearly fill a room will make the greatest impact. In a conversation area, at least make sure that the front legs of your furniture (sofa and chairs) all sit on the rug.
18 Rugs We Have and Love (+ Tips and Where to Buy)
My Decor Shop (shop my house and latest decor finds)
My rug designs (voted by you!) for Dash & Albert
Get lots of home-related tips and advice in my books!
Related posts:
How to Decorate: The Slow Process to a Style You'll Love
5 Things Every Small Bedroom Needs
How to Get Out of a Decorating Slump
One Essential Decor Element You Probably Need More of In Your Home
10 Tips for Styling a Large Living Room and Other Awkward Spaces