Hey friends! I hope you've been well and enjoying the first week of October. I've been giving myself time to enjoy all the things I love about fall, like grabbing a cozy blanket and curling up on our daybed in the evenings with a cup of tea!
I had a few comments recently from people noticing all the cozy textures, pillows, blankets and baskets I have that are also trimmed with fun details like fringe, tassels and pom poms! So observant, I do love extra little details like that!
You might remember many years ago I wrote post about why I love Anthropologie. Besides all the good smelling candles they burn to set the mood (even though I don't burn them anymore myself, I just make my own essential oil diffuser blends instead for health benefits), I LOVE Anthro's ambience and attention to detail and the interest they create through their chose of products and store displays, too! If you've been to their store you will see what I mean. It's a feast for the eye!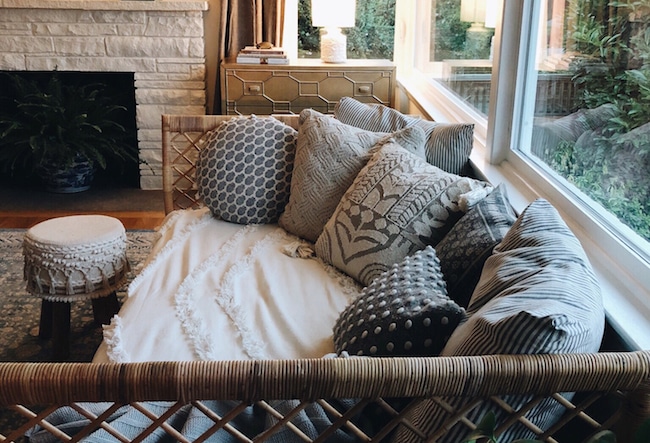 Stool / Round Pillow / Embroidered Tassel Pillow / Fringe Blanket / Daybed
I love the personality trims and textures bring and how they really up the cozy homey vibe of a space.
Today we have a round up of some fun textures featuring pom poms, trims, and tassels to inspire you!
Happy fall-ifying, friends!
Gather Sources (top of post):

+  +  +  +  +  +  +  +  +  +  +  +  +  +  +  +  +  +
CATCH UP ON THE FALL NESTING SERIES:
Day One: An Autumn Mindset
Day Two: 20 Little Things
Day Three: Cozying Up the House with Shutters
Day Four: How to Decorate Your Coffee Table in Any Season
Day Five: Fall House Tour
Day Six: Embrace Your Style (and adapt as needed)
Day Seven: Your Fall Morning Routine
Day Eight: Fall Puttering
Day Nine: Simple Ways to Create a Welcoming Fall Porch
Day Ten: Make Your Bedroom a Cozy Retreat
Day Eleven: Fall Home Refresh – 5 Ways to Bring Your Home to Life
Day Twelve: 14 Simple Fall Decorating Ideas
Day Thirteen: 3 Cozy Fall Activities for the Homebody
Day Fourteen: TODAY! Cozy Things with Tassels, Textures, and Trims