Here are seven reasons you might not love your bedroom right now (and simple designer tips to fix it on a budget!).
Do any of these describe the state of your room right now?
Your room doesn't feel welcoming.
Think about how you would prepare a room for a guest. Or, what if YOU were a guest and walked into a charming little Bed & Breakfast for a weekend getaway?
What would or wouldn't you want to see in that space?
Would you want to trip over piles of clutter on the floor or have to remove someone's laundry from the bed?
Of course not.
What if we treated ourselves as well as we would treat a guest? How do we want to be treated when we are the guest?
Paying attention to those guest room details. Incorporating them will turn your room into a sanctuary you will love every day.
Your bedding isn't interesting.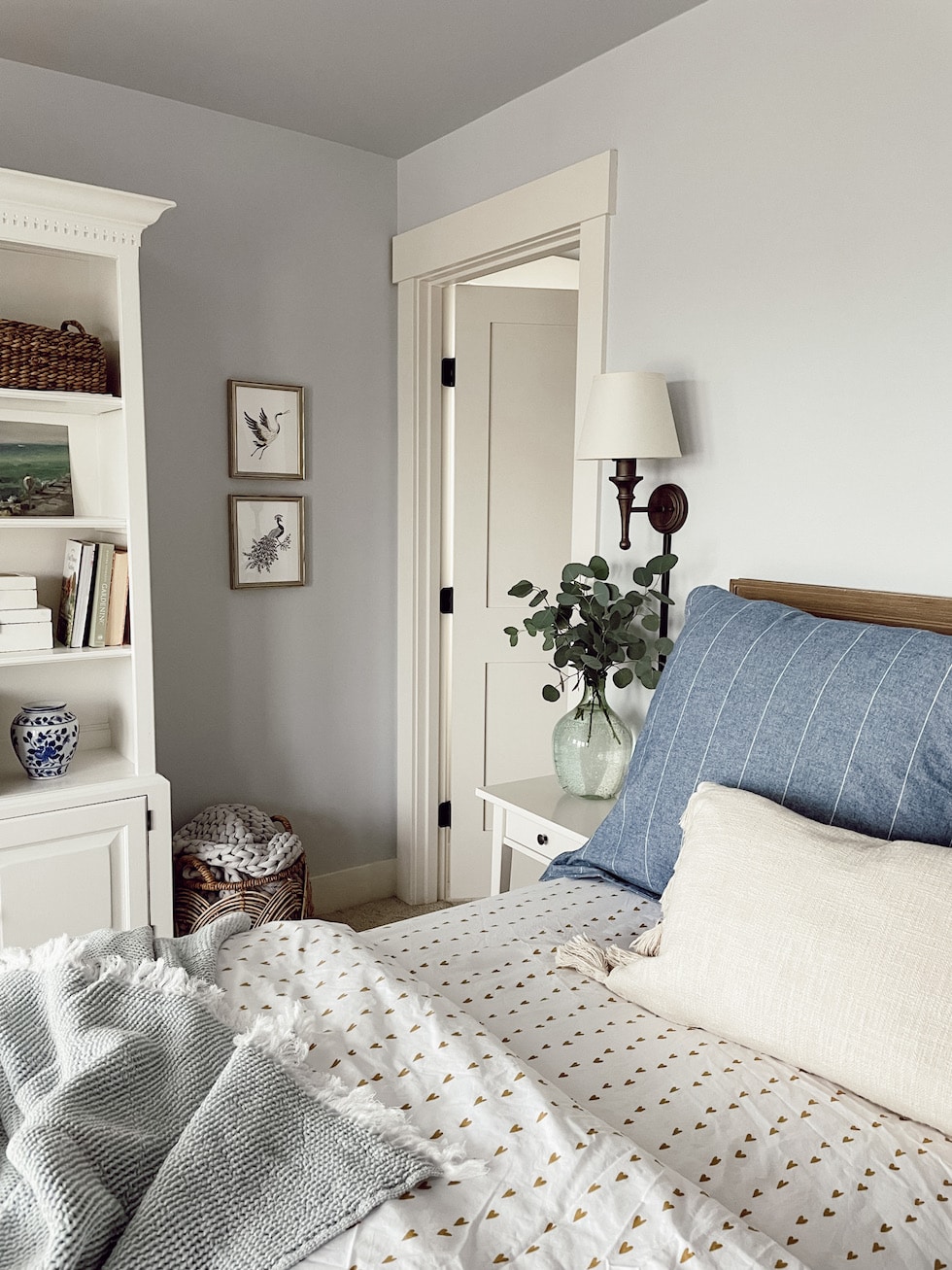 One designer secret for creating a more interesting room is to mix in more layers and textures.
If you have a matching or coordinating bedding set or if it is all the same fabric, mixing things up by layering in one dramatically different and highly textured piece, like a chunky knit blanket or a cotton throw with fringe. Or add a unique textured pillow with large tassel trim!
Even just mixing in ONE different texture can make the whole room more interesting.
Watch us mix and match bedding to create several fresh looks in this video!
Your don't have enough mood lighting.
Mood lighting is important in a bedroom. To enjoy being in your room, you'll want to have dimmer switches and/or three-way switches on all lights.
New lamps can be expensive, so if the styles you love aren't in the budget I recommend keeping your eye on discount home stores or even second hand stores.
If you find matching lamps that have a great shape or style, but you don't love the color or pattern, you can likely spray paint them!

Related posts: Inspiration: Sconces by the bed // Beautiful and Affordable Amazon Lighting
Your pillows aren't comfortable.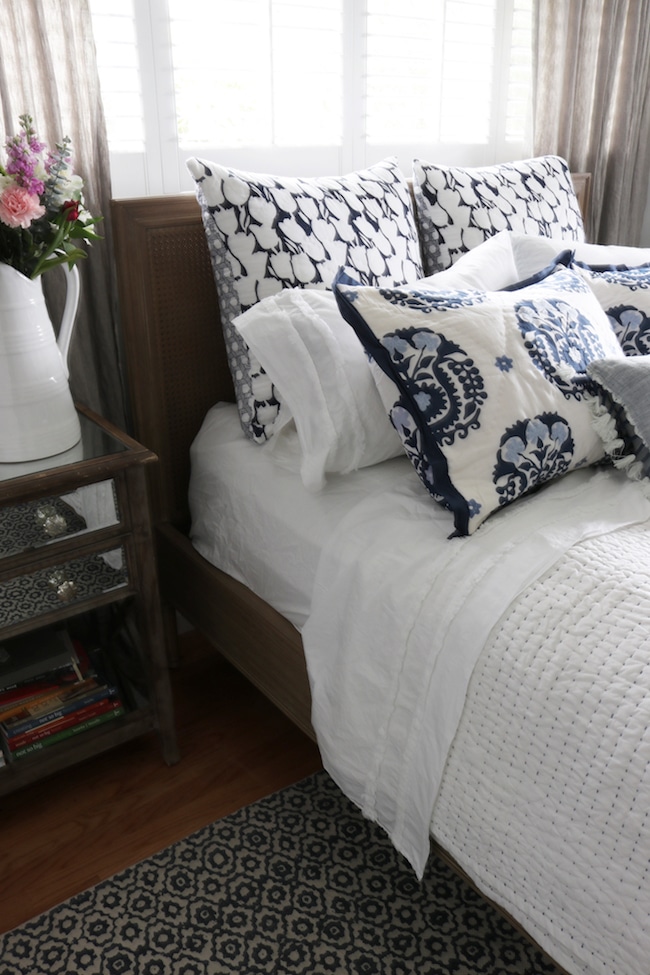 When was the last time you updated your pillow covers or inserts? I like having pillows in a variety of firmness levels for maximum comfort. I prefer firmer inserts for my Euro-shams in the back of the bed to make reading and sipping hot drinks more comfortable. I use fluffy inserts in others I might curl up with. Maybe fresh new inserts or snazzy new covers are just the change you need to love your room a little more.
You aren't separating stress from rest.
Your bedroom should be a serene and restful escape from the world. But if you keep work, mail, bills, and to-do-lists in your room, it's not going to be inviting.
Perhaps designate a new place to organize and store more stressful necessities, such as a pull-down secretary desk in the living room.
The air is stale and stuffy.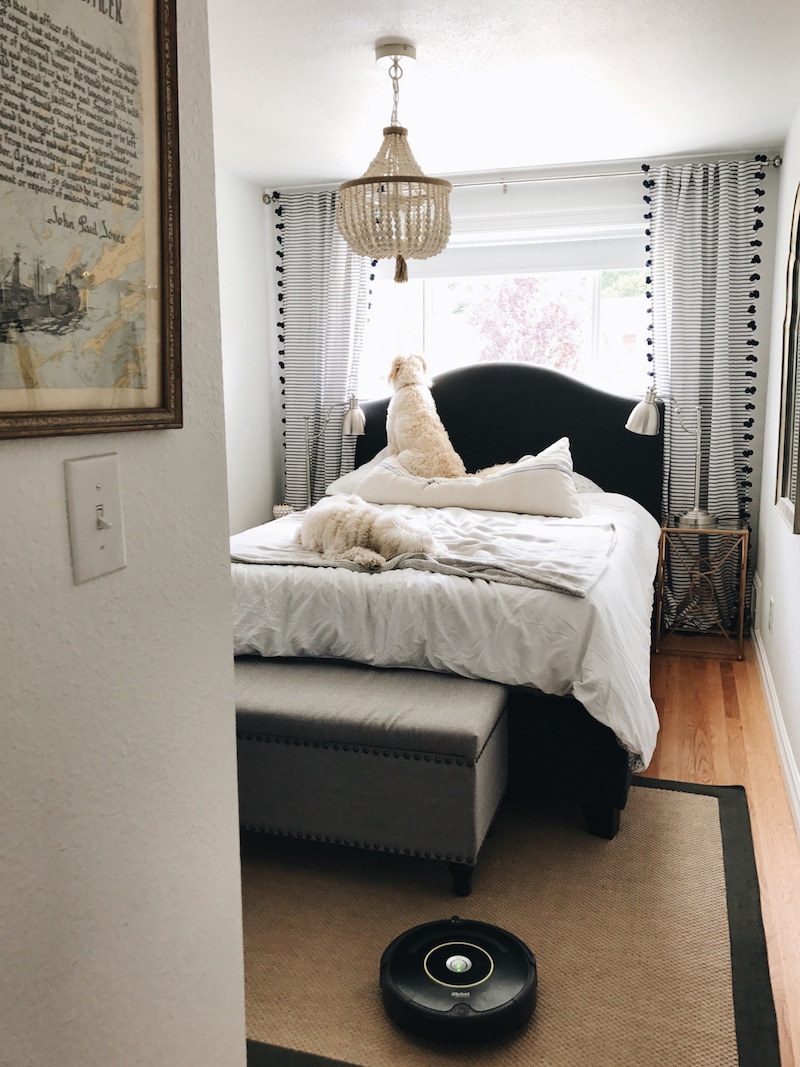 A bedroom should feel and smell fresh and clean. If you haven't cleaned or let the breeze blow through recently, the air in the room will feel dusty and stale. Definitely not what you want for your bedroom!
Dust your room from top to bottom. Vacuum the floors, under the bed, wipe down the surfaces, wash your bedding, open up the windows wide to let fresh air in.
Pro tip: Get an electronic housekeeper like THIS one … we use ours several times a week in our room keep our floors and under the bed free of dust! It travels easily over rugs and various floor surfaces. It's been a great investment and good for our health. Read more about why we like it right here.
Related Post: How I Keep My House Clean With Dogs
You're feeling bored with the same look.
Are you growing tired of "the same"? Have you had the same rug, same bedding, same curtains, same wall color, and the same accessories in the same exact places?
Refresh your bedroom without buying anything new by swapping art, furniture or accessories with another room. Even something as simple as switching nightstands to the opposite sides could make it feel like a whole new room!
Related Posts: Reversible Bedding to Refresh Your Room // How to Pick Decorative Pillows That Go Together (5 tips on style, pillow inserts and saving money!)
Do you love your bedroom? Why or why not?
Click HERE for bedroom decorating mood boards!
More Bedroom Decorating Ideas:
Inspiration: Wall Sconces by the Bed
7 Ways to Transform Your Bedroom on a Budget
My Coastal Cottage Guest Room Makeover
What to Put at the Foot of the Bed
5 Things Every Small Bedroom Needs
Beautiful Bedroom Wallpaper Ideas
9 Ways to Decorate Above a Bed