BHG
Decluttering isn't easy. Even when we start out motivated, if we think too much about our clutter we'll eventually have to make a decision. And that decision is what always used to derail me from decluttering! Gah.
I am a terrible decision maker. I can't even decide what to make for dinner or what to eat if we go to a restaurant. I don't know what to wear when I leave the house. I have issues.
So ask me to decide what to get rid of, what to keep and where to put ALL THE THINGS is like asking me to perform brain surgery. Honestly. It's been hard for me.
The worst of it is I not only can derail the process by my indecision, but I'm inclined to go shopping instead of declutter! Seriously? That complicates things. More in and not enough out is, well, TOO MUCH.
I have issues. But actually, I just have too much stuff and too many excuses. That's a lethal combination.
BHG
But, I'm not a hoarder. My house is not dirty or disorderly. It's not perfect, but we do like to keep it as orderly and clean as we can because it is important to us. We do have organizational systems. Most of our house is not even cluttered with anything but the everyday clutter of life being lived.
But I'm the first to admit our garage and closets still need help. We do have way too much stuff out there and I just haven't had the time to deal with it, but that's another story. And another excuse. A good one, perhaps, but they all seem like good excuses.
I think I'm pretty much like other people who just end up with too much stuff, we may not be hoarders, but just inadvertent collectors of things we should just get rid of or give to a worthy cause.
Here are excuses that I've uttered myself that I'm learning to kick to the curb:
Right? All the things. All the excuses.
But I've come a long way over the years. I'm better at kicking excuses to the curb. I know more about myself, my habits, my bad organizational habits, and what I need to work on improving.
I have found so many solutions that work for me and for our home. I can much more easily get rid of things knowing my history, such as the fact that I'm not likely to ever recover a chair so I shouldn't collect them in my garage.
So even though I don't have it all together, I'm definitely happier in my home than I've ever been. Not because of how it looks, but because of how it feels. And for remaining areas that still stress me out if I think about them, I have hope and a plan.
I'm continuing to work on the goal of a clutter-free home because I know clutter impacts me in negative ways. The are fewer areas of clutter in our life than ever before. It's becoming easier to let go of all the things without thinking too much, because the alternative is keeping everything — and that is more stressful than deciding to let things go.
BHG
I don't want to spend my life making decisions about what to do with things. I have too much else that interests me in life. I just want to enjoy my home. I crave that sense of peace that comes from only having what you really need or use, those things that actually bring you happiness or serve a purpose in your home. There's a peace when you have control over your things, rather than your things controlling you.
BHG
I've written many organizing posts with tips I use and that have inspired me. Always start with decluttering, but being organized feels great too. Here's a round-up of some of my favorites:
The Secret to Getting Organized
A Bag A Day Keeps the Clutter Away
How to Get Organized in a Small House
How to Organize your House with Baskets and Containers
A Plan for Papers You Don't Want to Lose
My Kitchen Pantry and Tips for Pantry Organization
Pretty and Functional Bathroom Storage Ideas
7 Ideas for Creative Master Closet Storage
Small Space Office Organization
5 Simple Ways to Get Organized
Organizing Entertaining Supplies
Organize Your House: A 12 Month Plan
5 Takeaway Tips from a Small Office
Organizing Your Most-Used House Project Tools
11 Ways to Spring Into Organizing
6 Tips to Kick Start Your Garage Organization
Organizing Craft Rooms and Wrapping Supplies: Small Space Ideas
More Inspiration for Craft Closet Organization
5 Minute Baking Drawer Organization: Using What You Have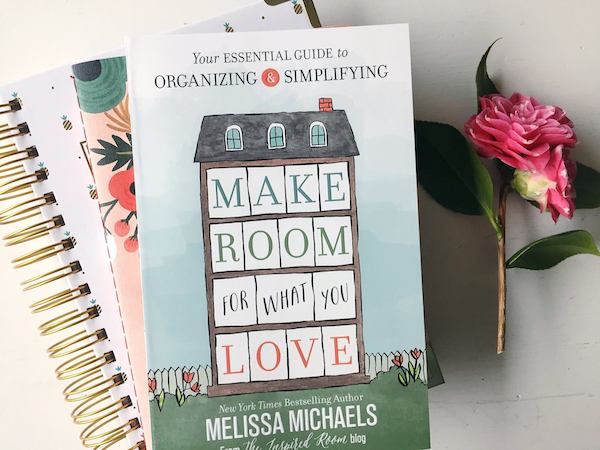 UPDATE IN 2017: I put all of my failures, excuses, secrets and successes in my new book on decluttering and simplifying called Make Room for What You Love.
Order my book Make Room for What You Love at Amazon or Barnes & Noble.
Pre-order my new book, releasing April 3!
Simple Organizing
Get free downloadable prints like the quote above here!