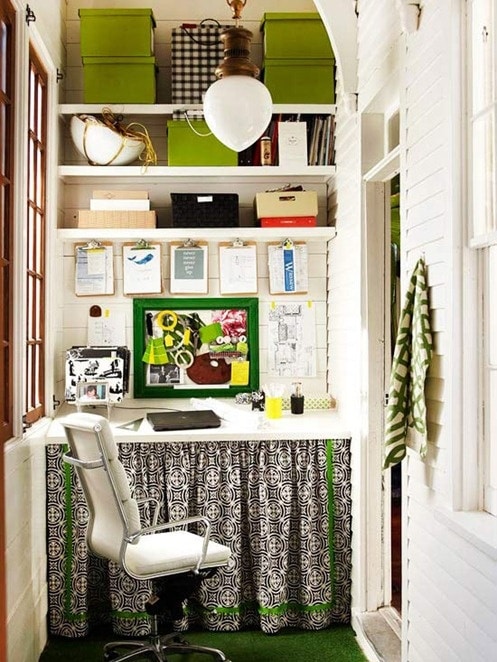 Today while I was working on organizing papers for taxes (UGH! CHOKE! GASP! That is my LEAST favorite task!) I was thinking my home office was feeling especially tiny. Until I saw this adorably TINY home office in this little niche. How cute is that? Now mine is feeling spacious again.
I love how every inch of this alcove office is utilized to its fullest potential, but it still looks neat and orderly! Isn't that the secret with small spaces? Somehow getting the right balance of using every available inch and being organized without it looking like an explosion happened! When you have to tuck an office into a small room or niche, you don't have the luxury of lots of storage space to hide everything behind closed doors. You have to be creative!
I just love those clipboards! I bought a whole bunch of clipboards to use on a wall like that, but they are still sitting on a shelf, waiting to be used. I'm inspired to revisit that idea. I'm such a visual person, it helps me to have creative organization methods for my most important and time sensitive papers, right out where I can see it! Otherwise, out of sight, out of mind for me.
That is another one of my goals for this year (I'm still working on identifying my top home goals!) … paper organization. Or, shredding papers. I'm thinking shredding paper is going to become one of my new daily rituals.
In related news, that office has the same whale art I have on my office wall.
Do you enjoy the challenge of creatively organizing a small space?
You can find more great small space home office ideas at BHG (via Kate's blog there, Centsational Style!}