We've been enjoying some amazing autumn sunshine and cooler temps here in Seattle! Sweater weather is my favorite! Outside many of the leaves are turning brilliant hues of orange and yellow and some are beginning to fall to the ground. There is a crispness in the air and I'm still loving every minute of fall nesting to create a warm and cozy home.
This post is in partnership with World Market
Copper String Lights / Brass Lantern / Pink Mercury Glass Votives / Wood Tealight Holder
Ladder / Sackcloth & Ashes Blanket
For years I've talked about how I love for the evolution of a season inside my home to reflect the gradual pace of the changes I see outside. Even if the weather doesn't exactly follow a predictable pattern, a slow evolution to fall with a warm and cozy home has always been a comforting nesting ritual for me.
Sweater weather can literally mean I need to wear a sweater, but it also indicates a need for change in how I decorate my home. As it starts to feel chillier outside, I naturally want to bring even more more warmth inside.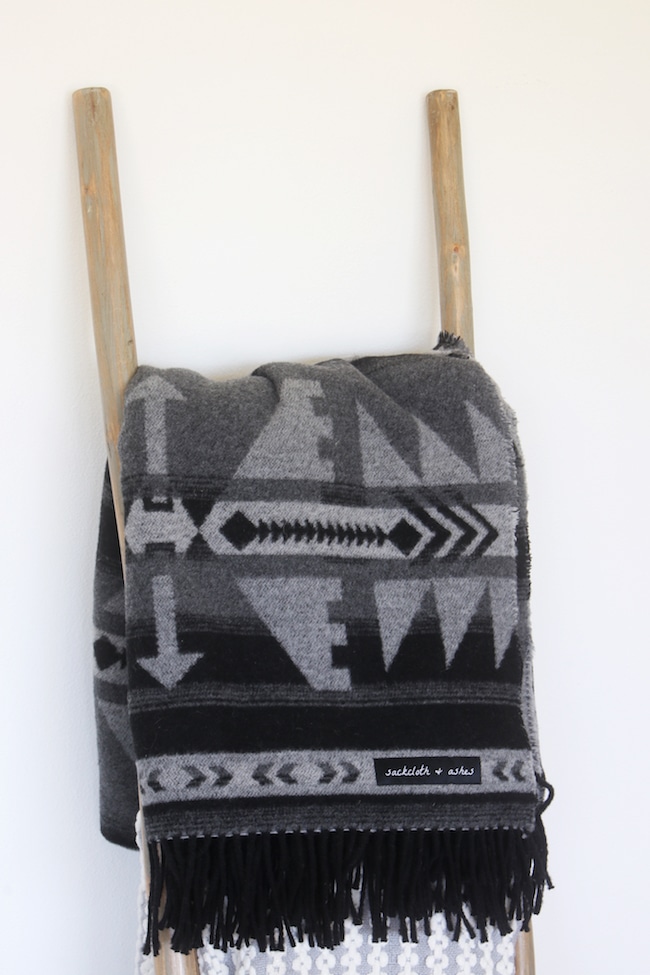 Blankets are one of my favorite fall accessories. My daughter Courtney and I stopped in World Market a week or so ago and fell in love with the beautiful eco-friendly blankets by Sackcloth & Ashes. HELLO, COZY!
Not only did I bring home a warm new blanket (and find a great gift idea for the holidays!), but I found out that when you buy a Sackcloth & Ashes blanket from World Market, they provide a second blanket to a shelter in California. I love that these blankets bring warmth to everyone who receives them. You can see more of their blankets and read the heartfelt story behind this generous concept here.
By the way, the Sackcloth & Ashes blanket also comes in a box that you can fill with items to donate to a local shelter, or to keep in your car to have items on hand to share with someone in need. So cool! I'll share some suggestions for what you might want to put in the box at this end of this post!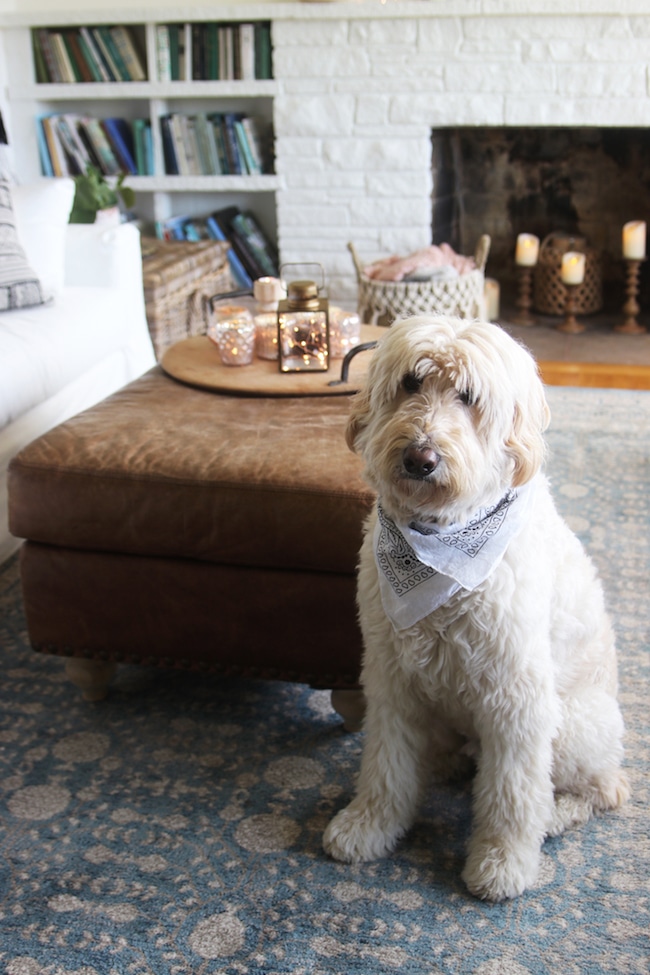 Jack just wanted to say hi.
Blush Pink Blanket / White Tassel Stool (similar) / Macrame Basket / Wood Candleholders / Carved Wood Planter
In addition to curling up with furry pups, warm sweaters and cozy blankets, I crave the warmth of evening light this time of year.
It's actually been getting dark here so much earlier that I find it's time to turn on the lights before dinner! For mood lighting I've also been adding sparkly things all over the house. A few copper string lights, tea lights in mercury glass votive holders, and battery operated candles in lanterns can be a wonderful complement and contrast to all the soft cozy textures we bring in this time of year, too.
Similar Wood Beaded Chandelier
My parents and nephew were here for the weekend so on Saturday night we set the table and enjoyed homemade soup for dinner! An inviting ambience, the laughter of friends and family, and the aroma of a good meal is another wonderful way to bring warmth to a chilly fall evening, if you ask me.
Birch Branch Votive Centerpiece / Table Runner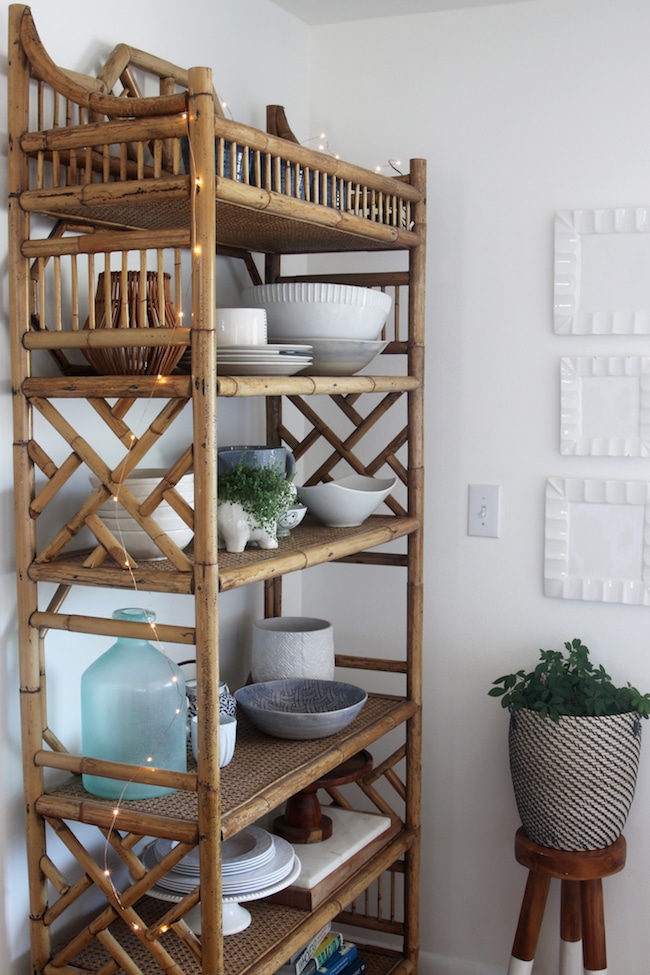 Battery-operated copper-wired string lights can be tucked in anywhere you want a little sparkle. Even one strand can bring an uplifting magical mood that can inspire you right through the upcoming holidays!
White Fringe Pillow / Lumbar Pillow
Swapping out a few pillows or pillow covers is always a welcome and simple seasonal change. Neutral shades of black and white with lots of great texture can transition a space to fall and winter with minimal commitment. With neutrals as a base palette, you'll feel the freedom to easily add in other hues whenever you crave a pop of warm sunshine or colorful flowers.
Trading out smooth textures like ceramic pieces with warmer or rougher ones like wood can make a surprising difference in how warm a room feels, too. I replaced a shinier white planter that was previously sitting on my mantel with a chunky wood one. It was a simple swap, but the wood really does feel so much cozier!
A few favorite accessories can also set the stage for a warm and cozy ambience. I have always loved the character brass lanterns can bring to a home. I actually have a fun new twist for how I'll use these, but for now I love new mood they brought to the mantel.
I've made a few other changes around the house recently, too, but I'll save those to share on a another day. Slow fall evolutions are my favorite.


What are some other ways you can warm up your home for sweater weather?
* * * * * * *
CATCH UP ON THE FALL NESTING SERIES:
Day One: An Autumn Mindset
Day Two: 20 Little Things
Day Three: Warming Up the House with Shutters
Day Four: How to Decorate Your Coffee Table in Any Season
Day Five: Early Fall House Tour
Day Six: Embrace Your Style (and adapt as needed)
Day Seven: Your Fall Morning Routine
Day Eight: Fall Puttering
Day Nine: Simple Ways to Create a Welcoming Fall Porch
Day Ten: Make Your Bedroom a Cozy Retreat
Day Eleven: Fall Home Refresh – 5 Ways to Bring Your Home to Life
Day Twelve: 14 Simple Fall Decorating Ideas
Day Thirteen: 3 Fall Activities for the Homebody
Day Fourteen: Cozy Things with Tassels, Textures, and Trims
Day Fifteen: Sweater Weather: Tips for a Warm & Cozy Home
* * * * * **
Don't forget to check out the Sackcloth & Ashes blanket collection at World Market and help those in need, too.
Here are some suggestions for how to fill your Sackcloth & Ashes box:
toothbrush and toothpaste
comb or small brush
lip balm
water bottle
socks
individually wrapped snacks (granola, apple sauce, cereal bar, crackers etc)
band aids