Today we made one of our all time favorite tasty fall treats — pumpkin squares with cream cheese frosting. Baking with anything pumpkin is one of my favorite little things about fall! YUM! I mean, really. There is NO WAY not to love these treats. Even non-pumpkin lovers LOVE them. They are THE BEST. We've made this recipe for years and years (it was from a junior league cookbook). They are SO EASY and they make a ton!
We bring them to everything this time of year and eat WAY too many every fall.
But, pumpkin IS good for you. Right?
PUMPKIN SQUARE INGREDIENTS:
4 eggs
1 and 2/3 cup granulated sugar
1 cup oil
2 cups all-purpose flour
1 (16-ounce) can pumpkin
2 teaspoons baking powder
2 teaspoons cinnamon
1 teaspoon baking soda
1 teaspoon salt
1/8 teaspoon nutmeg
FROSTING RECIPE
2 (3-ounce) packages cream cheese
1 cup butter (2 sticks)
2 teaspoons vanilla extract
3 and 3/4 cups powdered sugar
INSTRUCTIONS:
Preheat oven to 350 degrees. In a large bowl, beat together the eggs, oil, sugar and pumpkin until light and fluffy. In another bowl, sift together flour, baking powder, salt, cinnamon, baking soda and nutmeg. Add to pumpkin mixture and mix thoroughly. Spread batter in an ungreased 15×10 jelly roll pan (just a cookie sheet with sides!).
Bake at 350 degrees for 25-30 minutes. Let cool.
CREAM CHEESE FROSTING:
Cream together cream cheese and butter. Stir in vanilla. Add powdered sugar and stir until mixture is smooth. Wait for pumpkin squares to cool, then frost and cut into squares.
Makes about 2 dozen delicious squares. I dare ya not to eat them all yourself.
Come on over and help me eat these!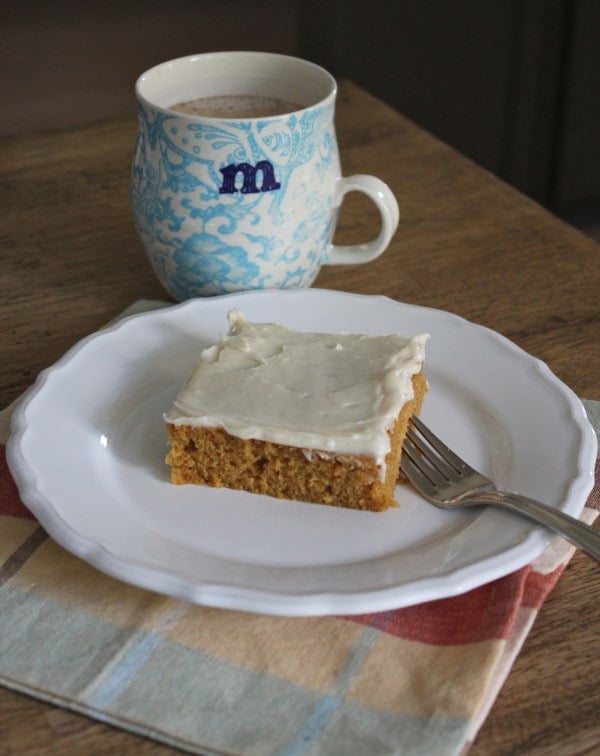 ***Catch up with the 6th annual Fall Nesting — 31 Days of Falling for Fall series!***
It's not just about pumpkins & scarecrows, we are talking about so much more!
Day One, Day Two, Day Three, Day Four, Day Five, Day Six, Day Seven, Day Eight, Day Nine, Day Ten, Day Eleven, Day Twelve, Day Thirteen, Day Fourteen,Day Fifteen, Day Sixteen, Day Seventeen, Day Eighteen, Day Nineteen, Day Twenty, Day Twenty-One, Day Twenty-Two, Day Twenty-Three, Day Twenty-Four, Day Twenty-Five, Today is Day Twenty Six!
Come visit fellow Fall lovers & Join the Fall Nesting Link Up Party!