As we're just 'wrapping up' the last day of October, I thought it was a good day to wrap Christmas gifts and set up the tree. JUST KIDDING! I'm not ready for wrapping. I'm not ready for Christmas at all for that matter. Ha! This is an old photo.
But over the next month or so, many of us will be decorating the mantel or putting up the tree!Like I said, I'm actually not at all ready for any of it, yet. Are you?
For me fall nesting seems to gradually evolve into holiday simplifying and planning before it slowly evolves into holiday decorating. Sometimes I have a tree by Thanksgiving, but sometimes not.
Even though it will be a few weeks before I actually start Christmas decorating this year, I do try to at least start paring down unnecessary stuff and decorative elements.
I don't like the house to feel too full of stuff right before Christmas, so simplifying spaces ahead of time helps make room for the festivity. It also helps me to think about how I could decorate for Christmas with what I already have! I love a simplified Christmas.
Here are four quick tips to prepare and simplify before Christmas:
1. Keep key statement pieces.
Put away small items. Keep season-less statement pieces like a large vase, a mirror, or an oversized clock.
Now when you're ready to decorate for Christmas, you can easily add greenery in or around the statement pieces. Your home will still feel festive simply by incorporating a touch of greenery with items you already have.
2. Prepare your seasonal storage.
When you remove your everyday decor before Christmas, where will it go? I have a lidded basket and a dresser in my living room where I stash any extra items I won't need for awhile, but will want to bring out again after the holidays.
3. Go on a whole-house decluttering and dusting spree.
What's been sitting out or just gathering dust? What could be put away before the holidays? Run through the whole house and simplify all the things. Pick up the clutter spots and dust the surfaces. You house will feel much cleaner, lighter and more ready for Christmas.
4. Pare down the decorating bins.
If you have too many Christmas decor bins or items you haven't even looked through in years, it's a smart time to simplify and pare down! We did this last year! Clear out what you don't use or love, and then give away or donate the rest. Now your remaining bins will be useful, neat, tidy and ready for you to enjoy a new season of Christmas cheer!

So, when do you start Christmas decorating?
If you are the plan-ahead to wrap-ahead type, you might enjoy our Free Printable Christmas gift round up from last year!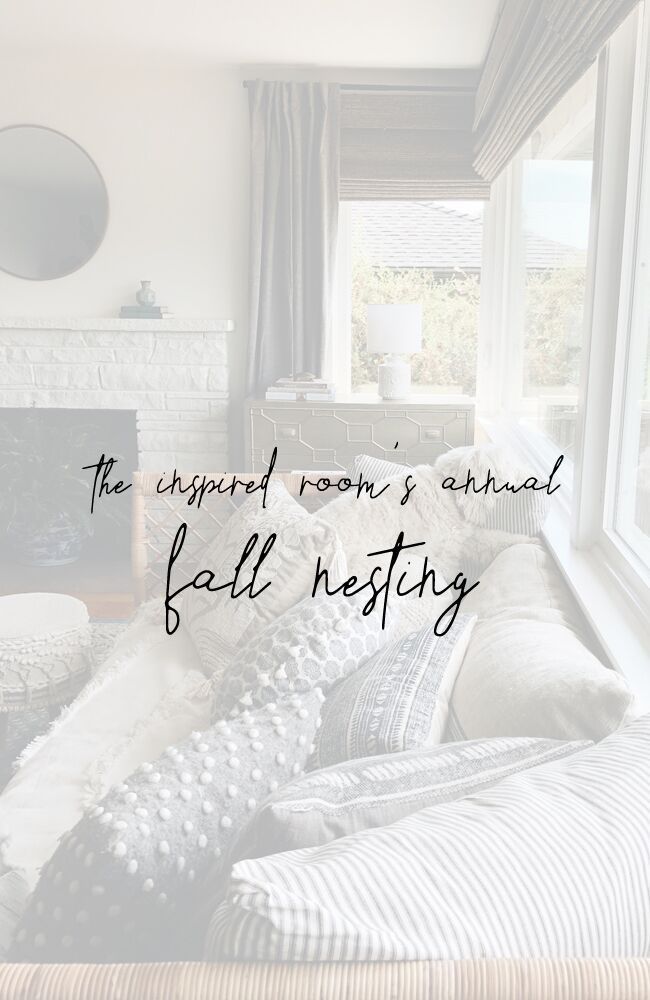 The Inspired Room Cozy Fall Shop
Day One: An Autumn Mindset
Day Two: 20 Little Things
Day Three: Warming Up the House with Shutters
Day Four: How to Decorate Your Coffee Table in Any Season
Day Five: Early Fall House Tour
Day Six: Embrace Your Style (and adapt as needed)
Day Seven: Your Fall Morning Routine
Day Eight: Fall Puttering
Day Nine: Simple Ways to Create a Welcoming Fall Porch
Day Ten: Make Your Bedroom a Cozy Retreat
Day Eleven: Fall Home Refresh – 5 Ways to Bring Your Home to Life
Day Twelve: 14 Simple Fall Decorating Ideas
Day Thirteen: 3 Fall Activities for the Homebody
Day Fourteen: Cozy Things with Tassels, Textures, and Trims
Day Fifteen: Sweater Weather: Tips for a Warm & Cozy Home
Day Sixteen: Fall Wreath + How to Hang a Wreath on Your Door
Day Seventeen: Home + Holidays +Hosting
You still have a few more days to enter this fun giveaway on the blog! I'm so enjoying your comments! Thanks y'all! You're always the best readers ever. xoxo