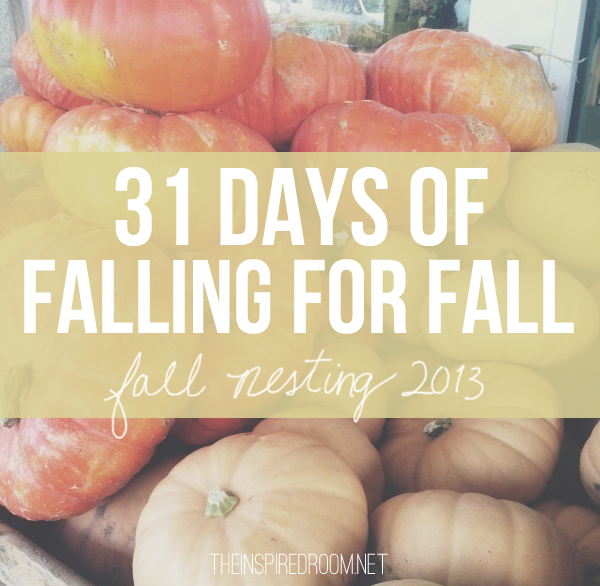 Every year since nearly the beginning of blogdom, I've done a Fall series here on The Inspired Room. I can't help myself, I've always loved Fall. It is such a glorious time, much too wonderful to waste its precious days fretting over the winter to come or bemoaning the passing of summer.
Who wouldn't love beautiful days (that aren't hot!) and getting cozier on cool nights? Fall is perfect. And because I have such high expectations and hopes for Fall every year :-) I might as well do what I can to make those hopes a reality by being intentional about embracing the simple pleasures of Fall.
And that is what Fall Nesting is all about –being more intentional about the season. And that is just what I plan to do!
As I've mentioned before, I feel like Fall is more of a state of mind and an outlook on life this time of year than it is about the actual weather or turning of the leaves. For me it is about nurturing a love of home and family. It's about getting cozier at home by adding layers of texture and comfort. With Fall comes a desire to organize and arrange life at home to suit how we really want to live. Fall is a time to savor home cooked meals and bake from scratch. It's the perfect season to plot out a few projects to improve our home. And of course, Fall is the time to start preparing ahead for the holidays so there is less stress and more good memories!
I already have a great line up of ideas, projects and inspiration to share for the entire 31 days of Falling for Fall, which will start here on September 16th! (There will be a couple of Fall posts before then, too, because I just can't wait!!).
You can do your own series or fall posts if you'd like, I will put up a linky party the first day of the series!
If you are new to The Inspired Room and my yearly Fall Nesting series, come by to find a new Fall post every day for 31 days!
Don't miss it, the Fall Nesting series begins September 16th!
To see all of the links for this series, check them out here!
The Evolution of Autumn, Five Designer Secrets (Fall Dining Room), Savor Fall: Coffee Station, Fall Nesting: Mixing A Cozy Eclectic Style, DIY Pegboard & Tool Organization for Projects, My Fall Front Porch (Part 1), Welcoming Autumn (Gather Round Up), Things I Love About Fall: Cozy Bedroom, Rustic Fall, Creating Ambience (New Wall Sconces), Don't Be That Mom (Fall Organization), Fall Backyard Project (Pea Gravel Patio), Color Blocking Fall Branches, Slow Fall & Decoupage Pumpkin Decor, Five Ways to Fall In Love With Your Home, Fall Entry Decorating Ideas, Designer Secrets (Welcoming Dining Room 2), Dream Versus Reality (Decorating Styles), Delightful Painted Pumpkins, My Fall Front Porch (Part 2),  Simple Fall Centerpiece (Use What You Have), DIY Gold Polka Dot Mugs, My Open Kitchen Shelves, Making The Most of Hallways, Entries and Small Rooms, Make Everyday Things More Beautiful, Delicious Pumpkin Square Recipe with Cream Cheese Frosting, Cozy Fall Family Room Updates, Easy DIY Firepit, Favorite Fall Candle, Five Designer Secrets: Cozy Rooms, DIY Anthropologie Pillow Knock Off, Round up of my Fall Projects Come visit & Join the Fall Nesting Link Up Party PS. I also shared a post today on few favorite Fall textures with my friend Darlene from Fieldstone Hill Design to give her a little break since just had a sweet baby girl! Go see! Fall inspiration and natural decorating
*For more fall inspiration, check out my Fall galleries!*