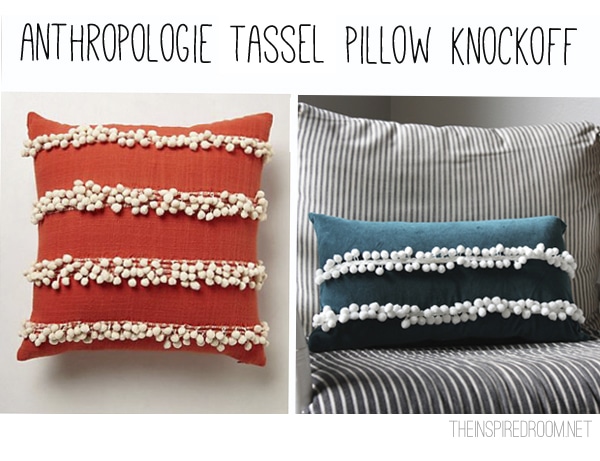 Hello and WELCOME, lovelies!
Today is the last day, day 31, of my 6th annual Fall nesting series! I cannot BELIEVE it's been 31 days already and honestly, I have had such a blast that I don't want it to end! But if it has to end, it may as well end with something FUN! So how about a project inspired by one of my favorite stores, Anthropologie!?
But not only is it the last day of my series, but my friend Lindsay of Makely Home had a great idea for a party called Knocktoberfest where 28 awesome bloggers would do a budget knock off of a designer piece or a display knock off from a favorite store or magazine. Knocktoberfest is a week long party and we are jumping in here on day three! You can find the party hub here at Makely Home so you can find all the bloggers and their projects as they share them all week long!
If you are arriving here from Lindsay's @ The White Buffalo Company, welcome! Did you see her project?! OH MY GOODNESS! So good.
So, you all know I have a long standing crush on Anthropologie. I'm not ashamed about that. Anthro is cool. When I saw this whimsical pom pom tassel pillow, I knew I wanted one for myself.  At $58, it this tassel pillow was not the most expensive pillow in the world, but I knew I could make it for much less. And while I'm not all that crafty, this was an easy project even I could do!
Now, to really make this a budget project I could have made the pillow from scratch. But, I already had a pillow from World Market that I thought would be adorable with the tassel detail. This pillow was about $16.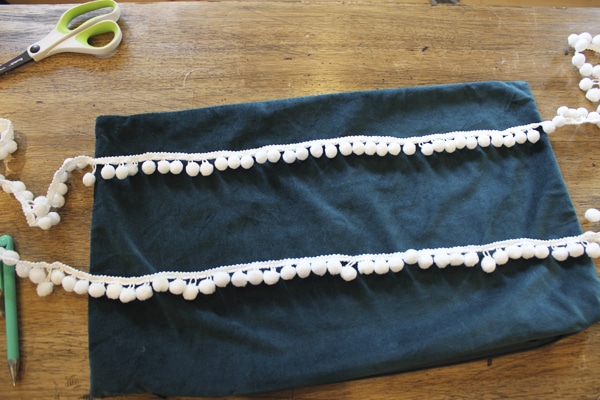 In the short time I had to find supplies (I went to JoAnn Fabrics) I wasn't able to find the pom pom trim that looked exactly like what was on the Anthro pillow. But, I improvised with something close and decided I could put two strands together, side by side.
But I still wasn't really happy with it. The Anthro pom poms seemed a little more haphazard and fun and my pom poms seemed a little uniform. So, I messed it up a little bit by pulling on the tassels so some hung down lower than others, and then twisting them up and around until they looked a little more CRAZY and pulled apart.
Ahhh, yes. That's a bit better. Perfect is overrated.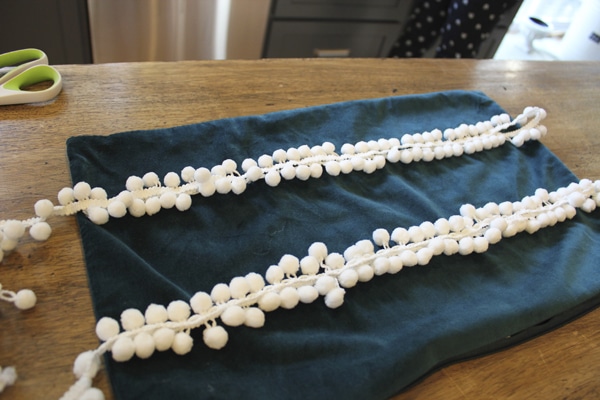 Then I doubled up the strands and stitched them to my pillow. Since my pillow was a rectangle and not a square like the Anthro one, I just did two rows across.
And, voila! My Anthro knock off tassel pillow.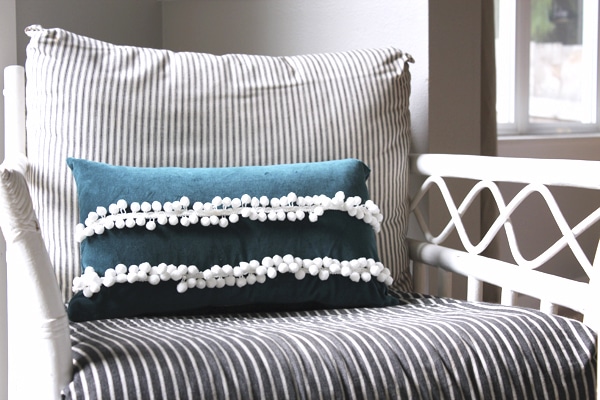 I was pretty pleased with how cute it turned out! Little details like this are what makes Anthro my favorite.
Thanks for stopping by!
Don't forget to go visit my amazing friend Ana White, she will be your next stop on this Knocktoberfest BlogHop! I put tassels on a pillow and she most likely built something incredible with power tools. She's incredibly talented so I can't wait to see her project! (and don't forget to visit Lindsay of @ The White Buffalo Company}!
31 Days Falling for Fall Links:

The Evolution of Autumn, Five Designer Secrets (Fall Dining Room), Savor Fall: Coffee Station, Fall Nesting: Mixing A Cozy Eclectic Style, DIY Pegboard & Tool Organization for Projects, My Fall Front Porch (Part 1), Welcoming Autumn (Gather Round Up), Things I Love About Fall: Cozy Bedroom, Rustic Fall, Creating Ambience (New Wall Sconces), Don't Be That Mom (Fall Organization), Fall Backyard Project (Pea Gravel Patio), Color Blocking Fall Branches, Slow Fall & Decoupage Pumpkin Decor, Five Ways to Fall In Love With Your Home, Fall Entry Decorating Ideas, Designer Secrets (Welcoming Dining Room 2), Dream Versus Reality (Decorating Styles), Delightful Painted Pumpkins, My Fall Front Porch (Part 2),  Simple Fall Centerpiece (Use What You Have), DIY Gold Polka Dot Mugs, My Open Kitchen Shelves, Making The Most of Hallways, Entries and Small Rooms, Make Everyday Things More Beautiful, Delicious Pumpkin Square Recipe with Cream Cheese Frosting, Cozy Fall Family Room Updates, Easy DIY Firepit, Favorite Fall Candle, Five Designer Secrets: Cozy Rooms, DIY Anthropologie Pillow Knock Off, Round up of my Fall Projects