White Kitchen with Yellow and Turquoise via BHG
Sometimes, like let's say when I'm supposed to be finishing my taxes, I start looking around the internet for color schemes and other random things. And then, sometimes, I run across rooms like this kitchen.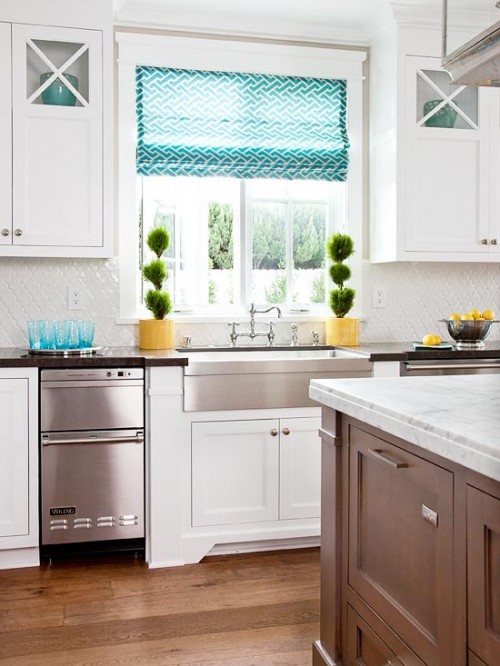 And then, I think to myself, this is a happy sunny room. I like it.
I wonder if I should get turquoise shades, pillows and yellow pots when I paint my kitchen someday.
Then I daydream about that idea for awhile.
And then I think about putting yellow tulips in white pots on my table.
And then I forget what I was even doing before I started to daydream.
Because, that is how my mind works.
True story.
The end.
Oh wait, not the end.
Because then I see a white kitchen like this:
White kitchen marble countertops BHG
And I nearly faint dead away from the beauty of the ceiling and the white cabinets, the windows and the marble counters and the dark wood floors. I think about marble counters and how much I miss them. And I remember when I had them in a past house that a neighbor kid let his red popsicle melt on the counter and they had character forevermore.
But before I can fully contemplate the joy and trials of marble countertops, I wander along to find this little gem of an idea.
French Door on Barn Style Hardware
A barn style French door. And then, I think to myself, yes! that is a splendid idea. And then next thing I know, I am looking all over my house for a place to put a French door with barn style hardware.
And by then, I completely forget I was doing taxes.
The end.
For now.