I love decorating my house through the seasons. As you've probably gathered if you hang out here much, I don't really use a lot of themed decor. But I do love making my house warm and cozy this time of year and then lighting things up for the spring and summer. It helps to have a neutral backdrop with the foundational items around the house, such as paint colors and rugs, so the accessories can be the transitional pieces. I definitely keep things simple year round, but it is fun to have the opportunity to mix things up a bit every season.
Most of the time I use what I have, pull in some seasonal greenery and move things around until I get a new look that just feels more seasonally appropriate and inspiring!
Because we are coming up to that season where we'll be transitioning from fall to Christmas and more wintery looks (if you haven't already!), I thought it would be fun in these remaining couple of weeks of November to look at a few areas of my house to see how we evolved each through the seasons with simple style changes! Over the next couple of weeks I will show you a few areas I loved to decorate in my old house and how each evolved through the seasons (since we've only lived in this new house a couple of months, we haven't been here long enough to show off yet, although I am working on my first phase of a room makeover to show soon!).
First up today, let's take a peek at my coffee station in my kitchen through several seasons! You'll see how several of the items are repeated or styled in different ways through each season (such as cutting boards and the mug holder) and a few seasonal elements are brought in (such as different colored books, greenery or accessories I made or have for the season).
I truly do try to use what I have and don't feel the need to buy all new holiday decor each year. You'll see below that I used my simple DIY Peace Banner on the same shelf a couple of Christmases!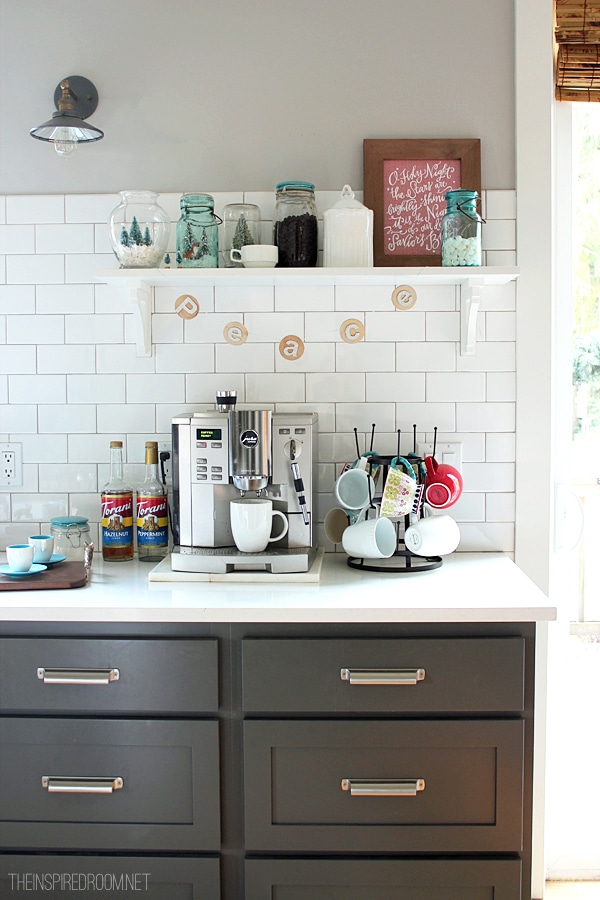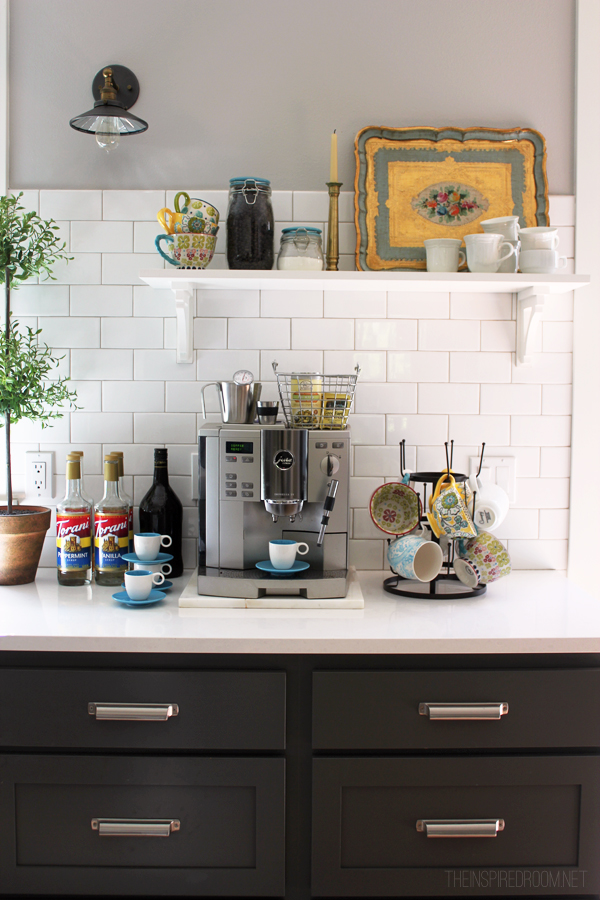 I'll share other areas of my home dressed up for the different seasons in upcoming posts. Courtney and I have been working on something else kind of fun for you guys, too. Those of you who made it to the end of this post can get a sneak peek!
For years I've had an online shop for The Inspired Room, but over the past couple of months I've been getting it prettier and better organized. Because my shop of favorite furniture, lighting, and decor from my home was getting kind of full, we started creating smaller themed shops that should be easier to navigate. We are excited to finally be better organized! We had so much fun window shopping online at a variety of sources to round up collections of some of our favorite things. Check out our new shops here!
We've also started to create several helpful gift guides this year of my most favorite gifts for the season because if you are anything like me, sometimes you just want to shop online in your jammies and slippers :). Check out our first few gift guides here!
Happy shopping!