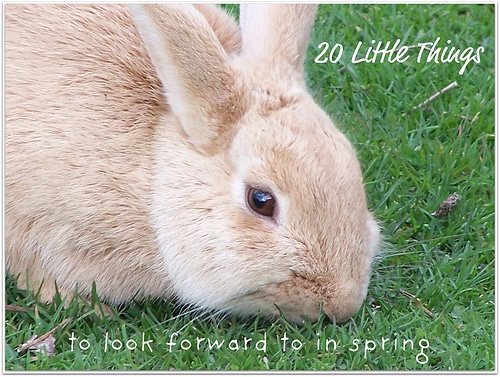 The hope of bright sunshine for a few days in a row
The first pretty little spring flowers poking out of the dirt
Waking up to tweeting birds outside the window
Seeing the rain through the rays of sunshine
Sweeping away the dead winter leaves from the front porch
Cleaning out the planting beds & pots
Replacing the crunchy plants by the front door with happy spring flowers
Walking out the door with just a sweater on instead of a down parka
Putting away the layers of cozy winter decor and lightening up for spring
Smiling at the tulips on the entry table
Opening a window for fresh air to clear out the stale air of winter
Feeling energized for spring cleaning
The happy moment you first notice pink blossoms in the trees
Decorating with nests, eggs, bunnies, and other springy things
Easter
Inhaling the fresh smell of spring
Taking a walk without shivering
Spring vacation
A Spring Drive By (Coming soon, by popular demand!)
#20 What would YOU add to the list?

Share the signs of Spring YOU are looking forward to in the comments!