Spring Tea Party Ideas
Country Living has some of the most beautiful photos. I love looking through their lovely images for fresh ideas not only for decorating but for creating memorable moments in life.
Suddenly, I am inspired to have a spring tea party.
Why not plan a tea party for Easter, Mother's Day, or just to celebrate spring? Invite your mom, grandma, neighbor, daughters or granddaughters for an afternoon in the backyard or in a sun-filled room of your home.
Bring your "good chairs" outside on a sunny day!
Make pink lemonade, pink frosting for a cake and paint pink Easter eggs!
Use pink & white flowers for a feminine pink bouquet
Put flower packets on tables as party favors
Gather up decorative roosters and hens and surround with Easter eggs
Cut up sandwiches into tiny triangles for afternoon tea-sized treats
Using your sweetest dishes makes a tea party very special.
I love these sweet bunny toile dishes (Originally at Smith & Hawken but now you can find them on ebay) — perfectly wonderful for Easter brunches and tea parties!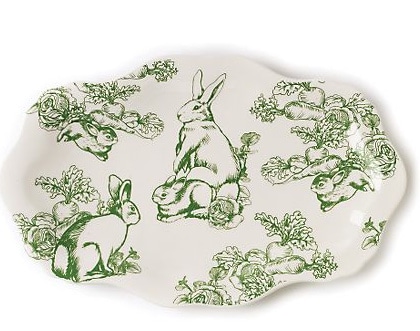 Happy Spring!
Photos and Tea Party Inspiration: (click for more ideas) Country Living