I think incorporating the simple beauty of natural elements is one of the easiest and most attractive ways to include any season into your decor. There are so many lovely things in nature! And because I like being subtle in my decor, utilizing natural elements makes sense to me.
By using natural fiber rugs, window treatments, natural fabrics, or even twigs from the yard, I can achieve a rich and warm room without too much muss and fuss. Natural burlap wrapped around pillows or frames can give some natural texture and seasonal pizazz!
Don't over think your decorating. Keep it simple so you can focus on the beauty!
Oh how I love that kitchen! Kitchens can tend to be full of cold and hard surfaces, but with the addition of bamboo cutting boards and rattan baskets you can really warm things up.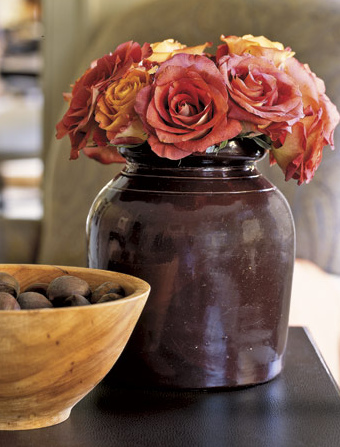 Beautiful colored flowers in pitchers of creamy white and browns, be still my heart!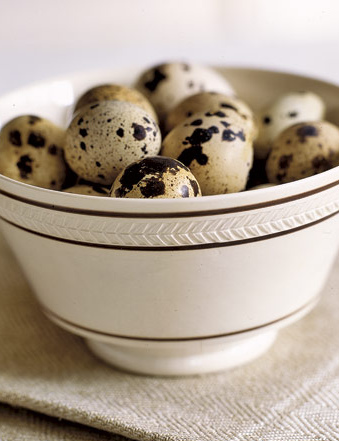 Natural things are so beautiful all by themselves in a bowl, you can't go wrong!
Branches for curtains complete with twigs and birds nests! Inexpensive & naturally beautiful!
Framing natural elements, such as these sea whips or flowers, is a great wall to fill up wall space!
Grouping natural mosses, rocks and plant material into cake stands or other containers makes a naturally beautiful centerpiece!
I love this idea for keeping special memories! Gather sand and shells picked up on vacation and put them in individual glass containers marked with labels identifying the date and location of collection! I love the simple beauty and meaning of decor like this.
So many inspiring ideas for creating a naturally beautiful home!

this post was originally published in september 2008 The Inspired Room- and the ideas are still fresh and pretty for this fall!
Have a beautiful Friday everyone! Keep on adding and enjoying those Fall Posts & Homegoods Fall makeover entries on the Fall Nesting Party!
If you have a beautiful life post, you can add it here! Every Friday we pause for a moment to remember the beauty we found or created. We are full of linky inspiration this week! I'm adding my post to Hooked on Fridays!